Show of strength: F45 tops gym ratings for a second time
Choosing a gym can almost be as much of a challenge as actually going to the gym itself, with the fitness industry exploding over recent years, giving way to gyms and fitness centres seemingly on every corner. And with so much competition, gyms have had to diversify their services in order to stand out from the crowd, with some sticking to the traditional Schwarzenegger-era setup, while others stock the latest and greatest pieces of equipment to entice people through the door, and others focus on group training.
With two-thirds of respondents to our latest survey (66%) stating they have tried more than one gym chain, and 19% indicating that they have multiple gym memberships, it's clear that choosing a gym isn't an easy decision to make. With factors like price, location, 24-hour access, equipment, as well as staff friendliness and expertise to consider, the gym has become much more than simply a place to 'pump iron'. So, which gyms and fitness clubs have muscled their way ahead of the pack? Our annual review has the answer.
This year, almost 900 gym members participated in our customer satisfaction survey, rating their gym or fitness club of choice based on the types of important factors we mentioned above. For the second year in a row, F45 Training has taken out top spot in our gym ratings. Its class-based, group fitness model has clearly resonated with consumers. F45 got five stars for overall satisfaction as well as for equipment and facilities, atmosphere and staff availability.
Shopping for Protein Supplements?
Bulk Nutrients has been rated #1 for Customer Satisfaction in the Canstar Blue Protein Supplement Category two years in a row! Offering $7 flat rate shipping in Australia.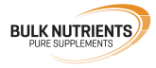 Shop Online Now
Best-Rated Gyms in Australia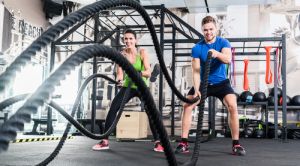 Canstar Blue's 2019 review of gyms and fitness clubs saw seven major chains rated in the following order for overall customer satisfaction:
1st F45 Training
2nd Snap Fitness
3rd Jetts
4th Anytime Fitness
5th Fitness First
6th Fernwood Fitness
7th Goodlife
Snap Fitness, Jetts and Anytime Fitness received four stars for overall satisfaction, while Fitness First, Fernwood Fitness and Goodlife were left on three stars apiece. Aside from the performance of this year's overall winner, F45, there were some other noteworthy results, including Jetts being the only chain to get five stars on value for money, plus flexibility and perks.
Gyms Compared
To help you decide which gym chain may be worth a visit, here is an overview of the seven brands in this year's review and what they have to offer.
F45 Training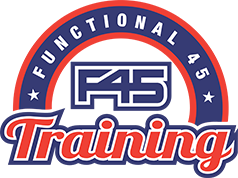 Bringing fitness to an international scale, Snap Fitness gives users the added benefit of being able to use their memberships at more than 2,000 gyms across the globe. While it might not offer all the bells and whistles that other franchises will include, Snap Fitness seems to get the basics right, with four stars for overall satisfaction, value for money, plus flexibility & perks. However, it scored three stars in all other areas.
Marketed as a "no frills gym", Snap Fitness can often be found in compact areas, offering the essentials without many of the extras. Personal trainers and fitness classes are the main drawcards, although you'll have to check with your local gym as the classes aren't always on offer.
Similar to other gym franchises, Snap Fitness offers an app, which can be paired with the My Zone belt, which logs your heart rate, calories burned and other readings, sending the results to your app to track your progress. The My Zone belt is only available at certain locations however, with prices not publicly listed, meaning you'll have to get in contact with your local gym if you're interested.
Jetts


Starting on the Gold Coast in 2007, Jetts has expanded globally to have more than 250 gyms available for fitness enthusiasts across Australia, New Zealand, Asia and Europe. The only gym to score five stars on value for money and flexibility & perks this year, Jetts looks to have reason to be a global success. It achieved four stars in all other research categories.
Jetts' main selling point is a no lock-in contract, allowing users full 24-hour access to all gyms worldwide, without worrying about the commitment. Members can cancel their membership with no notice period or cancellation fees, something not always guaranteed in the fitness industry.
Memberships start at $14.95 per week, with free trials and discounts also available at certain locations. If you're looking to sign up with someone, Jetts also offers 'mate's rates', providing a discount to those who sign up with a friend, although you'll have to visit a gym to find out how much of a discount is really available, with no information listed online.
Anytime Fitness


Built around 24-hour fitness, Anytime Fitness is one of the largest gym franchises in Australia, with close to 500 clubs now available nationally. With four stars in all rated areas this year, it seems that gym-goers want a little bit more than just an open door at 2am, but it's still a solid result from Anytime Fitness.
Most studios offer classes, personal training sessions and personalised programs, but extras will depend on the individual facility, and the time of day, of course. Prices also vary given each club is independently owned, but all have an initial $99 joining fee, as well as a $69.95 fee for the after-hours access card. The access card will gain you access to any of the gyms worldwide, after a 30-day waiting period.
Contracts are available on a 12-month basis, with a 7-day free trial available for those who aren't sure about signing up straightaway. Anytime Fitness also offers an app where members can set goals, track progress and gain access to 1,000+ workouts, helping them get the most out of their fitness journey.
Fitness First


Fitness First started out as a squash club in England before switching its focus, and has now expanded into 16 countries with hundreds of gyms open around the world. Scoring four stars for equipment and facilities, Fitness First has become a staple in the local fitness industry.
Fitness First provides a Platinum (starting from $28/week) and Passport (starting from $23/week) membership, allowing users to access the majority of its 60 national gyms, with the company also offering exclusive memberships for some Sydney gyms, which will cost you extra. Some locations will also offer student discounts, but you'll have to visit a gym to find out.
The majority of Fitness First gyms offer a huge range of classes, covering all muscle groups and fitness abilities, with the franchise also offering a mobile app to keep you on your toes, as well as to make sure you're on time for classes. Despite the variety, Fitness First was rated three stars overall, as well as three stars for value for money, atmosphere, flexibility & perks, plus staff availability.
Fernwood Fitness


The sole female-only gym in our review, Fernwood has been a top contender in the past. This year, it rated three stars overall but still performed well in regards to equipment & facilities and atmosphere, scoring four stars in each area.
Providing a wide range of classes, free services such as breakfast, as well as childcare facilities at some venues, Fernwood aims to offer an experience that goes well beyond breaking a sweat. Complimentary toiletries, beautician therapists, massages and tanning facilities are some of the extra perks available, depending on which studio you visit.
When you become a member, you'll receive a 28-day plan, as well as a meeting with a fitness coach to help set your goals and give you the tips you need to get started. A $199 sign-up fee is standard across most studios, with memberships starting from $22 a week. While not the only all-female gym available, Fernwood is arguably the most recognisable, with 70 locations open across Australia.
Goodlife
Goodlife is one of


Australia's largest club chains, with more than 80 locations around the country. More than three-quarters of its clubs are also 24/7. Goodlife received three stars for overall satisfaction this year and in every other category, but it still might be a good fit for you, regardless of your fitness goals.
Offering a large variety of classes and challenges, Goodlife strongly promotes a friendly environment for you to work out in. Fitness classes include the likes of traditional spin classes and boot camps, as well as dance-based classes such as Zumba, plus classes for mums and bubs.
Price-wise, Goodlife memberships start from $14.95, with four types of plans available, although costs vary from location to location. All gyms incur a $99 sign-up fee, as well as a $19 fee for those after the 24-hour pass. Goodlife also offers an app, available on both IOS and Android, to help with your fitness program. Compatible with other fitness apps such as MyFitnessPal, FitBit and MapMyRun, the app will keep you on track with classes, with a timetable that can be programmed to your local gym's schedule, meaning you'll never miss a class, and you'll never forget what to bring.
Other gym chains
Aside from the big gym chains listed above, there are plenty of smaller clubs you might like to consider. Other gyms that have previously made it into our ratings include:
Plus Fitness


Australian-owned Plus Fitness has been in operation for around 20 years, with more than 220 gyms currently open around the country. Built around convenience and giving members a 'no-nonsense' approach to fitness, Plus Fitness may be an option for those looking for something easy to get into.
It offers no-lock in contracts, and the option to put your membership on hold for up to three months at no extra cost. Membership costs will vary from location to location, with 24-hour access also dependent on location.
Plus Fitness also gives users the option of interactive workouts, allowing for a session without the class or instructor. Via a TV, members can follow a variety of workouts, including yoga and boxing, as well as general boot camp style sessions. All users have to do is book out a room, set the workout and prepare to sweat. Plus Fitness also offers 'master classes', which are sessions run by personal trainers.
YMCA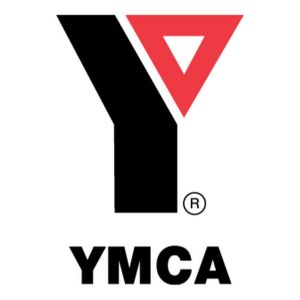 The YMCA has been a cornerstone of sports and fitness for years, with plenty of options available for social sports, after school care and gymnastics. Building upon that, the YMCA has been offering gym and fitness services for the past few years now, giving people another option if they're not comfortable with the bigger gym franchises.
Offering a wide range of classes, including full body workouts, yoga and pilates, as well as dance class Zumba, YMCA does more than just the basics. Prices are not available online, so you'll have to contact your local centre to figure out the costs, although YMCA does offer off-peak and concessions discounts.
Depending on what you're looking for, YMCA may be a viable gym in its own right, despite being a community centre first, gym second.
Which gym is the best option for me?
Going to the gym can be quite a personal experience, as everyone goes for different reasons – whether it's to lose some weight, build muscle, or even just for the social aspect. As a result, the gym should make you feel comfortable enough to sweat in, as well as make you want to come back.
85% of survey respondents indicated that they felt healthier for having a gym membership.
Despite the benefits of having a gym membership, sticking to it can be tricky, with 46% of respondents also indicating that they don't use their membership as much as they thought they would. This is where the cost aspect comes into it, with respondents spending, on average, just over $74 per month on gym memberships, which will quickly add up to be quite a big expense.
As a result, choosing a gym will come down to how you use it. If you're looking for something specific, chains such as F45, Snap Fitness and Anytime Fitness may be a better fit due to their classes, while Jetts may be better-suited for those who aren't sure about the gym and prefer not to sign a contract. Health and fitness is certainly a priority in today's society, but it's good to find a gym best-suited to your needs, so don't be afraid to take advantage of those free trials before you put pen to paper.
About the author of this page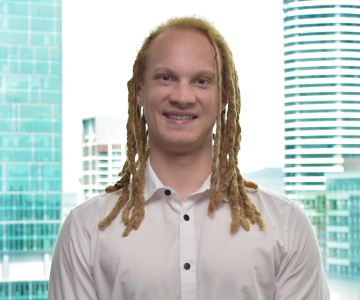 This report was written by Canstar Blue's Content Projects Lead, Dean Heckscher. He's our resident expert on all things automotive, health & fitness, streaming and more. Dean is also one of Canstar Blue's customer research report producers, helping to turn complicated subjects into easily-digestible information for our readers. He's passionate about helping consumers make better-informed purchase decisions on all manner of consumer goods and services.
Picture credits: Kzenon/shutterstock.com