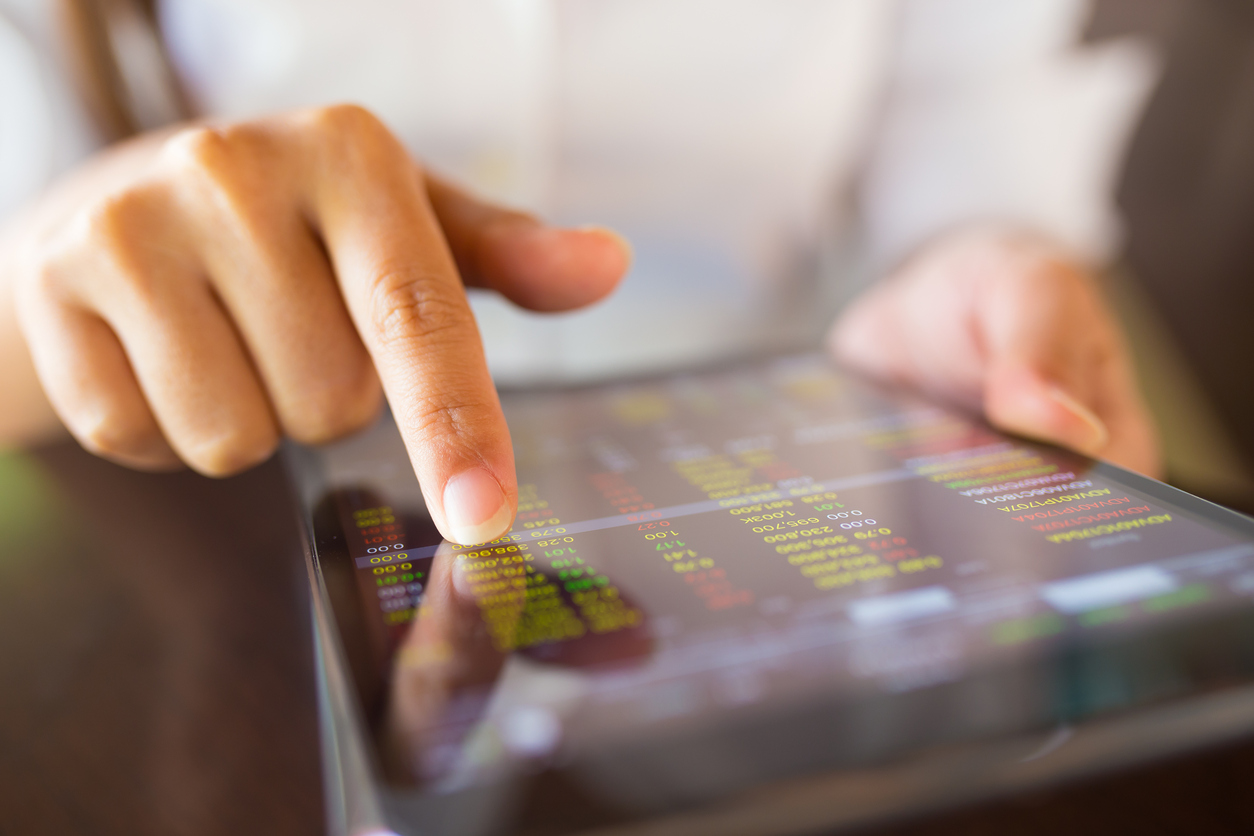 MYOB Accounting Software Review
The world of accounting software can be a difficult one to balance, with no shortage of options available to business owners to choose from. But as with running a business, you'll want an accounting software that's easy to use and keep on top of, as well as offer plenty of benefits that allow you to have some more spare time to yourself. If you're looking to break down the ones and zeros of accounting software, read on to find out more about MYOB in this Canstar Blue guide.
What is MYOB?
MYOB (pronounced my-ob) is an Australian tax and accounting software company, providing a range of products for both small and big businesses as browser based, cloud based, or physical installation based software. An abbreviation for 'Mind Your Own Business', MYOB was founded in 1991, and has primarily focussed on accounting software, but has expanded to become a business management platform to help businesses cover more areas of their operations.
MYOB accounting software
MYOB has a number of accounting software plans available for businesses to choose from, with some focussed more on smaller businesses, while others may be better suited to larger businesses with a few hundred staff members. Revamping its range of plans, MYOB have introduced 'MYOB Business', with all of its previous plans now no longer available.
Additionally, MYOB also offers a number of partnerships with third-party apps and programs through its MYOB App Marketplace, with areas including management, advanced reporting, time tracking and rostering, budget and forecasting, amongst others, allowing you to fine tune all area of your business.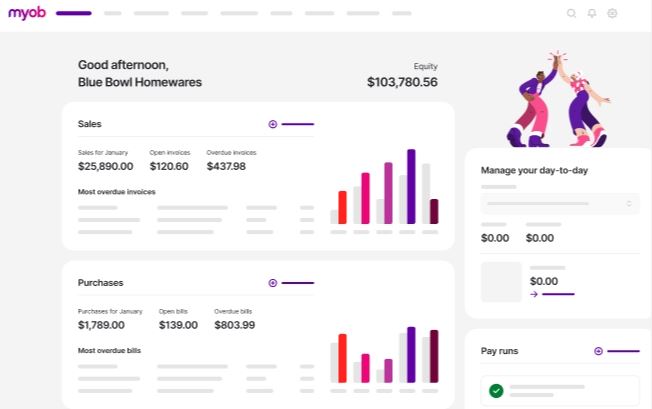 What features does MYOB offer?
All MYOB small business accounting subscription software includes the following functions:
Connect your bank account
Unlimited bank feed transactions
Scan and store receipts
Manage bills and expenses
Unlimited quotes and invoices
Track, prepare and lodge GST and BAS statements
Insights and reporting documents
Additional features on the more expensive plans include:
More in-depth reports and insights
Unlimited payroll
Inventory tracking
Multi-currency features
Time-billing
MYOB also offers the MYOB Invoice app for both iOS and Android systems, making it easier to manage and perform accounting functions when you're away from your desk. The app covers invoice tracking, contacts adding, in-app invoice creation, and payment processing.
For businesses getting started with accounting software

Track income and expenses
Create and send invoices and quotes
Manage tax and basic reports
Connect up to 2 bank accounts
Optional Payroll: $1.50/mth per employee. Pay up to 2 employees
30-day free trial available
50% off for first 3 months. New customers only. T&Cs Apply.

from $15.00/month


min. cost $30.00 $15.00 over 1 month
Go to site
For growing business taking the next step and employing more people

Track income and expenses
Create and send invoices and quotes
Manage advanced reports
Connect unlimited bank accounts
Optional Payroll: $1.50/mth per employee. Pay unlimited employees
30-day free trial available
50% off for first 3 months. New customers only. T&Cs Apply.

from $27.50/month


min. cost $55.00 $27.50 over 1 month
Go to site
Online or offline accounting software with job tracking and inventory

Track income and expenses
Create and send invoices and quotes
Manage tax and advanced reports
Connect unlimited bank accounts
Track jobs with budgets
Manage inventory and bill by time*
Included Payroll: No additional cost. Pay unlimited employees
30-day free trial available
50% off for first 3 months. New customers only. T&Cs Apply.

from $68.00/month


min. cost $136.00 $68.00 over 1 month
Go to site
What plans does MYOB offer?
MYOB covers software solutions for businesses of all kinds and sizes, from one employee up to 1000. In the small business department, MYOB offers two different accounting software solutions, Lite and Pro, with AccountRight Plus and AccountRight Premier more suitable for larger businesses. Each plan comes with multiple features and different price points, which are explored below.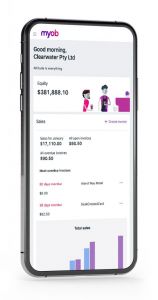 MYOB Payroll
Ideal for small businesses looking to keep on top of their payroll systems, MYOB Payroll includes features such as Single Touch Payroll (STP), automated tax obligations and super contributions as well as PAYG leave entitlement for up to four employees, ensuring that your finances are kept working smoothly.
MYOB Payroll ($10/month), which includes payroll for up to four employees.
MYOB Lite Plan
Suitable for those who need to cover the basics, or who run a micro-business, the MYOB Lite plan offers unlimited bank feed transactions, the ability to scan and store receipts, bill and expense management, unlimited invoices and quotes, help with preparing GST and BAS statements as well as some basic insights and reporting to help give you a view of how your business is tracking. Costing $30 per month, the Lite plan is also compatible with MYOB apps, with MYOB phone support also available.
MYOB Pro Plan
Priced at $55 per month, the MYOB Pro plan offers similar features to the Lite plan, but bumps up the amount of bank accounts you can connect (from two to unlimited), along with increasing the comprehensiveness of the insights and reporting. The MYOB Pro plan also gives access to the full suite of on-the-go apps, allowing you to run your business from outside the office.
MYOB AccountRight
More suited to larger businesses, MYOB offers two AccountRight plans – the AccountRight Plus, and the AccountRight Premier. Costing $136 and $170 per month respectively, the AccountRight plans also come with more features to help look after a larger workforce or larger operation, with features including unlimited payroll, inventory tracking, time-billing and advanced reporting and insights. The AccountRight Premier additionally comes with multi-currency capabilities, as well as the ability to set up two online data files.
MYOB Business Management
A more recent direction for the company, MYOB has expanded its business management services to help businesses cover more than just finance, with areas such as invoicing customers, interacting with suppliers, rostering employees, tracking projects, and other features covered within its platform. The business management elements come included within MYOB's range of plans, so you don't have to sign up for the services, allowing you to dive deeper into the inner workings of your business.
MYOB plan add-ons
MYOB Business also has a number of add-ons available, including online invoice payments, Direct Debit, direct payments, invoice finance, business loans and other features, all of which are available at an additional cost. The final cost however, may be determent on other factors, meaning it's best to contact MYOB if you're interested in any of the above add-ons.
Does MYOB offer a free trial?
MYOB does currently offer a 30-day free trial period for new customers, although you'll have to provide credit card details upon sign-up.
Should I use MYOB accounting software?
MYOB has been a long-standing name within the Australian accounting software scene, offering a number of plans, features and compatible add-ons for businesses to choose from and utilise. With a number of apps also available to download and use on-the-go, MYOB may be a suitable option regardless of what type of business you operate, although in comparison to other brands, MYOB may be on the more expensive side, particularly its plans aimed at larger businesses. However, with the inclusion of business management features, MYOB could be worth exploring if you're looking to do more than just the books.
However, it may be a small price to pay for some peace of mind when it comes to the financial side of your business, as the numbers can quickly become overwhelming. But, at the end of the day, it's always recommended to look into all of your options, as while it may all be about the bottom line, you may find a particular accounting software fits with your current business setup or schedule better than others, or helps with a niche area of your business, allowing you to focus on other areas rather than just the dollars and cents.
About the author of this page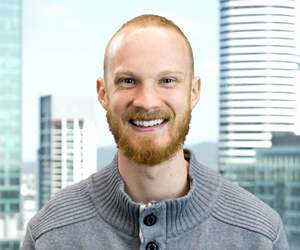 This report was written by Canstar Blue's Site Editor, Dean Heckscher. He's our resident expert on all things automotive, health & fitness, streaming and more. Dean is also one of Canstar Blue's customer research report producers, helping to turn complicated subjects into easily-digestible information for our readers. He's passionate about helping consumers make better-informed purchase decisions on all manner of consumer goods and services.