Intuit QuickBooks taxes top spot in accounting software ratings
When it comes to balancing the books, many of us simply leave it to the professionals, with percentages, decimal points and formulas likely to end in mistakes and a headache. While many business owners and managers prefer to keep on top of every aspect of their business, the financial side can quickly get away from us, especially if your business grows quicker than expected.
While accountants and bookkeepers are useful for those pressed for time, or those who just prefer not to think about numbers, many small businesses are turning to accounting software to keep a closer eye on their operations and spending habits, as well as to find ways to bump up their profits. With numerous platforms available, finding one that's both easy to use, and affordable, almost requires an economics degree in itself. To offer a guide, Canstar Blue has crunched the numbers on Australia's big accounting software providers, surveying more than 800 business owners and decision-makers to get the lowdown on their software of choice.
The idea is to give you as much information as possible about the compared providers, to help you make a better-informed decision about which service will best meet your needs and preferences. So, what did we find this year? Intuit QuickBooks climbed to the top of our ratings, after receiving top marks in almost every category.
Best Accounting Software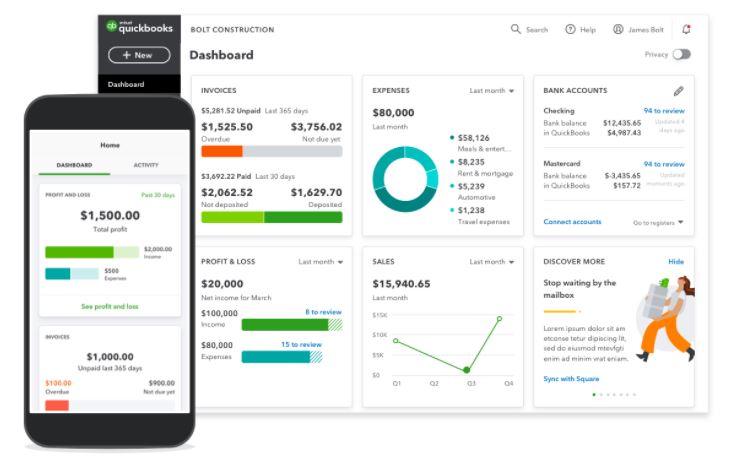 Here are the best accounting software providers in Australia, as rated by consumers in Canstar Blue's 2020 review:
Intuit QuickBooks
Xero
MYOB
Reckon
Intuit QuickBooks knocked MYOB off the top spot in our 2020 review, after consumers rated it five stars for ease of use, functionality, reporting, customer service, value for money and overall satisfaction.
Notably, runner-up Xero managed to edge out our rating's winner on ease of integration, after receiving the only five-star rating for that category. It also achieved top marks for ease of use, functionality and customer service, before finishing on four stars for overall satisfaction. Last year's winner MYOB dropped to third place overall, rating four stars across the board, while Reckon finished on a moderate three stars overall and in all other categories.
Accounting software platforms compared
Intuit QuickBooks

When it comes to accounting software, QuickBooks has been a household name for many years, offering businesses a wide range of software options and features to suit their specific industry, size and financial goals.
QuickBooks offers two different small business accounting products – QuickBooks Online and QuickBooks Self Employed. QuickBooks Online is a cloud-based accounting software suite targeted towards small businesses, while QuickBooks Self Employed is a cloud-based accounting software for self-employed individuals.
QuickBooks Self-Employed is accessible on mobile and desktop (via browser or Android and iOS apps). Your QBSE data cannot be transferred into a QuickBooks Online account.
QuickBooks Self-Employed features include customer invoicing, payment alerts, payroll capacities and automatic BAS generation, QuickBooks software could be a handy addition to the office, with the software also capable of recording receipts for expenses and building reports to track how your business is really performing financially over select periods of time.
Providing a 30-day free trial, QuickBooks has some of the cheapest monthly deals around, with prices starting at just over $10 a month for the Self-Employed package. Other packages include the Simple Start, which will set you back $22 per month, the Essentials package which costs $37 a month, while the Plus package will cost $52 a month. Each package comes with a start-up offer of 30% off for the first three months. With each price jump, businesses will gain access to additional features, with the Plus version containing functions such as inventory and project tracking, while also offering budgeting tools to help you stay on track towards your financial goals.
Intuit QuickBooks topped our accounting software ratings, scoring five-star reviews for ease of use, functionality, reporting, customer service, value for money and overall satisfaction.
Online accounting software for small businesses with up to 4 employees

Track GST & E-Lodge BAS
Send quotes & invoices
Track income & expenses
30-day free trial available
30% off for first 3 months. New customers only. T&Cs Apply.

from $15.40/month
min. cost $22.00 $15.40 over 1 month
Go to site
Accounting Software for Small Businesses to manage suppliers and multiple users

Track GST & E-Lodge BAS
Send quotes & invoices
Track income & expenses
Manage suppliers & bills
Manager users (up to 3)
30-day free trial available
30% off for first 3 months. New customers only. T&Cs Apply.

from $25.90/month
min. cost $37.00 $25.90 over 1 month
Go to site
Accounting Software with project and inventory tracking for Small Businesses

Track GST & E-Lodge BAS
Send quotes & invoices
Track income & expenses
Manage suppliers & bills
Manager users (up to 3)
Track inventory, projects & budgets
30-day free trial available
30% off for first 3 months. New customers only. T&Cs Apply.

from $36.40/month
min. cost $52.00 $36.40 over 1 month
Go to site
Xero

Founded across the ditch in New Zealand, Xero has grown to be a globally recognised accounting software provider, with the cloud-based system available in a range of subscriptions to suit all business sizes and industries.
Starting at $27 a month for the Starter pack, Xero also offers the Standard pack for $52 a month, and the Premium line beginning at $67 a month, with each price point increase unlocking additional features for businesses to utilise. The larger packs will suit larger businesses, allowing more employees to be added to the software (at an additional cost), while the Starter pack should suit owner-operated businesses.
Depending on which pack you purchase, features such as invoicing (including reminder emails for those forgetful clients), inventory and payroll are available for all packages, with additional features such as automatic bank transactions and bank reconciliations also available. If you're looking to make the most of your accounting software, it's best to research Xero's website for a full comparison of capabilities and extras, or sign up for a free 30-day trial to get a feel for how the software works.
Rated four stars for overall satisfaction, value for money and reporting this year, Xero also scored five stars for ease of use, ease of integration, functionality and customer service.
MYOB


Founded in Australia, MYOB has been a staple in the accounting industry, with the company offering a variety of products to assist businesses with keeping on top of their finances. In addition to the basics of accounting software, MYOB has plenty of additional extras through partnerships with other companies, helping to make the software more personalised to your business.
Features include payroll for employees, invoicing for clients, reports and budgets for team meetings, as well as a variety of functions that help with tax time, inventory, bank reconciliations and even cash flow management, making it worthwhile regardless of your financial needs.
Split between the 'Essentials' and 'AccountRight' packages, the Essentials software is priced between $10 and $60 per month, while the AccountRight range costs between $109 and $150 per month. There's also MYOB's 'EssentialsPayroll' starting from $10 per month, up to $60. New subscribers can get up to 50% off their first three months. Features of MYOB plans include invoicing, payroll, BAS and GST statements, as well as helping you to manage bills and expenses to help you keep on the ins and outs of your business.
In addition to accounting software, MYOB has software for all areas of your business, including business management and partnered software to suit specialised areas, such as eCommerce, with packaged deals available for those after multiple services.
MYOB dropped from first to third place in our 2020 review, but still scored a solid four-star rating in every category, including for overall customer satisfaction.
Reckon


Originally operating under the QuickBooks brand, Reckon is now a separate entity, offering a number of accounting software features for small businesses outside of the financial industry, as well as specialised products suitable for accountants and bookkeepers.
With the Reckon One software, businesses can choose between the Basics, Essentials, Pro and Premium packages, priced between $8 and $42 a month, with the more expensive package allowing you to create invoices and bills, reconcile bank transactions and track expenses. Reckon additionally offers the Reckon One Payroll to help with paying wages, leave and super, which is available for $8 a month.
In addition to accounting software, Reckon also provides Point of Sale (POS) software, ideal for bricks and mortar businesses, meaning you'll be able to take care of money coming into the business, plus money going out.
Reckon rounded up our ratings with three stars across the board and for overall customer satisfaction.
What do businesses use an accounting software for?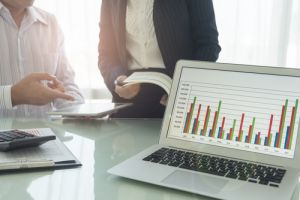 With accounting software doing much more than just keeping an eye on the dollars and cents, what are Australian businesses using their software for? Survey respondents were asked what features they used most, answering with the following:
Payroll: 71%
General overall cash management: 69%
Time tracking and billing: 44%
Inventory: 35%
Point of Sale (POS): 31%
While each accounting software will offer plenty of features and options to help with the day-to-day running of your business, you'll often have to pay extra if you're looking for something more than just a Profit & Loss Statement. Each accounting software provider will generally offer a number of price tiers to choose from, with the most expensive options filled with additional features to cover every area of your business, allowing you to find the best fit for your specific needs. Considering that over half (58%) of respondents wished they had purchased an accounting software sooner, regardless of what you need it for, it may prove worthwhile both in the short term, as well as the long run.
How often should you be backing up your accounting software?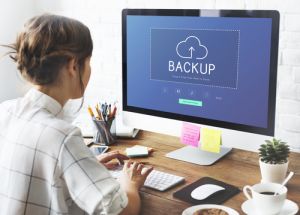 While we generally like to think our computer won't fail us, they often have different ideas, particularly when we need them most. Thankfully, the introduction of cloud-based platforms and app compatibility has helped cut down on the heartbreak that comes with dealing with lost files, although it still pays to regularly save and to back-up your work. When asked about their back-up process in regards to their accounting programs and software, those surveyed replied with:
Daily: 31%
Weekly: 36%
Fortnightly: 11%
Monthly: 12%
Less than monthly: 4%
Never: 7%
While the majority seem to be in the habit of backing up their work regularly, a few seem to like living dangerously by backing up either once in a while, or not at all. To ensure you're not left doing the same work again, it's best to get in the habit of saving and backing up your work on a regular basis, even if it's just for your own sanity.
Which accounting software is best for my business?
They may all appear the same to some people, but each accounting software platform is different, with all offering specific functions and features, as well as different levels of customer service. You could be tempted to jump into the cheapest package you find, but you may be sacrificing additional features that could streamline technical and difficult processes, which could ultimately save you time and money over time.
With plenty of options available for businesses to choose from, selecting the platform that best suits your day-to-day operation can prove a big decision. Ultimately the decision will come down to your individual requirements and budget, in addition to how you'd like to run your operation. With each brand offering additional features to help you reach your financial goals, setting aside some time to research what each has to offer will help you save both time, and frustration, down the line.
About the author of this page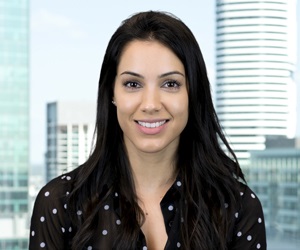 This report was written by Canstar Blue's Home & Lifestyle Content Lead, Megan Birot. She's an expert on household appliances, health & beauty products, as well as all things grocery and shopping. When she's not writing up our research-based ratings reports, Megan spends her time helping consumers make better purchase decisions, whether it's at the supermarket, other retailers, or online, highlighting the best deals and flagging anything you need to be aware of.
Compare Business Internet Plans
Photo credit: Create jobs 51/Shutterstock.com, Rawpixel.com/Shutterstock.com.