While slam-dunks aren't allowed, netball offers plenty of highlights and excitement to get the crowds going, whether you're watching at home or at the venue. With fans all over the world, the Netball World Cup has come around again, with the Australian Diamonds looking to retain their trophy when they take on their arch rivals, including England and New Zealand. Find out where to catch all the action during the Netball World Cup below.
When is the Netball World Cup?
Kicking off on Friday, July 12, the 2019 Netball World Cup will be held at the M&S Bank Arena in Liverpool, England, with the tournament wrapping up with the final on July 22. 16 nations will take to the court, including Australia, England, New Zealand, Jamaica, South Africa, Malawi, Northern Ireland, Scotland, Fiji, Samoa, Uganda, Zimbabwe, Trinidad & Tobago, Barbados, Sri Lanka and Singapore. Read on to find where and when to catch your favourite players and team in action.
How can I watch the Netball World Cup in Australia?
Nine's Wide World of Sports has secured the exclusive broadcasting rights to the 2019 Netball World Cup, and will broadcast every Australian game live, with every other match available through 9NOW. There will be a total of 60 matches.
Here are Australia's group stage matchups and start times:
Australia Vs Northern Ireland – Friday July 12 at 8pm (AEST)
Australia Vs Zimbabwe – Saturday July 13 at 6pm (AEST)
Australia Vs Sri Lanka – Sunday July 14 at 12am (AEST)
For those who have been keeping track of the Aussies' progress through the competition, you can tune in at 7:30pm (AEST) on Thursday the 17th of July to watch the Diamonds take on rivals New Zealand in the second stage of preliminaries. This will be the final match for both teams before placing begins for the playoff, meaning it will be worth tuning in for.
Netball World Cup Semi-Finals
With the preliminaries now over, the semi-finals and other placing finals are set to get underway. Below is the timetable for the semi-finals:
Australia Vs South Africa – Saturday July 20 at 8:15pm (AEST)
England Vs New Zealand – Saturday July 20 at 12am (AEST)
The Bronze medal match will be played on Sunday July 21 at 11:30pm (AEST), while the final of the Netball World Cup will tip off at 1:45am.
How can I stream the Netball World Cup in Australia?
If you can't get to the TV in time to catch your favourite players hit the court, or the games are past your bedtime, you'll be able to stream live as well as on-demand via 9NOW for free. You'll simply have to sign up via the 9NOW site, which will also give you access to a range of other Channel 9 content, including its replays of the Suncorp Super Netball League, as well as some of your favourite shows, whether you're a fan of reality TV, game shows or home-grown Aussie content.
9NOW is available through Chromecast, Apple TV and Telstra TV, as well as available via the website or on your phone and tablet through the 9NOW app.
How to watch the Suncorp Super Netball league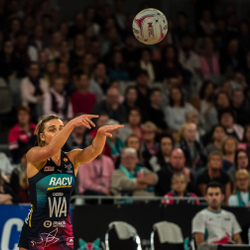 If you're keen on your netball, you can also tune into the Australia domestic league, otherwise known as the 'Suncorp Super Netball League'. Consisting of eight teams, all the action can be watched via Channel 9, Telstra TV, or the Netball Live app.
Two live games per round are available through Nine's Wide World of Sport, with replays available via 9NOW. Telstra TV also offers two live broadcasts per round, with all other matches available as an on-demand replay, helping you to stay up to date with the fixtures and results.
If you're after something more, Telstra TV subscribers can stream every match live via the Netball Live app, with news, stats and other behind the scenes information available as part of the service. Available through the App Store and Google Play, Netball Live is a subscription service, with a weekly, monthly or annual pass available for purchase, although the service is free for Telstra mobile customers.
If you're big on your sports, whether they're played on the court, pitch or field, sports-streaming service Kayo can help you stay up to date with some of the biggest sporting leagues in the world.
Stream Sports with Kayo
Love streaming? Love sports? Kayo is a new streaming platform that provides access to a wealth of sports, from basketball to cricket, motorsports and soccer. Click 'go to site' for more details.
Brand
Subscription Type
No. of Screens

/same time viewing

Advertised Cost^^

/month

Kayo One Subscription

More than 15,000 hours of sport on-demand
Watch on 1 screen at the same time
14 days FREE trial (New Customers Only)

min. cost $25 over 1 month

1

$25
Go To Site

Basic Subscription

More than 15,000 hours of sport on-demand
Watch on 2 screens at the same time
14 days FREE trial (New Customers Only)

min. cost $27.50 over 1 month

2

$27.50
Go To Site

Premium Subscription

More than 15,000 hours of sport on-demand
Watch on 3 screens at the same time
14 days FREE trial (New Customers Only)

min. cost $35 over 1 month

3

$35

Go To Site

Telstra Exclusive Offer – Basic Subscription

Special Offer: Save $10/mth on Kayo for 12 months
Available to Telstra customers only. T&Cs Apply
Stream over 50 sports, Live & On Demand
Watch on 2 screens at the same time – Add up to 5 profiles

min. cost $15/mth first 12 months then $27.50/mth

2

$27.50$15

Get Offer

on Telstra's website

^^View important information
Picture credits: Alex Bogatyrev/shutterstock.com, Alex Bogatyrev/shutterstock.com