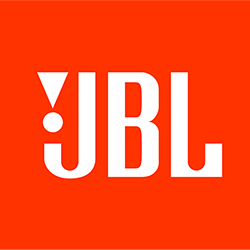 JBL Headphones Review
Operating for over 70 years, JBL is well-known within the audio industry, manufacturing products for professional use as well as for when you're looking to enjoy your tunes by yourself. With an audio range including speakers, earphones and headphones, there's plenty of options to consider when it comes to listening to your favourite albums and artists, with JBL offering one of the largest ranges in the headphone market. Read on to find out what JBL have on offer, and what might be the best fit for you.
JBL Headphones
JBL have a number of over-the-ear and on-ear headphones available, with the brand readily available at electronics retailers, with headphones also available via the JBL website. JBL headphone range includes:
JBL EVEREST ELITE 750NC – $399.95*
JBL E55BT Quincy Edition – $299.95*
JBL Under Armour Sport Wireless Train – $299.95*
JBL LIVE 650BTNC – $249.95*
JBL TUNE 600BT – $149.95*
JBL LIVE 400BT – $149.95*
JBL E35 – $99.95*
JBL TUNE 500BT – $69.95*
JBL T450BT – $69.95*
JBL JR300BT – $69.95*
JBL TUNE 500 – $39.95*
JBL T450 – $39.95*
JBL JR300 – $39.95*
JBL EVEREST ELITE 750NC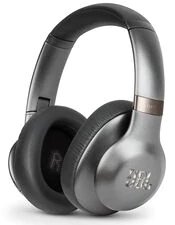 JBL's top of the line model, the EVEREST ELITE headphones feature an over-the-ear design, along with Adaptive Noise Cancelling (ANC) to ensure that your music isn't interrupted by the world around you. With up to 20 hours of battery life – or 15 hours with ANC turned on – the EVEREST ELITE headphones can be fully recharged within three hours, ideal for those with a busy lifestyle.
The EVEREST ELITE headphones are also compatible with the My JBL Headphones App, allowing you to set the volume and other features to your preferences through the TruNote Auto Sound Calibration so that you can enjoy your music the way you like it. While only available in grey, if you're big on your music, they may be the headphones for you.
JBL Under Armour Sport Wireless Train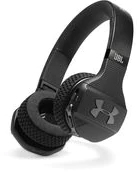 Partnering with fitness brand Under Armour, the JBL Sport Wireless Train headphones include a number of features to make your time in the gym easier. Fast-drying SuperVent fabric lines the outer ear cushion for breathability and comfort, with the lining also removable and hand washable to ensure that your headphones don't become sticky, or smelly.
With 16 hours of battery life, and oversized controls so that you can easily push the buttons located on the ear in the middle of a workout, TalkThru technology is also included, which lowers the music and turns on the noise-cancelling mic so that you can talk to your training partner without removing your headphones. With a carry case, the flat-fold design headphones are ideal for those who like to get a workout in regardless of where they are.
JBL LIVE 400BT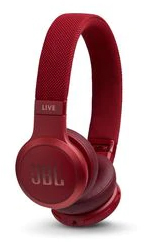 Compatible with both Amazon Alexa and Google Assistant, the JBL LIVE 400BT also feature Ambient Aware technology, allowing more ambient noise to filter through the headphones so that you know what's happening around you.
With 24 hours of battery life, the LIVE 400BT headphones also include an audio cable for you to plug into your music device or phone to keep the headphones going, with a 15-minute Speed Charge giving you up to two hours of juice. Featuring PU leather ear cushions, the 400BT headphones weigh in at 185g, and come in a variety of colours, including red, green, white and black, giving you a few options to choose from.
JBL TUNE 500BT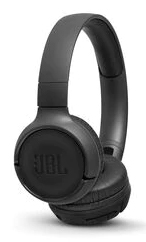 Featuring JBL Pure Bass for an optimal listening experience, the TUNE 500BT headphones have up to 16 hours of battery life, with a five-minute Speed Charge enough for a full hour of playtime. Weighing 155g, these JBL headphones also include a charging cable, with a built-in microphone for you to take calls when you're out and about.
The 500BT headphones also feature a foldable design for easy storage and portability. They're said to be lightweight and include padded ear cushions for additional comfort for when you plan on wearing your headphones for a long period of time.
JBL JR300
One of two JBL headphones made for kids, the JR300 are the more affordable of the two, but still come with plenty of features for young ears to enjoy their favourite tunes.
Including Safe Sound, which limits the volume to under 85dB to keep your kids' ears safe, the JR300 also feature a padded headband and leather ear cushions for comfort, with a foldable design for easy carrying. Coming in either a light blue or red finish, the JR300 also come with a sticker set so your child can customise their headphones the way they like.
Are JBL headphones worth it?
Finding a pair of headphones can be a challenge, especially as there's no shortage of brands, models and types available. While the final decision will come down to a number of factors, such as your budget, your taste in music as well as how often you plan on using them for, shopping around to see what's out there will ensure that you end up with the right pair for your needs.
With one of the largest ranges of headphones available, as well as a strong history within the audio industry, JBL may be worth checking out regardless if you're looking for something to keep the kids entertained during those long road trips, or you're looking for some surround-sound tunes at the gym.
Photo Credit: JBL Facebook page
*Prices taken from respective retailers, correct as of September, 2019