Samsung Smartwatches Review & Guide
In recent years, wearable technology has become the norm, with technology companies fighting for market share as products such as smartwatches and VR begin to fill households. By allowing consumers to keep up to date without a phone or wallet, the smartwatch has become a popular item, creating a contested marketplace. With established electronics companies battling established watchmakers, finding a smartwatch that suits your lifestyle as well as your wrist can be something of a challenge.
Samsung released the Galaxy Gear smartwatch in 2013, with the Korean electronics company utilising its expertise to create a futuristic experience for its consumers. Since then, Samsung has released a variety of smartwatches, giving consumers plenty of options. Be sure to check out some of those options below.
Samsung Smartwatches
Gear S3 Classic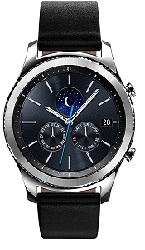 Priced at just under $600, the S3 Classic is Samsung's most expensive smartwatch, but it does come packed with features. With a battery that reportedly lasts four days, the Classic is also dust resistant and waterproof to a depth of 1.5metres, or for 30 minutes underwater. The bezel also allows for control of tasks such as phone calls, alarms, volumes and displays, as well as browsing apps and functions, making it quite user-friendly.
Including a 1GHz dual core processor, the Classic also has 4GB of internal storage, a decent amount considering it comes in a 59g package.
For the fitness enthusiast, the Classic has the usual GPS capabilities, as well as records steps and times when exercising. The Classic can also be paired with Bluetooth headphones for music on the go, making it easier to take on those early morning runs.
Samsung has developed the Always On Display feature, ensuring that users don't miss a thing while also creating the image of a traditional watch face. With 15 preloaded designs, with more available on the Gear App Store, you can really make the S3 Classic your own. The Classic is also compatible with 22mm bands, meaning the customisation doesn't just stop at the display.
The Classic supports both MST (Magnetic Secure Transmission) and NFC (Near Field Communication) for card-free transactions, meaning you'll be able to grab the groceries without your phone or wallet.
The Classic has a SOS function to alert emergency services or emergency contacts
Gear S3 Frontier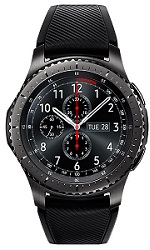 Designed for the more adventurous type, the S3 Frontier is built for the outdoors, with a more rugged design. Weighing slightly more than the Classic, the Frontier combines all the goods of the Classic with a sturdier design to survive those weekend hikes.
While the biggest difference between the Classic and Frontier is the aesthetic and design, the Frontier will keep you up to date in its own right. With Bluetooth technology to help you make calls and connect to earphones, the Frontier also has voice recognition functions for more hands free functionality (always a bonus when it comes to watches).
Expect the same customisation options for the Frontier as the Classic
The Frontier also supports card-free transactions
Gear Sport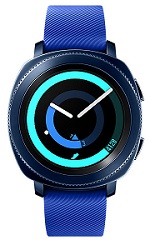 Built for those keen on their fitness, the Gear Sport allows users to keep track of their training and diets, as well as everyday tasks. Activities will run smoothly thanks to a dual-core 1.2GHz processor, ensuring that the 1.2inch display is kept fresh and smooth.
With similar features to the other S3 models, such as MST and NFC payment methods and a variety of interchangeable faces and straps, the Sport differentiates itself through its compatibility to both Android and Apple smartphones. A surprising feature, Samsung's reasoning behind the compatibility with rival company Apple is to allow users to receive notifications and keep on top of their fitness regimes, regardless of which operating system their phone uses.
Samsung also incorporates collaborations with Speedo and UnderArmour into the Sport, allowing access to a wider fitness database, as well as offering extra incentives for those who download the Speedo or UnderArmour apps. Other fitness aspects include rest or stretch notifications, ideal for those who are travelling or sitting down all day, as well as the traditional step counter and timer.
The Sport is Samsung's cheapest model, price at $499
The Sport is also Samsung's lightest model, weighing only 50g
Is a Samsung Smartwatch worth the money?
While Samsung is a trusted provider of electronics, the smartwatch market has quickly become a consumer's playground, with options aplenty for all types. Samsung's reputation will gain it favour within the market, but it may not be the best fit for you.
Ultimately it will come down to preference, as well as what the watch will be used for. With products aimed at specific markets, such as the Sport or the Frontier, consumers will have no shortage of options to choose from. As a result, it's always best to have a look around before purchasing, as the smartwatch is as much a fashion statement as it is a handy electronic.