Review of Samsung TVs
In the modern age, a TV is considered the centre piece of any living room. People judge each other by the TVs that they own, so having a good TV is crucial to tie the house together. If you're looking for a TV that really stands out and impresses, Samsung could be the way to go.
As one of the leading TVs manufacturers worldwide, Samsung has a huge range of both high-end and budget TV options to choose from. It has 28 in total, which you can see on the Samsung website, so picking the best one for your home is going to be a real challenge. However, Canstar Blue's review of Samsung TVs should help.
Samsung TVs can be separated into the following four categories:
4K SUHD TVs
4K UHD TVs
Full HD TVs
HD TVs
We will examine the prices, specs and special features of Samsung's TVs to help determine if they represent a worthwhile purchase.
Samsung 4K SUHD TVs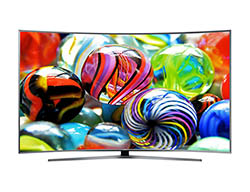 If you don't know what SUHD is, well basically, UHD is an industry term for Ultra High Definition, while the 'S' essentially just means 'super' and is reserved only for Samsung's leading televisions (and most expensive).
Samsung's SUHD TVs are high-end LED TVs with a 4K resolution, and they use the Samsung patented Nano-crystal technology to expand how many colours appear and how rich they look. So in summary, the SUHD TV range is extremely impressive, with advanced picture quality and colours. There are 10 of them in total.
These 10 models are all very big, as far as TVs are concerned. The smallest model you can buy in this range is 55 Inches, while the largest you can get is a massive 88 inches. The 88 inch TV, the Series 9 KS9800 curved (pictured), will set you back a meagre $30,000. If you're looking for something that humans can afford, the cheapest in this range costs as little as $2,300. So yes, they are extremely expensive, but you'd be hard pressed to find a UHD TV that isn't.
In terms of extra features, you'll find that Samsung's SUHD TVs have the following in common:
Quantum Dot and Nano-crystal technology, which has 64 times more colours than UHD models.
HDR 1000, which has a range of extremes in both lights and darks
Peak illuminator ultimate, which gives extraordinarily detailed images by boosting the intensity of LED backlights
Samsung SmartHub, which lets you access video-streaming apps, web-based content and your mobile devices seamlessly and easily on your TV
Just one remote control for all purposes
Curved screen for an immersive viewing experience, as it provides a larger field of view with less distortion
Boundless edges, which make it easy to seamlessly fit into any space
Premium slim designs for aesthetic purposes
SmartView, which automatically connects your phones screen to the TV screen
Let's have a closer look at one of the standout models:
Series 9 78 inch Curved SUHD TV
This SUHD TV costs $13,000 at 78 inches, yet costs significantly less at $5,199 for the 65 inch version. This model has a powerful 3840×2160 pixel resolution, and it has 4K Quantum dot display to produce stunning images and colours. It has a 4.2 meter curvature, which is apparently the optimal value of curvature for an optimal viewing experience. Other key features of this model include the SmartHub, 4 HDMI ports, 3 USB ports, SmartView and Smart Hub technology with boundless edges. If you can afford it, you'd be hard pressed to find a TV that can provide a better viewing experience.
4K UHD TVs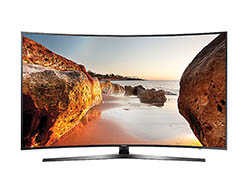 The UHD TVs from Samsung are 'just' regular old Ultra HD TVs, so they don't have that super advanced Nano-crystal technology like the SUHD models previously mentioned do. What they do have, however, is older Active Crystal Colour technology (ACC), which was the previous technology used. ACC is designed to maximise high-resolution performance, bringing out colours like green and red in greater detail.
Samsung has six UHD TVs in its range, which cost between anywhere $2,400 and $7,000. Since they aren't the latest models, they don't have the Nano-crystal and Peak illuminator features, but they can come with all of the others listed above, as well as some of the following:
HDR Premium: gives higher contrast in images
UHD upscaling: makes non-UHD dvds and blu-rays look better
TV SoundConnect: streams audio from Samsung SmartTV to a Samsung Soundbar
PurColour: gives vibrant tones and a wider colour expression
Series 7 78 Inch KU7500 Curved
This model comes in three sizes – 55 inches, 65 inches and 78 inches. The 78 inch version is naturally the most expensive at $7,000, but it costs $3,700 at 65 inches. This 4,200R curved screen TV has a powerful resolution of 3,840 x 2,160 pixels. It comes with 3 HDMI ports and 2 USB ports, meaning you can plug in multiple different devices to suit your needs.
The difference between UHD and SUHD isn't really that great, and there is about a $6,000 difference in price between this model and the SUHD one listed above, both of which are 78 inches. Unless you are extremely picky about picture quality, you might be better off going with a TV like this.
Samsung Full HD TVs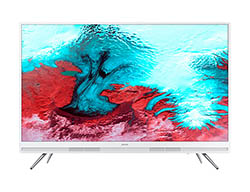 As we move down to the Full HD TVs, they start to become a lot smaller (and therefore a lot cheaper). The biggest of Samsung's three Full HD TVs is just 50 inches, which by today's standards is relatively modest. That's not to say these TVs are not worth buying. In fact it's quite the opposite. Not everyone can afford to spend thousands of dollars on a TV. If you're one such person, you'll find that Samsung's Full HD TVs and regular HD TVs are more within your budget. They cost between $1,100 and $1,500.
You'll find that these TVs have fewer advanced features than their more detailed counterparts, which is to be expected. They each come with full high definition pictures, which display crisp detailed images at a maximum of 1080p quality. This is more than enough to guarantee a high-quality viewing experience, and there are some who even argue that ultra HD really isn't worth all the fuss anyway.
Other features of these models are:
Wide colour enhancer plus: lets you see vibrant and rich colours
SmartHub
Screen Mirroring: see whatever you're viewing on your smartphone
Multiple USB ports to play music, movies and photos
Wireless sound
Series 5 49 inch K5500 LED TV
With wide colour enhancer plus, full HD, SmartHub and smartphone compatibility, this Series 5 model seems to represent decent value for money. It has a solid 1920×1080 screen resolution, with 3 HDMI and 2 USB ports. At $1,500, it's more expensive than a lot of other Full HD TVs on the market, but downsizing to either 32 or 40 inches could lower the price to below $1,000.
Samsung HD TVs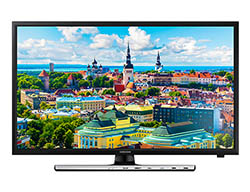 Lastly, there are Samsung's regular HD TVs. Or rather, Samsung's HD TV, since it only has one listed – the Series 4 32 inch J4100 HD TV.
As you can probably tell by the price, this TV is going to be a lot less advanced than the previous models we've talked about. It costs a maximum of $529 at 32 inches – its largest size – and just $450 at 24 inches. There isn't much of a difference between the two, but 24 inches is very small, so you'd probably be better off buying the 32 inch version.
It has a maximum high definition quality of 720p, which is much lower than the UHD and SUHD models, but still high enough to guarantee an enjoyable viewing experience. Wide Colour Enhancer technology ensures richness in your viewing experience, and it comes with 2 HDMI ports for convenience and customisation.
Are Samsung TVs worth the money?
That all depends on how much you're willing to spend. Samsung's TVs are extremely balanced appliances, as it tends to put more emphasis on extra software features like the SmartHub and curved screens to justify the few hundred dollars difference in price. Even the cheaper models have superb picture quality, so if you don't mind splashing a fair bit of cash, then Samsung TVs are definitely worth a look.
What do customers think about Samsung TVs?
In 2018, Australian customers gave Samsung 4 out of 5 stars for overall customer satisfaction for TVs.