Review of Samsung TVs
In the modern age, a TV is considered the centerpiece of any living room. People judge each other by the TVs that they own, so having a good TV is crucial to tying the house together. If you're looking for a TV that really stands out and impresses, Samsung could be the way to go.
As one of the leading TV manufacturers worldwide, Samsung has a huge range of TV options to choose from – many offering 4K or 8K resolution, so picking the best one for your home is going to be a real challenge. However, Canstar Blue's review of Samsung TVs should help.
Samsung TVs can be separated into the following main categories:
Neo QLED
QLED
Crystal UHD
Smart & Lifestyle TVs
We will examine the prices, specs and special features of Samsung's TVs to help determine if they represent a worthwhile purchase.
Samsung Neo QLED TVs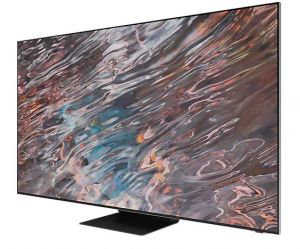 Samsung's Neo QLED TVs feature next-gen display technology called Quantum Dot, with TV displays in both 4K and 8K resolution. This latest viewing technology operates an improved lighting system with quantum dots (a smaller type of light-emitting diode) and mini-LEDs, said to give content depth and detail thanks to Quantum Matrix Technology. This includes more vivid colours, deeper blacks, and brightness and contrast.
Samsung's Quantum Mini LED is just 1/40th the height of its previous LEDs, and introduces a microlayer to focus light from each source, delivering more control over the display's backlighting. It also uses Anti-Glare technology, meaning you can watch TV at any time of the day without squinting and reduces screen 'burn-in'. Size options range from 50-inch to 85-inch.
Other Neo QLED features available include:
Neo Slim TV Design: Samsung's new backlighting technology allows for Neo QLED TVs to be thinner than other models, with some just 15mm in depth.
Object Tracking Sound: Dedicated up-firing and side-firing speakers make the audio follow the action on the screen for a more immersive sound experience.
8K AI Upscaling: This offers picture quality of upscaled content, meaning that virtually any movie, show, or concert you watch will look and feel cinematic or lifelike.
Adaptive Picture: Designed to automatically adjust the screen's brightness based on the amount of light in the room you're in.
Motion Rate 200: Optimises motion rate of dynamic scenes, including fast-paced sports and action movies.
Ambient Mode: Displays art, photos, or weather and time, to integrate your TV screen to suit your tastes and interior décor.
One Remote Control: This allows you to control all compatible devices with one remote, with easy access to Netflix, YouTube, gaming consoles, or a soundbar with Smart Hub.
Samsung QLED TVs
Samsung's QLED TVs use Quantum dots as a display technology, which are ultra-fine semiconductor materials of nanoscale size used to create more precise coloured light and efficient light emissions. This offers the advantage of high luminance, controlled brightness, and better contrast to enhance overall picture quality. It also helps reduce screen burn-in which is when residual screen image appears permanently on the screen.
Samsung's QLED TVs offer similar features as Neo QLD models, including Quantum Matrix Technology, Direct Full Array, Object Tracking Sound, smart connectivity and slim display designs, just to name a few. Size options range from 50-inch to 85-inch.
Samsung Crystal UHD TVs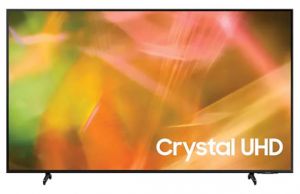 Samsung's entry-level Crystal UHD TVs are basically QLEDs without the quantum dots, so you still get LED backlights and LCD screens. The Crystal Display works to produce a wider range of colours with crystal clear clarity to create a more realistic picture quality. The Crystal Processor 4K works to transform any content into 4K resolution.
Other features Samsung Crystal UHD TVs have to offer include Game Mode to reduce lag time when gaming, an AirSlim design, smart connectivity with Google Assistant, Amazon Alexa and Apple Airplay 2 available, Samsung TV Plus, One Remote control and more.
Samsung Smart & Lifestyle TVs
Samsung says its Lifestyle TV range offers consumers more than just TVs, with options suited to different lifestyles, unique preferences, and spaces. The Lifestyle TV range includes the following models: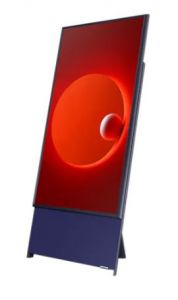 The Frame: Think of The Frame as a 'designer' TV. It features 4K QLED display and other breakthrough QLED picture and sound technologies to take home viewing to the next level. When turned off, it can be turned into a picture frame with photos, art, and pictures to match your interior.
The Sero: The standout feature of The Sero (pictured) is its mobile-optimised screen that rotates depending on the type of content you're watching. The screen rotates vertically or horizontally so that you can watch your favourite movies, videos and check your Insta feed any way you like.
The Serif: Designed by the Bouroullec brothers, The Serif has a unique 360° design and I-shape profile, giving you the freedom to place it anywhere in the home and allows you to play music from your smartphone through the TV's speakers. This model is also powered by QLED technology and comes with Ambient Mode.
The Terrace: This is a QLED weather-resistant TV designed for outdoor entertainment, and features Anti-Glare technology, allowing you to watch any content you like without distractions. It also has Direct Full Array for the same image quality day and night.
Samsung TV Prices
Wondering how much a Samsung TV would set you back? Below are some prices for the brand's most popular models:
Neo QLED 4K Smart TV (QN90A) 75-inch: $5,749 RRP*
QLED 4K Smart TV (Q80A) 65-inch: $2,749 RRP*
Crystal UHD 4K Smart TV (AU8000) 85-inch: $3,299 RRP*
The Frame (QA65LS03AAWXXY) 65-inch: $2,899 RRP*
The Sero (QA43LS05TAWXXY): $2,329 RRP*
The Serif (QA55LS01TAWXXY) 55-inch: $2,099 RRP*
*Prices taken from Samsung, correct as of July 2021.
Are Samsung TVs worth the money?
That all depends on how much you're willing to spend. Samsung's TVs are extremely balanced appliances, as it tends to put more emphasis on extra features like Quantum Matrix Technology and 8K AI upscaling, and curved screens to justify the few hundred dollars difference in price. Even the cheaper models have superb picture quality, so if you don't mind splashing a fair bit of cash, then Samsung TVs are definitely worth a look.
About the author of this page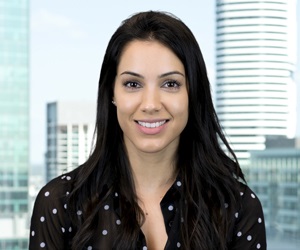 This report was written by Canstar Blue's Home & Lifestyle Content Lead, Megan Birot. She's an expert on household appliances, health & beauty products, as well as all things grocery and shopping. When she's not writing up our research-based ratings reports, Megan spends her time helping consumers make better purchase decisions, whether it's at the supermarket, other retailers, or online, highlighting the best deals and flagging anything you need to be aware of.
What do customers think about Samsung TVs?
In 2020, Australian customers gave Samsung 4 out of 5 stars for overall customer satisfaction for TVs.