Google's latest announcement was all about the brand's 2023 smartphones — but the Pixel 8 and 8 Pro aren't the only new products in the Pixel portfolio. Accompanying the phones are an all-new Pixel Watch 2, along with upgraded Pixel Buds Pro earbuds.
The Watch 2 and the new Buds Pro are available to pre-order now, with devices arriving on October 12, 2023. If you're planning to pick up the all-new Google Pixel 8 or Pixel 8 Pro, and you're looking for some specially-made accessories — or you're just keen to pair a new smartwatch or earbud combo with your existing phone — read on to see what's new with Google.
Google Pixel Watch 2
The first-ever Pixel Watch was unveiled in 2022, and combined the functionality of a smartwatch with the health and fitness tracking power of the Google-owned Fitbit. This year's Pixel Watch 2 builds on the features of the original edition, adding new health, fitness and safety inclusions alongside overall productivity updates. 
Looks-wise, the Watch features a light 100% recycled aluminum house, with a 41mm and larger crown for easier navigation. Buyers can choose from a range of custom watch faces, plus a large collection of bands including modern, classic and sports-ready styles. 
The Watch's face features an always-on display, but Google has packed in an enhanced battery with up to 24 hours of life per charge to keep your device powered longer. It also comes with a faster charger rate (including a full day's recharge in 75 minutes), and a new quad-core processor for a quick, smooth performance.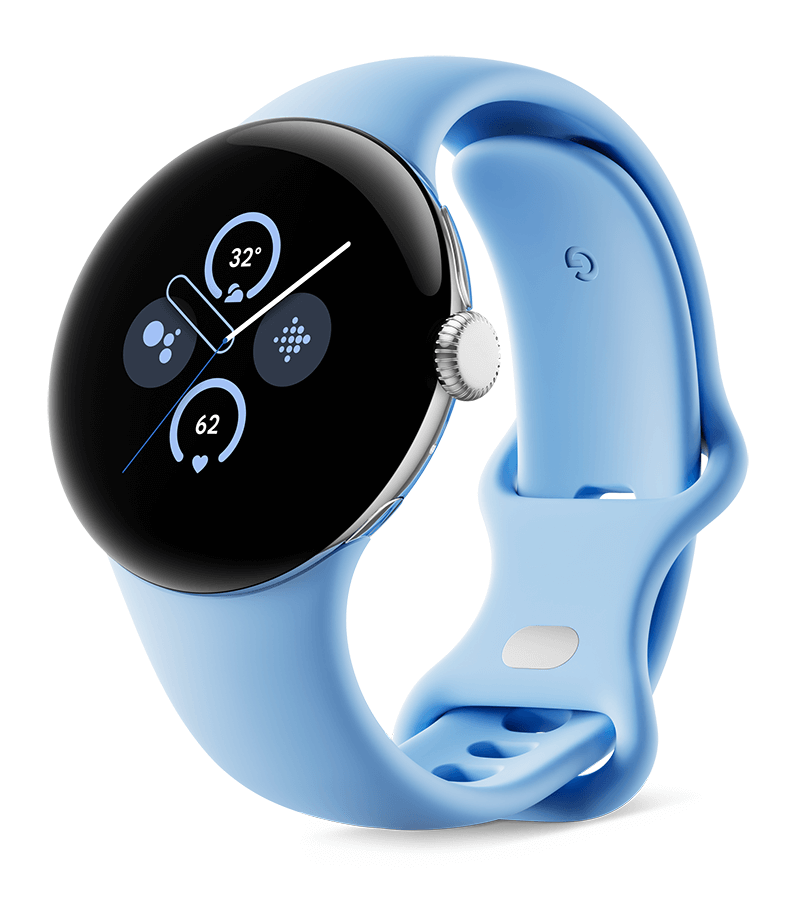 The 2023 Watch 2 includes three new sensors. The first is an improved heart rate sensor, which provides more accurate reading and works alongside Google's AI heart rate algorithm. The second is new skin temperature detection, which works with sleep tracking to monitor changes during the night. Finally, you'll also get the Body Response feature, which detects signs of stress through heart rate, skin temperature and more, and notifies you to take action to calm yourself.
Alongside advanced health tracking, the Pixel Watch 2 also provides all the benefits of the sports and exercise-focused Fitbit, such as Heart Rate Coaching and Pace Training. The Watch also includes automatic workout stop and start reminders, along with 40 workout modes and plenty of features designed to help maximise your training and reach your fitness goals. 
Whether you're out on a run or chilling at home, safety is a major concern — so the Pixel Watch 2 comes equipped with safety options including Emergency SOS, fall detection, Emergency Sharing and Safety Check. The new Safety Check feature can share your location and routine with trusted loved ones, and alert friends and family if you don't check in after a particular activity. 
The Pixel Watch 2 also includes a range of Google features, such as Google Assistant, Gmail, Calendar, Maps, Google Play and more. These are all designed to work with Google's Wear OS 4 operating system, which offers quick notifications, one-tap map directions and calling, and plenty of customisation options. 
The Google Pixel Watch 2 is priced at $549 for the Bluetooth/WiFi edition, and $649 for Bluetooth, WiFi and 4G LTE connectivity. It's available in Polished Silver, Matte Black and Champagne Gold cases, with Bay, Obsidian and Porcelain bands.
You can pre-order the Google Pixel Watch 2 now, with the device arriving in stores from October 12, 2023. The new Watch is available from the Google store, and from JB Hi-Fi, Officeworks and Harvey Norman.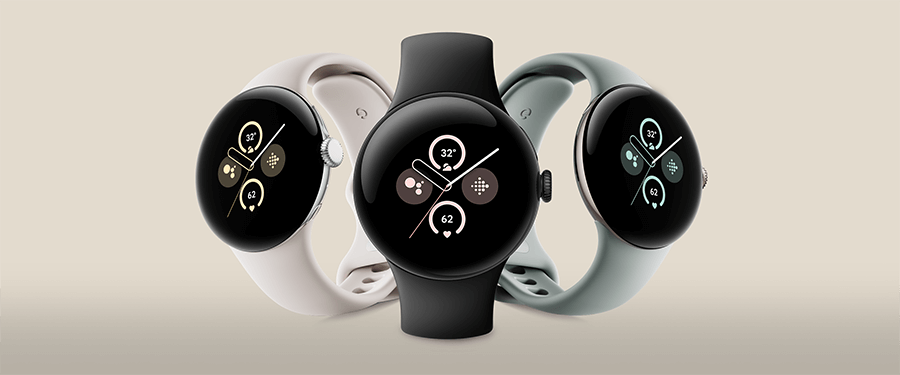 The Google Pixel Watch 2: key points
$549 for the Bluetooth/WiFi model,  $649 for the 4G LTE model

Matte Black Aluminium case with Obsidian Active band, Polished Silver Aluminium case with Nay or Porcelain Active band, or a Champagne Gold Aluminium case with Hazel Active band

41mm diameter

24-hour battery li

fe

Wear 0S 4.0 software

Integrated with FitBit, featuring 40 exercise modes and 800 workouts

Step tracker and distance counter

Works with Google Pixel and Android 8.0+ smartphones

Advanced tracking for heartbeat, sleep, breathing rate, blood oxygen, stress management, and ECG

New Safety Check features, along with Fall Detection and Emergency SOS

Apps include Gmail, Google Maps, Google Wallet, Google Calendar, Google Assistant, Google Play
Shop more smartwatches
Google Pixel Buds Pro
Google has opted to give the Pixel Buds Pro a spring upgrade, adding a selection of new features to its popular wireless earbuds. You'll also be able to buy the Buds Pro in two new colours, Bay and Porcelain, which match the options available with both the Google Pixel 8 and Pixel 8 Pro (as well as the above Pixel Watch 2).
The updated Buds Pro come with double the bandwidth for clear calls on both sides, along with active noise cancellation that blocks outside noise. There's also a transparency mode for when you need to be on top of your surroundings, and the Buds can be used with Google to hear directions, live translations and more.
The Buds feature a customer-designed speaker, with a full 5-band EQ that allows for customised sound and adjusted tuning when you change the volume. The Buds Pro also include a low-latency gaming mode, meaning you'll get immersive sounds with less delay when gaming.
Each pair of Buds comes with pliable eartips that mould to the shape of your ear, and can monitor ear canal pressure to keep you comfortable. Google also offers hearing wellness insights, so you can make sure you're not overloading your ears. Media and phone calls can be controlled easily with a single tap or swipe, and 'touch and hold' can switch active noise cancellation on or off.
The Google Buds Pro are available for $299, with Charcoal, Fog, and Lemongrass colours in stores now. You can pre-order the new Bay and Porcelain colours now, with in-store availability starting October 12, 2023.
Compare Google Pixel 8 plans
The following table shows a selection of published 24-month plans for the 128GB Google Pixel 8 on Canstar Blue's database, listed in order of cost, from the lowest to highest and then by data allowance, largest to smallest. Use our mobile phone comparison tool to see plans from a range of providers. This is a selection of products with links to referral partners.