Collaborative projects can somewhat be a drain when it comes to being productive in the work environment, particularly if you have to spend time huddled around a single whiteboard. Thankfully, there may be a way to improve those cooperative processes, with Microsoft offering the Surface Hub 2S, an interactive whiteboard that looks to take your workspace to the next level.
The Microsoft Surface Hub 2S brings ideas to life with a Windows 10 engine to seamlessly provide solutions and advancements to team's collaborative efforts. The Surface Hub 2S eliminates the somewhat lacklustre idea management and display that can occur in the working space, as this digital whiteboard promotes team brainstorming with its use being intended for more as a public computer than a personal device. But while it all sounds good in theory, what features does the Surface Hub 2S actually include, and is it worth buying? Find out all you need to know in this Canstar Blue guide.
What is the Microsoft Surface Hub 2S?
The Microsoft Surface Hub 2S is a multi-media digital whiteboard that seamlessly translates teams' ideas to real life solutions. In addition to being used as a creative and collaborative workspace, the Microsoft Surface Hub 2S can also be used for team meetings, with an in-built 4K camera and 8-element MEMS microphone, with other features that you've come to expect with Microsoft products to help get the job done.
Microsoft Surface Hub 2S Features & Specs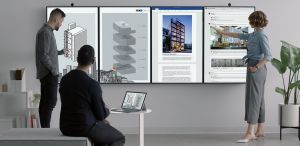 The Microsoft Surface Hub 2S currently includes the following features and specs:
Dimensions: 741 x 1097 x 76mm (50-inch screen)
Weight: 28kg
Resolution: 3840 x 2560
Aspect Ratio: 3:2
Processor: Quad-core 8th Gen Intel Core i5
Memory: 8GB RAM
Display: PixelSense Display
Storage: 128GB SSD
Graphics: Intel UHD Graphics 620
Audio: Full-range front facing 3-way stereo speakers
Video: Microsoft Surface Camera, 4K, USB-C connection, 90-degree HFOV
Wireless: Miracast Display, Bluetooth Wireless 4.1 technology
Sensors: Doppler occupancy sensor
Connection types available: USB-A, Mini-DisplayPort Video Output, RJ45 Gigabit Ethernet, HDMI Input, 4xUSB-C
You'll receive a Surface Hub 2 Pen and Camera to help you get to the point during presentations, with the Surface Hub 2 also coming equipped with lots of Microsoft software, including Skype, Microsoft Teams and integrated Power BI to help for whatever your job throws at you.
Microsoft Surface Hub 2S Accessories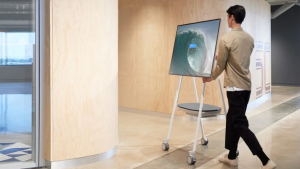 While the Surface Hub 2S comes packed with plenty for both work and play, there are a number of accessories available to help customise the experience to the workplace or project. Microsoft Surface Hub 2S accessories include:
Steelcase Roam: a collection of wall mounts and mobile stands, the Roam range allows you to either set up your Hub 2S in the one spot or take it with you if you need to have your meetings in a different setting.
APC Charge Mobile Battery: a lithium-ion battery system that fits into the Steelcase Roam Mobile Stand to provide extra charge for extended working hours, ideal for when those big deadlines come around.
How much does the Microsoft Surface Hub 2S cost?
Retailing for $13,999.95 AUD on the Microsoft store, the Surface Hub 2S price tag may scare some businesses away, but is evident of the one-of-a-kind digital experience that it can provide. Add in the fact that the digital whiteboard market isn't a crowded space, and the Microsoft Surface Hub 2S could be well worth the expense, particularly if your work is big on team collaboration projects.
Where can you buy the Microsoft Surface Hub 2S?
The Surface Hub 2S is exclusively available for Australians online via the Microsoft store, with only approved re-sellers able to help you install and manage your new whiteboard.
Is the Microsoft Surface Hub 2S worth it?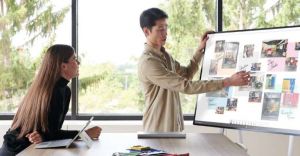 The Surface Hub 2S is intended for businesses looking for a multi-media tool to help them brainstorm and create solutions more effectively and efficiently, with the added appeal of feeling like you're working in the future. With the interactive whiteboard offering multiple applications while providing high-quality resolution and easy mobility, the Microsoft Surface Hub 2S will no doubt be a tempting purchase for many, but with a price tag close to $14,000, it may cause some to question whether they really need it or if a regular whiteboard can get the job done.
If you're looking to invest in your workspace and help create a more seamless experience between teams and their projects, the Microsoft Surface Hub 2S may be worth considering. But if you're not quite ready to blow the quarterly budget on a new piece of tech, it may be back to the drawing board.

Photo Credit: microsoft.com