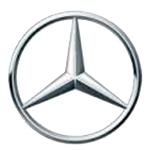 A guide to Mercedes cars in Australia
Often considered the pinnacle of luxury on wheels, German brand Mercedes has long been the choice of motorists looking to arrive in style. But what exactly can you hop out of at your next event? In this guide, Canstar Blue takes you through the Mercedes models available in Australia, along with features and extras to help you find the car of your dreams.
Mercedes A-Class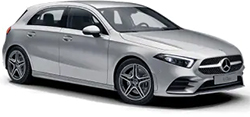 Referred to as the 'Baby Benz', the A Class has grown physically, as well as in popularity, over recent years, with the class available in both hatch and sedan models, including:
A 180 (Hatch & Sedan)
A 200 (Hatch & Sedan)
A 250 (Hatch)
A 250 4MATIC (Hatch)
Equipped with a 7speed transmission, the Mercedes A-Class range has an output between 100kW and 165kW depending on which model you drive away in. Each model comes equipped with 18inch wheels, LED headlamps, and the Mercedes-Benz User Experience (MBUX) to change the lights, multimedia display and even the touch control buttons on the steering wheel to suit your style.
The A-Class also incorporates a Heads-Up Display (HUD), allowing you to keep your eyes on the road while the car's computer displays important information, such as speed limits and navigation, up onto the windscreen to cut down on distractions.
Mercedes B-Class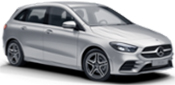 Marketed as a 'multi-purpose vehicle', the Mercedes B-Class has been available since 2005, with the model currently in its second generation of production. The B-Class is available in the following models:
With a 7speed transmission, the B180 includes 17inch alloy wheels, as well as a number of Mercedes 'packages' in the base model. Included packages the Connectivity Package, the Style Package, Parking Package, Mirror Package and the EASY-PACK, with a number of other packages available, for an additional cost. The B-Class also features the LINGUATRONIC voice control system, which works with the Widescreen Cockpit to allow you to stay in touch with friends and family while staying safe behind the wheel.
Mercedes C-Class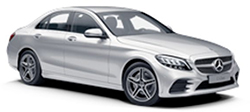 With plenty of body types available, the C-Class is a popular choice for motorists, regardless if you're after a model that will fit the family, or something that's just for you. Manufactured since 1993, the C-Class is available in the following models:
C 200 (Coupe, Estate, Sedan & Cabriolet)
C 220 d (Estate & Sedan)
C 300 (Coupe, Estate, Sedan & Cabriolet)
AMG C 63 S (Coupe, Estate, Sedan & Cabriolet)
AMG C 43 4MATIC (Coupe, Estate, Sedan & Cabriolet)
Each C-Class model includes a 9speed automatic transmission, with engine output varying between 125kW and 375kW depending on the model. Both petrol and diesel models are also available, with the C-Class range supported with either 18inch or 19inch wheels.
The C-Class range includes packages such as the Driving Assistance Package and Mirror Package for additional safety, with the base price often including touch control buttons, twin lourve radiator grilles with chrome inserts, KEYLESS-Go and parking assist, providing comfort and peace of mind for your time on the road.
Mercedes E-Class

Known as the Executive range, the E-Class is one of Mercedes' longest running models, with production starting back in the 1950s. Today, the E-Class range includes:
E 200 (Saloon)
E 300 (Cabriolet, Coupé, Saloon)
E 350 e (Saloon)
E 450 4MATIC (Cabriolet, Coupe, Saloon)
AMG E53 4MATIC+ (Cabriolet, Coupé, Saloon)
AMG E63 4MATIC+ (Saloon)
AMG E63 S 4MATIC+ (Saloon)
E 220 d (Coupé, Estate, Saloon)
E 350 d (Saloon)
With both diesel and petrol engine models available, the E-Class range has an engine output of 135kW to 450kW depending on the model, meaning some models will excite you more than others. Expect safety features such as Attention Assist, as well as Active Distance Assist DISTRONIC, which automatically regulates the distance between you and the car in front.
The E-Class also includes smartphone integration with Apple CarPlay and Google Android Auto, allowing you to pair the multimedia system with your smartphone. The E-Class also comes equipped with a 12inch Widescreen Cockpit, which covers behind the steering wheel and the traditional infotainment unit space. The screen is available in three display styles and includes a digital instrument cluster as well as Media Display, which outlines vehicle functions and data, as well as entertainment.
Mercedes S-Class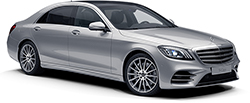 Currently in its sixth generation, the S-Class has been in production for almost 40 years, with its current line-up consisting of:
S 350 d (Saloon)
S 450 L (Saloon)
S 560 (Cabriolet, Coupé, Saloon)
S 560 e L (Saloon)
S 560 L (Saloon)
AMG S 63 (Cabriolet, Coupé)
AMG S 63 L (Saloon)
AMG S 65 (Cabriolet, Coupé)
With a power output between 270kW to 463kW, the S-Class is one of the more powerful models, making it worth checking out for those who don't mind putting the foot down. In addition to its powerful engine, the S-Class also comes equipped with a variety of safety features, including Active Brake Assist, Attention Assist as well as the PRE SAFE system, which takes preventive measures in the event of an impeding accident.
Other features include the HUD (Heads-Up Display) system, which projects a virtual image onto a small area above the steering wheel, along with additional features such as Thermotronic Climate Control, Nappa Leather interiors and a Wireless Charging System for mobile devices.
Mercedes CLA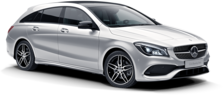 Labelled a subcompact executive car, the Mercedes CLA is the middle ground between the C-Class and the E-Class, with the range currently including models such as:
CLA 180 (Coupé)
CLA 200 (Coupé, Estate)
CLA 220 d (Coupé, Estate)
CLA 250 Sport 4MATIC (Coupé, Estate)
AMG CLA 45 4MATIC (Coupé, Estate)
AMG CLA 45 4MATIC LCT (Coupé, Estate)
Available in petrol and diesel engines, the CLA range includes features such as 7speed transmission, 18inch or 19inch alloy wheels as well as Dynamic Select, which adjusts the characteristics and parameters of the car to suit your driving style, which includes Comfortable, Sporty and Efficient.
In addition to Mercedes-Benz Intelligent Drive, the Shooting Brake model includes more headroom for passengers, as well as a larger compartment capacity to help you pack plenty in for those trips away. You'll also be treated to a free-standing 8inch infotainment unit to help you keep an eye on your music, car functionality and other comforts.
Mercedes CLS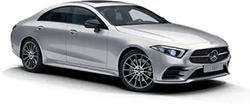 Now in its third generation, the CLS is Mercedes' full-size luxury model, and is often positioned between the E-Class and S-Class range. Current models include:
CLS350 (Coupé)
CLS450 (Coupé)
AMG CLS 52 4MATIC+ (Coupé)
Handling the 220kW to 320kW engine via the 9speed transmission, the CLS range includes a variety of other functions and features, including Air Body Control, which continuously adjusts the multi-chamber air suspension to allow for a smoother ride, and adjusts to your driving mode. Also included is the EQ Boost, which allows for reduced fuel consumption via coasting mode, with the petrol engine integrated with the alternator for optimal operation.
Boasting 64 colours to illuminate the interior, or 10 colour schemes, even the air vents are illuminated, with the colour adapting to the temperature you've selected. The CLS also includes Energizing Comfort Control, which sets the mood via air conditioning, fragrances, massaging seat functionality and ambient lighting to help you keep awake during those long solo road trips, or to help you lull the kids to sleep in the back.
Mercedes GLA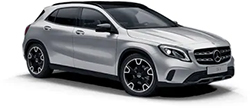 The smallest SUV available from Mercedes, the GLA has been in production since 2014, with the SUV currently available in the following models:
GLA 180 (SUV)
CLA 220 d (SUV)
GLA 250 4MATIC (SUV)
AMG GLA 45 4MATIC (SUV)
Available with diesel and petrol engines, the GLA is coupled with a 7speed auto transmission, you can expect a power output between 90kW and 280kW, with between 18inch and 20inch wheels to keep you stable out on the road. You can opt for a fresh exterior, with the GLA available in Style, Urban and AMG exterior lines, with an Night Package also available to make heads turn.
In addition to the sleek exterior, the GLA includes LED High Performance Headlamps for increased visibility, Active Parking Assist for those tight car parks, as well as the optional Smartphone Integration Package, which includes compatibility with both Apple and Android smartphones, as well as integrated maps and voice recognition technology.
Mercedes GLC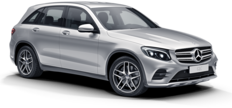 Replacing the GLK-Class, the GLC is a mid-size SUV fresh to the market, with the model rolling off production lines in 2015. Currently in its first generation, available GLC models include:
GLC 200 (SUV)
GLC 250 (Coupé, SUV)
GLC 250 d (Coupé, SUV)
GLC 350 d (Coupé, SUV)
AMG GLC 43 (Coupé, SUV)
AMG GLC 63 S (Coupé, SUV)
Coupled with a 9speed transmission across all models, the GLC is capable of producing between 135kW and 375kW across the range, with petrol and diesel models available. The GLC range also includes 19inch to 21inch alloy wheels, finding a middle ground between style and road comfort.
Along with Mercedes safety features such as the PRE SAFE system, Active Blind Spot Assist and Attention Assist, the GLC can also be fitted with a panoramic sliding sunroof, with an Off-Road Engineering package available for those looking to take the road less travelled.
Mercedes GLE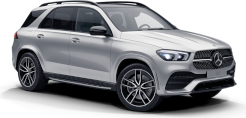 Another mid-sized SUV, the GLE is the updated version of the classic M-Class, with the third generation producing models such as:
GLE 300 d 4MATIC (SUV)
GLE 350 d (Coupé)
GLE 400 d 4MATIC (SUV)
GLE 450 4MATIC (SUV)
AMG GLE 43 (Coupé)
AMG GLE 63 S (Coupé)
Available in petrol and diesel engines, the GLE range is capable of producing between 180kW and 270kW of power output, with a number of packages available to make the SUV your own. Packages include the Comfort Package for those after something a bit more luxurious, as well as the AMG Sports Package for those looking for something lean and mean.
Equipped with Multibeam LED headlights, Thermatic climate control and a Nappa leather sports steering wheel, the GLE also comes with a 12inch Widescreen Cockpit display behind the steering wheel, which comes with multiple display styles and features to help you keep an eye on your speed as well as your music and apps.
Mercedes GLS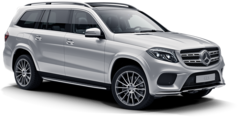 The flagship of the Mercedes SUV line-up, the GLS is moving towards its third generation of production, with current models including:
GLS 500 (SUV)
AMG GLS 63 4MATIC (SUV)
350 d 4MATIC (SUV)
GLS 350 d 4MATIC Sport (SUV)
GLS models are available in both diesel and petrol engines, with a power output ranging between 190kW to 430kW, with a 7speed or 9speed transmission also dependent on model type. Models come with the Airmatic Package, which includes air suspension and Adaptive Damping System to help with driving comfort on both the bitumen and rougher terrain.
GLS models also feature the Dynamic Select feature in the centre console, which allows drivers to select from multiple driving types, including Comfortable, Sporty, Winter and Off-Road, with the option to also customise to suit your style and preference. Additional extras include Rear Seat Entertainment units, ideal for kids, along with Air Balance Ionisation, which increases the air filters to improve air quality and cut down on pollutants.
Mercedes G-Class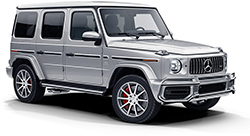 Otherwise known as the G Wagon, the G-Class is known for its box-like appearance, with the model originally designed as a military vehicle. Suitable for civilian use now, the G-Class line-up includes:
AMG G 63 (SUV)
AMG G Professional (SUV)
Capable of travelling both on bitumen and dirt, the G-Class includes a 9speed auto transmission, along with a suspension system paired with adaptive damping system for additional control and comfort. Also including an Electronic Traction System to prevent wheel-spinning when you accelerate, the G-Class includes a number of safety features, such as Active Lane Keeping Assist and preventive occupant protection to help you stay safe on the roads.
For those who have their eye on something a bit more rugged, the G-Class Professional includes a high-torque 135kW diesel engine with 5spered auto transmission, with the Edition PUR model coming with a range of aesthetic extras and options, including a reinforced bumper, anti-slip step protection and heated exterior mirrors.
Mercedes SL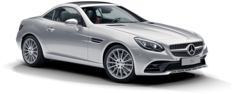 For those looking to feel the wind in their hair, the SL Roadster may be the option for you, with the popular convertible also associated with the eye-catching Gullwing doors, although they may not be available on every model.
SL 400 (Roadster)
SL 500 (Roadster)
Featuring a power output between 270 and 335kW, both the 400 and 500 SL models include a 9speed auto transmission, along with THERMOTRONIC climate control, keyless entry and 19inch wheels. The SL models also include AIRSCARF and Electric Draught Stop screens for when you don't want the wind messing up your new hairstyle, with a Vario Roof also available. Sports seats and a shift paddle sports steering wheel is also available for those looking to live life in the fast lane, with SL models also equipped with Intelligent Drive and LED Light System to ensure you're kept safe behind the wheel.
Mercedes V-Class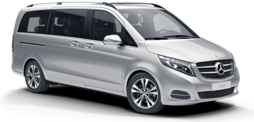 Having expanded into the people-mover market in 1996, the third generation of the V-Class has seen a face-lift and revamp of the van range. Current models include:
V220 d (Van)
V250 d AVANTGARDE (Van)
Powered by a 3.1L diesel engine, the V-Class has a power output of 120kW, with the model capable of carrying eight occupants, with all rear and middle seats foldable to accommodate for plenty of packing. The V-Class also comes equipped with Crosswind Assist, allowing you to stay in control when exposed to severe wind gusts.
You can also add a panoramic sliding sunroof to give yourself and immersive experience while out on the road, with additional packages such as the Parking Package, Lane Tracking and Driving Assistance Package also available for additional safety while behind the wheel.
Mercedes X-Class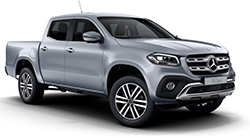 While it might not be the first car manufacturer you think of when it comes to the pickup truck, Mercedes recently entered the market in 2017, with models currently including:
X 220 d (Ute)
X 220 d 4MATIC (Ute)
X 250 d 4MATIC (Ute)
X 350 d 4MATIC (Ute)
All diesel engines, the X-Class can produce between 120kW and 190kW of power depending on the model, with all models supported by 17inch wheels. You can also add on the Plus and Winter Packages, which allow for additional storage in the back, as well as seat warmers and other comforts during the cold months. And if you're really looking to add the extras, Mercedes also offers bull bars, canopies, tow bars, side steps and cargo rails to make the X-Class your own.
Mercedes AMG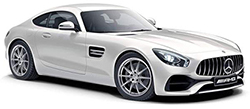 If you've got the need for speed, or you're looking for the top of the line, the AMG range may be the one for you. The German manufacturer's high performance range, AMG models are available throughout the majority of Mercedes line-up, including the A-Class, G-Class and S-Class. While they may have a price tag to match their improved specs and power output, the AMG range may be worth forking out extra for if you enjoy your time behind the wheel.
Covering plenty of makes and models, Mercedes may be well worth investigating if you're after a new car, although the price tag won't be for the faint of heart.
About the author of this page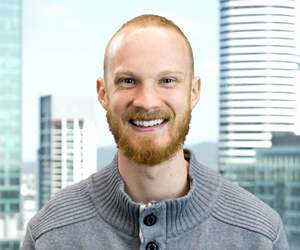 This report was written by Canstar Blue's Site Editor, Dean Heckscher. He's our resident expert on all things automotive, health & fitness, streaming and more. Dean is also one of Canstar Blue's customer research report producers, helping to turn complicated subjects into easily-digestible information for our readers. He's passionate about helping consumers make better-informed purchase decisions on all manner of consumer goods and services.
Photo credit: Domagoj Kovacic/shutterstock.com