About Samsung dishwashers
Here's a brief rundown on Samsung dishwashers. And you can check the survey results here.
The people behind the name
Samsung began in 1938, founded by Byung-Chull Lee as a small trading company that sold noodles and dried seafood. Samsung Electronics was founded in 1969 in South Korea, beginning by producing TVs. Samsung now ranks as a top 10 global brand.
Samsung is a large, family-owned corporation or a 'chaebol', which means 'wealth clan' in Korean. This allows them to invest in developing new technology instead of just producing an endless line of static products.
Their mission is to make life better for people around the world, and it does this by sponsoring many different community development projects. For example, in 2012 they sponsored the London Paralympic Games and developed the eyeCam, an eye-tracking mouse for the disabled.
Samsung is also committed to sustainability and was the only Asian company to be one of the ten global companies listed in the Carbon Disclosure Leadership Index (CDLI). Its current slogan is 'Turn On Tomorrow'.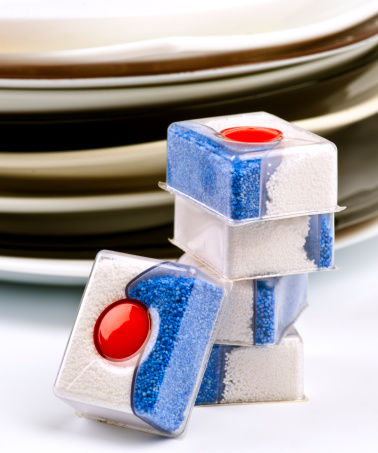 What's in your dishwasher detergent?
Samsung innovations in dish washing
2014: The DW80H9970US and DW60H9970FS models together introduced several brand new innovations:
Water Wall: This motorised row of spray jets moves back and forth to clean the dishes instead of the traditional spinning spray arm. This prevents 'redeposit', where food particles are spread from dirty dishes back onto the freshly-cleaned dishes.
Zone Booster: Choose this option to intensify the jets when they reach a section that has dirtier items than the others.
Flextray: It's a removable rubber pad on the third rack so you can conveniently pull out all of your cutlery at once and put it straight back into the kitchen drawer.
Automatic drying system: The door automatically pops open once the temperature inside the dishwasher drops below 60°C, allowing steam and condensation to escape for a quicker drying time.
Mike Lilly, head of home appliances at Samsung Electronics Australia, said Samsung was "breaking new ground" in dishwashers because it was something they were "committed to improving and evolving for Australians."
Other dishwasher brands we rated
Canstar Blue commissions Colmar Brunton to regularly survey 3,000 Australian consumers across a range of categories to measure and track customer satisfaction. The outcomes reported are the results from customers within the survey group who have purchased and used a dishwasher in the last three years – in this case, 710 Australians.
The other dishwasher brands in this year's survey are:
Miele
Bosch
Fisher & Paykel
Westinghouse
Dishlex
LG
You can view the dishwasher survey results here.
Other articles you might like
How to keep your dishwasher in good health