About Fernwood
A brief history
Fernwood launched in 1989, and has become an icon of women's health and fitness in Australia. Today they are the largest chain of women's gyms, employing over 2,000 people and boasting more than 68,000 members (and counting).
With humble beginnings in Bendigo, Victoria, Fernwood has not stopped growing. It took six years for the first 14 clubs to emerge, and from there Fernwood was booming. Through the 1990s, Fernwood took over the nation, and their success continued through the 2000s. By 2007 there were 75 clubs across Australia.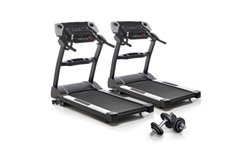 Gyms customer satisfaction review results
They have also achieved major milestones in the business world too; in their first 6 years they made one million dollars, and reached $25 million turnover by 2002. Two years later, Fernwood was listed as one of the top franchises in Australian business review, and in 2005, founder Diana Williams became the first woman inducted into the Franchising Council of Australia's hall of fame.
For the past 26 years, Fernwood has been succeeding in business. But more importantly, they have been empowering the women who go to their gyms by helping them become fitter, happier, and healthier.
What do they offer?
Being a successful business, Fernwood have been able to offer a great deal of equipment, services, and classes to their members.
Personal Training: a personal trainer will tailor an exercise plan for an individual's goals and capabilities. The 30 minute sessions are considered ideal for the busy woman who is still committed to her health and fitness.
Food Coaching: a program that is unique to Fernwood, food coaching teaches women about nutrition and ways to supplement your workout by eating the right kinds of food. A great tool for those who are in the dark about good nutrition. See what it is all about here.
Childcare: with a majority of childcare falling onto mums, working out at the gym can sometimes be sacrificed for the needs for the kids. To help out busy mothers, Fernwood offer childcare with qualified staff so you don't have to sacrifice your workout.
Training Programs: Fernwood offer a range of group fitness training programs that span over a set amount of time. Whether you want to kick start healthy habits with their 28 Day Breakthru, or push yourself to the limit with Military Miss Bootcamp, Fernwood have a program for you. Find them all here.
Group Fitness: be social and get fit at the same time. Group fitness is a fun and supportive environment with a range of different classes to suit all kinds of tastes and needs. Whether you want a simple workout to do with friends, or a challenging circuit to burn those calories, there is a group fitness class for you at Fernwood. Find out more here.
What our survey respondents say…
This year Canstar Blue surveyed over 900 people who have a gym membership or recently joined a gym. These are some of the comments, among others, made by survey respondents who work out at Fernwood.
| | |
| --- | --- |
| Great trainers, plenty of equipment, excellent supervision, friendly place. | Not many heavy weights. |
| I like that it is women only and has a very positive vibe. The machines are very new and well maintained. | Price can be expensive compared to other gyms. |
| Great classes and friendly staff. | Lock-in contract. |
| You can feel comfortable going there. | Gym equipment isn't consistent throughout all the Fernwood gyms. Some Fernwood gyms need to fix up their bathrooms and showers. |
| They provide healthy breakfast foods in the mornings. | Staff are great but hard to book a PT. All the good classes are on during working hours. |
Source: Canstar Blue Gyms survey – 2015
Other gyms we rated
Canstar Blue commissions Colmar Brunton to regularly survey Australian consumers across a range of categories to measure and track customer satisfaction. The outcomes reported are the results from customers within the survey group who are members of a gym.
The other gyms in this year's survey are:
Anytime Fitness
Genesis
Goodlife Health Clubs
Jetts
Plus Fitness
Fitness First
Snap Fitness
Other articles you might like
New to the gym? Here are 5 workouts to try
7 items you need in your gym bag
Could a virtual exercise coach suit you?