Fact Checked
What is a HEPA filter? And will it benefit me? HEPA filters can help keep the air in your home cleaner year round offering a number of benefits. Whether you're installing a brand new unit and considering one with an air purifying filter or looking to upgrade, find out if an air conditioner with a HEPA filter may be right for you with this Canstar Blue guide. 
What is a HEPA filter?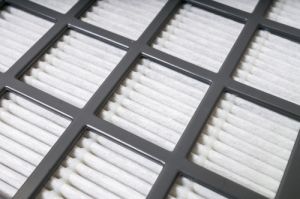 The acronym HEPA stands for 'High-Efficiency Particulate Air' (filter), which can remove up to 99.97% of dust, pollen, mould, bacteria, and airborne particles as small as 0.3 microns (µm). That's why they're the standard filtration system for medical settings like hospitals and clinics.
However, HEPA filters are also built into domestic air conditioners to improve air filtration and quality. The main drawback is that the density of a HEPA filter can sometimes interfere with the airflow of your air con unit, as well as potentially up the price of the unit.
How do HEPA air filters work?
HEPA filters are a type of mechanical air filter which work by pushing air through a fine mesh that traps harmful particles like dust mites, dander, pollen, mould, and tobacco smoke. The mesh filter features randomly arranged pleats and fibres that help catch a wider range of particle sizes compared to traditional filters. Air particles pass through a HEPA air filter through a combination of three mechanisms: diffusion (for particles below 0.3 μm), interception (for mid-size particles), and impaction (for larger particles).
How often should you replace a HEPA air filter?
In general, you should replace your HEPA filter every 12 to 18 months, although ultimately it will depend on the air quality in and around your house, how often you use your air conditioner, as well as other factors. Air purifiers come with either washable or permanent filters, but regardless of which type you have, they should be replaced or cleaned regularly.
HEPA air filter pros and cons
HEPA filters do plenty of good in keeping your home's air fresher, but they do also have some drawbacks.
Pros: 
Remove particles as small as 0.3 microns

Wider surface area for filtration

Built in to most air purification and cleaning appliances, making them more accessible and affordable 
Cons: 
Won't remove all particles

Can limit your air conditioners air flow

Not suitable for all residential systems
Air conditioners with air purifiers
Most air conditioner brands will have models that has an air purifier filter built into the appliance, which means there's plenty of choice. Brands like LG, Panasonic, Daikin and more may have models with HEPA filters, however Panasonic is one brand that has a wider range of air conditioners with HEPA filters. 
Factors to consider when buying a HEPA filter air conditioner
When it comes to purchasing an air conditioner with a HEPA filter there are a number of factors to take into consideration. Firstly, a big factor will be whether you live in a household with people who suffer from respiratory issues or asthma. If someone suffers from asthma it can be a huge benefit to purchase one to help keep the air cleaner and avoid any related health issues. Another factor may be the cost considering a HEPA filter will cost a little bit more to install in an air conditioner or to buy a unit with one built in. Whether you're looking at an air con with a HEPA filter or not, compare different air conditioning brands below to help get you on the right track.