Asko Refrigerators Review & Guide
With so many refrigeration options available, navigating your way through the appliance aisle can get overwhelming. But Asko's small range of Pro Series fridges could make your choice a little simpler – if you have several thousand dollars to spare!
From removable shelves to separate temperature zones for red and white wine, each Pro Series integrated and outdoor refrigerator is designed to provide a variety of flexible features claimed to help you adapt your appliance to the way you want it. Other products available from Asko include washing machines, tumble dryers, ovens, cooktops and dishwashers.
To ensure that the contents of your fridge isn't excessively or under chilled, every Asko model includes a dual refrigeration system. This is said to provide each refrigerator and freezer area with its own separate closed system, which contains a different evaporator and compressor in each compartment. Asko claims this allows for better preservation as fresh food is apparently better kept in a 'humid yet chilly environment', while frozen foods need a 'dry and frigid air' to prevent decay and freezer burn.
Accessories such as stainless doors are also typically available for $999. Here is a guide to some specific Asko fridges.
Integrated Fridges
Asko RWF2826

Make sure the bar is always stocked for your guests with the Asko RWF2826 fully integrated wine chiller and freezer. Featuring an electronic ice maker & convertible drawer, this fridge is said to provide enough room for up to 106 bottles. It also includes a dual zone which allows you to store red and white wine in separate temperature zones, ensuring the wine is chilled at a more suitable temperature.
Other features include:
6 shelves
2 freezer drawers
Convertible freezer
Adjustable feet
The Asko RWF2826 is a 203cm built-in integrated model, but can be alternatively installed as a freestanding fridge.
RRP: $13,999
Asko RF2826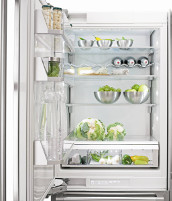 For people who like the Asko RWF2826, the Asko RF2826 fully integrated fridge freezer is also available. The 203cm integrated model comes with four shelves and two freezer compartment drawers. Similar to the brand's other refrigerators, this can be installed as either a built in or freestanding appliance.
From pull-out shelves to adjustable slide door shelves, the ASKO RF2826 provides several features:
Dual refrigeration system
Convertible freezer
Flexible loading racks
Custom door installation
Adjustable feet
Vegetable drawer
Meat and fish drawer
RRP: $13,999
Outdoor Fridges
ASKO R2303 Outdoor Fridge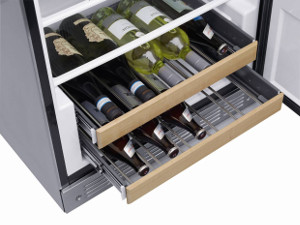 If you love to entertain, outdoor fridges like the stainless steel Asko R2303 might be something to consider for your next purchase. Described as an ideal solution for keeping food and drinks cool in the Australian climate, this product is stated to survive high temperatures of up to 49oC and has an IPX4 water resistant rating said to ensure the model continues to operate as normal in wet weather.
Featuring a total of five shelves, the 153mL Asko R2303 includes two wine racks which can fit up to 10 bottles. It contains two tempered glass shelves that can be removed for cleaning and make space for taller items. The top shelf is similarly said to accommodate tall objects as it can split in half and slide under itself. The under counter fridge can also installed as either a built in or freestanding appliance.
For safety measures, the Asko R2303 is made with a lockable door and contains child-proof controls to prevent the kids from opening the fridge or changing temperature. The product is also stated to have a sealed motor to keep insects and other creepy crawlies away.
Other features include:
Wine racks with fully extendable telescopic shelves
Adjustable feet
Fan-assisted cooling
The ASKO R2303 has a 2 star energy rating.
RRP: $2,499

Should I buy an Asko fridge?
From the dual refrigeration system to adjustable shelving, Asko's Pro Series collection aims to preserve your food and drinks in the 'best possible way' by catering to a variety of needs. But as they say, if you want the best, you'll have to pay for it!
If you're looking for something with plenty of space to store your beverages, the Asko RWF2826 fully integrated wine chiller and freezer is stated to hold up to 106 bottles and includes a dual zone which allows you to separate red and white wine in separate temperature zones.
The Asko RF2826 fully integrated fridge freezer similarly contains the dual refrigeration system, which is said to provide a separate compressor and evaporator in each fridge and freezer compartment.
Make the most of your backyard and add one of the brand's outdoor fridges. The Asko R2303 is claimed to operate effectively during wet weather as well as in temperatures of up to 49oC. The model is said to have enough room for 10 bottles and includes adjustable shelves for taller items, potentially making the Asko fridge an ideal accessory for Australian homes.
Still can't decide? Find the best fridge for your needs by heading over to the Canstar Blue refrigerators review to compare a wide range of different brands on customer satisfaction.
About the author of this page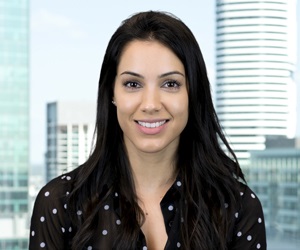 This report was written by Canstar Blue's Home & Lifestyle Content Lead, Megan Birot. She's an expert on household appliances, health & beauty products, as well as all things grocery and shopping. When she's not writing up our research-based ratings reports, Megan spends her time helping consumers make better purchase decisions, whether it's at the supermarket, other retailers, or online, highlighting the best deals and flagging anything you need to be aware of.