Asko Clothes Dryers Review
Swedish whitegoods brand Asko designs and manufactures numerous kitchen and laundry appliances. It has a strong focus on energy-efficiency, which is particularly evident in its clothes dryer range. Producing mostly heat pump dryers, Asko might not be the cheapest name around, but you can probably expect a clothes dryer that will save you money on electricity bills in the long-term, provided you're happy to pay a little extra upfront. Read on for a guide on what features and technology you can expect from the Asko range.
Asko Condenser Dryer
A condenser clothes dryer passes heated air through your clothes in a similar way to standard dryers. However, instead of exhausting the air, it uses a heat exchanger to cool the air and condense the water vapour either through a pipe to the outside or into a collection tank. This type of clothes dryer can be set up almost anywhere – even in an enclosed space because it won't turn your laundry room into a hot, humid jungle. Asko offers just one model in this range with clarity and ease of use being the main focus.
Asko T208C.W.AU 8kg Condenser Dryer
With six inbuilt drying programs, this 8kg capacity Asko condenser dryer is part of the Classic series. For those who are looking for a timeless design, as well as value simplicity, this series is stated to be durable, functional and user-friendly. Boasting an easy to understand and use interface, it will allow you to select programs using a jog dial, and then set the temperature and any other additional options. The programs include Auto Dry, Auto Iron Dry, Auto Normal Dry, Auto Synthetic and timed drying, plus an additional Quick Dry Mode, ideal for small loads. It also features a delayed start option that allows you to make use of off peak energy tariffs. The noise level during cycles is stated to be 65 dB(A). Its key features include:
SensiDry: the sensor and time controlled drying technology uses temperature sensors automatically stop the appliance when clothes are dry to help save energy
Butterfly drying system: designed with two paddles inside the machine, stated to push the clothing in a figure eight movement, spreading garments out and allowing the air to evenly circulate through the items to help prevent bundling as well as minimise creasing
This 8kg model is designed with a stainless steel drum and a condensed water tank. The LCD display is claimed to be easy to read from different angles with a white background and black numbers and shows the remaining time. The program names can even appear in 25 different languages, all of which can be selected from the menu!
In terms of energy-efficiency, it has a two-star rating and will likely add around $102 onto your annual electricity bills, according to the Standard Test (based on 29c/kWh usage rate). For safety, it's equipped with a lockable control panel and overheat protection.
Dimensions (HxWxD): 85 × 59.5 × 64cm
RRP: $1,599
Asko Heat Pump Dryers
A heat pump dryer is designed with a fully-integrated system, allowing it to earn higher energy efficiency ratings than condenser clothes dryers. This type of dryer is typically more expensive, but it can help save you money over the long-run through lower energy bills. Unlike with its condenser range, Asko offers an extensive number of heat pump dryers.
Asko T754CHP 7kg Heat Pump Dryer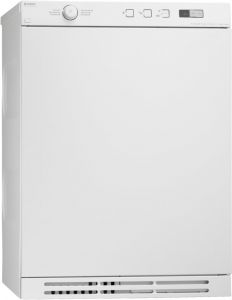 The Asko 7kg Heat Pump Dryer is part of the Classic range, designed with similar features in mind as the model mentioned above. It's boasted for a six-star energy efficiency rating, costing approximately $47 in power bills each year. It has a stainless steel drum, a single phase motor, and condensed water tank. The reversible door opening option allows you to choose between a left or right hinging door, which in turn gives you flexibility when fitting out your laundry space.
Similar to the condenser dryer, this 7kg heat pump model is equipped with sensor and timed controlled drying as well as the figure eight 'Butterfly' system. It features six programs along with low temperature settings, an anti-crease mode, and delayed start option. The noise level is stated to be 66dB, and for the safety features, it has overheat protection as well as thermal and electronic protection.
Dimensions (HxWxD): 5 × 59.5 × 58.5cm
RRP: $2,199
Asko T208H.W 8kg Heat Pump Dryer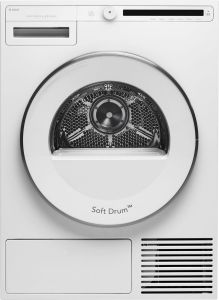 Boasting seven stars for energy efficiency, the Asko 8kg heat pump dryer might be one to consider for a large household of four or more people. It is also part of the Classic range, characterised by the identical technology, design and smart features as the model above. It has the same LCD display with the option of changing the text language. Its key technology is the Butterfly Drying System and Sensor Controlled Drying.
The 8kg dryer is equipped with 10 drying programs such as the Quick Pro, Timed Drying, Bedding and a Refreshing Program for Silk and Wool items. Further options include dryness level settings, anti-crease, delayed start and a setting for the amount of load you put in. For safety, it features a lockable control panel and overheat protection. With its high energy-efficiency rating, you're looking at an additional $43 that would be added to your electricity bill each year with this appliance.
Dimensions (HxWxD): 85 × 59.5 × 64cm
RRP: $1,999
Asko T408HD.W 8kg Heat Pump Dryer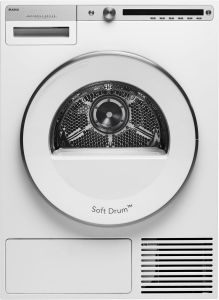 In a similar price range and with the same drying capacity, this 8kg heat pump dryer is part of the Logic series with a slightly higher-efficiency rating of eight stars. The series is stated to be for those who want a sense of style, yet value functionality and user-friendliness as well. It features a full graphic LCD panel with Asko taking an intuitive approach for the user interface, designing it differently to other machines. The user interface is in a discreet blue-green colour and adheres to the simplistic design of the machine.
It's equipped with 14 programs and features program memory to save your preferred cycle and settings. Some of the additional programs include Auto Jeans, Bedding and Auto Synthetic. Other options include selecting the desired dryness level, as well as an anti-crease mode, delayed start timer and the setting according to the load amount. The default drying program suggestions are stated to be easy to change if required.
This 8kg heat pump dryer should use around $34 in energy per year. Similarly to the full Asko range, this model is equipped with the 'Butterfly' Drying System. Additionally, it can be mounted on a front loading washing machine to save on floor space.
Dimensions (HxWxD): 85 × 59.5 × 64cm
RRP: $2,199
Asko T410HD.W 10kg Heat Pump Dryer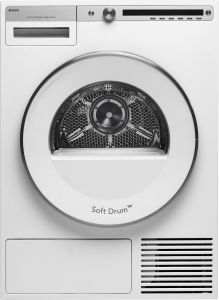 Another model in the Logic range is the 10kg heat pump dryer. The series has a focus on a minimalistic design, with its slim lines and tinted colour scheme on the control panel. The 10kg capacity is likely ideal for large households, boasting a remarkable nine-star energy-efficiency rating! You can also expect the same safety systems and materials featured in other Asko dryers such as a stainless steel drum, Butterfly drying system and an LCD display. Its in-built sensors help keep your clothes from overdying. To keep an eye on your clothes, there is also drum illumination.
The model is equipped with 14 drying programs, as well as additional options including anti-crease, the temperature settings of low and normal as well as program memory to save your most used settings and a Refresh program for silk and wool items. It also offers a 'Shirts' mode, which is programed with a low temperature setting and some residual moisture. If you're in a rush, you can select the Quick Pro cycle or the Delayed start option. The noise level is stated to be 65dB and with its high retail price tag, it uses only $37.70 of energy per year.
Dimensions (HxWxD): 85 × 59.5 × 75.5cm
RRP: $2,599
Are Asko clothes dryers worth the money?
Asko has a focus on energy-efficiency, with most of its range being part of the heat pump dryers pack. The energy star ratings do go up with additional costs, so you can be sure you're paying for additional energy efficiency. You'll have to consider if this is a price worth paying for lower power bills over time. It is typical with all household appliances that you need to consider the trade-off between upfront pricing and long-term savings.
Regardless of energy ratings, you can expect similar features across the full Asko range, such as multiple program settings and moisture sensors that automatically shut off the dryer once your clothes are dry.
There are a number of features to consider before purchasing a new clothes dryer, including looking at the capacity of the appliance itself. Dryers with 7kg capacity and above can be suitable for households of four or more people. It might be wise to opt for a larger-sized model if you're unsure about your specific household's needs because it's likely to be cheaper to run a larger dryer once than a smaller dryer twice. All Asko models sit above the 7kg mark.
For customer satisfaction ratings on clothes dryers, you might like to follow the link below to see which brands are favoured by Aussies in our latest review.
Clothes Dryers Review & Ratings
About the author of this page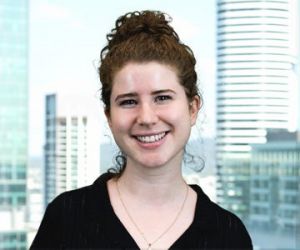 This report was written by Canstar Blue's Content Producer Luciana Lawe Davies. She writes about streaming, appliances and consumer products and services. Luciana enjoys bringing readers the best in what's on TV and at the shops, including the best deals and latest reviews.