Asko Washing Machines Review
The Asko brand started with a line of washing machines over 60 years ago and has now expanded to designing and manufacturing a large range of kitchen, laundry and professional appliances. With its aim to combine functionality and design, its Duo Fusion cooktop won the Canstar Blue Innovation Award in 2016. There's seemingly no stopping this Swedish brand now with its strong focus on energy efficiency and reliability. Read on for what its washing machines have to offer in the Australian market.
Asko Washing Machines
The full Asko washing machine product line consists of front loaders divided into two ranges – Logic and Classic. You won't find any of these machines rated below 4.5 stars for electricity or water efficiency due to Asko's emphasis on the environment.
There are certain features you can find across the full range, including the Quattro Suspension system, which is claimed to produce less vibration from the washer and hum along quietly while looking good. Asko also aims to not fall short in the targeted program selection area, providing a number of programs to choose from, such as:
Auto – adjusts the wash and rinse duration automatically
Everyday wash setting – adapts the program time and water consumption according to wash load size
Wool/hand wash – for a gentle wash to ensure no damage to wool or silk items
Easy care – for higher water levels ideal for cushions and quilted items
Quick setting – for lower temperatures and shorter washing times if you are on the go
Asko Logic Washing Machines
With its Logic models, Asko focuses on a minimalistic design, using a tinted colour scheme and slim lines. These washing machines are targeted to those who are looking for functionality as well as appearance.
Asko W4086C.W 8kg Front Load Washing Machine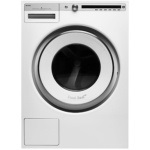 This 8kg capacity front loader features Quattro Suspension technology, which is claimed to produce less vibration when washing. Along with this, it's designed with a stainless steel drum, a brushless motor and a spin speed of 1600 RPM.
There are 21 programs available to choose from, giving you flexibility to set the washing machine to the exact wash your require. One of these programs is the 'Allergy' setting, which aims to effectively remove dirt, micro-organisms and detergent residues. There is also a 'Green' mode for energy efficiency.
It's equipped with an LCD display and 2000W heater capacity, and some of its safety features include overflow protection, child protection and unbalance detection. It has received a 4.5 energy efficiency star rating and a 5 star water rating. According to the Standard Test, it uses around $70.76 of energy per year.
Asko W4104C.W 10kg Front Load Washing Machine
For a similar design but with additional load capacity and improved energy star rating you may like to consider this model. Similarly to the previous model it's equipped with Quattro Suspension construction, a stainless steel drum and 2000W heater capacity. It features an LCD display and 21 in-built wash programs including a 'Super' wash, 'Quick' wash and a drum cleaning program. It has a slightly slower spin speed of 1400 RPM but has gained a 5 star rating for energy and water (WELS). It will use approximately $77.14 of energy per year.
Asko W6884 ECO 7kg Front Load Washing Machine – Eco Washer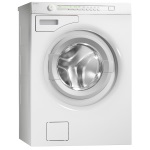 The Eco Washer is claimed to be designed with the best traditional science plus modern technological improvements. It's aimed to be eco-friendly while delivering fast hot water solutions to save energy and preserve water. With this in mind, it's gained a 5 star energy and water rating, which allows it to use as low as $52.20 of energy per year.
Key design elements contributing to its efficiency are the 'Active drum' and 'SteelSeel' systems as well as the inbuilt programs for washing a full spectrum of materials. The Asko drum design is claimed to allow soft tumbling of washing and help to guide dirt and pebbles away through specifically placed drain holes. metal 'SteelSeal' helps to eliminate the need for dirt and mould-attracting rubber.
This model has a spin speed of 1800 RPM, which is the fastest in the Asko washer range. Although the load capacity is a modest 7kg, it's still suitable for medium to large households. You can personalise and automate programs on the LED panel display to optimise washing capability. It also gives the option to delay the starting time if you are heading out and additionally it's equipped with an anti-crease function to help reduce wrinkles on clothing.
Another element that Asko has taken into consideration is Australian household preferences, including the occasional local and interstate moves where a washing machine experiences a little more 'tough love' during transportation. The Eco Washer has stainless steel inner and outer drums with four sturdy, shock absorber legs and is claimed to withstand the travel.
Asko W8844XL ECO 10kg Front Load Washing Machine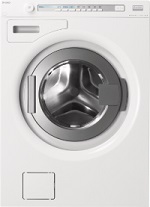 For large households that require more room per load, this washing machine has been designed with a 10kg load capacity. Similarly to other Asko washing machines, this model has a hot and cold water inlet connection and is said to automatically adjust the amount of each to achieve the right temperature for any of the 15 programs selected.
The spin speed is 1400 RPM and it has a 5 star energy rating as well as a 4.5 star water rating (WELS). It uses around $73.66 of energy per year. If you are not requiring a large capacity front loader, you may like to consider one of the other Asko models otherwise you will be paying an additional $600 for no reason.
Asko Classic Washing Machines
The Classic range from Asko is said to be designed for the everyday. There are two models in the range, both are said to have multifunctional programs – environmentally friendly or a more intensive wash. The models are also claimed to have an easy to understand user interface and are aimed to have a discreet, timeless and elegant design.
Asko W6444A 7kg Front Load Washing Machine – Artic Washer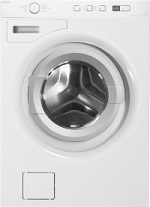 Asko makes a big claim with this one, stating that it encompasses "classic Scandinavian design ethics" where minimalist features meet functionality. The Asko 'Artic Washer' is designed to blend in with the surroundings while also make a statement for a contemporary laundry room. Along with its design it has 5 star energy efficiency and water ratings, so you can be sure that you are paying for quality. According to the standard test, it uses $63.80 of energy per year.
When shopping for washing machines, it's important to look out for sturdy machines that are made with durable material. The Asko Artic Washer is built with a stainless steel drum, similar to the full Asko range and has the ability to mount a dryer on top. It uses Quattro Suspension and spring damping absorbers all within a 7kg capacity, ideal for 3-4 people. Asko also states that it has replaced the rubber used below the seal with a steel seal for quality as well as the environment.
It features a 1400 RPM spin speed, 10 different wash programs and a self-cleaning function for easy maintenance. The shortest program available is 30 min. It has a 2000W heater capacity and a temperature range from 0-95°C, which is further enhanced with precise temperature controls. Safety features include PEX inlet hose, anti-block drain pump, child lock, emergency opening and unbalance detection.
Asko W2084C.W 8kg Front Load Washing Machine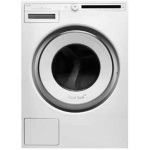 The other model in this range has a slightly bigger load capacity of 8kg, with a 4.5 star energy rating and a 5 star water rating. It uses around $73.37 of electricity per year. It features the Quattro Suspension for less vibration, a stainless steel drum and an LCD display.
There are 15 wash programs available, including mix/synthetics, green mode and intensive mode. With 2000W heater capacity and a spin speed of 1400 RPM along with the same safety features as the above, you may choose to consider this option if you have a larger household.
Should I buy an Asko washing machine?
Asko claims to produce high-end washing machines, but for mid-range prices, in the hope of enticing homeowners to take their washing machine needs and preferences to the next level. You can expect all Asko washers to have stainless steel materials for the drum, along with a number of standard features, such as fast wash and water level sensors. All Asko machines are claimed to be precision balanced from the top to the bottom where each feature is built for durability and efficiency.
Boasting Scandinavian-inspired quality, Asko washing machines are built to last and are sure to provide a contemporary design. Something else that Asko boasts with its washing machines is the ability to adapt to any sized home, so whether you're living solo or in a large family, Asko may have a front loader for you. To see which brand can provide you with five-star performance and the most value for money, you may like to check out our online ratings to help you compare.