Whirlpool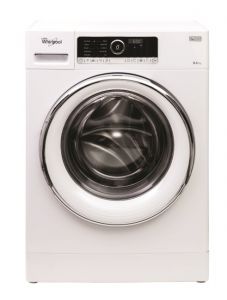 Rounding out this year's ratings is Whirlpool, with one front loader on offer at the time of writing. The Whirlpool 8.5kg model (FSCR10420) features 'ZENTechnology', claimed to reduce vibration and noise. It's also boasted for the '6th Sense Intelligence' technology that makes adjustments based on the load. Along with an adaptive sensor to detect the optimal amount of detergent, this Whirlpool washer received a four out of six stars for both water and energy efficiency ratings.
You can find the 8.5kg unit with a price tag of around $700. For overall customer satisfaction, Whirlpool was rated just three stars. However, it did manage to score four stars in terms of features and value for money.
Whirlpool's front load washing machine range includes:
Whirlpool FSCR12420 10kg Front Load Washing Machine: $1,598 (RRP)

Whirlpool FSCR10420 8.5kg Front Load Washing Machine: $1,398 (RRP)

Whirlpool FDLR80210 8kg Front Load Washing Machine: $1,049 (RRP)

Whirlpool FDLR70210 7kg Front Load Washing Machine: $929 (RRP)
Other brands
Aside from the eight brands featured in our 2018 ratings, there are some other leading names in the world of front load washing machines that may be worth a look into. Such brands include:
While these brands didn't garner enough survey responses to be included in our ratings, they may still have plenty to offer. Some brands come relatively cheap, while others are feature-rich with intelligent detergent dispensers, load sensors and high energy and water efficiency ratings.
Our 2018 survey of consumers who have recently bought a front loader revealed the following insights:
How does a front load washing machine work?
A front load washing machine works by tumbling your clothes – it picks clothes up and drops them into water in a circular motion. It doesn't use an agitator or impeller as a top load washing machine would. Instead, it relies on gravity for its tumble action in the drum. This helps to reduce the amount of water used per load as you don't need clothes to be completely submerged in water. You can still expect a gentle wash despite its tumble action.
Pros of Front Loaders
One of the main benefits of front loaders is that they are typically more energy and water efficient than top loaders. With higher star ratings in these areas, you could be saving more money on power and water bills. In addition, you typically have a larger range of cycle options, temperature settings and spin speeds. These units are also boasted for quiet noise levels and create minimal lint from washing clothes. You can also use the top surface as a workbench or stick a dryer on top to save on floor space.
Cons of Front Loaders
Depending on the model, one of the main differentiating factors between front and top loaders is that you typically can't stop a front loader mid-cycle to add clothes you may have missed. They also have generally longer wash times and smaller capacity levels than top loaders. However, there are plenty of new front load models that cater to large households in the laundry department. In addition, expect to pay higher prices upfront compared to top loaders.
What to consider when buying a front loader
There are plenty of pros and cons to buying a front load washing machine, but in general they will be suited to small households or those living in a small to average sized home. However, there are also options for larger households, with some brands boasting 10kg load capacities and up. If space is at a premium at your place, you could feasibly stack your front loader on top of – or below – your clothes dryer. You can't do that with a top loader washing machine. We list some specific factors to think about before buying a front loader below.
Capacity
The capacity of washing machines is measured in kilograms (i.e. the kg weight of your clothes). Front load washing machines come in a wide range of sizes, so it's easy to find the perfect fit for your laundry room. Front loaders can be quite small – around 5-6kg in capacity – but you'll also find plenty of larger washers around 10-11kg in capacity with 7kg units being considered to be an accommodating size for many Aussies. Electrolux, LG and Samsung are some of the biggest names to offer large capacity front loaders, while most major brands have small models. You can find front loaders as big as 16kg in capacity!
But when it comes to capacity, bigger is not always better. Unless you like using more electricity and water than you need to, it's important to pick the right size washer for your family's needs. The table below gives a general idea of what size you'll need. As you'd expect, the bigger the washing machine, the higher the purchase price in general.
| Washing Machine Capacity | Household size |
| --- | --- |
| 5.5kg or less | 1-2 people |
| 5.5kg-8kg | 3-4 people |
| 8kg + | 4+ people |
Source: Appliances Online
Water and energy ratings
In addition to various fancy features, the price of washing machines is largely dictated by their water and energy efficient ratings. The higher the rating, the more efficient the washer will be and the more you'll stand to save in ongoing energy costs. However, the most energy-efficient front loader washing machines come with higher price tags, so you'll need to consider whether or not the extra upfront cost is worth it.
Features
You'll generally find more interesting features with front load washing machines than their top load cousins. In addition to the obligatory range of various delayed start and cycle times, some of the most impressive front load washer features currently available allow you to:
Add clothes mid-wash:If you've ever started your washing machine only to find a stray sock in the laundry basket, then the AddWash range from Samsung might appeal. These machines come fitted with an additional small 'door' that can be opened during a cycle, allowing you to throw in those forgotten items. Other brands, including Simpson, Fisher & Paykel and Samsung also boast features that allow you to pause the cycle and add more clothes.
Iron your clothes in the wash:Not content with just washing or drying your clothes, a number of manufactures now have appliances capable of 'ironing' your clothes for you. This is achieved through steam and anti-crease functions that can mean your business shirts are ready to wear straight out of the washer. Miele and Electrolux are two of the brands with appliances in this space.
Wash your clothes in super quick time:If you're tired of thorough washes taking too long, you'll be pleased to know that several big manufacturers now boast super quick wash times, without compromising on the quality of the clean. Miele and LG are two of the brands claiming speedy yet perfect results in under an hour.
Price
There are lots of things to consider when buying a new washing machine, but perhaps for many it will come down to the budget and how much you're willing to spend on one of these bad boys. You can have a washing machine with all the most expensive features, but that's no use if you're not going to use them. In addition to this year's star ratings, our research also identified the key purchase decision factors for consumers who have recently purchased a new front loader:
Price: 40%
Energy efficiency: 33%
Special features: 10%
Design/appearance: 7%
As you can see, it's all about finding a balance between efficiency and value for money – areas in which Miele and Simpson were the two standout brands in our 2018 review. On average, consumers had their previous front loader for eight years while the average life expectancy for top loaders was nine years, which might suggest that buying a washing machine is a long term investment that involves some serious thought. If you're preparing to splash the cash on a new front load washing machine, we hope our ratings report proves helpful.