Are Big W microwaves any good? − Review
Microwave ovens are the unsung hero of most modern kitchens, but you don't need to spend a fortune to get a model that does the job AND that looks good on your benchtop. If you're looking for something that covers all the necessities without breaking the bank, Big W offers a concise range of microwave ovens under its private labels − Big W Brilliant Basics and Contempo. 
Big W microwaves review
Big W's own brand microwaves can be described in three words − compact, functional, and affordable. The range currently only includes two freestanding models in white and stainless steel. Just keep in mind the department store additionally stocks models from Breville and Russell Hobbs which also could be worth a look. Microwaves sold at Big W come with a two-year warranty and are available to buy in-store and online, with home delivery (fees may apply) and contactless pick up (direct to boot) also available.
---
Read more: Best-rated department stores
---
Brilliant Basics Compact Microwave − $48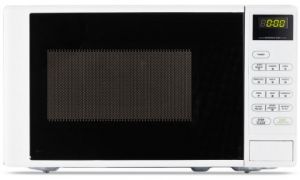 One of the cheapest microwaves around, Big W's Brilliant Basics (ECM720FPM) is the smallest microwave and costs just $48. This model is pretty simple in design and features nine auto cooking menus and five variable power levels, with a digital display and clock. The defrost settings can be used by weight or time and there's a push release door button beneath the touchpad buttons for convenience. This model comes with a 700W power output which is on the lower side but enough to get all of your microwaving done quickly and easily. The exterior is white.
Contempo Medium Digital Microwave − $99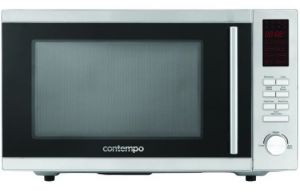 At nearly double the price of the compact model, the Contempo medium digital microwave (AM925EBY) costs $99 and is a step up in a number of specs. It's also easy to use, heats fast, and looks modern with a chrome finish. The microwave body and handle are made from sturdy stainless-steel, and the door opens on the side (which some people prefer over a push release door). It's also more powerful, at 900W, but has one fewer auto menu option, with eight to choose from. This Comtempo model comes with a combination of smart dial and buttons for microwave settings, clock, weight defrost, time defrost, kitchen timer, stop/clear, and start/confirm/30sec quick start. With the dial, you can select time, weight, and auto menus from the digital display. The auto menus include pizza, potato, broccoli, corn, carrot, beverage, pasta, and popcorn.
Are Big W microwaves worth it?
Yes − especially if you're looking for a simple, cheap microwave that will get the job done but that isn't anything fancy (no bells and whistles here). Naturally, Big W's models are cheap for a reason – they cut out all of the frills and extras you may find on more expensive products BUT this may include build quality. Whether or not the difference is worth it to you is a matter of preference.
Consider what you want from your microwave – if you're just looking to reheat meals, defrost frozen food or make the occasional microwave popcorn, you may not get much extra mileage from a premium brand. However, if you're an avid cook who needs a microwave to create more delicate recipes or need a multitasker that offers extra cooking functions like steam, roast, or toast, you may want a more high-end appliance.
About the author of this page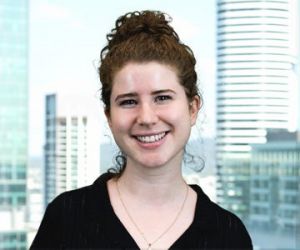 This report was written by Canstar Blue's Content Producer Luciana Lawe Davies. She writes about streaming, appliances and consumer products and services. Luciana enjoys bringing readers the best in what's on TV and at the shops, including the best deals and latest reviews.
How do customers rate Big W microwaves?
Canstar Blue's microwaves consumer review where Big W was previously featured (in 2019) saw Australian customers rate Big W three out of five stars for overall customer satisfaction.
Our microwaves consumer review is conducted annually − see the latest result below.