Bosch Cooktops Review & Guide
Are you hungry for a new cooktop? From precision flame control to customisable cooking zones, Bosch knows how to fire up the kitchen with its versatile range of gas, ceramic and induction cooktops. The German brand offers a variety of options from four series: Serie 2, Serie 4, Serie 6 and Serie 8. Most of the products are available in either a stainless steel or black-tempered glass design, with each collection containing cooktops of different sizes such as 30cm, 60cm, 75cm and 90cm.
Prices for Bosch gas cooktops generally start from $469 and can cost up to $1,999. Ceramic cooktops similarly range between $749 and $2,099, while induction cooktops have a higher price tag of around $1,699 to $3,999.
Bosch Gas Cooktops
Keeping it classic with traditional gas cooktops, Bosch has a variety of models ranging in price from $469 up to $1,999. Most of the products feature a stainless steel design and either side-mounted controls or sword knobs.
Some of the Serie 6 gas cooktops feature FlameSelect, which is said to give you precise control over the flame size. Bosch states there are nine distinct levels, allowing you to adjust the flame to suit a variety of situations such as melting chocolate, frying steak and everything in between.
Bosch PPS9A6B90A Serie 6 90cm gas cooktop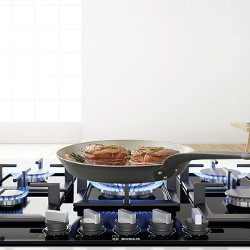 One of the models from the FlameSelect collection, the Bosch Serie 6 90cm gas cooktop features a black tempered-glass surface said to provide an elegant and easy-to-maintain design. It comes with a standard and semi-flush built-in option, allowing you to choose between having a 'flush' or slightly raised installation. The Bosch PPS9A6B90A similarly provides cast-iron support, which apparently ensures the cookware is kept stable on the cooktop.
Like many Serie 6 gas cooktops, this model includes FlameSelect. It also has a wok burner which provides up to 15 Mj/h of power.
RRP: $1,999*
Bosch PBH615B9TA Serie 2 60cm gas cooktop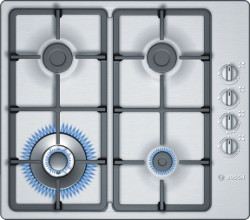 The Bosch Serie 2 60cm gas cooktop features the DualWok, which apparently offers both high and low settings. Whether you're gently simmering sauce or quickly bringing pasta water to boil, the brand claims this feature gives you a wider range of power to help you use the appliance for more types of dishes.
The Bosch PBH615B9TA also provides 'continuous cast-iron pan support to ensure stability, and has a flame failure device attached to each burner as a safety measure.
Bosch Induction Cooktops
If you want to take a modern approach to cooking, consider choosing one of Bosch's induction cooktops. Unlike other types of appliances such as gas cooktops, these products are said to create heat in the pan while keeping the rest of the surface cool. This apparently helps cooking become a little safer, with the lower temperature claimed to minimise the risk of accidents. The brand also claims induction cooktops can boil water twice as fast as glass-ceramic cooktops, saving you time and energy in the kitchen.
Compared to the other Bosch cooktops, this collection features more expensive models valued between $1,699 and $3,999.
The cheapest item in one of Bosch's priciest kitchen collections, the Serie 4 60cm induction cooktop is described as an ideal option for people shopping for an easy-to-maintain and energy efficient appliance with convenient functionalities.
Similar to the rest of the induction cooktop collection, the Bosch PIJ611BB1E contain PowerBoost channels which can apparently boil 2L of water 'almost three times faster than on a conventional glass-ceramic cooktop'. The function is said to 'turbocharge the cooking process' by allowing you to increase the power of any zone you choose up to 50%.
If you're concerned about having enough space for different sizes of cookware, the Bosch PIJ611BB1E provides a 280mm cooking zone to fit larger pots and pants.
Bosch PXV975DC1E Serie 8 90cm induction cooktop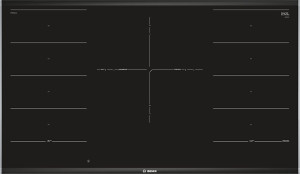 Whether it's fried chicken or homemade fish and chips, Bosch's PerfectFry is said to create what the brand claims to be 'perfect frying results' due to its automatic temperature control. The Bosch Serie 8 90cm induction cooktop also contains a FlexInduction Zone, which gives you the option of connecting different cooking zones to create one large zone to fit small pots or slightly bigger cookware. There is similarly a triple ring to provide enough space for larger pots and pans.
Bosch Ceramic Cooktops
From residual heat indicators to features like RoasterZone, Bosch's selection of ceramic cooktops has something to suit everyone. Unlike the company's induction cooktop series, these models offer more affordable options and more products at a broader range of price points. These tend to cost between $749 and $2,099.
Bosch PKE611CA1A Serie 2 60cm ceramic cooktop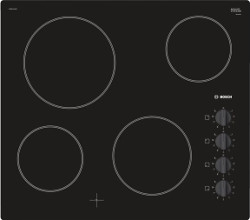 The Bosch PKE611CA1A is the lowest priced ceramic cooktop from the brand as well as one of the most affordable items in this cooktop range. Made in Germany, the 60cm frameless appliance includes four quick-therm cooking zones in a 60cm frameless design. For safety, the model features a residual heat indicator for each zone to let you know when the area is still hot to touch.
Bosch PKN675DB1A Serie 8 60cm ceramic cooktop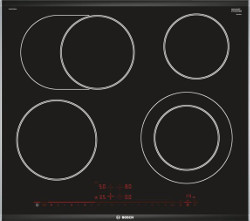 From cooking to clean-up, the Bosch 60cm Serie 8 electric ceramic cooktop is described by Bosch as an easy-to-use appliance. It includes features like RoasterZone, which provides an additional cooking zone to fit larger cookware, as well as a timer function said to switch off specific cooking zones after the set time.
This model includes one dual circuit cooking zone and one extendable oval zone.
Bosch Domino Cooktops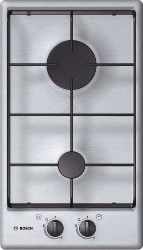 The Bosch CD345DA Serie 4 30cm gas cooktop is currently the only product available from the brand's domino cooktop collection. It offers two burners, including one economy burner and one rapid burner, which are each fitted with a flame failure device for safety.
Should I cook with a Bosch cooktop?
Claimed to be Europe's 'number one home appliance brand', Bosch provides a wide selection of kitchen and other home essentials to different types of households around the world. When it comes to cooking, the German brand caters to a variety of home cooks by offering a number of functions designed to give you greater control over your food. The different collections include gas cooktops, ceramic cooktops, induction cooktops and domino cooktops.
Gas cooktops like Bosch PBH615B9TA and PPS9AB90A might be especially useful for beginners or picky home cooks, thanks to features like FlameSelect and DualWok. These are said to deliver more precise control over your cooktop and in-turn your cookware, helping you get a cost is a big factor to consider, Bosch's gas and cooktop collections have a number of options available at different price points.
If you would rather spend more on an appliance which promises long-term savings, Bosch claims its induction cooktops heat up faster and consume less energy than other types of cooktops. The collection might also be an ideal option if you're concerned about a hot-to-touch cooktop causing accidents.
Bosch has earned a respectable spot in our customer ratings for cooktops, proving to offer some of the most popular cooktops for many consumers. Appliance brands Smeg and Fisher & Paykel have similarly performed well in the leaderboard for overall satisfaction and other categories, including functionality, performance & reliability, ease of cleaning and features. But don't forget to also check out other brands like Westinghouse, Electrolux and Chef to see if they have the perfect cooktop for you.
*Prices taken from Appliances Online and respective retailers, correct as of August 2018
About the author of this page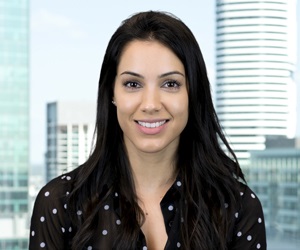 This report was written by Canstar Blue's Home & Lifestyle Content Lead, Megan Birot. She's an expert on household appliances, health & beauty products, as well as all things grocery and shopping. When she's not writing up our research-based ratings reports, Megan spends her time helping consumers make better purchase decisions, whether it's at the supermarket, other retailers, or online, highlighting the best deals and flagging anything you need to be aware of.
What do customers think about Bosch Cooktops?
In 2019, Australian customers gave Bosch 3 out of 5 stars for overall customer satisfaction for cooktops.