The way we prepare food has changed over the years, from open fires to electric cooktops, making it much easier to get dinner on the table. But with transition means there's more options available for you to kit out your kitchen with, including induction cooktops. But what exactly is induction, and how is it different from a traditional stove? We've put together a useful buyers guide that will help you get to know the ins and outs of induction cooktops.
What are induction cooktops?
Induction cooktops are a relatively new type of cooking technology that uses magnetic fields to induce heat within cookware placed on the cooktop. The cooktop surface is a smooth, continuous sheet of glass or ceramic, with tightly wound coils beneath that produce electromagnetic energy to heat your food, and are generally considered to be a faster, safer and more efficient way to cook.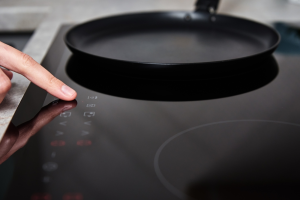 How do induction cooktops work?
Induction cooking works by using magnetic induction, instead of thermal conduction from a flame or electrical heating element. As magnetic induction directly heats the pot or pan, rather than generating heat which then transfers to the pot, it can heat up very quickly and efficiently.
Induction cooktops have coils of copper wire underneath the surface. When turned on, alternating currents pass through the coil to produce a magnetic field, which in turn creates a magnetic flux. This changing magnetic field repeatedly magnetises the pot or pan, creating eddy currents (smaller electric currents) which, due to the resistance of the pot, produce heat.
Note that this only works on cookware that is made of a 'ferrous' material, which means it has a high iron content. You can check whether your cookware will work by seeing if a magnet sticks well to the base. 
How much do induction cooktops cost?
Induction cooktops generally cost between $800 and $10,000, depending on the size of the cooktop required, desired function, and brand. There are a number of brands that sell induction cooktops with a broad price range, giving you plenty to choose from.  
You may also be interested in:
Which brands offer induction cooktops?
There are a number of brands that offer induction cooktops, including Bosch, Fisher & Paykel and Electrolux. 
Bosch Induction Cooktops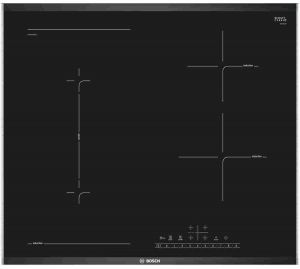 Bosch offers a number of cooktop models, including a range of induction cooktops. Its induction models include the Serie 4, Serie 6, Serie 8 and Serie 8 Flex, with Bosch induction cooktops retailing between $800 and $4,500.
Combining two cooking zones into one, the Bosch PVS675FB1E 60cm Serie 6 offers flexibility for large pans and roasters. It also features a 'PowerBoost' function which increases power to a selected zone claiming to boil 2L of water almost three times faster than on a conventional glass-ceramic cooktop. 
Electrolux Induction Cooktops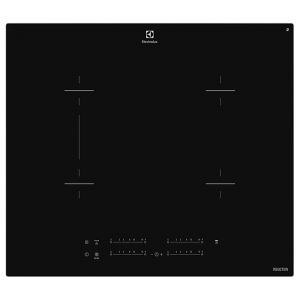 Electrolux offers a number of induction cooktops to suit the layout of any kitchen. Its induction cooktops feature multiple zones and flexibridge features, with prices ranging from $1,000 to $2,200.
Each of the areas on the Electrolux EHI645BB 60cm induction cooktop has 10 heat settings, including a boost function that lasts 10 minutes before automatically turning off (unless manually disabled earlier). It also features a 99-minute timer with beeper, automatic switch-off upon time elapsing and a three-step residual heat indicator on each zone to help you keep on top of your cooking if you've got a lot of elements to prepare. 
Fisher & Paykel Induction Cooktops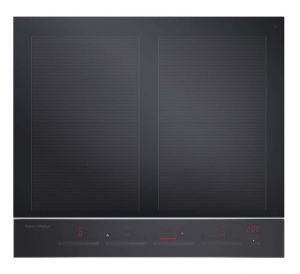 Fisher & Paykel are well known in the kitchen appliance space and offer a well-rounded induction cooktop range. Prices for their induction cooktops range from $1,500 to $10,000, offering a broad range of features and capabilities across their induction cooktops. 
The four cooking areas on the CI604DTB3 60cm cooktop are, rather than round zones, large rectangular zones called 'SmartZones'. The two zones on a given side can be bridged to form one larger zone to accommodate larger pots and pans. The whole zone is activated when a pot is detected, so you can have multiple small pots in the zone and they will all be detected as if they were one large pot. 
Are induction cooktops safe?
Induction cooktops are generally considered safer than other cooktops because the heat they produce is only between the surface and the pan. Once the pan leaves the cooktop the magnetic field is broken, and the heat dissipates. If you forget to turn the cooktop off and remove the pot, no heat will be produced, so the risk of someone getting burnt is reduced. However, you'll still have to be careful after cooking, as it may take some time for the cooktop to cool down if it has been used for a long time while cooking. 
Should I choose an induction cooktop?
Induction cooking is an intuitive way to prepare meals and offers a number of features and functions that make it a great option for your kitchen. With rapid heat change and quick heating there's no time wasted waiting for pans to heat up and a smooth surface makes cleaning simpler with no crevices for food to get caught in. Induction cooktops are a safer option for cooking as the surface doesn't produce heat unless a pot is placed directly on it, so you won't have to worry as much about little hands getting burnt. It's also a more energy efficient way to cook, with energy only being produced when the pot is placed on the surface, meaning less energy is wasted heating up surrounding areas like an electric cooktop. 
Like any product, induction cooktops do have some negatives that can impact decision making. Due to the magnetic fields required for the cooktop to function, you would have to purchase additional cookware that suits this type of cooktop. However, new cookware may be well worth it if you're looking to upgrade or update your kitchen, or looking to whip up a storm come mealtime.  
Original Author: April Broadbent