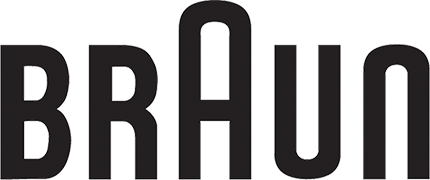 Review of Braun Clothes Irons
Braun is a global manufacturer of small electrical appliances started up in Germany. It aims to provide innovative and high quality products across its ranges. It has a fairly small line of clothing irons, but certainly aims high with its design. Let's glide into the range to see what features Braun clothes irons offer.
Braun Clothes Irons
Braun's clothes iron range is separated into three different tiers – the TexStyle 3, 5 and 7 series. There are also three types of sole plates – Ceramic, Eloxal and Saphir – that Braun uses for its clothes irons.
Ceramic coated soleplates are less common in irons, but are still durable and provide even heat distribution as well as help eliminate static. Braun's Eloxal soleplates claim to have a patented anodised coat to ensure scratch resistance and efficient glide ability while its Saphir soleplates are stated to have an even higher scratch resistance and glide ability. For easy maintenance, you can clean the Eloxal and Saphir soleplates with steel wool. Price wise, the ceramic plate is the cheapest in the range, with Saphir being in the high end category and Eloxal in between the two.
What makes Braun's clothes irons stand is its Textile Protector technology that claims to give the ability to iron clothes on a lower temperature with full steam power as a way to help protect delicate garments. Several key features across its range include an anti-calcification system that aims to eliminate big scale particles to reduce scale impact and anti-drip technology to help prevent water drop stains on clothing. You can also use the steam iron for ironing clothes on a hanger or even hanging curtains with the vertical steam feature. Braun's safety features include an Auto-off system that turns off the iron after 8 minutes if it is in a vertical position or after 30 seconds in a horizontal position. It will start to heat back up once the iron is moved.
Braun TexStyle 7 Range
The TexStyle 7 series is in the high price category ranging from about $130 to $170.
Braun TexStyle 7 Steam Iron TS 715 A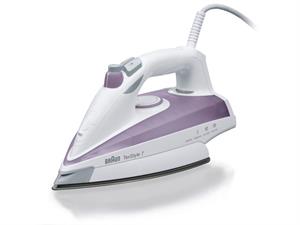 Braun's TexStyle 7 TS715A steam iron model gives 2300W of heating power with a 140g/min precision shot out of three active areas, including pre-conditioning steam. Its water tank capacity is 400ml which provides 0-40g/min of variable steam. It includes a beaker to assist with pouring in water and comes in a Mallow colour with white and grey features.
Braun's TS715A model uses an eloxal soleplate with a precision tip and an anti-calc system. If you need to iron on the go, or have a few creases to remove, this model also allows vertical steam for ironing clothes in an upright position. Several safety features include an auto-off system and double overheat protection.

Braun TexStyle 7 Steam Iron TS 765 ATP
This model incorporates the same features as the above TexStyle 7 model, with the addition of an ergonomically designed handle. For the additional cost it also provides a little extra wattage power with a total of 2400W as well as 170g/min for its precision shot and 0-50g/min for variable steam.
One of the main differences between the two models is that this TS765ATP model uses saphir plates instead of eloxal, which claim to have an even higher scratch resistant surface with maximum glidability. The vertical steam feature is also available if you need to so some touch ups without getting the ironing board out. It comes in a white colour with grey and blue features.

Braun TexStyle 5 Range
The TexStyle 5 models are slightly less powerful than the TexStyle 7 range, providing a maximum heating power of 2000W and 0-30g/min variable steam out of two active areas including precondition steam.
Braun TexStyle 5 Steam Iron TS 505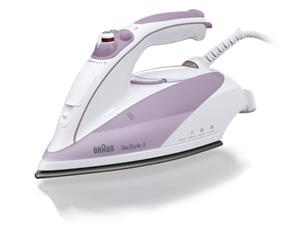 Braun's TS 505 model features an ergonomic open handle, a 300ml water tank and a water spray. A couple of other design elements include the eloxal sole plate and a 2m power cord. Braun's TS 505 steam iron is equipped with an anti-calc system, anti-drip and vertical steam. It uses 108 vents for its steam release and provides a precision shot of 100g/min.
Its finish colour is white with mallow coloured features.

Braun TexStyle 3 Range
There is just one model remaining in the TextStyle 3 category and it sits in the low end price category.
Braun TexStyle 3 Steam Iron TS 340 C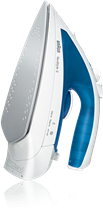 The TexStyle 3 Steam Iron TS 340 C provides 1700W heating power as well as 0-25g/min variable steam and 110g/min precision shot. Unlike the TexStyle 5 and 7 tiers, the TexStyle 3 TS 340 C steam iron uses a ceramic sole plate.
Similarly to other models, TexStyle 3 steam iron features vertical steam, an anti-calc system and an ergonomic open handle for a comfortable ironing experience.  Although it is not equipped with Braun's anti-drip technology, Braun claims it is still designed with a special coating inside its heating block that helps to avoid water leaks.
It comes in a Prussian blue colour with 225ml water tank capacity and cord storage.

Should I go home with a Braun clothes iron?
Clothes ironing shouldn't be a dreaded chore with plenty of effective steam irons in the market. Braun provides a variety of features to help the ironing process, including its precision tip and ergonomically designed handle. Braun clothes iron prices range from about $70 and go up to about $170. The top end is the TexStlyle 7 tier with TexStyle 5 not too far behind in its features and wattage power.
When deciding which iron to go with, you may like to consider the differences in wattage power and the soleplate used to ensure its durability. Some other key features to compare would be the variable steam and steam shot settings. You may like to also check out online reviews to see how Aussies find using Braun clothes irons to help you with deciding which to buy.
Clothes Irons Reviews & Ratings
About the author of this page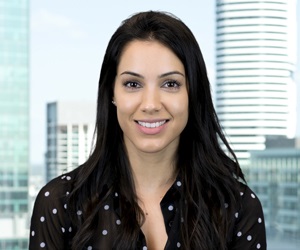 This report was written by Canstar Blue's Home & Lifestyle Content Lead, Megan Birot. She's an expert on household appliances, health & beauty products, as well as all things grocery and shopping. When she's not writing up our research-based ratings reports, Megan spends her time helping consumers make better purchase decisions, whether it's at the supermarket, other retailers, or online, highlighting the best deals and flagging anything you need to be aware of.
What do customers think about Braun clothes Irons?
In 2017, Australian customers gave Braun 3 out of 5 stars for Overall Customer Satisfaction for clothes irons.