Breville Coffee Machines Review
Breville is one of the most reputable appliance manufacturers in the business, and its espresso coffee machine range is no exception. The company produces several premium machines, which tend to justify their steep prices with an extraordinary range of capabilities and features – not to mention airtight build quality.
Breville's best performances in Canstar Blue's annual customer ratings for coffee machines typically relate to their reliability and design, suggesting it knows how to play to its strengths and keep customers happy. Read on for a full breakdown of Breville's current coffee machine range.
The Breville Range
The Oracle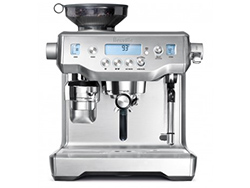 Breville's biggest and best coffee machine is arguably the impressively-named Oracle (BES980BSS), a machine so clever you'd hardly be surprised if it could see into the future. Unlike competing machines which rely on pre-packaged coffee capsules, the Oracle is essentially a miniaturised, fully featured coffee machine. Featuring a built-in coffee bean reservoir and grinder, it automatically grinds, measures and tamps your coffee beans whilst simultaneously heating and texturing milk to optimal levels.
The Oracle includes advanced features such as dual boilers – one for espresso, one for milk – along with optimised PID temperature control and low pressure pre-infusion to improve your coffee's flavour. All of this fearsome capability is easily controlled using the front-mounted buttons and dials; these allow you to adjust the grind, temperature and strength, as well as to pour a long black with a single button press.
The Dynamic Duo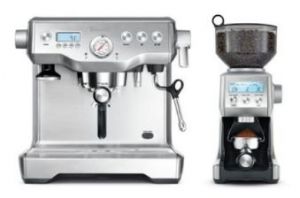 If an inbuilt grinder isn't really your cup of tea (or coffee), or you're simply looking for more control over your brewing process, then this pairing of products may be for you. The Dual Boiler and Smart Grinder Pro, together dubbed the Dynamic Duo (BEP920BSS), allow you to grind your beans separately from your actual coffee-making machine. The Dual Boiler machine is similar to its big brother the Oracle, but includes extra goodies such as a pressure gauge and Over Pressure Valve to improve your experience and skills.
The Smart Grinder Pro, meanwhile, is much more than your average manual grinder. The digital LCD display and button interface lets you adjust the grind, pick the amount and choose between 'cups' or 'shots', whilst the inbuilt software automatically adjusts the dose amount when you change your grind. If you're after a complete barista experience at home, it doesn't get much better.
The Barista Express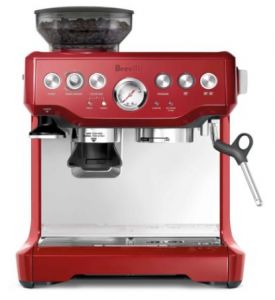 A more compact and affordable version of the Oracle, the Barista Express (BES870BKS) still includes all the major features you want in a full coffee machine. It brings an integrated bean grinder along with interchangeable filters, automatic or manual operation and full control over grind size and pressure. Its digital temperature control is said to deliver water at precisely the right temperature for "optimal espresso extraction". It also comes in three colour options including red, black and stainless steel.
The Infuser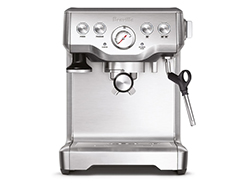 A more compact coffee machine which focuses on the brewing process, the Infuser (BES840BSS) forgoes the digital display and inbuilt grinder of its large siblings in favour of focusing on low-pressure pre-infusion technology. The Infuser brings programmable buttons which allow you to adjust the volume of your espresso pours, as well as the same fully-featured steam wand to create café-quality drinks. The clever use of a Thermocoil (a heated metal element) within the machine means water is heated to a consistent temperature every time, meaning your coffee is brewed for optimum flavour.
The Duo-Temp Pro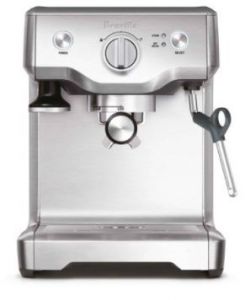 The Duo-Temp (BES810BSS) provides the full espresso coffee experience at an affordable price in comparison to its bigger brethren. Providing the same programmable low-pressure infusion technology, professional steam wand and Thermocoil heating as the big boys, the only area in which the Duo-Temp compromises is the complexity of its controls – which for many households will be a godsend. This model also features a clever Auto Purge function which flushes any overheated water to prevent bitter coffee flavours.
The Dose Control Pro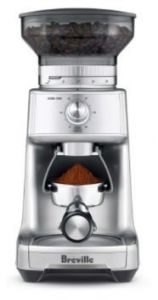 The Dose Control Pro is bean dispenser. The Dose Control Pro provides an incredibly precise grinding ability, with 60 grind settings and the ability to adjust grind time in 1 second increments – truly the tool for a coffee connoisseur. The steel grinding burrs are designed to minimise head and maximise efficiency, so as to keep the flavours of your coffee intact.
The Compact Café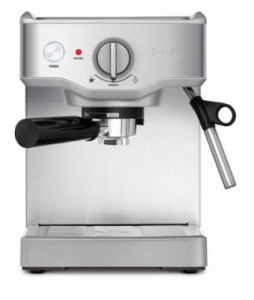 Breville's entry-level espresso machine is sold exclusively in Australia to cater to our widespread love of the caffeine bean. With a fully-equipped steam wand, 15 bar pump pressure and dual wall filters, the Compact Café still comes laden with all the necessary equipment despite its modest price. With an easy-to-use front dial accentuating the modern stainless steel design, this is a perfect product for coffee lovers on a budget.
Should I buy a Breville coffee machine?
Breville's strong satisfaction ratings in the areas of design, reliability and ease of use reflect the company's commitment to making quality coffee-making products. With a wide range of machines that includes everything from the expensive and fully-featured to the affordable yet capable, Breville's machines look set to be competitive for years to come. For more on Breville and the other brands Canstar Blue rated, check out our star ratings for customer satisfaction.
*Prices taken from Appliances Online and respective retailers, correct as of October 2019
About the author of this page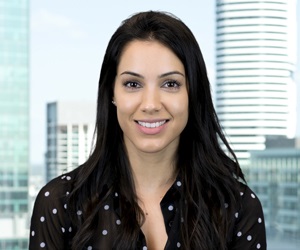 This report was written by Canstar Blue's Home & Lifestyle Content Lead, Megan Birot. She's an expert on household appliances, health & beauty products, as well as all things grocery and shopping. When she's not writing up our research-based ratings reports, Megan spends her time helping consumers make better purchase decisions, whether it's at the supermarket, other retailers, or online, highlighting the best deals and flagging anything you need to be aware of.
What do customers think about Breville Coffee Machines?
In 2019, Australian customers gave Breville 4 out of 5 stars for overall customer satisfaction for coffee machines.
Breville Coffee Machines
Canstar Blue
Award:
Overall Satisfaction