Electrolux Vacuum Cleaners Review
Electrolux is one of the biggest home appliance brands in the world. Selling over 40 million products in more than 150 different countries every year, the company employs more than 52,000 people to sell appliances both large and small. Its vacuum cleaner range is typically comprehensive, boasting several stick, upright and handheld vacuums to choose from. Check out our full overview of Electrolux vacuum cleaners below.
Electrolux vacuum cleaners
Pure F9 Stick Vacuum

The Electrolux Pure F9 is a cordless stick vacuum boasted for its 'FlexLift' design that lets you adjust the height of its telescopic tube to suit you. It features an Auto Function stated to automatically adjust the airflow and suction level of the vacuum for different floor types. Plus, it can turn into a handheld for vacuuming small areas.
The Pure F9 provides up to 60 minutes of vacuuming on the long power mode, 30 minutes on mid power and 17 minutes on max power. It's equipped with LED nozzle lights to help illuminate dark areas such as underneath couches and beds. It comes with an integrated pull out hose and a 3-in-1 smart tool.
Ergorapido upright

The Ergorapido is a rechargeable upright vacuum cleaner, available in multiple colours to complement your home. It features a flexible 180 degree coupling above the vacuum head which is said to allow for easier steering and manoeuvrability in tight spaces, whilst the BrushRollClean technology keeps the main brush free of tangles without you needing to clean it.
The Ergorapido is not just a stick vacuum but a 2-in-1 machine. The vacuum chamber can be detached from the main body to serve as a small handheld, perfect for cleaning up tabletop messes after you've finished with the floor. With new lithium batteries promising longer runtimes across the range, the Ergorapido represents a great value cleaner.
Rapido handheld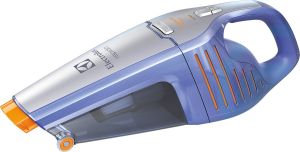 A dedicated handheld vacuum cleaner, the Rapido comes in either 14.4V or 18V power levels. Its compact size and light weight makes it ideal for quick clean-ups, whilst the pull-out nozzle and soft-surface wheels make it perfect for cleaning in hard-to-reach spaces.
The Rapido brings other clever features such as its charging rack – which is wall-mountable and can adopt five different positions for ease of storage – as well as the boost suction setting for sucking up stubborn dirt and debris.
Pure I9 robotic vacuum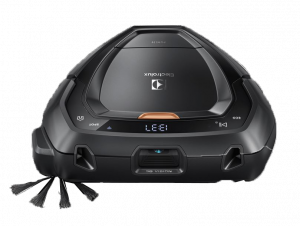 The Electrolux PUREi9 robotic vac features a triangle build to help you reach all those nooks and crannies. It also has Wi-Fi capability, allowing you to control the robot straight from your smartphone. Other features include its PureFlow technology stated to create powerful suction by increasing airflow through the brushless motor, XXL wide brush roll and XXL filter. Electrolux's ClimbForce Drive gives it the ability to climb over obstacles up to 2.2cm high, according to the brand. This smart home appliance also uses a smart charging system, which allows the Electrolux PUREi9 to return to its charging dock when it needs to recharge and resume once it's ready.
Powerforce 
The Powerforce is a bagged canister vacuum which comes in several variations best equipped for animal hair, dust prevention and more. Ease of use is a high priority, with the Powerforce's small wheels and low centre of gravity making it easily manoeuvrable, while the entirely removable top makes it super easy to maintain. Adjustable power controls mean you can alter the suction depending on your surface, whilst a washable HEPA filter keeps the exhaust air clean and free of microscopic particles.
SilentPerformer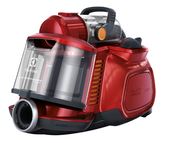 As its name suggests, the Electrolux SilentPerformer has quiet operation as its highest priority. A combination of a sound-reduced motor and the specially designed Dust Magnet Silent nozzle make for a significantly quieter experience The bagless cyclonic operation means that emptying and cleaning your SilentPerformer can be done with the touch of a button, in addition to the cheaper long-term operating costs. The SilentPerformer even comes with soft wheels and an Ergoshock bumper to protect your home from bumps and scratches.
Ultraflex 
The UltraFlex is the biggest and baddest canister vacuum in the Electrolux stable. Claiming to offer 33% better dust pick-up than its nearest rival, the UltraFlex features impressive power in a quiet package thanks to its twin inlet channels and insulated motor. The vacuum also brings a HEPA allergen filter as standard, whilst the head brush is adjustable to four different heights to cater to multiple surfaces.
Like other Electrolux models, the flexible nozzle and 180 degree flexibility of the suction end allow it to clean even in the tightest of spaces – but only the UltraFlex has a whopping 12 metre cleaning range.
UltraOne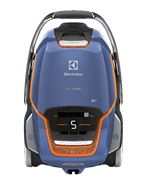 A traditional bagged vacuum cleaner, the UltraOne is claimed by Electrolux to be its strongest model in terms of vacuum suction. With five variable power settings and an LED display, all of that power is available however you need it. It's also accessed using very ergonomic foot-operable controls, as well as a 360-degree front wheel which allows for great manoeuvrability. The UltraOne also includes several AeroPro nozzle accessories for you to clean just about any surface.
Should I buy an Electrolux vacuum?
Electrolux consistently rates well in Canstar Blue's customer satisfaction ratings, especially in the areas of value for money, quietness and ease of use, amongst others. It has a wide range of vacuums from stickvacs to handhelds, giving you plenty of choice. It also boasts a number of advanced features that continue to shape the vacuuming world. For more on Electrolux vacuum cleaners and the other brands in our comparison, check out Canstar Blue's star ratings.
Vacuum Cleaner Reviews & Ratings
About the author of this page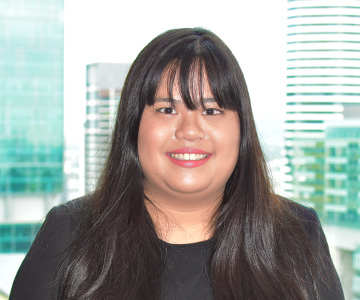 This report was written by Canstar Blue's home & lifestyle journalist, Tahnee-Jae Lopez-Vito. She's an expert on household appliances, grooming products and all things grocery and shopping. In addition to translating our expert research into consumer-friendly ratings reports, Tahnee spends her time helping consumers make better-informed purchase decisions on all manner of consumer goods and services, while highlighting the best deals and anything you need to be aware of.
Electrolux Vacuum Cleaners
Canstar Blue
Award:
Overall Satisfaction