Kmart Homemaker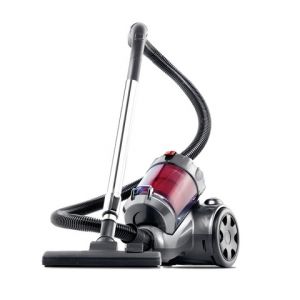 The cheap and cheerful department store specialising in homewares and cheap electronics has a range of vacuum cleaners for Aussie consumers to choose from. It has a fairly large range of budget-oriented vacuums, with upright, handheld, bagless barrel and bagged cylinder models currently on offer. It has also branched out into the cordless stick vacuum range, boasting a maximum run time of 25 minutes with its latest addition.
Prices start at just $12 for the car wet & dry handheld vac, with most models costing less than $50. Its most expensive vacuums – the cordless stick vac and the 2400W bagless vacuum – both sit with a price tag of $99. You won't necessarily sacrifice power with these cheap prices, as many models boast 2000W motors. However, you can't expect the world, as Kmart vacuums are fairly basic in functionality and light on techy features. Kmart vacuums were rated three stars for overall satisfaction in 2018, with just two stars when it comes to quietness. Nevertheless, it did score four stars in regards to value for money.
Kmart Homemaker's latest models include:
Kmart Homemaker Cordless Stick Vacuum

Kmart Homemaker 2400W Bagless Vacuum

Kmart Homemaker 1200W Upright Vacuum
Other brands
Aside from the major brands rated in this year's review, there are several other brands worthy of your consideration, including:
Our 2018 survey of consumers who have recently bought a vacuum cleaner also revealed the following insights:
What to consider when buying a vacuum
Top ratings were in fairly short supply in this year's review, suggesting that consumers are quite hard to please when it comes to vacuum cleaners. One in five survey respondents (20%) told us they are often disappointed with their vacuum cleaner's performance, and almost the same number (19%) regret not spending more on a better model. So, you'll want to make sure you pick the right type of vacuum for your needs and preferences.
There are pros and cons to different types of vacuum cleaners. Whether it's not enough battery power from a stick vacuum or constant tripping over corded barrel models, owning more than one type might be the way to go. If space is at a premium, a stick vacuum is generally easy to store as well as a handheld vacuum that's ideal for small messes. Canister/barrel models are still the most common and are typically quite versatile with a variety of cleaning heads. Here are some specific factors to consider before buying a new vacuum.
Size
A big factor in how easy a vacuum cleaner is to use and to store, size can vary greatly between different models, but it often comes down to a situation of 'less is more'. From convenient handheld cleaners to uprights and full-sized wheeled models, a compact vacuum cleaner is easier to move around, can clean in tighter spaces and can be stored away with little fuss.
Features
Vacuuming is meant to be fast and efficient, so an appliance that's easy to operate is pretty essential. This can include features such as intuitive controls, multiple nozzle heads for cleaning different areas, a portable design, and several other factors. Some models also come as a two in one pack, giving you the ability to vacuum with a full sized vacuum and detach a handheld vacuum for the smaller messes.
Noise
You'd think a cyclonic vacuum cleaner would be inherently noisy, especially with the sucking power available on newer models. In spite of this, many vacuum brands have committed to reducing the noise produced by their appliances, with some impressive results. When doing your research, make sure to check out the vacuum's noise emission, so that you don't end up waking up all your neighbours on a Saturday morning.
Price
Nearly half of our respondents told us that their most important considerations when buying a vacuum was the price, and value for money is certainly a big factor when buying a product which most people keep for over six years.
When asked about the biggest deciding factor in the purchase of a new vacuum cleaner, consumers said:
Price: 52%
Special features: 17%
Design/appearance: 11%
Energy efficiency: 8%
When deciding which type of vacuum is the best for your home and family, give some thought to your vacuuming requirements (i.e. how much space do you need to cover) and any specific circumstances or requirements, such as family members with allergies, or pets with a tendency to shed lots of hair. You'll likely need to spend several hundred dollars on a top-of-the-line model, which should last you several years, or you can pay less than $50 for a vacuum that – in all probability – will have a fairly modest life expectancy. You generally get what you pay for with vacuum cleaners, so choose wisely.