Euromaid Clothes Dryers Review
Australia is no stranger to stormy and humid weather. Even during the colder months, when your clothes take days to dry, a clothes dryer might be a useful appliance to save you time. Aussie brand Euromaid has a number of dryers on offer, boasting both functionality and affordability. If your home is in need of a dryer that won't break the bank then the Euromaid range might be one to consider. We review the specs and details below.
Euromaid Condenser Dryer
A condenser clothes dryer condenses moisture from your clothes inside the dryer into water and then pumps it into a water tank which you empty or drain through a hose to the outside or the sink. The benefit of this is that you can set up a condenser dryer even in an enclosed space without turning your laundry room into a humid rainforest, ideal for rentals situations.
Euromaid CD6KG 6kg Condenser Dryer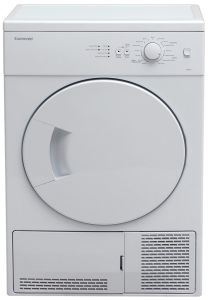 Euromaid offers just one condenser clothes dryer with 6kg capacity. Typically a dryer of this size suits a household of two to four people. Its key feature is:
Sensor control: an internal sensor designed to avoid over drying your clothes. It detects when you clothes are dry and automatically switches off the unit to help save you time and money.
It features nine drying cycles including Cotton, Delicate and Express 35 as well as additional functions such as the two hour anti-creasing mode, plus four drying temperatures. It's designed with an indicator for when to empty the water tank and when to clean the lint filter. It has a lockable control panel with LED display to show the remaining time of a cycle. For additional safety it comes with a child lock.
The Euromaid condenser dryer uses 280kw of annual energy consumption and thus, has a 1.5 star energy efficiency rating. According to the Standard Test, it can use around $84.39 based on 29c/kWh.  Two features this model lacks, which might be important for you to consider, one is that the model isn't mountable and two, it doesn't feature reverse tumbling action that some other models are equipped with.
Dimensions (HxWxD): 846 x 595 x 530mm
RRP: $849
Euromaid Vented Dryers
Vented dryers release moist air used to heat clothes through a hose to the outside. In turn, it requires being close to a door or window to vent the air properly. Usually this type of dryer is an affordable option compared to the condenser models. It can also be wall mounted to save on space, ideal for small apartment living.
Euromaid ED45KG 4.5kg Vented Dryer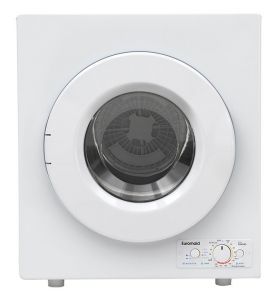 For a compact vented dryer, the Euromaid ED45KG model might be just right up your alley. The 4.5kg capacity is typically standard for a household of one to two people. The key features include:
Air dry function: uses cool air to help refresh your garments including the clothes that have been sitting in your cupboard for a long period of time
Overheating sensor: built in to protect your clothes from damage during drying
Overall this 4.5kg capacity dryer has a simple design with a wall-mounting kit included to install it onto a wall. It can also be installed upside down with a reversible control panel for easy access. Its control dial and push-button operation allows you to select time, program and temperature, with a total of four drying programs for everyday usage. Maximum drying time is 200 minutes, giving you the ability to do loads with varying levels of dampness. It has two extra fine lint collectors that require emptying for easy maintenance.
In terms of energy efficiency, it's rated two stars and can add around $58.58 to the electricity bill each year. It's equipped with a safety door switch, which is activated as soon as the door is opened to stop the cycle.
Dimensions (HxWxD): 603 x 702 x 400mm
RRP: $477
Euromaid DE6KG 6kg Vented Dryer
This last vented dryer from Euromaid offers 6kg capacity and sits at just under $550 RRP. It has a classic white finish to blend into any laundry room, similar to others in the range. You can expect the following features with this model:
Reverse tumbling action: the dryer alternates clockwise to anti-clockwise to help reduce tangling and knotting of clothes while also being claimed to dry items effectively
Sensor control: automatically switches off the dryer when it senses that the clothes are dry to avoid over drying as well as help save on electricity costs
Euromaid DE6KG dryer is equipped with a simple electronic control panel to set your drying program. You can choose from four different dry functions and three temperature options. It also has a lockable control panel for safety and is designed with a front air vent. It includes a wall mounting kit and a spare reverse control panel label for installing the dryer upside down. Similar to the model above it has a two star energy efficiency rating, using around $76.85 of energy per year.
Dimensions (HxWxD): 840 x 600 x 530mm
RRP: $549
Are Euromaid clothes dryers worth the money?
A clothes dryer can be a handy appliance to own when the weather conditions aren't the best. Euromaid clothes dryers sit at the lower end of the price spectrum, giving you several budget friendly options. Its vented dryers are priced at around the $500 mark and the condenser model is at $850. Both the 6kg capacity models come equipped with sensor drying technology, which monitors when your clothes are dry to automatically switch off the unit, preventing your clothes from overdying while also saving you money.
Euromaid dryers do sit at two stars or below in the energy efficiency rating, but this is quite typical of dryers at this price. You might save in the long run with a clothes dryer that has a higher star rating, but nevertheless, if you're looking for an affordable option this winter, Euromaid is well worth a look. To see which brand currently stand out on customer satisfaction, follow the link below.
Clothes Dryers Review & Ratings
About the author of this page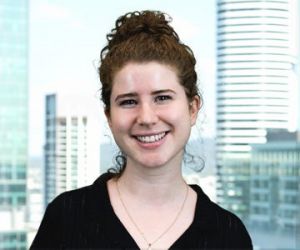 This report was written by Canstar Blue's Content Producer Luciana Lawe Davies. She writes about streaming, appliances and consumer products and services. Luciana enjoys bringing readers the best in what's on TV and at the shops, including the best deals and latest reviews.