Simpson leaves other clothes dryer brands in a spin
Many Aussies are lucky in that drying clothes during the summer months is quite literally a breeze.  However, it's not so easy for others, and when winter arrives, we're all left wondering what to do with those wet socks and undies. Sure, if you leave them outside for long enough, they'll dry eventually. But what if time is of the essence? You may need to buy a clothes dryer!
A clothes dryer (or tumble dryer, if you prefer) can be the unsung hero of your laundry room. Our latest survey on the subject found that 40% of Australian consumers use a clothes dryer after every wash. It's there for you throughout the year, but especially during the colder months when school uniforms and work shirts need drying, pronto! You might think that all clothes dryers are more or less the same, but our customer ratings suggest otherwise. They should all get the basic job done perfectly fine (i.e. they'll dry your clothes), but the manner, and time, in which they do so can vary significantly. That's why you should do your research now – to avoid getting your head in a spin later.
So, where can you find the best clothes dryers in Australia? To offer some guidance, Canstar Blue produces an annual review of clothes dryer brands, asking consumers across our great brown land what they think of the dryer they own and operate. Our customer ratings are based on the responses of those who have purchased a new dryer in the last three years, giving you an idea of what to expect should you choose one of the reviewed brands.
For the second year in a row, Aussie-born brand Simpson has been rated the highest, achieving five-star reviews in the most important areas, including overall customer satisfaction. It leads the way from Bosch and LG on four stars overall, with Fisher & Paykel and Electrolux scoring just three stars overall.
Simpson excelled in most research areas again, scoring five stars on performance & reliability, drying time, design and value for money, in addition to overall satisfaction. It scored four stars on quietness.
Bosch received four stars in most categories, but was notably the only brand to rate five stars when it comes to noise levels. However, for performance & reliability, it was deemed worthy of just three stars.
LG was also a fairly solid performer, scoring four stars in most areas like Bosch. Its only five-star rating was awarded for drying time, along with Simpson. But LG was marked down in the noise levels department, scoring three stars.
Fisher & Paykel received a disappointing three stars in almost all research categories. The one and only exception was value for money where it achieved a creditable four stars.
Electrolux had to settle for just three stars across all research categories.
It's worth pointing out that Simpson is an Australian brand owned by Swedish appliance manufacturer Electrolux, so their respective outcomes in our 2018 ratings are intriguing. It's also interesting to note that two of the (generally) cheapest brands around – Simpson and LG – performed better than two of the (generally) most expensive brands in Fisher & Paykel and Electrolux. Perhaps this is because clothes dryers are a fairly basic appliance, and unlike with washing machines, consumers are not too concerned with fancy features.
Read on for a guide to the five brands in this year's review, in addition to some of the best brands that didn't receive the minimum sample required to be included. We'll then provide details on the different types of clothes dryers, their features and what you need to consider before buying.
Best-Rated Clothes Dryers
To help you decide which clothes dryer will be best for your needs and budget, here is a guide to some of the leading brands in Australia.
Simpson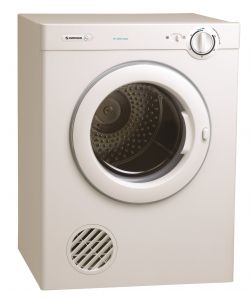 One of the cheapest brands around when it comes to clothes dryers, Simpson offers a very concise range of vented clothes dryers based on size capacity. The Simpson Ezi Loader series has vented dryers with a 4kg, 5kg or 6kg capacity, which naturally has an impact on their prices. Prices can vary between retailers, but going by Appliances Online, we see that the 4kg model could be found for under $350, while the 5kg model costs around $400 and the 6kg model is the priciest at about $450.
Across the full range, you can expect a stainless steel drum, a child safety lock door, and a simple rotary dial control that allows you to select a drying time and start the cycle. Dryers boast a reverse tumbling action where the drum alternates between spinning clockwise and anti-clockwise to reduce the chances of clothes tangling. They also feature a delicates setting, with lower temperatures, apparently to ensure delicates are dried gently and effectively, while the 'Auto Cool Down' function – part of the final drying cycle – helps to reduce creasing. If space is an issue, Simpson's clothes dryers are wall-mountable and all have a 1.5 energy efficiency rating, with a two year warranty.
Simpson's latest models include:
Simpson SDV601 6kg Ezi Loader Dryer

Simpson SDV656HQWA 6.5kg Vented Clothes Dryer

Simpson SDV501 5kg Ezi Loader Dryer