There are plenty of different types of clothes dryers available on the market, so how do you know which is right for you? There are gas-powered dryers, heat pump dryers, and washer/dryer combos, but a popular and budget friendly type of dryer is a condenser clothes dryer. In this guide we will focus on condenser dryers and give you all the information you need to decide if they are the appliance for you.
What is a condenser clothes dryer?
A condenser dryer is an appliance that removes the moisture from your clothes and then cycles hot air through them to dry as they tumble in the machine. The water is collected in a reservoir built into the machine and is drained via a hose, or manually by the user. Condenser dryers can make a laundry room feel quite humid so it is important to have good ventilation to help avoid this.  
Is a condenser dryer energy efficient?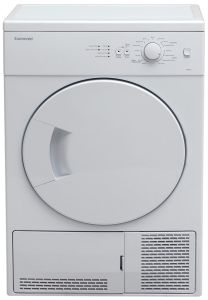 Condenser dryers are generally considered to be one of the least energy efficient types of dryers available. Although they may not be energy efficient appliances, you can take certain measures to help reduce energy usage over time, such as: 
Use a higher spin cycle

: the faster you spin clothes in the dryer, the less time they'll need in the washer, saving on energy costs.

Clean the lint filters regularly

: blocked filters make it harder for the dryer to circulate air through your clothes, which along with being less efficient, is also a fire hazard.

Wait until you have a full load

: why do two separate loads when you could easily fit all of those clothes into one?

Use nature: 

sunlight doesn't cost you a cent, so use it as much as possible! Only use your dryer if you need to dry certain clothes in a hurry, or if the weather is poor.
If you're looking for a more energy efficient alternative, you may want to consider other types of dryers.
Heat pump vs condenser dryer
Heat pump and condenser dryers both perform the same task and generally do it the same way – by extracting water from clothing and storing it in a separate reservoir. So, which performs better? There are a number factors that lean in favour of both types of dryers:
Condenser dryer:
Have a larger capacity

Quick drying

Ideal for apartments
Heat pump dryer:
More energy efficient and eco-friendly

Easier on fabrics

No need for ducted venting
Condenser dryers tend to have a cheaper upfront cost across entry level and premium models, however you may not see as great of a return in the long term. They are a larger appliance, ranging from 6kg to 10kg, but are quieter performers compared to a heat pump dryer. 
---
---
How much do condenser dryers cost?
Condenser dryers are available at various price points, usually retailing between $350 and $4,000, making them a more affordable option in comparison to other dryer types. However, the final price will be dependent on a variety of factors, such as brand, size and any additional features, so it's best to look into all of your options before heading to the checkout. 
Who sells condenser dryers?
There are a number of brands that sell condenser dryers at different price points, including Fisher & Paykel, Euromaid and Kogan.   
Fisher & Paykel condenser dryers
Fisher & Paykel offer two options for condenser dryers with a standard dryer and a combi washer dryer. Both appliances retail between $1,000 and $2,000 so they're a good option for those willing to invest a little more money for added features. The models boast auto-sensing technology to prevent under and over drying, an internal drying rack for delicates and 13 programs to suit your different drying needs.  
Euromaid condenser dryers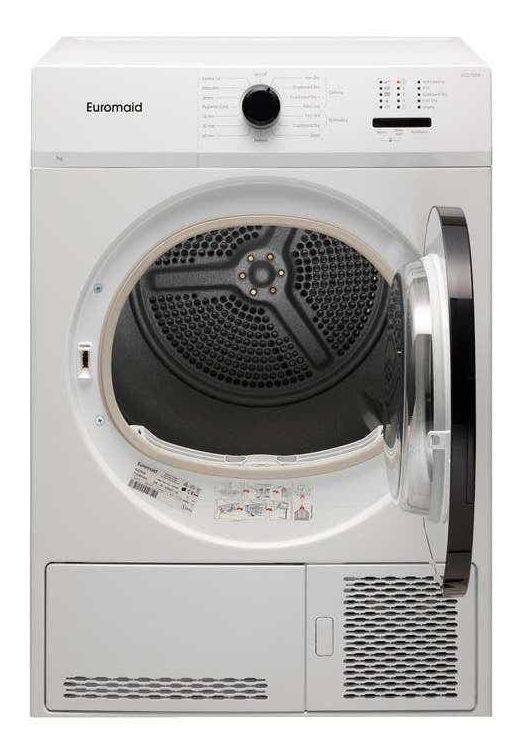 Euromaid produces some of the most affordable home appliances on the market, and its clothes dryers are no exception. Its condenser dryers retail between $600 and $900, making them an affordable entry level choice. Features on some of the condenser dryer models include a QuietDrive inverter to reduce noise, 15 drying programs, sensor-controlled drying and anti-crease functions, although features will differ between models. 
Kogan condenser dryers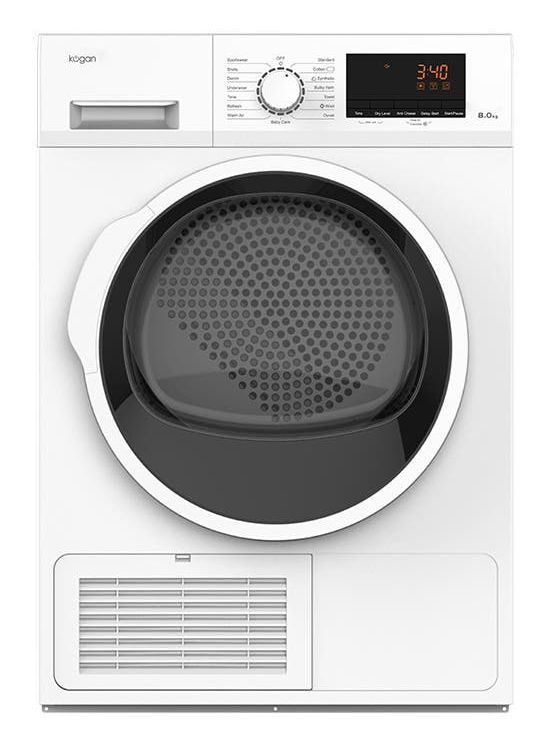 Kogan offers a budget-friendly condenser dryer that retails for $550, but signing up as a Kogan member (and paying the $49 annual fee) can bring the cost down to $530. Its condenser dryer features 15 drying programs, 24-hour delay start, LED control display, child lock and a stainless-steel drum.
Condenser dryer pros and cons
A condenser dryer is a great option if you're short on cash and space and looking for a no-fuss convenient dryer. Most are compact in size, and cheap to buy and install as they don't need to be located next to a door or window. Here are some points to keep in mind when looking to purchase a condenser dryer:
Condenser dryer pros:
Can be installed in most places around the home.

Their compact size makes them ideal for small spaces or homes like apartments or homes where external venting is possible.

Are a cheaper option compared to other dryer types.
Condenser dryer cons:
Can sometimes take longer to dry clothes.

Cannot be wall mounted due to their weight. 

Generally, they use more energy than other types of dryers.
Is it worth buying a condenser dryer?
Condenser clothes dryers are a great choice for people who have a smaller budget or limited space for laundry appliances. The only major drawbacks to owning a condenser dryer is their poor energy efficiency which can be combatted over time with conscious drying choices. Whatever clothes dryer model you decide is right for your household, you'll need to look out for a brand that delivers in all the right ways – such as energy efficiency and value for money. Our clothes dryer customer satisfaction ratings can show you which brands make the cut.  
Original Author: Tahnee-Jae Lopez-Vito