ALDI Expressi Coffee Machine Review
ALDI's Expressi brand is Australia's only supermarket-backed line of espresso coffee products. The Expressi brand first appeared Down Under back in 2011, and is produced in partnership with German coffee giant Kruger. Expressi's focus is on high quality products and affordable costs – a focus which has seen it consistently rated highly in Canstar Blue's satisfaction ratings for espresso machines.
Expressi sells a wide range of proprietary coffee pods and milk-based drinks in ALDI supermarkets across Australia, alongside its solitary machine, so there's a complete coffee experience on offer at your local discount supermarket, should you want to give it a try. So, how does the ALDI Expressi coffee machine stack up, and what's included? Read on to find out.
ALDI Expressi coffee machine
Expressi Multi Beverage Capsule Machine
Expressi's one and only coffee machine is available in either Titanium (pictured) or White trim, and comes with a host of useful features. The 19 bar pressure pump and rapid 20 second heat up time is said to produce high-quality coffee results, whilst the automatic cleaning function and solid two-year warranty ensure you shouldn't end up paying a fortune in parts or maintenance. Just as important is its compact shape and angular, stylish design, which fits perfectly into a modern kitchen.
RRP: $79.99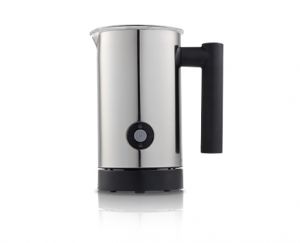 Expressi Milk Frother
The Expressi milk frother is a small kettle-shaped milk frothing device which allows you to make all your favourite milk-based coffees, such as flat whites, lattes and cappuccinos. The 250ml milk frother bears the same sleek design as the coffee machine itself, and its low price makes it a no-brainer for the full coffee experience.
RRP: $28.99
The ALDI Expressi line continually performs well in Canstar Blue's annual star ratings for overall satisfaction, with especially strong showings in the value for money and ease of use criteria. It's fair to say that the machine is probably more for coffee 'beginners' than seasoned drinkers, but that just means it's a good entry-level product if you're not sure about spending the big bucks just yet. In fact you may find it's all you need. With a price tag of just $79.90, you can't really go wrong.
What do customers think about Aldi Expressi Coffee Machines?
In 2017, Australian customers gave Aldi Expressi 4 out of 5 stars for Overall Customer Satisfaction for Coffee Machines.
Aldi Expressi Coffee Machines
Canstar Blue
Award:
Overall Satisfaction