As the supermarket chain that comes from the heart of Europe, you'd hope that ALDI knows a thing or two about good coffee. Its 'Expressi' coffee range apparently focuses on offering high-quality coffee at affordable prices. Alongside Expressi Coffee Machines, ALDI sells a wide variety of fancy-looking coffee pods and other milk-based drinks in its stores across Australia. But do they strike the perfect balance between quality and value? Read on as we explore the blends on offer.
ALDI Expressi Coffee Capsules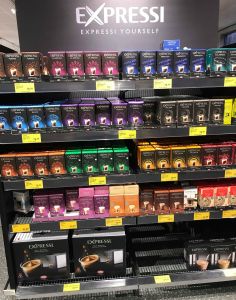 Here is a list of the coffee flavours available from ALDI stores:
Read on for a description of each coffee flavour, followed by pricing details and information on other hot drinks available from ALDI.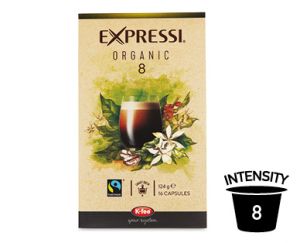 Expressi Organic
ALDI offers a wide range of products claimed to be organic, including pasta sauce, tea, milk, yoghurt and indeed, coffee. Its Expressi Organic coffee capsules are certified Fairtrade and are stated to support more fair trading conditions and opportunities for producers in developing countries to invest in their business and communities for a sustainable future.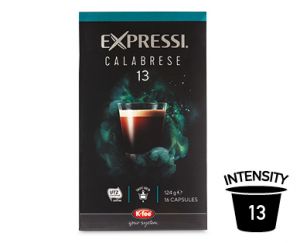 Expressi Calabrese
Expressi Calabrese is ALDI's most intense coffee capsule flavour. It's stated to be a rich, dark roasted coffee with notes of dark chocolate and a hint of pepper. It's also described to have a creamy, smooth texture and unique intense body that has been created both with Robusta from Asia and Arabica from South America, according to ALDI.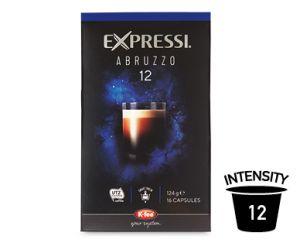 Expressi Abruzzo
Still in the high intensity coffee range, Expressi Abruzzo is said to be a robust, dark roast coffee with smoky cocoa and roasted notes. It's also claimed to provide a full, creamy body. It's blended from Asian and South American Arabicas and premium washed Robusta.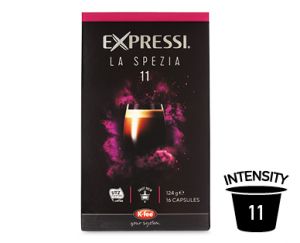 Expressi La Spezia
This flavour offers a rich, dark-roast coffee with sweet berry and herbal, spicy notes, according to ALDI. Its full body, pleasant roasted tones and medium acidity are said to be made with premium Arabica and Robusta beans from Africa, Asia and South America.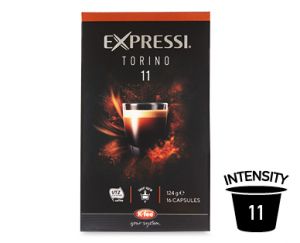 Expressi Torino
Expressi Torino is described as a creamy, full-bodied coffee with intense dark chocolate notes and pleasant acidity. It's dark-roasted with Arabica beans from South and Central America and Asia.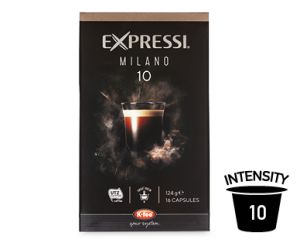 Expressi Milano
To send your tastebuds to Italy, Expressi Milano is said to deliver a full-bodied intense Italian-style espresso with mild smoky and rich chocolate notes. An espresso is the most common shot of coffee and while it can be enjoyed straight, it can also be used as the base for a cappuccino, latte or even mocha. Filling each mug with approximately 40ml, ALDI's Expressi Milano offers a thicker consistency and higher concentration of crema than a ristretto, which is a short shot and half the volume of a standard espresso. Similar to the Torino, it's dark-roasted using premium Arabica beans from South and Central America and Asia.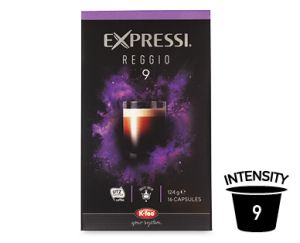 Expressi Reggio
For a fruitier flavour, you may like to try ALDI's Expressi Reggio with an intensity level of nine. It's described as an elegant medium-dark roast espresso with a creamy body, fruity blueberry notes and a pleasant acidity. This coffee is blended using beans from South and Central America and Africa.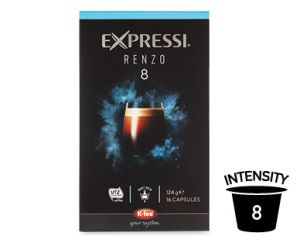 Expressi Renzo
Expressi Renzo is another medium-dark roast coffee stated to have a medium acidity and delicate rich red berry notes. It has a smooth body with fruity sweetness, according to ALDI, and is made of Arabica beans sourced from Africa, Asia, the highlands of Central America and South America.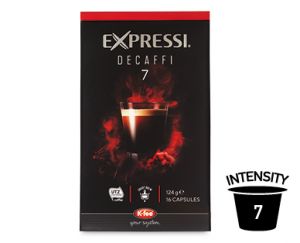 Expressi Decaffi
For a decaffeinated option, the Expressi Decaffi is said to be a medium roast coffee with a rich, full body and fine acidity. It's boasted to combine the intensity of a fruity cassis with the pleasant spicy notes created from South American Arabica beans.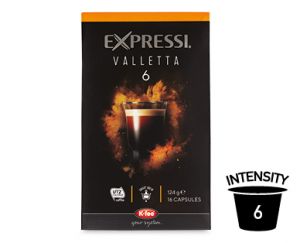 Expressi Valletta
This one is also a medium roasted coffee but with a lower intensity level of just six. Valletta is stated to offer a well-balanced body, smooth acidity and notes of nuts and caramel. The Expressi Valletta coffee capsules have been created with premium South American Arabica Beans.
Expressi Tauro
ALDI offers just two flavours with an intensity level of five – the Expressi Tauro and the Expressi Perugio. Expressi Tauro is a medium roast coffee said to have a pleasant sweetness that's balanced with malty and nutty tones. It's created with premium South American Arabica beans.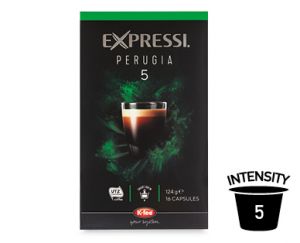 Expressi Perugia
ALDI's final coffee capsule flavour, at the time or writing, is the Expressi Perugia. It's a medium roast coffee described to have refreshing tangerine notes with a prominent zesty acidity. The coffee blend is stated to be made from South and Central American Arabica beans as well as washed Robusta beans from Asia.
Expressi Milk-Based Drinks
Aside from coffee capsules, ALDI also offers a few non-coffee capsule flavours, including hot chocolate.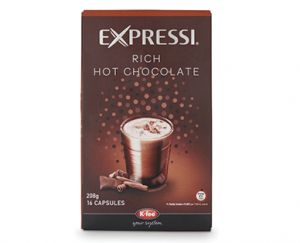 Expressi Rich Hot Chocolate
Expressi Rich Hot Chocolate capsules are boasted to offer the finest blend of cocoa beans, roasted to perfection for a rich chocolate taste. It can be served with water, milk, or both depending on your own preference. For a large hot chocolate, it's recommended you insert one Expressi Hot Chocolate capsule and select the large cup button option (110mL). For a thick hot chocolate, the packaging states you should select the small cup button (40mL) and add warm milk to taste.

How much do ALDI coffee pods cost?
Typically, each Expressi coffee pack contains 16 pods. For the 16 capsules, you can expect to pay $5.99, which equates to about 37c per capsule.
What capsules fit ALDI's Expressi coffee machine?
ALDI states that all capsules with a K-fee System logo will fit into an Expressi coffee machine, regardless of whether or not it's sold under the brand name of its retail partners or under the name Kruger.
It's advised, however, that using other branded capsules can be harmful to the machine and does void your warranty.
The fabulous Victoria Mykles shared with us her ALDI MVP – Expressi capsules! Here she is modelling her fierce coffee look. Send us your ALDI MVP and you could be featured on our page. Did we mention a stash of your ALDI MVP you could win too? pic.twitter.com/XYFoMHUxxg

— ALDI Australia (@ALDIAustralia) 26 October 2018
Can ALDI coffee capsules be used several times?
K-fee System capsules are intended for just one cup, according to ALDI, and should therefore not be used more than once. If you prefer to brew a large cup of coffee, it's advised that you follow the 'cup programming' instructions in the machine manual to extend the large cup pour to at least 200ml, or simply top your coffee with hot water from the machine by raising the lever.
Can I recycle ALDI Expressi coffee capsules?
ALDI previously offered a recycling program in partnership with TerraCycle, however the program reached capacity earlier than expected and is currently not available. ALDI is exploring options to expand its recycling program and has said that it will update customers once the program has been finalised. Alternatively, the supermarket recommends you check with your local recycling authorities to ensure that the capsules meet their standards. You'll need to thoroughly remove all traces of coffee before recycling the pods.