Review of ILVE ovens
Ovens aren't usually too interesting – all of the focus is justifiably placed on what delicious creations you can create inside. ILVE brings character into its high-end ovens, for a special tool for your special recipes.
Let's be direct from the outset – an ILVE oven is a purchase of extravagance. Handmade in Italy, catering to both home and professional cooks, ILVE has been a major name in high-end ovens for over 60 years. ILVE ovens come in a diverse range of sizes and designs across both built-in and freestanding types. So what makes these luxury appliances so special, and are they worth the investment?
ILVE Oven Features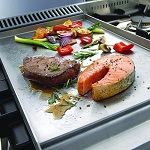 ILVE ovens are commercial-grade, handmade Italian designs and are claimed by the brand to be among the world's finest cooking appliances. All ILVE ovens are made from 304 'surgical grade' stainless steel, which is non-magnetic, rust proof and apparently more hygienic. Features found across the entire ILVE range include:
Quickstart pre-heat function which heats to 175⁰C in 6 minutes
Dual capillary thermostats for accurate temperature adjustment up to 250⁰C
'Turbowave' cooking, which uses lower temperatures and creates less food shrinkage and splatter
Stainless steel fan fat filter
Integrated twin cavity cooling system
Solid metal handle and knobs
Heavily insulated oven cavities, to protect surrounding cabinetry from heat damage
Triple glazed cool touch athermic door and handle. The three layers of 4mm thick glass with reflective metallic film make for an oven door that's always cool to the touch. The door is also fully removable and the inner glass dismountable for easy cleaning
Reversible catalytic self-cleaning panels on all internal surfaces, including the roof
What kind of ovens does ILVE make?
ILVE produces a wide range of built-in and freestanding ovens, encompassing electric and gas fuelled types across both designs. Specialised ovens on offer include pyrolytic ovens, double ovens, and the Nostalgie series of retro-style ovens. Sizes range from compact 60cm units up to massive 150cm wide ovens. Freestanding ovens include stovetops, in both gas and electric formats, with some stovetops including multiple types of burners and grills including teppanyaki grills.
ILVE Built-In Ovens
The ILVE built-in oven range includes over a dozen different models, with many available in multiple sizes, colours and fittings finishes.
Electric Built-In Ovens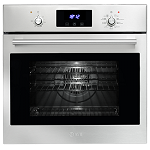 The main ILVE electric built-in oven range covers varying widths and levels of sophistication, with some quite simple models like the 600 SKM ranging up to large, high-tech installations such as the 900 STCP.
There are different built-in electric oven lines – the SKM (available in 60cm width), SKMP (available in 60cm, 75cm and 90cm widths, the latter in two configurations) and STCP (available in 90cm width).
The 600 SKM has manual controls, nine multifunctional modes (light, convection, fan assisted, bottom, half grill, grill, fan grill, fan forced, pizza) and closed door grilling.
Next up, the SKMP line adds a touch control timer and S-Move gentle-closing door hinges, with the 900 and 940 models including twin fan heating. The 940 SKMP offers a different configuration to the usual oven, with the controls located to the right of the door rather than above it with standard ovens.
At the top of the range for standard electric built-in ovens, the 900 STCP includes CHEF-Assist with over 35 pre-set recipes and capacity to save 100 of your own, 14 specialised manual modes, 11 different languages, time and date setting, touch control display with brightness adjustment, and a choice of Celsius or Fahrenheit temperature settings.
Double Ovens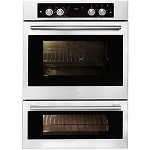 The 200 SKPY is a 60cm wide vertically-stacked electric double oven with pyrolytic cleaning (on the top oven only), with ten multifunctional cooking modes and dark tinted glass. The upper oven features a BIO-Safe quadruple glazed glass door and five cooking levels. It comes in a plain stainless steel exterior finish.
Pyrolytic Built-In Ovens
These ovens use PYRO-Clean pyrolytic cleaning functions, including an electronic door lock for safety.
There are four models to choose from, with the 600 (60cm wide), 750 (75cm wide) and 760 (76cm wide) SPYTC models featuring the ULTRA-Clean cavity, PANA-View and BIO-Safe quadruple glazed glass door, touch controls with brightness adjustment, pre-programmable timer, closed door grilling and no less than 11 different languages to choose from.
The 600 and 760 models have CHEF-Assist with over 35 pre-set recipes plus capacity to save up to 100 of your own, a choice of Celsius or Fahrenheit settings, and come in either stainless steel or black glass exterior finish. The 600 and 760 models have seventeen specialised manual multifunctional modes, while the 750 has thirteen. The 760 model has twin fan heating, which distributes heat more evenly.
Meanwhile, the 60cm wide 600 SPYKT pyrolytic built-in oven has fewer of the high-tech features, with manual knob controls rather than the digital display with CHEF-Assist
Combination Built-In Ovens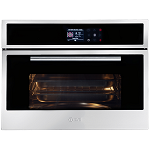 ILVE has two models of built-in combination ovens – the ILCS 45X combination steam oven and the ILCM 45X combination microwave oven. Each has a 35L internal capacity, touch controls and digital display, child safety lock and PANA-View full-glass oven door and inner glass. Both include a CHEF-Assist function which has 60 pre-set recipes with automatic cooking time and weight, and ability to save up to 100 of your own recipes.
The ILCS 45X combination steam oven has a stainless steel cavity and exterior, automatic decalcification, and eleven combined functions. The steam cooking mode offers a temperature range of 40⁰C to 130⁰C. It includes one stainless steel cooking tray and one flat grill.
The ILCM 45X combination microwave oven has nine combined functions, three microwave cooking levels, and tangential fan cooling. Inside is an included round grill and stainless steel tray with support grill. It's available in a choice of stainless steel or black glass exterior finish.
Gas Built-In Ovens
The 600 SVG is a 60cm gas oven with four multifunctional cooking modes (light, bottom gas flame, grill and fan grill). Within the 77L internal capacity there are five cooking levels, while controls are manual knobs with a digital timer. The PANA-View oven door is black tinted on the exterior layer, with the standard ILVE fully removable door and panels.
Nostalgie Series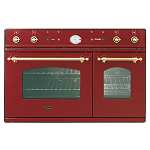 A modern take on country-style ovens, the ILVE Nostalgie series brings an old fashioned, warm kitchen character back into the home. Fittings come in a choice of brass, chrome, or bronze, while exterior finishes across the range include Antique White, Stainless Steel, Matt Black, Blue, Emerald Green, Burgundy and Bright White.
Across the Nostalgie range, you'll find most of the same features in the regular built-in oven range, in 60cm, 70cm and 90cm wide single ovens and double ovens.
ILVE Freestanding Ovens
The ILVE freestanding ovens range is divided into three series – Quadra, Nostalgie and Majestic.
All, of course, include cooktops – which with the exception of induction cooktops are gas burners. ILVE gas burners are made of solid brass (rather than the more common aluminium) in a patented design, with the greater density of brass lending itself towards more stability at high temperatures plus not being susceptible to oxidisation. The gas and air intakes are horizontally aligned so that heat doesn't impact flow, with holes machined at an angle to direct the blue flame to curl inwards towards the centre of the burner for better efficiency. ILVE includes a 25 year warranty with all cooktops.
Quadra Series
Described as clean and sophisticated, the Quadra Series is the primary ILVE freestanding oven range. There are six oven sizes, with different configurations available within each: 60cm, 70cm, 80cm, 90cm, 120cm, or 150cm wide. All are available in a choice of Bright White, Stainless Steel, Gloss Black, or one of 1,625 RAL colours. Depending on the model, there are as many as six different cooktop layouts to choose from with elements such as a teppanyaki grill or a fish burner. Several sizes come in double oven options.
Quadra Series Single Ovens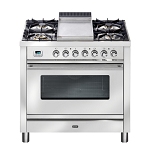 The PW series of single freestanding ovens covers 60cm, 70cm, 80cm and 90cm widths, to suit kitchens of various shapes and sizes. All include pull-out storage drawers and most models include no less than 11 multifunctional options (the 60cm model has 10). ILVE PW series ovens include specialised pizza and bread modes, with the 80cm and 90cm models also including pastry mode. The two larger models (80cm and 90cm) have electric rotisserie functions.
Generally speaking, gas cooktops on these ovens involve one triple ring wok burner, two high speed burners and one simmer burner. The 80cm model adds a rectangular fish griddle burner in the middle, while the standard burner configuration on the 90cm model adds in an extra high speed and simmer burner apiece. The 60cm model is the only to offer an electric cooktop option, while induction cooktop options are available in the 60cm or 90cm models. Finally, to get the distinctive ILVE teppanyaki plate (with the four standard burners on either side), you'll need to choose the 90cm model.
Quadra Series Double Ovens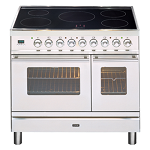 The ILVE flagship freestanding cooker, the Quadra Grand Cuisine (PW 150) is not for the average home cook. The double oven (90cm + 60cm) offers five choices of cooktop configurations, which can see you equipped with all kinds of combinations of standard burners with fish grill burners, teppanyaki plates, simmer plates, Ceran plates, and even deep fryers.
The slightly narrower PSW 120 has even more configurations to choose from. Three oven configurations (70cm + 40cm, 90cm + 30cm, or 60cm + 60cm) and six cooktop configurations mean you can choose a multipurpose oven to match your cooking habits.
The smaller double options are a little less intimidating in terms of configurations. The PDW 100, PTW 100, and PDW 90 all come in configurations with six standard burners, with the PDW 100 and PDW 90 offering a second choice of four standard burners and a teppanyaki plate. Those who prefer induction cooktops can choose an all-induction plate with the PDW 90. The PTW 100 stands out for including a separate 2400W grill.
All Quadra Series double ovens include a storage drawer underneath and a rotisserie in at least one of the ovens, with the PSW 120 including a double rotisserie.
Quadra Series Convection Ovens
ILVE produces one freestanding convection oven, as a double unit with a regular oven – the PTW 100. This unit is arranged as a 60cm multi-function oven and 40cm convection oven underneath a cooktop with a choice of 6 burners, teppanyaki, induction, or Ceran options. The convection oven also includes rotisserie mode. In addition, there is a separate 5L grill with a recessed full width 2400W grill element and the same kind of removable triple glazed glass door found across the ILVE range. In all of this there's still room for a storage drawer.
Quadra Series Gas Ovens
The following Quadra Series freestanding oven models are available in gas ovens (as opposed to the standard electric):
PW 90 FVG
PW 90 VG
PW 80 VG
PW 70 VG
PW 70 VG
Nostalgie Series
The following Quadra models are also available in Nostalgie Series equivalents, with the same cooktop and oven configurations. Control knobs and oven door handles are also available with a choice of brass, chrome or bronze. The exterior finish can be chosen from one of eight Nostalgie colours (Antique White, Stainless Steel, Matt Black, Blue, Emerald Green, Burgundy, Bright White, and Gloss Black) or from 1,625 RAL colours. Up to eight different cooktop configurations are available, depending on the specific model, as well as a choice of single or double oven in most sizes.
| Quadra | Nostalgie |
| --- | --- |
| PW 150 | PN 150 |
| PSW 120 | PSN 120 |
| PDW 100 | PDN 100 |
| PTW 100 | PTN 100 |
| PW 90 | PN 90 |
| PDW 90 | PDN 90 |
| PW 80 | PN 80 |
| PW 70 | PN 70 |
| PW 60 | PN 60 |
Majestic Series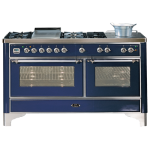 At the very top of the ILVE oven range is the Majestic Series A-class energy rated cooker. These offer the same cooktop configurations as the Quadra Series, but add in extra features such as a dual control wok burner and an electronic roast probe inside the main oven. External finishes come in a choice of Antique White, Stainless Steel, Matt Black, Blue, Emerald Green, Burgundy, Bright White and 1,625 RAL colours, while fittings can be chosen in brass, chrome or bronze.  Four sizes are available: 90cm, 100cm, 120cm and 150cm.
Starting at the biggest and best of ILVE's Majestic Series, the M 150 is a 90cm + 60cm double oven with an electric rotisserie in the main oven. One size down, there are two 120cm ovens to choose from – the M 120 (90cm + 30cm) and MS 120 (70cm + 40cm). Both contain a dual rotisserie. The MD 100 double oven has its rotisserie in the secondary oven, while finally the single M 90 not only has a rotisserie but a pizza, bread and pastry function as well.
All have five cooktop configurations to choose from, with various mixes of standard burners, fish grill burners, triple ring wok burners, teppanyaki plates, Ceran plates and deep fryers. The MD 100 and M 90 feature two more options – a full Ceran cooktop and a full induction cooktop.
You may also be interested in:
How much do ILVE ovens cost?
As high-end ovens hand-made in Italy, ILVE ovens are luxury items with price tags to match – from uncontroversial $1,099 models up to quite intimidating figures such as $36,999. The ILVE website does not list any product prices, which is already a clear hint that as a premium product they're going to be higher than your conventional household brand. An ILVE appliance is a long-term investment and, when you're looking towards the higher end of the price range, a true statement piece.
However, if you're an astute buyer then you can still find deals. Online sites such as Appliances Online often offer deals lower than the RRP, although few places carry the full ILVE range given the high cost. You may be best going through the ILVE product catalogue to decide what you want, then find stockists for the particular model or models of interest.
Should I buy an ILVE oven?
If you have the extra cash to splurge, ILVE ovens come highly regarded. They can be a great choice for home chefs who really love to cook, particularly with features such as a teppanyaki plate and electronic roast probe. ILVE ovens are also a prestige piece for those who want their kitchens to make a statement. However, if you're just after something that looks smooth but don't care so much for the extra level of detail and quality, you may be able to find a match with other brands at a lower price point.