Review of Bosch ovens
Bosch is a name synonymous with technology and innovation the world over. As well as providing expertise in the fields of security technology, power tools, automotive manufacturing and more, Bosch is also one of the leading brands of household appliances, such as washing machines, dishwashers and ovens. This is our review of Bosch ovens, so you can decide if the mighty German brand is right for your kitchen or not.
What ovens does Bosch offer?
Bosch claims to build its ovens from the 'most stable' materials and challenges their durability in endless stress tests. Because "only if our home appliances make your life easier are they truly Bosch in every detail' the company says.
At the moment, Bosch offers a total of 15 different ovens:
13 of which are built-in, single ovens
The remaining 2 are built-in, double ovens
There is no doubt that most of Bosch's focus goes towards single ovens, with its range in that category far more impressive. Let's have a look at each of them.
Bosch Built-in Single Ovens
Bosch's selection of built-in single ovens is far more comprehensive than its range of double ovens, with 13 models in total.
Serie 8 Models
The Serie 8 Bosch ovens are designed so that "even the grandkids can bake like grandma". Bosch claims that the ovens in this category are always informed of the exact progress of your dishes, and that they automatically adjust themselves to guarantee perfect results. Bosch's Serie 8 ovens are renowned for possessing the following features:
PerfectBake and PerfectRoast meat sensors, which give perfect baking and roasting results
Pyrolytic self-cleaning, a 3-stage self-cleaning effort to make things easier for you
EcoClean Direct, a special coating that automatically absorbs grime
Touchscreen controls with full text and colour images
4D hot air, which evenly distributes hot air for perfect results
Autopilot, which consists of 10 pre-set automatic programs for certain meals
SoftOpen, SoftClose and SoftMove doors, which ensures that the doors open gently and quietly
ColorGlass, a white glass front in place of stainless steel
Bosch Assist, which has automatic settings for the optimal type of heat, temperature and time
We've prepared a table below outlining the key features that each of the Serie 8 in-built ovens come with. Bosch ovens are all quite similar, and they have fairly generic numbered names as you'll soon see, so try not to get lost. These ovens have been sorted by price.
Serie 8 models: $2,000+
Product
Price
Features
HRG6767S2A
$3,499
 Bosch assist

4D HotAir

Pyrolytic self-cleaning

Touchscreen controls

SoftClose and SoftOpen doors

HBG6767S1A
$3,149
Bosch Assist

PerfectBake and PerfectRoast

Touchscreen control

4D HotAir

Pyrolytic self-cleaning

HBG6753S1A
$2,599
4D HotAir

AutoPilot 10

Display Controls

Pyrolytic self-cleaning

SoftClose and SoftOpen

HBG675BS1B
$2,349
4D HotAir

AutoPilot 10

Display controls

Pyrolytic self-cleaning

SoftClose and SoftOpen doors

HBG672BS1A
$2,199
4D HotAir

AutoPilot 10

Display controls

Pyrolytic self-cleaning

SoftClose and SoftOpen doors
Serie 8 models: <$2,000
Brand name
Price
Features
HBG655HS1A
$1,949
4D HotAir

AutoPilot 10

Display controls

EcoClean direct

SoftClose and SoftOpen

HBG655HW1A
$1,949
4D HotAir

AutoPilot 10

Display controls

EcoClean direct

SoftClose and SoftOpen

ColorGlass

HBG633BS1A
$1,649
4D HotAir

Display control

SoftOpen and SoftClose doors

EcoClean Direct
 Bosch Serie 8 ovens are all fairly similar. They are all the same size and have the same range of heating:
595 mm x 595 mm x 548 mm
Temperature range 30 °C – 300 °C
However, there is quite a significant difference in price between the most and least expensive options. This is most likely due to the more expensive options having the AutoPilot and Bosch Assist options, which enable significantly more convenient cooking at the press of a button. Overall, the serie 8 ovens are built with a sleek modern design and are prioritised towards convenience.
Microwave Ovens Review & Ratings
Serie 6 Models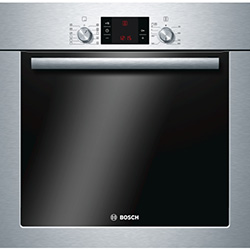 The remaining five models in the single oven category are Serie 6 ovens. Bosch's focus has shifted towards its more innovative Serie 8 models, so these Serie 6 ovens are generally less advanced than their counterparts. This also makes them cheaper, however, and according to Bosch's website, the Serie 6 ovens provide multiple cooking and cleaning options with sleek designs and retractable controls to ensure that their ovens still stand apart from their competitors. These five models come with the following special features:
EcoClean
Pyrolytic self-cleaning
3D HotAir plus, which is the optimal distribution of heat on up to 3 levels simultaneously
HotAir Eco, an energy-efficient heating mode for baking on one level
Like before, we've prepared another table (sorted by price) outlining the various features and dimensions of each of these five ovens.
Brand name
Price
Features
HVA541NS0

90cm Built-in Oven

$2,699
This oven is quite different from the others, as it is 90cm wide instead of the usual ~60. It has a 77 litre capacity, but none of the afore-mentioned features.
HBA73R350B
$1,949
Pyrolytic self-cleaning

3D Hotair Plus

HotAir Eco

HBA63B150B
$1,849
Pyrolytic self-cleaning

3D Hotair Plus

Hotair Eco

HBA13B254A
$1,299
EcoClean
HBA13B253A
$1,149
EcoClean

3D Hotair Plus
The purpose of Serie 6 ovens seems to be quantity over quality, as the product descriptions and customer reviews all focus on the vast number of shelf positions and accessories that they can fit (usually five). They also tend to focus a lot more on the self-cleaning aspect, which does make your life a lot easier. However, they are slightly less powerful than the Serie 8 ovens, not coming with the rapid heating function found with the former range. The key difference between the two is that the Serie 8 ovens are far more convenient to use, as these Serie 6 single ovens don't have the automatic cooking options, which results in more work for you!
Bosch Built-in Double Ovens
Bosch offers a modest range of two double ovens. A double oven allows you to multi-task, cooking separate meals at separate temperatures in both the bottom and top units. It is important to recognise that these double ovens come with two separate compartments – a larger main oven on the bottom and the smaller secondary option on top.
Brand name
Price
Features
HBM43S550A
$3,299
EcoClean

3D Hotair Plus

HBM43B250A
$2,699
EcoClean

3D Hotair plus
Are Bosch Ovens Good Value?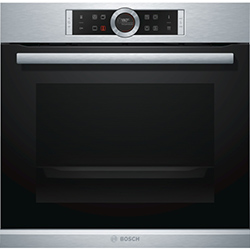 Bosch has a decent range of ovens to pick from, most of which are in the single ovens category. The majority of Bosch's ovens are at the premium end of the price range, with most models setting you back upwards of $2,000, and in some cases $3,000. This is most common with their Serie 8 models, which come with a host of innovative features such as the 4D Hotair and Autopilot functions.
These functions are designed to make your life easier. It's likely that these ovens are more suitable for people with families who need to feed several people but can't find the time to constantly monitor their food while it cooks. If price is no object, then by all means consider one of the Bosch Serie 8 ovens. They might be pricier, but all the additional features they come with speak for themselves.
The Serie 6 ovens are a different story. They cost about $1,000 to $2,000, yet don't come with all of the nifty features and functions their more expensive counterparts have. Ovens like the HBA13B253A still come highly recommended from customers despite their modest price, so if you're on a budget but still want an oven that gives you quality food, a Bosch Serie 6 single oven could be your best option.
It's highly possible that you might find the double ovens not worth the money, given that they cost $2,500+ but don't come with all the cool features of the Serie 8 ovens. The extra room is a plus, but you'd need to think about whether you'll be using that extra oven regularly before paying all that money for an oven that can do the same as a single oven that costs less. All but the most serious cookers will struggle to see value in the Bosch double ovens.
Overall however, Bosch justifies its position as a high-end provider of ovens and other home appliances, with its high-prices reflecting the high quality they possess.
What do customers think about Bosch Ovens?
In 2017, Australian customers gave Bosch 5 out of 5 stars for Overall Customer Satisfaction for ovens.
Bosch has retained its place at the top of Canstar Blue's customer satisfaction ratings for ovens. In 2017, Bosch rated five stars across all research categories, including cooking performance, reliability, functionality and value for money.