Miele ovens review & guide
Miele is a premium brand of household appliances, which specialises in big-ticket items like dishwashers, washing machines and ovens. Since it's a high-end brand, you'll likely pay a higher price for your new appliance, but Miele has a reputation for providing great value for money as consumers see the benefit of investing in appliances that do a great job and last for a long time.
German brand Miele recently brought its Generation 7000 built-in appliances to Australia, promising users revolutionary technology and enhanced connectivity. The range includes ovens, speed ovens, and what Miele claims to be its most powerful steam appliances. These include its steam-combination, straight steam and steam microwave combination ovens.
To help you decide if a Miele oven is right for you (and your budget), we review a few models from the brand's extensive feature-packed range and their prices.
What ovens does Miele offer?
Whether you're looking for a classic single oven, or an oven with steam or microwave functionality, Miele has got you sorted. Here are the different types of models you can expect from the high-end brand.
Ovens (60cm & 90cm)
Speed ovens
Steam ovens
Steam/combination ovens
Microwave/combination ovens
Pyrolytic ovens
Dialog ovens
If you're not sure which type of oven is right for you, we suggest consulting our helpful guide.
Miele single ovens review
Miele offers a wide selection of classic 60cm and 90cm single ovens. This is the most common type of oven you'll find from the brand, with models typically retailing between $2,099 and just under $10,000.
Most Miele single ovens are jam-packed with similar features, such as Moisture Plus. This allows you to add extra moisture to your dishes and is available in several automatic programs including Moisture Plus with Auto Roast and Moisture Plus with Intensive Bake. Other handy features include:
Pyrolytic cleaning programs: that continually breaks down grease residue.
DirectSensor S: clear text display with sensor controls.
Smart connectivity: to Miele@home.
SoftOpen & SoftClose: for entle door movement.
Cool front cooling system: keeps the oven cool on all sides.
Miele 60cm Contourline Pyrolytic Cleansteel Oven − $2,999 RRP*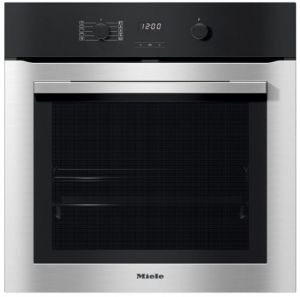 For an oven from a premium brand, this Miele 60cm built-in model (H 2760 BP) won't burn a hole in your wallet. It's one of the most affordable options to consider from the range. It's worth noting that paying more for an essential kitchen appliance like an oven is almost always a guarantee of quality. You get what you pay for. If you buy a cheaper appliance, with the same capacity you might end up having to compromise on factors like durability as well as energy efficiency, which can impact long-term running costs and therefore cost you more over the life of your appliance. 
This single oven provides 76L worth of space and five shelf levels. It maintains a traditional design with retractable dials, and comes with common features such as FlexiClip telescopic runners. Other functions include:
Three pyrolytic cleaning programs
Clock with sensor-touch controls

Safety functions like touch-cool front, auto switch off, and safety lock. 
Operating modes include defrosting, full grill, fan grill, intensive bake, conventional heat, eco fan heat, and fan plus.
Are Miele single ovens worth it?
Miele's range of single ovens seems to be worth the money if you have it. Each model comes with a host of options designed for versatility and convenience, and the addition of popular functions like pyrolytic cleaning already built into some of the more affordable options might make the brand worth considering during your next purchase.
Miele speed ovens review
Miele brings a whole new meaning to fast food with its selection of speed ovens. These are designed to add a little flexibility in the kitchen, whether you're looking for something with versatile functionality or want to save space with a dual-purpose appliance that can operate as an oven and microwave.
Speed ovens are very similar to regular ovens, but they are smaller in size and cook much faster. They do so by combining microwaves with regular convection baking, while also allowing you to use either function separately. 
Miele Countourline Cleansteel Speed Oven − $3,899 RRP*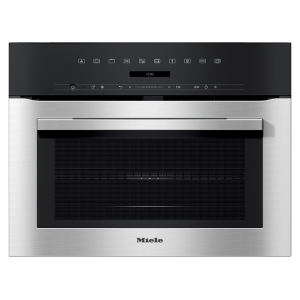 This Miele speed oven (H 7140 BM) is one of the most affordable speed ovens you can get from the brand. Compared to other Miele ovens, it comes at a pretty friendly mid-price point of just under $3,900. The model places a big emphasis on convenience and flexibility, with features like Quick & Gentle and 3-in-1 offering the same power options and cooking modes you can expect from an oven and a microwave.
This Miele speed oven provides a compact 43L capacity and three shelf levels. Some features include:
Quick microwave
Popcorn button
SoftOpen & SoftClose
Timer functions
Stainless steel oven interior with PerfectClean
CleanSteel
Touch-cool front
Miele@home
Operating modes include: defrosting, auto roast, grill, fan plus, microwave, microwave + auto roast, microwave + grill, microwave + fan plus, microwave + fan grill and fan grill.
Are Miele speed ovens worth it?
Considering Miele microwaves usually retail between $1,499 and $2,999, the brand's range of speed ovens seems like a pretty good deal if you're shopping for a single high-end appliance to save some space in the kitchen. This is especially the case if you only need a compact oven offering pretty standard settings.
Miele steam ovens review
Steam ovens, as you may have guessed, use steam while cooking to retain the moisture in foods and prevent them from drying. They are particularly useful for cooking high-quality and healthy foods but are more niche than other types of ovens as there are some foods they can't cook. However, you can work around this by getting a multi-function steam oven.
Miele offers several freestanding and integrated built-in steam ovens and benchtop steam ovens. These usually cost between $3,549 and $7,499 for a steam oven with a microwave function.
Miele Benchtop Steam Oven − $1,699 RRP*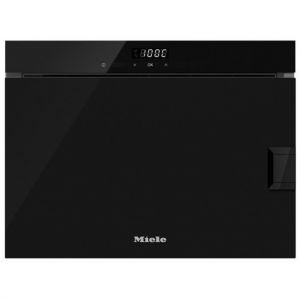 For households working towards a healthier diet, Miele claims models like the (DG 6010) steam oven uses an innovative system whereby the unit creates steam outside the oven compartment (40-100°C). This supposedly helps food cook faster and maintain 'optimum temperature', keeping the natural colour and flavour of the food. It's also said to make cleaning simple since limescale is unable to develop inside the oven compartment. Other features include electronic sensor touch controls, MonoSteam technology, and the ability to cook on three levels without flavour transfer.
Some tasks the Miele steam oven can be used for include:
Steaming vegetables, seafood, meat, side dishes, and desserts
Making yoghurt
Sous-vide cooking
Blanching
Proving yeast dough
Preserving fruits and vegetables
Heating hand towels
Sterilising jars.
This freestanding Miele steam oven offers a 24L capacity and three shelf levels.
Are Miele steam ovens worth it?
Again, Miele's steam ovens aren't super cheap. But with retail prices ranging between $1,699 and $4,299, this range offers much more affordable alternatives for anyone looking for a high-end model from the brand. Plus, the sheer amount of extra features make it all the more worth it. Although if you're thinking of buying a high-end steam oven, the 'budget-friendly' Miele 6010 appears to provide pretty good bang for your buck since it includes many of the features you can expect from all Miele steam ovens.
Miele steam combination ovens review
Along with Miele's long line of steam ovens, the brand also offers a variety of freestanding and built-in steam combination ovens and steam ovens with microwave functionality. Prices for Miele's combi-steam ovens usually start from $6,199 and can go up to $11,799. Alternatively, Miele's range of steam ovens with microwave functionality usually costs anywhere between $5,299 and $7,999.
These include many of the same features you can find in regular steam ovens, such as sous-vide cooking as well as other unique functions such as:
Cake Plus: ideal for making choux pastries and a variety of cakes.
Mix & Match: can cook different types of food at the same time.
Sabbath program: oven remains on for 72 hours, so you can cook during periods of religious observance.
Automatic menu cooking (steam ovens with microwave): automatically determines temperature, cooking times, and sequence in order to cook multiple components at once.
Looking for more Miele reviews?
---
Read more: Electric vs gas oven running costs
---
Are Miele ovens worth it?
We can't find any reason to say Miele ovens are not a worthwhile investment. The only downside is that certain models, such as the steam combi ovens or speed ovens, are more of a niche purchase, so you'll have to consider if your need for this type of oven is great enough to warrant a $4,000+ purchase (if not more). If not, then you'd be better off buying a regular single oven. If you do want to buy one, then Miele's products can easily satisfy your speed oven needs.
Hopefully, you're aware by now that the recurring theme of Miele's ovens is price for quality. This brand guarantees convenience, reliability, and durability- all things you want in an oven. This is on top of the wealth of innovative features attached to Miele ovens, even their cheaper models. Miele's ovens are definitely worth the money.
*Prices taken from Miele, correct as of February 2022.
About the author of this page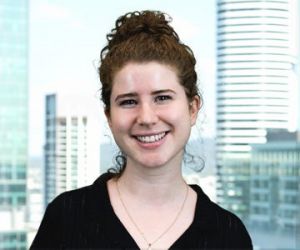 This report was written by Canstar Blue's Content Producer Luciana Lawe Davies. She writes about streaming, appliances and consumer products and services. Luciana enjoys bringing readers the best in what's on TV and at the shops, including the best deals and latest reviews.
What do customers think about Miele ovens?
In 2021, Australian customers gave Miele 5 out of 5 stars for overall customer satisfaction for ovens.