Review of Miele ovens
Miele is a premium brand of household appliances, which specialises in big ticket items like dishwashers, washing machines and ovens. Being a high-end brand means you'll likely pay a higher price for your new piece of kit, but Miele has a reputation for providing great value for money as consumers see the benefit of investing in appliances that do a great job and last for a long time.
In this report, we'll review Miele's extensive feature-packed range of ovens to determine where you will find the best bang for your buck.
What ovens does Miele offer?
Miele has more than 30 different oven models, which is too many for us to review individually (although we encourage you to have a look for yourself!). Instead we will separate Miele's ovens into sub-categories based on their type. If you're not sure which type of oven is right for you, we suggest consulting our helpful guide.
Miele single ovens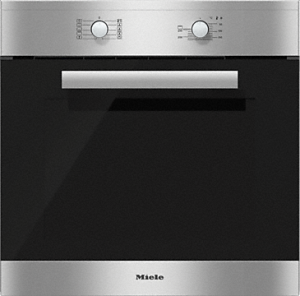 Single ovens are the most numerous in this review, accounting for 18 of Miele's total oven range. These single ovens are a bit on the pricey side, costing between $1,300 and $7,000, depending on what option you go for. Rather than review all 18 of them, we will have a close look at four different models – two of the cheapest and two of the most expensive.
Depending on which Miele oven you go for, it could have one or several of the following features:
Catalytic self-cleaning enamel: grease residue is continually broken down
Pyrolytic self-cleaning
CleanGlass door: the door's smooth surface makes cleaning easy
Numerous different operating modes for different meals
Cool front door: which gives you protection from burns
Individual settings: you can adapt your appliance to suit your personal preferences at any time
Timer functions: includes start and end times as well as an automatic off-function
Multi-coloured touch display with clear text or a classic rotary knob selector
Moisture Plus: adds moisture for optimal results (see video below)
Food probe: gives precise results on fish and meat by measuring its core temperature
Special automatic programmes: to cater for your cooking preferences
FlexiClip runners: you can baste or turn meat outside the oven without burning yourself
Cool front cooling system: keeps the oven cool on all sides
Safety features: includes child lock and auto lock
One of the most standout features from Miele ovens is Moisture Plus, explained in the following video:
As you can see, Miele ovens contain a huge range of additional features. The more expensive ovens have much more than the cheaper ones, which goes a long way to justifying their high prices.
The cheapest:
H 2260 B PerfectClean oven: ($1,300)
H 2661 B brilliant white oven: ($1,999)
The first oven we'll review is the cheapest – the H2260 oven, which costs $1,300 and is very typical of a 'basic oven'. It doesn't have many advanced features like its expensive counterparts, instead focusing more on convenience and aesthetic appeal. It has the CleanSteel, PerfectClean finish, CleanGlass door and catalytic self-cleaning enamel features, as well as having a cool front cooling system. Unlike most cheap ovens it comes with a decent number of operating modes, giving you plenty of cooking options.
The second cheapest option from Miele in the single oven category is the H2661 model (pictured), costing you $2,000. This one is slightly more advanced than the previous model. In addition to the CleanGlass, PerfectClean, self-cleaning and cooling systems, it also comes with individual settings and timer functions to go with its 8 cooking modes, giving you plenty of options. The only real downside is the relatively small 76 litre capacity.
The most expensive:  
H 6860 BP Miele all-rounder: ($7,000)
H 6660 BP stainless steel oven: ($5,800)
The H6860 all-rounder (pictured), which costs a measly $7,000, is the most expensive single oven at Miele's disposal. The general rule with ovens is that the more expensive they are, the more features they have, and this one is no exception. In addition to its 13+ cooking functions, it has an extraordinary 17 special features, including but not limited to moisture plus, wireless food probe, electronic temperature control, pyrolytic cleaning, FlexiClip runners, automatic and individual settings and more. You're almost spoiled for choice when using this oven.
The $5,800 option – the H6660 – fares almost as well as its more expensive counterpart, as it too contains a whole host of innovative features. This oven has a touch display (SensorTronic) and includes 13 different cooking functions. The more prominent features of this oven are moisture plus, food probe, cool front cooling system and pyrolytic cleaning, among others. We encourage you to look up these options to see each of the extra features for yourself, as Miele goes into much greater detail on its website.
Are Miele single ovens worth it?
Miele's single ovens definitely seem worth the money, if you have it. Its most expensive options might be very expensive indeed, but they more than back this up with what they can do. You're paying for quality, and Miele's ovens come with a host of options that will allow you to cook perfect food as easily as possible. Features such as pyrolytic cleaning are also in extremely high demand at the moment, so if money is no object, then definitely consider a Miele single oven. If money is an issue, then the cheapest model will cost just $1,300, which is excellent value considering what it can do.
Miele compact ovens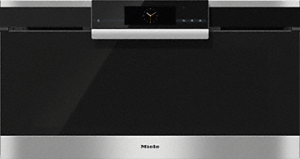 Compact ovens are a particular type of single oven designed to be wide rather than tall. Whereas the usual dimensions of a single oven are approximately 60x60cm, compact ovens are usually 45×90. This allows them to fit into unconventional spaces if necessary, and depending on what you're cooking, they can also store more food at once.
These compact ovens have the following features, in addition to the ones already discussed:
TwinPower hot air fans: two heaters inside the oven ensures extremely fast heating
Easy control: 7-segment display with classic rotary knobs
Residual heat utilisation: conserve heat and energy by switching the oven off and finishing the cooking with leftover heat
3D control panel
Miele has just two ovens in this category so we'll have a look at both
H 6890 BP 90cm all-rounder: ($14,000)
H 6290 B 90cm stainless steel oven: ($7,000)
The most expensive oven here – and indeed from any manufacturer in Australia – is the H6890 all-rounder (pictured), which costs a staggering $14,000. However, it is unparalleled when it comes to hosting additional features, with a total of 20. Some of these 20 features are:
Wireless food probe
Moisture plus
Pyrolytic and catalytic self-cleaning
Automatic and special programs
Electronic temperature control
TwinPower hot air fans, cool front cooling system
Residual heat utilisation and more!
This is all on top of 13+ cooking modes, with a sleek 3D control panel design with a multi-coloured touch display.
The other compact oven from Miele costs just half as much, but of course this means you have to compromise on features. This oven isn't nearly as super powered, as it has only eight additional features as opposed to 20. These include individual settings and timer functions, CleanSteel, self-cleaning and cooling systems, TwinPower hot air fans and a CleanGlass door. It also has 13+ cooking functions and easy-control rotary knobs, alongside an Energy star rating of A.
Are Miele compact ovens worth it?
Most people will struggle to see value in these ovens, given that they are more expensive than most other products on the market. A lot of people simply will not be able to justify spending this much on an oven, no matter how good they are.
On the other hand, if you can afford them, then why not go for it? The $14,000 option is the super-computer of home cooking, so if you can afford it, it will not be possible to eat another bad meal again. You'd think. They have an abundance of innovative features, are easy to use and are also energy efficient, so aside from the huge price there are no drawbacks. And you'd hope so, wouldn't you?
Miele steam ovens
Steam ovens, as you may have guessed, use steam while cooking to retain the moisture in foods and prevent them drying. They are particularly useful for cooking high-quality and healthy foods, but are more niche than other types of ovens as there are some foods they can't cook. However, you can work around this by getting a multi-function steam oven.
Miele has a total of five steam ovens. But most of them are extremely similar. Therefore we will have a look at two of them. The features that these steam ovens might have are as follows:
Convenient descaling program: the oven reminds you when descaling is necessary
Compartment lighting and viewing screen
MultiSteam: external steam generation ensures perfect results and even steam distribution
Keep warm function: food is kept at a storing temperature for up to 15 minutes after the programme has ended
Quality-independent cooking: there is no need to weigh food in this oven as the cooking duration will always be the same
Extra-large tray size
Lightweight water container: the steam generator is positioned behind this easy to remove water container
Simultaneous cooking on three different levels
Now, let's have a look at two reasonably priced Miele ovens in this category:
DG 6200 built-in steam oven: ($2,599)
DG 6401 white built-in steam oven: ($3,599)
These steam ovens are much cheaper than Miele's compact ovens. The cheapest one (the DG 6200) costs about $2,599, which is above the average industry price for steam ovens, but not at the point which is considered too expensive. This oven has a total of 15 different extra features. Like previous ovens before it, this one has features like individual settings, simple cleaning and cooling systems, electronic temperature control and automatic programs. It also has some new features exclusive to Miele steam ovens, like MultiSteam, Quality-independent cooking, convenient descaling and a lightweight water container, among a few others. It also has an extra-large tray size, enabling you to cook up to 3 dishes at once in it.
The more expensive $3,500 option (pictured) fares slightly better, as it has 19 different features compared to 15. It has all the same features as the previous model, but also has user programmes, recommended temperatures, compartment lighting with a viewing screen plus the keep warm function.
Are Miele steam ovens worth it?
Again, these oven models are extremely expensive, but they aren't as ridiculously expensive as other Miele models, since steam ovens are generally quite expensive. $2,500 and $3,600 respectively aren't bad prices for steam ovens, and when you consider the amount of extra features each one has (15 and 19) then it is easy to see why Miele steam ovens cost so much. It would seem that they are worth the money, but more so the $2,500 model, since it remains to be seen if those 4 extra features justify a $1,000 price rise. The cheaper model however represents superb value for money.
Miele speed ovens
Speed ovens are very similar to regular ovens, but they are smaller in size and cook much faster. They do so combining microwaves with regular convection baking, while also allowing you to do either function separately. Miele has eight speed ovens, ranging in price from $4,000 to $5,500. We will examine two of them, since they are just different variations of the same model series.
H 6400 BM stainless steel speed oven: ($4,000)
H 6800 BM white speed oven: ($5,500)
The cheaper of the two is the $4,000 H6400 speed oven, which has 11 different product advantages. The only feature not yet discussed is the speed oven feature, which significantly speeds up the heating process. Other prominent features include electronic temperature control, the cool front cooling system, safety functions, popcorn mode, user programs, timer functions and individual settings.
The more expensive model is the H6800, and the only difference between the two is the addition of the food probe function and special automatic programmes, giving it a total of 13 product advantages. Unlike its cheaper counterpart, the H6800 has an extremely generous total of 17 different cooking functions.
Are Miele speed ovens worth it?
We can't find any reason to say Miele speed ovens are not a worthwhile investment. The only downside is that they are more of a niche purchase, so you'll have to consider if your need for a speed oven is great enough to warrant a $4,000+ purchase. If not, then you'd be better off buying a regular single oven. If you do want to buy one, then Miele's products can easily satisfy your speed oven needs.
Hopefully you're aware by now that the recurring theme of Miele's ovens is price for quality. The average the highest price of any oven provider in Australia across a wealth of different options, but what you pay for is what you get with Miele. You are paying for quality, and with the abundance of innovations attached to even their cheapest models, Miele's ovens are definitely worth the money.
What do customers think about Miele Ovens?
In 2018, Australian customers gave Miele 4 out of 5 stars for overall customer satisfaction for ovens.