KitchenAid Stand Mixers Buying Guide
KitchenAid is an American home appliance brand owned by the Whirlpool Corporation. The company was formed back in 1919 and has developed a long-standing tradition of reliability and performance. It offers a wide range of kitchen appliances including food choppers, processors, blenders, slow cookers, multi-cookers and even coffee machines. However, its journey began with its iconic stand mixer. Prices for its mixers go up to as much as $1,000 these days, which makes purchasing one of these bad boys a big decision. So, let's review the features and details to help you decide if it's worth the money.
KitchenAid Stand Mixers
KitchenAid Mixers come in a variety of sizes to suit individual baking needs from the humble beginners to dessert connoisseurs. Each range comes with a variety of colours, with the exception of a few models that come in one specific colour. Taking some time considering the capacity you'll need and what you'll be making with it is probably one of the most important steps to help narrow down your search for a new KitchenAid stand mixer. Here's a brief overview of each mixer before we go into detail on a few of the standout models.
| KitchenAid Mixers | Price | Capacity | Good for? |
| --- | --- | --- | --- |
| KSM3311 Mini Stand Mixer | $699 | 3.3L | Small households |
| KSM45 Onyx Black Classic Mixer | $799 | 4.3L | Occasional use, mixing small batters & not fussed about colour |
| KSM150 Artisan Stand Mixers | $879 | 4.8L | Frequent home baking |
| KSM160 Artisan Stand Mixers | $899 | 4.8L/2.8L | An aspiring home baker with the most colour options available |
| KSM170 Stand Mixer | $929 | 4.7L | Households with children as you can see the ingredients through its glass bowl, plus not fussed about colour |
| KSM177 Stand Mixer | $999 | 4.8L/2.8L | Additional versatility with two bowl sizes |
| KSM180 100 Year Retro Mixer Misty Blue | $1,299 | 4.7L | If you're a KitchenAid enthusiasts, this is its limited-edition mixer celebrating 100 years with a unique bowl design |
| KSM7590 White Stand Mixer | $1,295 | 6.9L | Large batches of dough on a daily/weekly basis |
| KSM7581 Pro Line Bowl-Lift Stand Mixers | $1,299 | 6.9L | Large batches of dough on a regular basis with additional coated metal attachments |
Source: KitchenAid, January 2019

KitchenAid Mini Stand Mixer (KSM3311)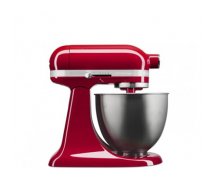 If you're only expecting to use a mixer on occasion, you might like to start out with this one. The KitchenAid Mini Stand Mixer is stated to be 25% lighter and 20% smaller compared to the Artisan Tilt Head Mixers. It's ideal for small batches with its smaller 3.3L capacity bowl and can fit in small kitchens. It's claimed to process up to 680g of flour and eight egg whites.
It features 10 speed settings and comes with a flat beater, stainless steel wire whisk and dough hook. Original planetary mixing action ensures thorough ingredient incorporation, according to KitchenAid. It's made from full die cast metal and is the lightest of the lot, weighing in at 6.5kg. It only has one colour option – red – so if you're not too fussed about colour then there's nothing to worry about.
Colour: Empire red
Dimensions: 2 x 19.8 x 31.2cm (H x W x D)
Weight: 5kg
RRP: $699
KitchenAid Artisan Stand Mixers (KSM160)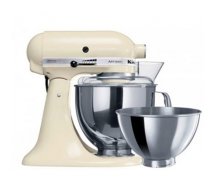 Within the Artisan range, you'll find this KSM160 model. It's designed in a similar fashion to the mini range with planetary mixing action. For more versatility, the attachment hub transforms the mixer into a pasta maker, food grinder, vegetable slicer and even a sausage maker, with more than 10 attachments that can be purchased separately. The tilt-head design is boasted to provide clear access to the bowl to help add ingredients with ease.
For convenience, it includes a 4.8L and a 2.8L stainless steel bowl for different quantities you choose to make. It's stated to yeast dough up to a mixed weight of 1.15kg (2 x 450g loaves). Standard attachments include a flat beater, stainless steel wire whisk and dough hook. There's also a variety of different colour options you can choose from, so that you can pick one that fits your kitchen style.
Colour: almond cream, crystal blue, cocoa silver, contour silver, champagne gold, empire red, ice, majestic yellow, onyx black, pink, pistachio, truffle, white, watermelon
Dimensions: 3 x 22.1 x 35.8cm (H x W x D)
Weight: 6kg
RRP: $899
KitchenAid Pro Line Bowl-Lift Stand Mixer (KSM7581)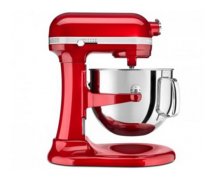 KitchenAid's Pro Line series is for the advanced, being boasted for the most powerful motor in the range along with the largest 6.9L capacity bowl for additional mixing muscle. According to KitchenAid, you can yeast dough up to a mixed weight of 2.2kg (4 x 450g loaves) with this unit. It's designed with 10 speed settings and standard planetary mixing action. Its bowl-lift design is stated to provide sturdy support and stability when mixing large batches or heavy ingredients.
It comes with a number of extra attachments, including a coated metal beater, a stainless steel 11-wire elliptical whisk and a spiral dough hook. Despite the added mixing capacity, keep in mind this is the most expensive of the lot.
Colour: White
Dimensions: 9 x 26 x 37cm (H x W x D)
Weight: 3kg
RRP: $1,299
KitchenAid Attachments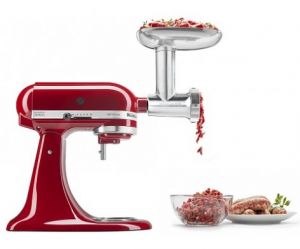 KitchenAid's stand mixers can turn into a culinary hub with all the different attachments available, allowing you to create anything from burgers and fresh pasta to ice cream and more. Here is a list of attachments and prices at the time of writing:
Sausage Stuffer Tubes: $19
Food Tray: $39
2 Blade Accessory Pack for Spiralizer 5KSM1APC: $39.95
Citrus Juicer with Strainer: $59
3pce Drum Set for 5KSMVSA attachment: $69.95
Extra Drum Set: $89
Food Grinder/ Mincer: $119
Fruit and Vegetable Strainer without Mincer: $119
Ice Cream Bowl Attachment: $199
Pasta Roller: $149
Slicer / Shredder Attachment for Stand Mixer: $169
Fruit & Vegetable Strainer with Mincer Pack: $179
Pasta Cutter and Angel Companion Set: $199
Metal Food Grinder Attachment: $219
Spiraliser Plus with Peel, Core and Slice attachment (7 blades): $219
Vegetable Sheeter Attachment for Stand Mixer: $219
Grain Mill Attachment for Stand Mixer: $229
Sifter + Scale Attachment: $249
3 Piece Pasta Roller Attachment: $289
Ravioli Roller Attachment for Stand Mixer: $299
Juicer & Sauce Attachment: $379
Gourmet Pasta Press: $399
Food Processor Attachment: $399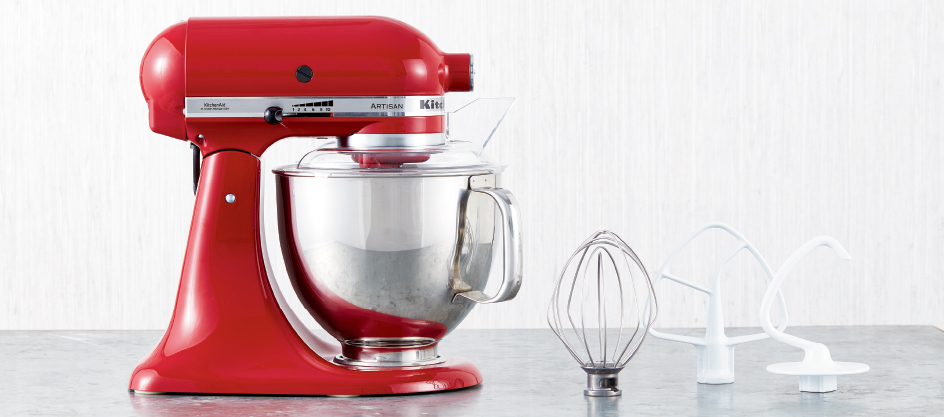 KitchenAid Accessories
Aside from the different attachments, there are also a number of accessories you can purchase separately. These includes all types of whisks, beaters and bowls you might need for specific recipes. You can also buy protective shields that attach to the bowls as well as pasta drying racks and covers to keep the unit dust free.
Its accessories are stated to be cross-generational, so even if you bought your first KitchenAid stand mixer 30 years ago, it's likely that the accessories will still work with a current model.
Should I buy a KitchenAid stand mixer?
Buying a KitchenAid stand mixer is potentially one of your biggest countertop appliance investments. With hefty prices, it would be wise to take some time to consider if this is something you really need. These are fairly large kitchen appliances and can provide versatility for your cooking and baking with the numerous attachments on offer.
With various sizes and ranges available, there's plenty of choice to find the right mixer for you and your cooking preferences. Depending on the capacity you'll need and what you'll actually be using it for, you can choose accordingly – from the Mini Range to the Pro Series with the works.
About the author of this page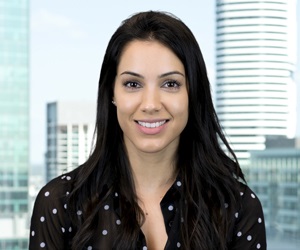 This report was written by Canstar Blue's Home & Lifestyle Content Lead, Megan Birot. She's an expert on household appliances, health & beauty products, as well as all things grocery and shopping. When she's not writing up our research-based ratings reports, Megan spends her time helping consumers make better purchase decisions, whether it's at the supermarket, other retailers, or online, highlighting the best deals and flagging anything you need to be aware of.