Fact Checked
KitchenAid whisks to the top in mixer ratings
Mixers are a handy addition to any kitchen, especially if you enjoy making oven-baked goodies and treats. While mixing was often the bane of many cooks and weekend creators, with the old-school mixers usually leaving you with hand cramps – in addition to taking a good chunk of time – brands nowadays offer a wide variety of mixers that do the work for you.
With plenty of options available, narrowing them down can be tricky, especially if you haven't had much experience before. So, to offer some guidance, we've surveyed more than 500 Aussies and asked them to review the mixer(s) they've most recently purchased on a number of factors including value for money, performance, design and so on.
In 2020, six brands received the minimum survey sample size (30 responses) to be included in our mixer review, but only one came out on top – KitchenAid!
Best Hand & Stand Mixers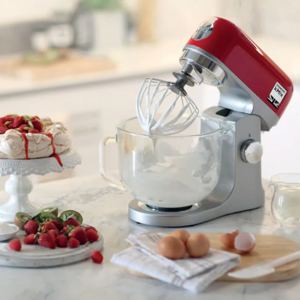 Here are the best brands of mixers in Australia, as rated by consumers in Canstar Blue's latest review:
KitchenAid
Sunbeam
Kenwood
Kambrook
Breville
Kmart
KitchenAid has won consumers over with its cool range of mixers, receiving five stars for performance, ease of use, additional functions, design and overall satisfaction. The only other two brands to score full marks in any category were Sunbeam which rated five stars for ease of cleaning and Kmart which rated best for value for money.
Now let's get an overview of what's available from each brand, including the prices you can expect.
Hand & Stand Mixers Compared
KitchenAid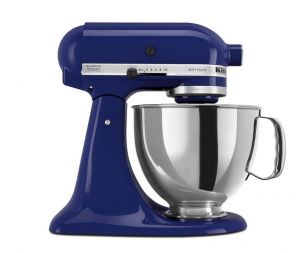 KitchenAid is arguably the king of small kitchen appliances and offers a large range of hand mixers and stand mixers with enough variety to satisfy your inner chef. KitchenAid mixers also come in a variety of colours, allowing you to find one to suit your kitchen's look. Its latest Cordless 7-Speed Hand Mixer (KHMB732) comes in three different colours and features seven different spin speeds. It comes with a Soft Start feature that brings the beater up to the selected speed gradually to help prevent ingredients from splashing everywhere.
It also comes with a rechargeable lithium-ion battery which can charge your mixer from empty to full in two hours or less, according to the brand. It's also boasted for being able to make up to 200 cookies on a full charge!
For large workloads, KitchenAid offers the 4.8L Artisan series, capable of mixing more than a kilo of dough. Similarly, to the miniature model, the Artisan mixers also contain a 10-speed motor with variable speeds, while featuring a head tilt function for an even mix. One of the most versatile models on offer, the Artisan mixer comes with a variety of attachments, allowing it to transform into a juicer, food processor, pasta roller, strainer and peeler, making it a one-stop shop when it comes to cooking.
Here are some models you'll find in the range:
KitchenAid Artisan 9-Speed Hand Mixer (KHM926): $209 RRP*
Cordless 7-Speed Hand Mixer (KHMB732): $259 RRP*
KitchenAid 3.3L Artisan Mini Stand Mixer (KSM3311): $599 RRP*
KitchenAid 4.8L Artisan Mixer + Flex Edge Beater (KSM177): $899 RRP*
KitchenAid earned five-star reviews for performance, ease of use, additional functions, design and overall satisfaction. It got four stars for ease of cleaning and three stars for value for money.

Sunbeam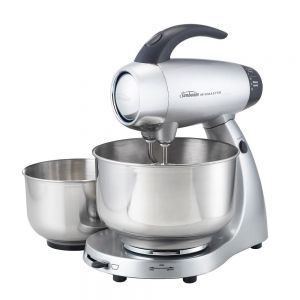 A giant within the kitchen appliance market, Sunbeam offers a variety of both stand and hand mixers, allowing households to find a model regardless of how often they cook. Coming in a variety of colours and finishes, Sunbeam will help you find a mixer to suit your kitchen. All models come with a 12-month warranty, with stand mixers available with a five-year motor warranty.
Sunbeam's introductory stand model, the Mixmaster Classic (MX8500) is made of stainless diecast metal and contains 12 variable speeds to power the twin beaters for optimal mixing. Coming with two mixing bowls and a variety of whisks and beaters, the Mixmaster Classic may be worth looking into for those wanting to expand their culinary horizons.
If you're after something with a bit more grunt to it, the Café Series contains a 1000W motor powering the 12 speed settings. Including a splash guard, LCD display and a balanced head lift, the Café model can make short work of whatever you need to mix, as well as ensuring you're not left with a big mess at the end. The Café Series comes with a 4.5L stainless-steel mixing bowl, along with a number of timer settings.
In addition to a number of stand mixers, Sunbeam has multiple hand mixers available for those not looking to spend big. Often retailing between $49.95 and $100, Sunbeam hand mixers are also available in a wide range of colours, helping to brighten your kitchen. The introductory model, the Beatermix, has five speeds with additional boost for those tough mixes, as well as a 170cm cord to help you spread out in the kitchen.
Some models from the range include:
Sunbeam Beatermix Pro 320W Hand Held Mixer (JM5900): $49.95 RRP*
Sunbeam Mixmaster Classic (MX8500): $249 RRP*
Sunbeam Mixmaster Stand Mixer (MXM5000WH): $349 RRP*
Sunbeam Cafe Series Planetary Mixmaster (MX9200): $399 RRP*
Sunbeam earned five stars for ease of cleaning, and four stars in majority of other categories. It got three stars for additional functions.

Kenwood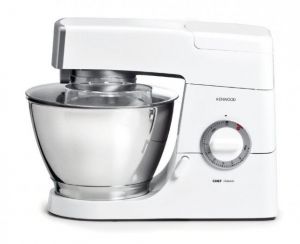 Kenwood may be a worthwhile option for those who aren't sure about which model to choose, with plenty of units available regardless of your preference or budget. Kenwood has an extensive range of attachments and extras, including pasta cutters and rollers, food grinders and a range of beaters and whisks.
The most basic model is from the Chef series, retailing for around $329. With a 4.6L bowl and variable speed settings, the introductory Chef model will be able to tackle plenty of recipes, although Kenwood also offers models with larger capacities for when you're baking in bulk.
The XL model bumps up the power to 1200W and uses a 6.7L bowl to make light work of cake mixes and dough. If you're looking to become the next cooking sensation, you may like to go for the top-of-the-line Cooking Chef mixer, but be prepared to fork over some serious cash. Retailing for close to $2,000, the Cooking Chef isn't for the faint-hearted, but may help make your cake the talk of the town.
With 20 pre-set cooking programs to help with tricky recipes, the Cooking Chef is powered by a 1500W motor and has over twenty additional attachments including a food processor, meat grinder and pasta maker to help you prepare dinner regardless of what you're craving. Including an LCD display and timer function, the Cooking Chef mixer also utilises induction technology to help slow cook the mix for a shorter cooking time in the oven.
Some models from the range include:
Kenwood 4.6L Chef Classic Mixer (KM336): $329 RRP*
Kenwood XL Mixer (KVL4100S): $499 RRP*
Kenwood Chef Sense XL Mixer (KVL6100T): $589 RRP*
Kenwood Cooking Chef Food Mixer (KCC9040S): $1,899 RRP*
Kenwood scored a solid four-star rating across the board, including for overall customer satisfaction.

Kambrook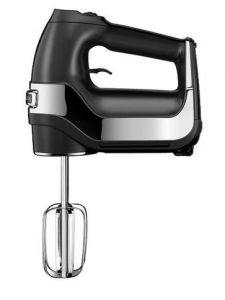 Kambrook offers a couple of hand mixers, only available through the retailer's website directly or via online marketplaces such as Kogan, at the time of writing.
If you're a beginner baker who's ready to take their budding passion into a reputation, then Kambrook's 7-Speed Hand Mixer may be the option for you. In addition to offering seven speed settings, it also comes with a slow start and pulse button for greater control and power over your culinary creations. This model also comes with three attachments including beaters, a whisk and dough hooks, plus a snap-on storage case for convenience.
For something with a little bit more power, you might like to consider Kambrook's Culinary Turbo Boost Electric Stick Mixer. It features an efficient DC motor, variable speed controls for precision when chopping, blending and whisking, and a soft-touch finish for comfort and grip.
Some models from the range include:
Kambrook 7-Speed Hand Mixer (KHM655BLK): $69.95 RRP*
Kambrook Electric Stainless-Steel Hand Blender: $89 RRP*
Kambrook Culinary Turbo Boost Electric Stick Mixer: $89.95 RRP*
Kambrook got a mixed bag of scores. It rated four stars for design, additional functions, value for money and overall satisfaction, and three stars everywhere else.

Breville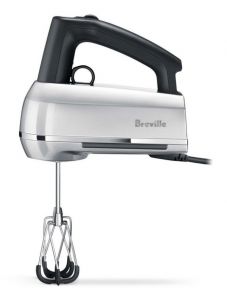 Well-known in the kitchen appliance market, Breville has long been a family favourite when it comes to decking out the kitchen. Whether you're after a smaller hand mixer, or after a serious stand mixer, Breville might be worth checking out. It offers a five-year motor warranty on most models for peace of mind.
For those pressed for space, the Breville Handy Mix Scraper includes a detachable storage compartment to house all the attachments and cord, to help save you from turning the kitchen upside down looking for them. It includes nine speed settings, designed for kneading and whipping, with an additional boost setting for those tough mixes.
In addition to hand mixers, Breville also offers stand mixers, including the Scraper series and the Bakery Chef series. Breville's Scraper Mixer Pro is claimed to replicate the same planetary mixing action with a counter-clockwise mixing head and anti-clockwise sweeping action of wide attachments for 360° action. It includes up to 12 speed settings and additional attachments.
Some models from the range include:
Breville the Handy and Store Mixer (LHM150SIL): $59 RRP*
Breville the Handy Mix Scraper (BHM800SILUSC): $129.95 RRP*
Breville the Bakery Chef (BEM825BTR1BUS1): $399.95 RRP*
Breville the Scraper Mixer Pro (BEM800BSS1BCA1): $399.99 RRP*
Breville rated three stars in all categories, including overall satisfaction.

Kmart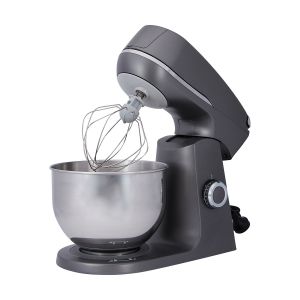 Budget-oriented retail chain Kmart seems to do it all – from air fryers to microwaves and even mixers. It features all types of mixers with prices under $150 at the time of writing. Similar to all appliances available at Kmart, these models are stated to have been tested to applicable Australian electrical safety standards. Durability and performance testing have also been carried out prior to QA approval, according to Kmart.
Kmart has two hand mixers, both with five different speed settings and a release button for ease of use. The $15 mixer features stainless-steel beaters and hooks while the $10 unit has just chrome beaters. Additionally, on the $15 model you'll find a turbo function with 300W of power for when you need an extra boost to mix your dough. Both come in a standard white finish.
For a stand mixer option, it has just one model – the Diecast Stand Mixer for $149. It comes with a large 4.6L stainless-steel mixing bowl, along with 12 different speed settings to choose from. Accessories include a beater, a dough hook, a balloon whisk and a splash guard, allowing you to use the highest speed without the worry of making a mess in your kitchen.
Models from the range include:
Kmart Hand Mixer with Chrome Beaters: $10 RRP*
Kmart Hand Mixer with Stainless-Steel Beaters: $15 RRO*
Kmart Stick Mixer with Chopper Set: $29 RRP*
Kmart Diecast Stand Mixer: $149 RRP*
Kmart rounded up the results with five stars for value for money, four stars for ease of use and three stars in the remaining categories.

Other brands
Aside from the brands mentioned, there are plenty of others you may like to consider that may not have received the minimum sample size to be included in our ratings but are just as prominent in the market:
ALDI Ambiano
Big W Contempo
Bellini
Cuisinart
Devanti
Kogan
Russell Hobbs
Smeg
Target
Thermomix
Todo
What types of mixers are there?
With many kitchen appliance brands now offering a variety of models and mixer types, consumers are spoilt for choice when it comes to whipping up a storm in the kitchen. Mixers are generally split into two different categories – hand mixers and stand mixers. Hand mixers, as the name suggests, are hand-held models commonly used for smaller quantities, or for whisking eggs and whipping cream.
Stand mixers, otherwise known as bench mixers, are larger units with more functions and features. While a bit more of a financial investment, stand mixers generally have a higher work rate, in addition to a larger capacity, making them more suitable for larger households, or those regularly cooking or baking. It's important to note our review considers all types of mixers.
What to consider when buying a mixer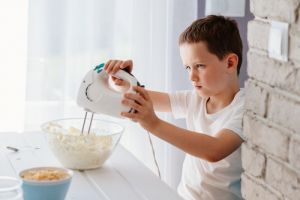 When it comes to finding out what drives customer satisfaction after purchasing a mixer, our research revealed the following factors as most important:
Performance: 20%
Value for money: 20%
Ease of use: 19%
Design: 15%
Ease of cleaning: 14%
Additional functions: 11%
Performance is the most important driver in mixer(s) satisfaction, followed by value for money. When you need the batter battered or the cream whipped, you'll want a mixer that will do it just right. But when it comes to 'value', this doesn't just mean that the most expensive unit on the market is 'best' as there are plenty of cheap options available that can represent good value for money by delivering on performance and reliability.
How much do mixers cost?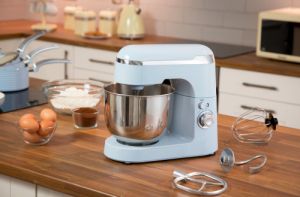 Depending on the type, prices for mixers start at around $50, but can go up to almost $2,000 for those looking to amp up their cooking and baking skills. Our survey found that households spend an average of $277 on new mixers, with most keeping theirs for about eight years.
When considering which mixer to buy, it would be wise to think about how often you'll use it and what you'll use it for. Over a fifth (22%) of survey respondents said they don't use their mixer as much as they thought they would and only 12% wish they had spent more money on a better mixer. A third of respondents (33%) have cooked/baked more since purchasing their mixer.
Which mixer brand should I buy?
Mixers are a handy appliance to have in the kitchen, saving you time – and your hands – while making short work of the preparation phase of recipes. Households have no shortage of options when it comes to choosing a mixer, with both hand and stand models readily available to suit whatever you plan on cooking.
With multiple brands and models available, narrowing down the best option can quickly become a struggle, with the motor size, safety features and optional attachments all factors to be considered.
Ultimately, which mixer you walk out the door with will depend on your personal preferences, such as how often you're cooking, what you're cooking, and if you're looking to expand your culinary horizons with new recipes that require specific beaters or whiskers.
Picture credits: Daniel Jedzura/Shutterstock.com, 4teen/Shutterstock.com.
*Prices taken from respective retailer websites, correct as of November 2020.