Siemens Washing Machines Review
Siemens is a well-known German brand that focuses on kitchen and laundry appliances. It's one of the largest industrial manufacturing companies in Europe with offices across the globe. In Australia, it has a fairly concise range of washing machines on offer, specialising in front loaders. It claims a specific goal to better conserve natural resources and produce innovative appliances for the everyday user. Read on for all the specs and features of each front load washing model that Siemens has on offer.
Siemens Front Loader Washing Machines
Front load washing machines tend to be more energy efficient than top loaders with warm water cycles and it may be the reason why Siemens only offers this type. Usually, front loaders also have faster spin speeds, with the Siemens washers being designed with 1400RPM or above. All Siemens front loaders are the same in size, coming in at 848 x 598 x 590mm (HxWxD) and have a 10-year motor warranty.
Siemens WM14W440AU iQ700 8kg Front Loader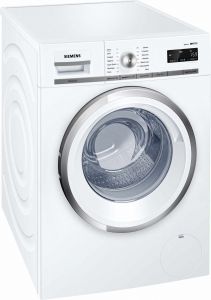 Starting with Siemens' cheapest model, the iQ700 8kg washer is an ideal size for four or more people. It's designed with the Siemens iQdrive motor system which is claimed to be durable, quite, effective and efficient. Its 'waveDrum' technology is also boasted for gentle laundry care, whilst its 'antiVibration Side Panels' are claimed to reduce overall vibrations and noise levels. You can expect around 47dB (as loud as the conversations at home) of noise level when washing and up to 71dB (as loud as a vacuum) when the load is in the spinning mode.
To ease your load, Siemens has several systems in place, such as the 'speedPerfect' option, stated to be 50% quicker than other cycles for washing, and a reload/pause function to allow you to add any missed items. The WM14W440AU model is further equipped with a number of washing programs including for sportswear and outdoor clothing.
There is also a sensor-controlled wash program for water efficiency called 'waterPerfect Plus', which can be used with any load size. For when you're in a rush, you can switch to the 'SuperQuick 15' program to wash your clothes in 15 minutes, or use the time delay function to select the end time of your cycle up to 24hrs in advance.
In terms of electricity and water bills, Siemens' 8kg washer has a four-star energy efficiency rating and a five-star water efficiency rating (WELS). It consumes around 57L of water per wash and uses 320kWh in electricity a year on the maximum spin speed of 1400RPM (Cottons, 60C and EcoPerfect programs). For safety and convenience, it's equipped with a child-proof lock, foam detection system and a self-cleaning detergent drawer.
Siemens WM16Y892AU iQ800 iDos 8.5kg Front Loader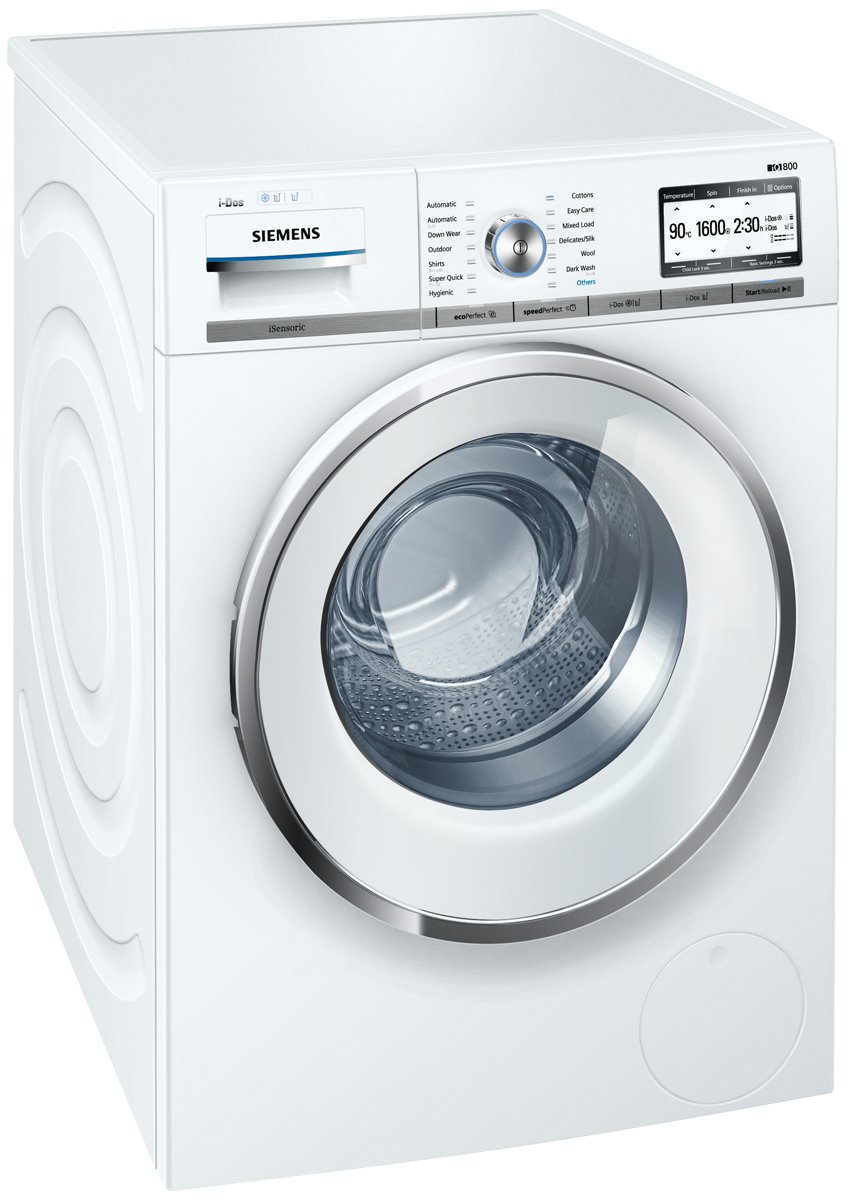 For a little more load space, the WM16Y892AU models is an 8.5kg washer, featuring the iQdrive motor system, with the addition of Siemens' i-Dos automatic dosing stain removal system. The system allows the machine to measures the amount of detergent required for a load, claiming to help save water and detergent. It has a faster maximum spin speed than the above model (1600RPM) and features 15 wash programs. While the iQdrive motor brings a similar noise level to the 8kg model, the night wash program on this WM16Y892AU washer is claimed to produce even less noise, ideal for washing while you asleep.
Extra features that you'll find with this washer include an interior LED drum light and a TFT-Display that reveals the water and energy consumptions before a wash program begins. It has a total of 4.5 stars for both its energy and water efficiency ratings. The safety system in place includes the Siemens hydroSafe anti-leek protection system.
Siemens WM14W790AU iQ800 9kg Front Loader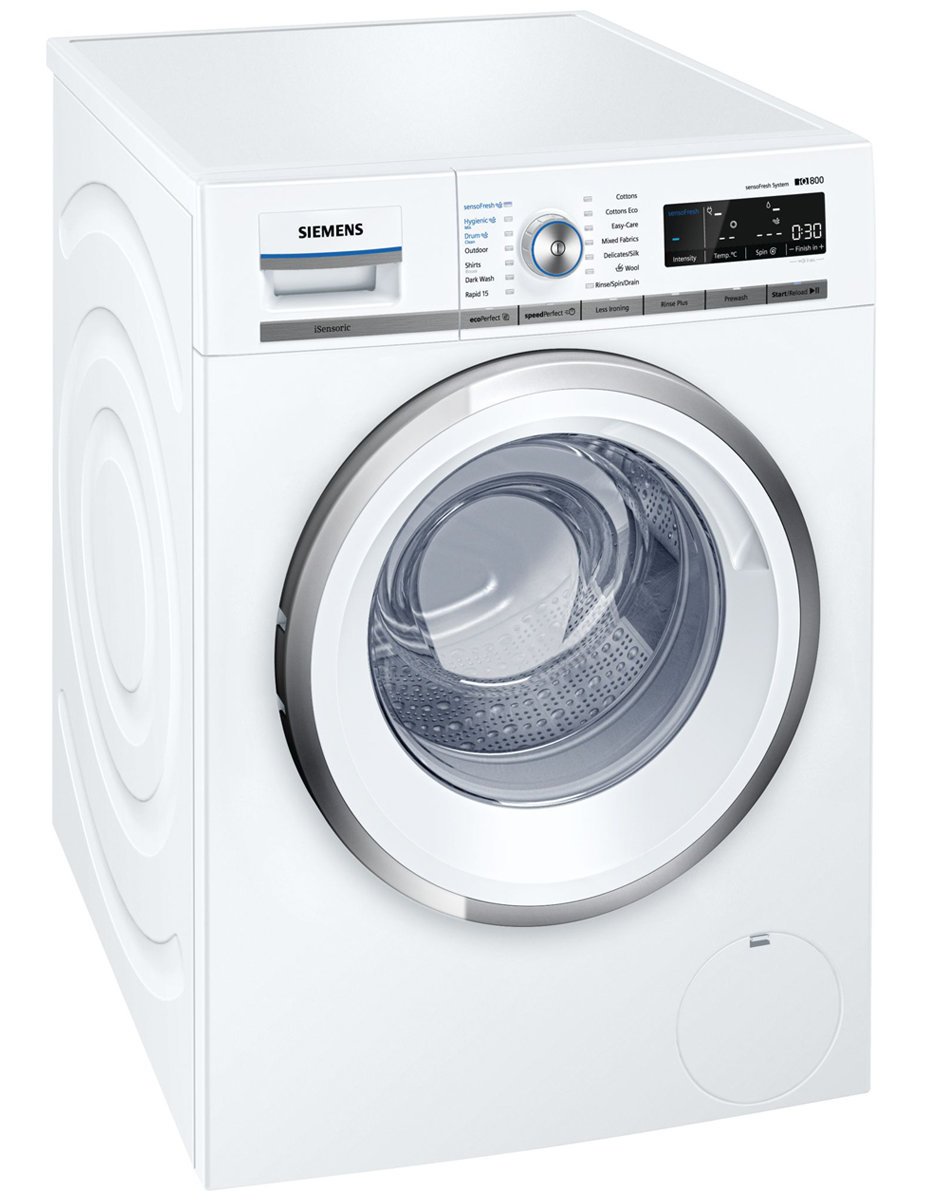 If you're living in a large household, then the Siemens 9kg front loader might be ideal for your home. It's equipped with similar technology to the washers mentioned above, including the iQdrive motor and the 'speedPerfect' program option. It also displays water and energy consumption before the program starts and has a pause and reload button to add forgotten items.
However, Siemens' WM14W790AU iQ800 9kg features no less than 14 wash programs and a maximum spin speed of 1400RPM. Additionally, this iSensoric washing machine has a 'sensoFresh' program, which is specifically designed to help remove odours with two intensity levels – 30 and 45 minutes. Similarly to the model above, it's rated 4.5 stars for both the energy and water efficiency ratings.
Is a Siemens washing machine a smart move?
The Siemens washer range sits in the mid-price category. As a washing machine is usually a long term investment, considering one of Siemens' washers may be worth your time for future energy and water savings. All models have four stars or above for energy and water (WELS) ratings and are equipped with numerous wash programs to maximise washing efficiency.
A smart feature of Siemens' front loaders is there pause and add button that allows you to add missed items to the load. There are several other aspects to consider when choosing the right washing machine for you, which include the durability of the machine, its design and ease of use. Siemens' front loaders have a fairly simple control panel with a digital display that displays the load consumption.
Depending on the size of your household and your washing needs, you may like to consider the Siemens front load range accordingly. If you're a fairly light user you may opt for an 8kg model but for additional capacity, the 9kg model might be a better choice for you. While you're in the market for a new washing machine, you might also like to check out our customer satisfaction ratings, revealing what Aussies think of their brand of choice when it comes to usability, performance and value for money.
Front Load Washing Machine Reviews
About the author of this page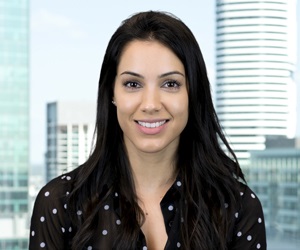 This report was written by Canstar Blue's Home & Lifestyle Content Lead, Megan Birot. She's an expert on household appliances, health & beauty products, as well as all things grocery and shopping. When she's not writing up our research-based ratings reports, Megan spends her time helping consumers make better purchase decisions, whether it's at the supermarket, other retailers, or online, highlighting the best deals and flagging anything you need to be aware of.