Solahart Hot Water Systems Review
Beginning back in 1953, Solahart has been a pioneer of solar hot water in Australia, with the brand today offering a number of hot water systems for households to choose from. Now operating as a subsidiary of Rheem, Solahart provides hot water systems for both residential and commercial properties, in addition to solar power systems and electricity storage solutions. If you're looking to upgrade your water system, read on to find out just what Solahart has available. As Solahart says, a solar hot water system is the only type of water system that pays for itself.
Solahart Roof Top Solar Hot Water Systems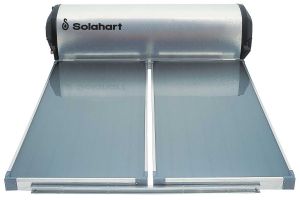 Making up the bulk of Solahart's range, the roof top line-up includes the L Series, SP Series, LCSD Series and CS13C Series, giving you plenty to choose from for your next hot water system. Most options come with either a 180 Litre or 302 Litre capacity water heater, ideal for either small or large households, with models supported by a five-year comprehensive warranty and option to upgrade to 10 years on tanks and collectors.
Solahart also outlines the optimal sun conditions for each model – including low, medium or high sun exposure – as well as which models include anti-frost features for those who live in cooler climates. All models come with electric boosting and gas boosting as an option.
The Solahart website allows you to enter your postcode, household size and climate to help you find the best fit for your needs and location.
Solahart Split Solar Hot Water Systems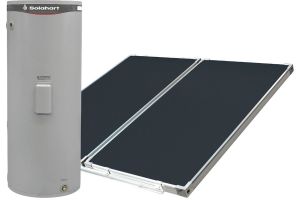 For those who don't have the roof space to install a roof top system, a split system may be a better fit. In this case, the water heater stays on the ground. Solahart offers the Streamline series, including the MLV line, with capacities ranging between 270 Litres and 410 Litres. Similar to Solahart's roof top range, the split system models can also be paired with gas and electric boosters, with the solar collectors also categories into low, medium or high sun, allowing you to narrow down which model is best for your location and sun exposure. Solahart also offers a higher efficiency system that includes CSA2007 collectors, making it ideal for those in lower solar gain areas.
Solahart also offer the PowerStore smart water heater, which takes excess energy produced from your solar power system and uses it to gradually heat water, rather than allowing it be fed back into the grid, meaning you can have hot water later on in the day, or when it clouds over.
A split system has the solar collectors installed on the roof, while the storage tank is installed on the ground, with some models suitable to be installed inside.
Solahart Heat Pumps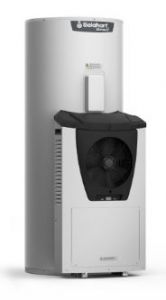 Solahart also offers a heat pump system – the Solahart Atmos – ideal for those who can't install a traditional solar hot water system when it's not a viable option. Suitable for a household of four, the Atmos comes with a 325L capacity and five-year warranty, along with a ceramic-lined tank to protect against any corrosion.
Atmos heat pumps also come equipped with a freeze protection system, making it suitable for colder Australian climates, with an electric booster also equipped to ensure you have continuous hot water when shower time comes around.
Solahart also offers pool heat pumps for both private residential pools and larger shared pools.
Is a Solahart hot water system worth the money?
As one of the most well-known solar hot water brands available in Australia, Solahart offers a number of hot water systems for households to consider, especially if you're also looking to delve into solar power for the first time as well. As the company rightly points out, why pay for energy to heat your water when the sun will do it for free?
Offering a number of roof top and split system models, Solahart covers both small and large household sizes, along with areas that are frequently exposed to harsher sun conditions, or those that experience frost, making it worth looking into regardless of where you live.
However, with any big household purchase, it's always best to look into all of your options before setting your heart on a brand or model, as you may find a better deal, or something better suited to your household's water usage or exposure to the sun.
Picture credit: Andrey tiyk/shutterstock.com