The days of stacking all your utensils one on top of the other and jamming in spatulas and serving spoons into the cutlery basket are over. Dishwashers with a cutlery drawer are the way to go so you can avoid the chaotic Tetris of stacking the dishwasher and guarantee all your knives, forks and spoons are shiny and clean each wash. Read on to find out more about dishwashers with a cutlery tray in this Canstar Blue guide. 
What's the difference between a cutlery tray and cutlery basket?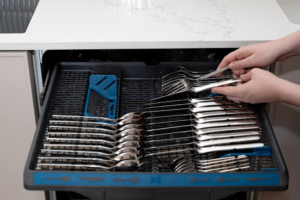 The cutlery basket is the 'original' cutlery compartment and is included in many traditional dishwashers, while the rack is featured in many newer models. Cutlery baskets have a 'stand and stuff' approach to organising dirty utensils, while a cutlery tray provides specific sections for all your spoons, forks, knives, and any other utensils. Both cutlery trays and baskets are adjustable, although inside door baskets are usually fixed.
Benefits of a cutlery tray
Cutlery trays have a number of benefits including the ability to space out utensils so they all receive the same wash without having to re-wash them again because they still have food caked on. Cutlery trays also help prevent more fragile utensils from getting scratched or damaged by being piled on top of one another as they would in a cutlery basket. 
Who sells dishwashers with cutlery trays?
There are a number of brands that offer cutlery baskets as well as cutlery drawers or trays. Cutlery baskets are a more standard offering in dishwashers, but brands like Bosch, Westinghouse, and Fisher & Paykel have models that offer an exclusive cutlery tray. 
Bosch dishwashers with cutlery tray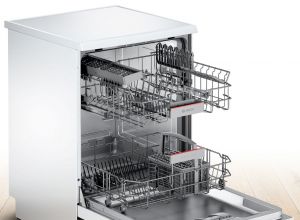 While Bosch predominantly features a cutlery basket in the majority of its dishwashers, they offer a number of models that feature a cutlery drawer. Creating extra convenience by allowing you to adjust the height of the top basket, even when fully loaded, the Rackmatic feature also ensures any long stem glasses, as well as tall plates in the lower basket, are cleaned all at once.
The Bosch 60cm Serie 4 Freestanding Dishwasher SMS46GW01A features the Rackmatic cutlery tray. 
Fisher & Paykel dishwashers with cutlery trays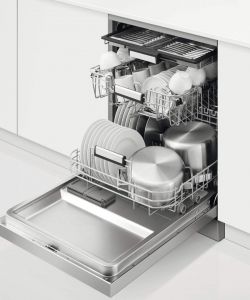 For Fisher & Paykel, the cutlery tray in dishwashers is all about adding extra flexibility. Some of the Fisher & Paykel dishwasher models are designed with 15 place settings, with two drawers dedicated to a variety of items and an additional full width sliding rack to store cutlery and utensils. It also comes with height adjustable trays for both the fold down cup racks and wine glass holders.
The DW60FC4X1 Dishwasher allows for this flexibility with its generous place settings and dedicated cutlery tray. 
Westinghouse dishwashers with cutlery trays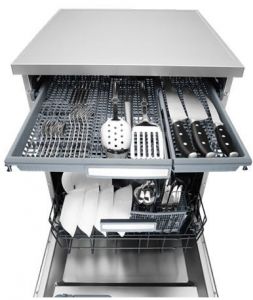 There's nothing worse than reaching for a teaspoon and accidentally jabbing your hand on a steak knife. That's apparently why Westinghouse created the FlexRack cutlery tray in some of their models, a compartment that's designed to accommodate long knives and larger items, as well as wash all the items effectively. Many Westinghouse models also feature a generous 15 place settings so you won't be cramming dishes into random spaces and blocking the water from reaching cutlery or dishes. 
The Westinghouse Stainless Steel Freestanding Dishwasher features the FlexRack cutlery tray. 
Do dishwashers with cutlery trays cost more?
As cutlery trays are a more recent addition to dishwashers, most dishwashers that feature the cutlery tray will generally cost more than traditional dishwashers, but that wouldn't be solely to do with the tray feature itself. As the cutlery tray becomes more prominent within brands, you can expect to pay a similar amount regardless of how you can store the cutlery. 
Should I choose a dishwasher with a cutlery tray?
Whether you should get a dishwasher with a cutlery tray or a cutlery basket depends on your organisation style. The basket may be useful for people who prefer to load quickly and don't mind which way their fork or spatula is inserted, although unloading everything might take a little extra time to sort through. If you enjoy a bit more order to the dishwasher madness, then a cutlery tray could be more your speed, although you may have to dig a bit deeper into the dishwasher market to find the best model for your needs. 
Picture credits: AntiD/shutterstock.com, Leszek Glasner/shutterstock.com
Original Author: Tahnee-Jae Lopez-Vito