Miele dishes up a superb clean in dishwasher ratings
The last thing you want to do after a big meal is wash the dishes, so having a trusty dishwasher to take care of the mess is extremely convenient. You should think carefully and do your research before buying any new household appliances – but this is especially true when it comes to dishwashers. You wouldn't want your dishwasher to suddenly break down when you have a whole mountain of dishes just waiting to be washed. Dishwasher disappointment is definitely a thing!
So where do you turn in your search for the best dishwasher you can buy? If our customer reviews over recent years are any indication, you'll likely need to splash the cash if you want maximum bang for your dishwashing buck. But we'll come to latest deals shortly.
Each year, we survey thousands of Aussie households to learn about which dishwashers are cleaning up in the kitchen, and which are leaving consumers disappointed. Once again all the major brands have featured in our 2018 results, but only one achieved a five-star overall review from its customers – Miele. It's the fifth year in a row that the German appliance powerhouse has been rated the best of the bunch.
Miele is generally one of the most expensive dishwasher brands on the market, but Australians clearly see the value in spending extra on quality. In addition to overall satisfaction, Miele was also rated five stars in regards to performance, internal layout, design, quietness and value for money – which says something considering Miele dishwashers can cost in excess of $4,000!
Another year of dishwashing success adds to Miele's glowing reputation amongst Aussie consumers, who have also rated the brand No.1 for front loader washing machines and vacuum cleaners in 2018.
This year's dishwasher review saw nine major brands compared, rated in the following order for overall customer satisfaction:
1st Miele
2nd Asko
3rd Smeg
4th Fisher & Paykel
5th Bosch
6th Westinghouse
7th Dishlex
8th Electrolux
9th LG
It was four stars overall for Asko, Smeg, Fisher & Paykel, Bosch, Westinghouse and Dishlex, followed by Electrolux and LG on three stars apiece.
So, do you really need to spend thousands of dollars on a Miele dishwasher, or can you find perfectly good quality and value at a cheaper price? Read on as we provide a guide to the dishwasher brands in our latest comparison and see what they have to offer, at what price.
Best-Rated Dishwashers
Miele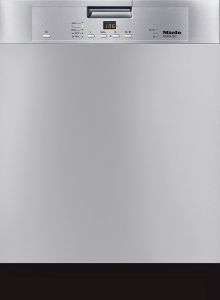 Miele produces a wide range of built-in, integrated and freestanding dishwashers. They have a patented 3D adjustable cutlery tray for those bulky utensils, with short cycle options, 'Knock2Open' handleless opening system and an intuitive user interface. In addition to its features, the German brand is also known to be a class-leader when it comes to water and energy efficiency – boasting highly respectable star ratings on both counts. Expect 3.5 stars and above for most models on water efficiency ratings, with 4.5 and above for energy consumption.
However, all of this will come at a cost. Most Miele dishwashers are priced around the $2,000 mark, with its cheapest model – the Active Freestanding dishwasher – costing $1,299 RRP. The fully integrated range goes up to as much as $4,600! But that doesn't seem to worry Aussie customers, rating Miele five stars across the board in our 2018 review.
Miele's dishwasher range includes:
Miele Fully Integrated Dishwasher PG8132SCIXXL: $5,399 (RRP)

Miele Fully Integrated Dishwasher G6767SCVIXXL: $2,799 (RRP)

Miele Under Bench Dishwasher G4930UCLST: $1,699 (RRP)

Miele Semi-Integrated Dishwasher G4203SCIACTIVE: $1,699 (RRP)

Miele Freestanding Dishwasher G4203SCACTIVEBRWS: $1,399 (RRP)