Fact Checked
LG cleans up as best in dishwasher ratings
The last thing you want to do after a big meal is to wash the dishes. So, having a trusty dishwasher to take care of the mess is a convenient solution that can be just as satisfying as the food on the plate. So, where do you turn in your search for the best dishwasher you can buy? If our customer reviews over recent years are any indication, you'll likely need to splash the cash if you want maximum bang for your dishwashing buck.
This year, we got the dirt from more than 500 Aussies after asking for their feedback on the dishwasher(s) they have purchased and used over the last three years. Survey respondents rated brands on their performance, quietness, internal layout, design, value for money and overall satisfaction. The idea is to give you an idea of the best dishwasher brand for your needs and budget before you hit the stores or buy online. Manufacturers that received the minimum sample of 30 responses are featured in our report.
So, what did we find this year? LG brought home the goods in our latest dishwasher review, being the only brand to earn a five-star rating for overall satisfaction. The South Korean appliance powerhouse also got five stars for performance and internal layout.
Best Dishwashers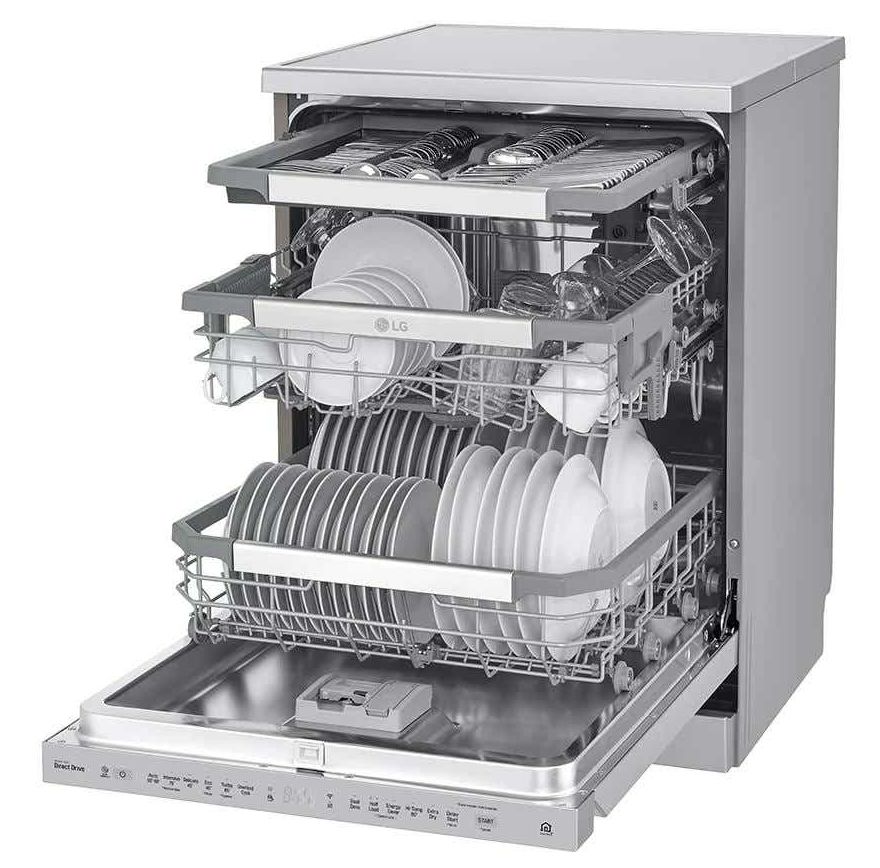 Here are the best dishwashers in Australia, as rated by consumers in Canstar Blue's latest review:
LG
Fisher & Paykel
Westinghouse
Dishlex
Bosch
LG slid into first place in our 2021 dishwasher review, after receiving the only five-star review given to any brand for overall satisfaction, plus top marks for performance and internal layout. Runner-up Fisher & Paykel, Westinghouse, Dishlex and Bosch all scrubbed off four stars for overall satisfaction
Notably, most brands rated this year managed to score five stars in more than one area. Westinghouse was the only manufacturer to score five stars for value for money, and also received top marks for performance and quietness, alongside Fisher & Paykel which also rated five stars for design and internal layout. Bosch got full marks for performance and internal layout.
Read on as we provide a guide to the dishwasher brands in our latest comparison and see what they have to offer, and at what price.
Dishwasher Brands
LG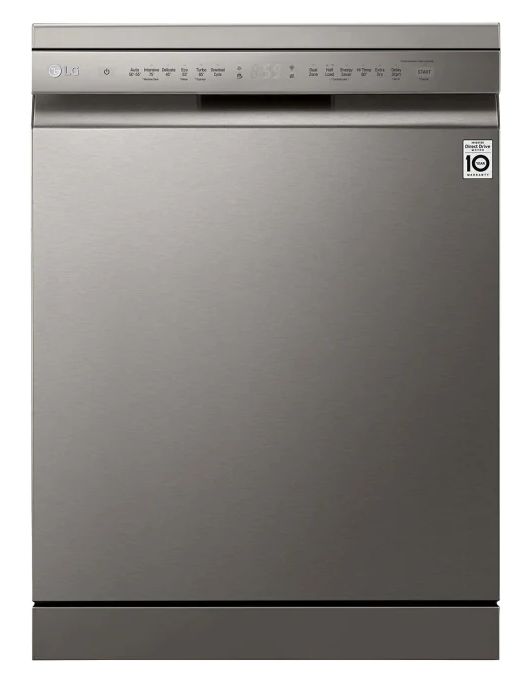 Adding to the colourful rainbow of countries represented in this report, LG is a South Korean electronics giant, known for feature-rich appliances, from TVs to mobile phones, to washing machines and dishwashers. Some of LG's dishwashers feature 'Smart Diagnosis', to troubleshoot issues using your smartphone and the LG ThinQ app. You can also expect some models to feature 'QuadWash', which is stated to help clean dishes from multiple angles and 'TrueSteam' to blast away stubborn grime.
Most models also feature smart racks, which have many adjustable elements to suit the wide variety of glasses and dishes the typical Aussie household uses. Prices for LG dishwashers start at around $1,199, but you can expect to pay a little more for the most high-end models, up to $1,900.
LG's dishwasher range includes:
LG 14 Place QuadWash Dishwasher With TrueSteam (XD4B24WH): $1,199 RRP*
LG 15 Place QuadWash Dishwasher With TrueSteam (XD3A25BS): $1,739 RRP*
LG 15 Place QuadWash Under Bench Dishwasher With TrueSteam (XD3A25UNS): $1,919 RRP*
LG was rated five stars for performance, internal layout and overall satisfaction. It got four stars for quietness and design, and three stars for value for money
Fisher & Paykel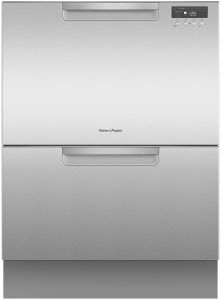 Fisher & Paykel is a company from New Zealand and some of its products are still made across the ditch. Fisher & Paykel is perhaps best-known in the dishwasher world for its innovative dishdrawer solutions, where instead of a folding door, you get a drawer. This makes it easy for apartment dwellers short on space, or for those who just want to plonk their dishes in from the top. Fisher & Paykel does, however, also offer traditional dishwashers with drop-down doors.
While the dishdrawer dishwashers are slightly less energy efficient than their traditional counterparts, the convenience factor is notable. Prices for Fisher & Paykel dishwashers start just under $900, while the more expensive models cost closer to $2,300, with double dishdrawer models costing a little extra.
Fisher & Paykel's dishwasher range includes:
Fisher & Paykel Series 7 Built-under Dishwasher, Sanitise (DW60UZ6B): price not advertised
Fisher & Paykel Single DishDrawer Dishwasher (DD60SDFX9): price not advertised
Fisher & Paykel Double DishDrawer Dishwasher (DD60DCW9): price not advertised
Fisher & Paykel cleaned up with five stars for quietness, design and internal layout, plus four stars for performance, value for money and overall satisfaction.
Westinghouse
Born out of the USA, Westinghouse is also now an Electrolux-owned company, and makes all manner of home appliances, including dishwashers. Westinghouse specialises in freestanding dishwashers, with the cheapest models sitting at around the $800 mark, while the most expensive will take you back $1,099. In terms of size, Westinghouse sticks to the standard 60cm-wide unit with 15 place settings.
Common features include cycle sensors to help with water efficiency, super-fast wash cycles, hygiene and water safety systems, as well as adjustable rack solutions. Many models boast WELS ratings greater than 4.5 stars, with some consuming less than 13L per cycle.
Here are several Westinghouse dishwashers currently available:
Westinghouse Freestanding Dishwasher (WSF6608KXA): $899 RRP*
Westinghouse Freestanding Dishwasher, Dark Stainless (WSF6606KXA): $899 RRP*
Westinghouse Freestanding Dishwasher, White (WSF6604WA): $1,099 RRP*
Westinghouse was a solid performer in our 2021 ratings, scoring five stars for value for money, quietness and performance. It got four stars for internal layout, design and overall satisfaction.
Dishlex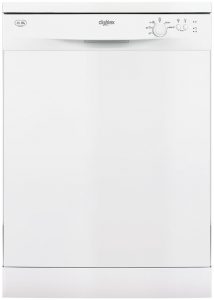 Dishlex is a kitchen appliance specialist, owned by the Electrolux group. Dishlex has a strong focus on budget-friendly prices and simple and effective dishwashing, although its range is limited. Please note that as of 2021, Dishlex is no longer producing appliances.
However, leftover Dishlex dishwasher models are still being sold and cost as little as around $700, while the most expensive dishwasher sits around the $1,000 mark.
Features are fairly basic, with most models having simple rotary dials to choose your wash setting, and standard yet spacious internal layouts. Most impressive, however, is that most of Dishlex's dishwashers have smart load sensing, which adjusts the water level to suit your load, which can save on water costs. Some models use less than 12L per cycle.
A few Dishlex dishwashers include:
Dishlex Freestanding Dishwasher (DSF6104WA): $649 RRP*
Dishlex Freestanding Dishwasher (DSF6106W): $799 RRP*
Dishlex was a moderate performer in our 2021 ratings, earning three stars for performance, quietness, design and internal layout, plus four stars for value for money and overall satisfaction.
Bosch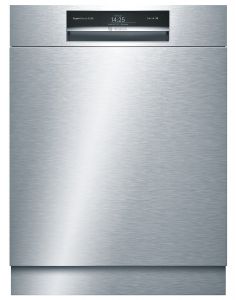 Like Miele, Bosch is another German appliance manufacturer stacked with a large selection of dishwashers. Bosch dishwashers come equipped with a wide range of rack options and flexibility. Plus, there are several modular dishwashers that can fit into a variety of spaces due to their more compact size.
For the German-made models, you can expect to pay a slightly more premium price compared to the units made elsewhere. However, there is still a range of lower-priced models to suit a lot of Aussie customers. Some cost less than $1,000, while others cost well in excess of $2,000.
A common feature across the entire Bosch range includes separate compartments for wine glasses, with 'GlassSecure' protective trays for protecting crystal. Many also boast five-star WELS water efficiency ratings, with some consuming as little as 10-12L per cycle.
Bosch's dishwasher range includes:
Bosch Serie 4 Freestanding Dishwasher (SMS46GW01A): $949 RRP*
Bosch Serie 4 Under Bench Dishwasher (SMU46KS01A): $1,199 RRP*
Bosch Serie 6 Semi-Integrated Dishwasher (SMI66JS01A): $1,399 RRP*
Bosch rounded up the scores on five stars for performance and internal layout, plus four stars for quietness, design and overall satisfaction. It got three stars for value for money.
Other dishwasher brands
Aside from the major dishwasher manufacturers compared in this year's review, there are plenty of other brands that may be worth a look into, including the following:
Electrolux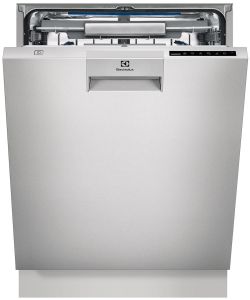 Swedish appliance giant Electrolux offers a decent selection of dishwashers, mainly targeted towards households looking for models that can easily adapt to suit different needs. Expect features such as delay start times to make use of any off peak energy tariffs, 'Aqua Control' to prevent flooding your appliance and adjustable baskets to fit in different sized dishes.
One of its dishwashers – the Electrolux ESF8735ROX ComfortLift – is specifically designed with a lower basket that can simply be raised up instead of pulled out to provide a more 'comfortable' height to load and unload dishes.
Smeg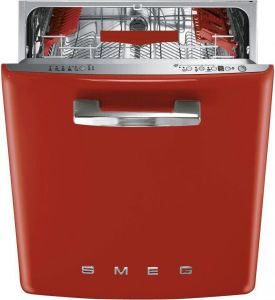 The Italian home appliance brand, Smeg has a focus on style and technology, keeping up with the latest consumer trends. It offers freestanding, under-bench, fully-integrated and semi-integrated dishwashers, with most of the Smeg models being the standard 60cm width. It has a number of high-end features to look out for within its line-up, including versatile baskets, flexi-duo cutlery trays and Smeg's 'Aquatest' sensor, stated to automatically adjust water, temperature and wash action to suit the load.
But with uniformly high quality, there are no cheap Smeg dishwashers. This is because even the most basic model includes more features than the basic models of other brands. Prices start at around $1,500, with most models costing under $1,750 and maxing out at the $3,550 mark for the fully integrated units and the retro style range.
Miele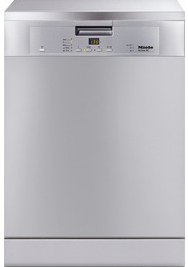 Miele produces a wide range of freestanding, built-under, integrated and fully integrated dishwashers. Many of its models are designed to offer versatile storage options with aspects like the 3D cutlery tray to help accommodate bulky utensils. The brand also works to add in even greater flexibility with features such as 'ComfortClose', shorter cycle options, 'Knock2Open' handle-less opening system and an intuitive user interface.
When it comes to water efficiency, Miele's collection of high-end dishwashers tends to provide 3.5-star ratings and above for most models, and usually at least 4.5 stars for energy consumption.
However, all of this will come at a cost. Most Miele dishwashers are priced around the $2,000 mark, with its cheapest model – the Active Freestanding Dishwasher – costing $1,399. The fully integrated range goes up to as much as $4,399.
Asko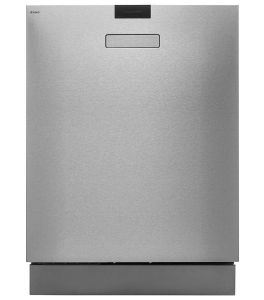 Asko is a Swedish appliance brand known for making innovative and stylish appliances – most notably dishwashers. Asko's dishwasher range encompasses both built-in and fully-integrated models, with the latter often coming in stylish wood-grain finishes to match your kitchen. Asko dishwashers feature highly flexible rack solutions, with lock-in clips for light objects, an upper cutlery tray for maximum storage capacity, a crystal glass racking facility for wine glasses, and intuitive control interfaces for ease of use.
Most of the Asko range features 3.5 stars for energy efficiency ratings and 4.5 stars for water use. Many Asko dishwashers are available for less than $1,500, but most are above this mark, with some inching towards $3,000.
What's the best dishwasher to buy?
Here's what to look for in a dishwasher
Any dishwasher worth its salt should be able to fulfil the most basic task of washing your dishes at the end of the day, but there are several factors worth considering to make sure that you're buying the best dishwasher for your household's needs, including size, capacity and internal layout. Using a good dishwasher detergent also helps to get the best results.
Dishwasher type
There are several kinds of dishwashers on the market, including:
Under-bench dishwashers: as the name implies, this type of unit is designed to be built-in under your kitchen bench. They typically don't come with a top or sides, instead, they have exposed internals that will be covered by a benchtop or cabinetry. Standard under-bench dishwashers are typically 59.8cm wide.
Freestanding dishwashers: have the option of being placed almost anywhere in your kitchen where there's a water connection and a drainage point. It comes with a top and side, allowing you to install it where it fits. These are usually 60cm wide.
Slimline dishwashers: are typically 45cm wide and are designed for smaller kitchens. While this type typically can't wash as large of a load as a full-sized machine, it still offers the same amount of wash power.
Integrated dishwashers: are built-in units that have no facade or front cover, so that you can match it with your own kitchen cabinetry, giving you a minimalistic look.
Benchtop dishwashers: are designed for smaller households, renters or those who are limited on space. This type of unit sits on your benchtop and can be connected directly to your kitchen tap.
Drawer dishwashers: designed to function similar to a drawer in your kitchen. These come in either single or double drawers and can typically be installed into a standard dishwasher area. These can also be integrated to match your kitchen cabinetry.
Price
In addition to finding out which are the best dishwashers in Australia, our research identified the key purchase decision factors for consumers, with 37% claiming that dishwasher price was the most important purchase decision factor. All of us want to bag a bargain on our major household appliances, but keep our ratings in mind because they reflect what is important to consumers once that dishwasher is plugged in at home, operating on a daily basis.
Dishwasher size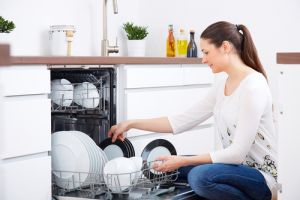 The standard size of a dishwasher is usually 60cm wide and 60cm deep, but the height and width of dishwashers can vary significantly between brands and specific model types. Slimline dishwashers can be considerably smaller at around 45cm wide. Below are the common sizes:
Full-size dishwashers are typically 60cm wide and have enough capacity for between 12 and 15 place settings.
Slimline dishwashers are usually 45cm wide and have enough capacity for between six and nine place settings.
Integrated dishwashers generally have the largest width of 92.5cm.
Be sure to take measurements of the kitchen space that you have in mind before choosing which is the best dishwasher for you. Whichever type you go with, it's recommended you leave a little space around your dishwasher for ventilation.
Dishwasher load capacity
A dishwasher's capacity is measured by the number of 'place settings' it can accommodate in a single wash cycle. Most freestanding and fully-integrated dishwashers will come with a capacity of 14 place settings, but some high-end models can be even larger. Smaller dishwasher types often have smaller capacities of anywhere between six and nine place settings. Consider your daily use of dishes and cutlery to decide what capacity would be best for your household. Keep in mind that having to use a small dishwasher twice a day, rather than a large model once, might result in higher long-term costs.
Internal layout
Anyone who has ever felt the frustration of not being able to properly accommodate different sized cooking utensils, saucepans or plates into a dishwasher can appreciate the importance of a good – and flexible – internal layout. If you regularly need to wash large and unusual items, look for a dishwasher that provides maximum flexibility – including being able to move or remove other internal elements to create extra space.
Learn more about:
Water and energy ratings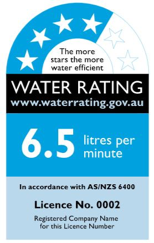 Water and energy efficiency are also important considerations when picking a new dishwasher. Australia's Water Efficiency Labelling Scheme (WELS) provides a rating for each appliance based on how much water it uses to get the job done. You can see how efficient your dishwasher is by checking the number of stars on the label, in addition to the number of litres likely to be used per cycle. The higher the star rating, the more water-efficient the model will be (and the cheaper the running costs will usually be long-term). Most dishwashers in Australia have a 4.5-star or five-star efficiency rating.
It's a similar deal when it comes to energy ratings, with the number of stars indicating the efficiency of an appliance. The best dishwashers with high energy and water ratings will typically cost more to buy, but the trade-off is you'll stand to save more over time through reduced utility bills.
Here's how to pick the best dishwasher for you
Our latest research found that Aussie households spend an average of $809 on a new dishwasher. Here's what's driving customers, in order of what respondents considered the most important factor:
Price: 37%
Energy efficiency: 24%
Brand name: 15%
Special features: 9%
Design/appearance: 9%
The average cost of a new dishwasher usually starts just under $800 and reaches around $3,000. However, there are some models that cost as much as $5,000. But keep in mind that there are also additional costs to take into account like delivery and installation charges, plus the cost of removing your old dishwasher.
While price is very important – and no one wants to pay more than they have to – it's probably best to focus on a dishwasher's performance credentials first and foremost. You wouldn't want to purchase a 'dirt' cheap dishwasher and simply end up replacing it every couple of years. With many Aussie shoppers keeping the same model for seven years, according to our survey, buying a new dishwasher is definitely a long-term investment that needs some serious thought. If you can score a great deal on the price, that's even better!
About the author of this page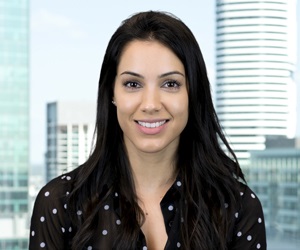 This report was written by Canstar Blue's Home & Lifestyle Content Lead, Megan Birot. She's an expert on household appliances, health & beauty products, as well as all things grocery and shopping. When she's not writing up our research-based ratings reports, Megan spends her time helping consumers make better purchase decisions, whether it's at the supermarket, other retailers, or online, highlighting the best deals and flagging anything you need to be aware of.
Picture credits: Click and Photo/Shutterstock.com, Menzl Guenter/Shutterstock.com, Iakov Filimonov/Shutterstock.com.
*Prices are taken from respective websites, correct as of September 2021.