Air conditioners are a way of life for many Australians, but buying and installing one can be expensive. The good news is that end of financial year sales time could present a good opportunity to slash those costs significantly. With retailers keen to clear out their old stock to make way for the new, prices often come down, meaning you could cash in on some serious savings. But you will only get a good deal if you find the right air conditioner for your needs, which is why we've produced the following guide to some of the top-rated brands on our website and their current offers this EOFY.
Who has the biggest EOFY air conditioner discounts?
On average, Australians fork out around $2,100 for a split-system air conditioner, and twice as much on ducted units. Obviously, this isn't a decision to be made lightly, as the initial costs are something that may frighten off some consumers, but as you can't put a price on a cool breeze on a hot day, air conditioners may be well worth the price. With Aussies replacing their air conditioners every nine years, on average, it's worth going for a model that will go the distance. Below are some of the latest deals on offer from brands that consistently rate well in our annual customer ratings, including Kelvinator, Mitsubishi Electric, Fujitsu and Panasonic.
| | | |
| --- | --- | --- |
| Model | RRP | Sale Price |
| Kelvinator 2.5kW Cooling Only Split System Inverter Air Conditioner | $899 | $664 |
| Panasonic 2.5kW AERO Series Reverse Cycle Inverter Air Conditioner | $1,301 | $998 |
| Mitsubishi 3.5kW Reverse Cycle Split Inverter Air Conditioner | $1,989 | $1,085 |
| Mitsubishi Electric 5kW Reverse Cycle Split Inverter Air Conditioner | $2,789 | $1,571 |
| Fujitsu 5kW Reverse Cycle Split System Inverter Air Conditioner | $2,669 | $1,482 |
| Kelvinator 9kW Split System Reverse Cycle Inverter Air Conditioner | $2,749 | $1,897 |
| Panasonic 8kW AERO Reverse Cycle Split System Inverter Air Conditioner | $3,273 | $2,744 |
| Fujitsu 9.4kW Reverse Cycle Split System Inverter Air Conditioner | $4,949 | $2,667 |
Prices taken from respective retailers and current as of June 2021.
Kelvinator air con EOFY sales
Kelvinator offers just two types of air conditioners – split-system and window air con. It gears towards the budget-friendly end of the price scale and you may find even lower prices on its range this end of financial year sale time.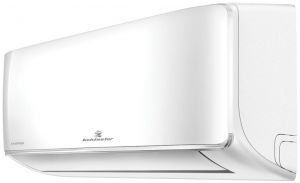 Kelvinator 2.5kW Reverse Cycle Split System Inverter Air Conditioner –
$
664 (save $235)
This 2.5kW air conditioner from Kelvinator (KSV25HWH) may be a suitable option for small rooms, packing in a number of features. It has a 24-hour timer, allowing you to program the air conditioner around your busy schedule, plus a Sleep mode, stated to change the temperature gradually over time. Kelvinator also features three filters to improve the model's air quality, according to the brand.
It comes with an LCD backlit wireless remote control that features a 'Follow Me' command system. This technology allows the indoor temperature reading to be taken from the remote and enables the air conditioner to automatically adjust the temperature when required. If you're energy-conscious, this 2.5kW model was rated five stars for energy efficiency. This model is almost 30% off its recommended retail price of $899.


Kelvinator 9kW Reverse Cycle Split System Inverter Air Conditioner – $1,897 (save $852)
For a larger model, you might like to consider this 9kW split-system inverter reverse cycle air conditioner (KSD90HWJ) which normally retails for $2,749. Expect similar technology as the model above including the HEPA and ion filters, plus a 24-hour timer. If you ever experience a power failure, Kelvinator says this unit is equipped with an auto-restart function that memorises the settings you had set, allowing the air con to pick up where it left off once the power is back on.
It features a DC fan motor with six fan speeds, a concealed dimmable digital display and even auto swing functionality. It also comes with an LCD remote, making it easy to use. In terms of energy efficiency, this model is also rated 2.5 stars.

Mitsubishi electric air con EOFY sales
With the Japanese car manufacturer diversifying into electronics, there are plenty of air conditioners on offer for households to choose from. Regardless of whether you need a ceiling unit, a wall-mounted unit or ducted air conditioners, Mitsubishi has an option for you.

Mitsubishi 3.5kW Reverse Cycle Split Inverter Air Conditioner –
$
1,085 (save $904)
For those not looking to spend big on their air conditioner, this Mitsubishi 3.5kW model (MSZEF35VGWKIT) may be more up your alley, still coming with plenty of features. It's on sale for $1,085, which takes $904 off its original price of $1,989.
Similar to its 5kW cousin below, Mitsubishi offers its advanced Inverter Technology to ensure that your household is cooled quickly, as well as the i-save technology to help you keep track of your preferences. This model comes with a remote control, but is also compatible with Mitsubishi's Wi-Fi interface which you can buy separately. This 3.5kW model was rated three stars for cooling energy efficiency and four stars for heating energy efficiency. To further sweeten the deal, Mitsubishi also has a five-year warranty on its air conditioners, ensuring consumers are kept cool for the next few summers at the very least.


Mitsubishi Electric 5kW Reverse Cycle Split Inverter Air Conditioner – $
1,571 (save $1,218)
This sleek reverse cycle split unit (MSZEF50VGBKIT) with a black finish, is boasted for its whisper-quiet operation and smart functionality. As well as providing heating and cooling to keep you comfortable at home all year round, it provides air filtering with a Platinum Filter to reduce airborne bacteria and allergens. It's also stated this model uses unique energy-efficient technologies, to reduce consumption and your power bill. To set itself apart from other big brands, Mitsubishi also has Wi-Fi capabilities allowing users to alter the temperature and settings via their smartphone or tablets, handy for those times when you can't find the remote. This model is $1,218 off the original price of $2,789.

Fujitsu air con EOFY sales
With a wide range of both commercial and residential air conditioners on offer, Japanese manufacturer Fujitsu has diversified its products from its traditional computer and IT departments, giving households plenty of options to keep cool.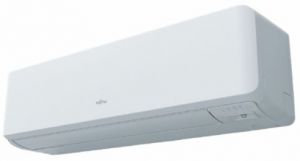 Fujitsu 5kW Reverse Cycle Split System Inverter Air Conditioner – $1,482 (save $1,187)
Normally retailing at $2,669, this (ASTG18KMTC) model contains a variety of features and functions that will keep your family cool and comfortable all year round. Functions including timers, auto air adjustments and a human sensor allow this Fujitsu model to properly ensure your house is cooled when you need it, without wasting energy whenever you're not around.
Also handy for heating during those chilly mornings or cold nights, the Fujitsu model scored five stars for its energy efficiency, helping you save on your energy bill as well. With allergen and bacteria filters also featured, Fujitsu will be a saving grace against spring allergies.


Fujitsu 9.4kW Reverse Cycle Split System Inverter Air Conditioner –
$2,667 (save $2,282)
Often retailing at close to $5,000, this Fujitsu 9.4kW model (ASTG34CMTC) looks to cool even the largest rooms in the house, with plenty of grunt to help cool or warm your family, regardless of the time of year. With the onboard microprocessor, the air conditioner can adjust its airflow to compensate for changes in room temperature to ensure that your house is kept cool and that the unit runs more efficiently.
Available in white to suit most colour schemes, Fujitsu offers a five-year warranty to ease consumers' minds. And with an additional dehumidifying feature that can remove moisture in the air, Fujitsu would be suitable for those hot and sticky climates. If you're after an energy-efficient model, you might have to look at other models available, as this 9.4kW model scored only two stars. If you're looking to get the most bang for your buck, however, this might be the model for you.

Panasonic air con EOFY sales
A major brand in the home appliance and electronics market regardless of what you're after, Panasonic has a wide range of split-system air conditioners, suitable for all household types and sizes, with plenty of features and functions to help your family cool down. It could also do you a good deal this EFOY.

Panasonic 2.5kW AERO Series Reverse Cycle Inverter Air Conditioner – $998 (save $303)
If you're after another option to cool your house down, or just after something to cover a smaller area, this AERO model may be a suitable option for your household. With a five-star energy rating, and the nanoe-X air purification filter to help keep your house free from bacteria, this unit will do more than just keep your house cool.
With an adjustable fan speed, as well as a shower cooling function which directs cool air upwards to 'shower down' evenly over the room – Panasonic has given households a respite from those hot days. An additional feature is the timer, which can be set so that your house is cooled down by the time you get home. Normally retailing at around $1,300, this Panasonic AERO model will keep your house, and your wallet, feeling cool.


Panasonic 8kW AERO Reverse Cycle Split System Inverter Air Conditioner –
$
2,744 (save $529)
Panasonic's 8kW split-system air conditioner (CS-CU-Z80VKR) which normally retails for more than $3,000 would feel right at home regardless of the household size, with Panasonic cramming the model with lots of features to keep your family cool in summer and warm in winter.
Part of Panasonic's AERO series, this CSCU model comes with a variety of energy-efficient features and functions to allow households to enjoy the cool air without racking up a huge energy bill. Scoring a two-star energy rating (cooling), it isn't the most efficient model available, but Panasonic includes a variety of modes to suit the weather outside, in addition to a 24-hour timer for when you want to go to sleep in cool air to but don't want the air con to be running all night.
Should you buy a new air conditioner this EOFY sales time?
With air conditioners no cheap purchase, you have to be careful with which one you decide to install in your house, especially when it can account for a large piece of your energy bill. With plenty of brands on offer, and plenty of model types and features available, picking one that will best fit your household can soon become a chore. Add the price into consideration and many would walk away with a headache.
Thankfully, with the end of financial year sales, many brands are looking to offload models at cheaper prices, allowing consumers to score a great deal. While summer may be a while off still, getting prepared early with a suitable air conditioner could save you from the heat, as well as a few dollars.
Picture credits: Sergey Ryzhov, Shutterstock.com