Every kitchen ought to have an air fryer. It's a nifty appliance that provides a healthy alternative for frying our favourite foods like French fries and barbecue shrimps, without the grease. What's not to love?
If you've been thinking about getting your hands on an air fryer, the end of financial year (EOFY) is perhaps the best time to shop around. Many brands and retailers mark down certain models to make way for new generations, which means you can score some tax time deals. This year, we've done the work for you and rounded up the best 2021 EOFY deals on air fryers from top brands like Breville, Philips, Westinghouse, and more. Thank us later.
List of the best EOFY air fryers sales 2021
Here is our pick of awesome deals on air fryers this year:
| | | |
| --- | --- | --- |
| Model | RRP | Sale Price |
| Sunbeam Multi-Function Oven Plus Air Fryer | $249 | $157 |
| Westinghouse 7.2L Opti-Fry Air Oven | $249 | $189 |
| Tefal 1.2kg Ultimate Fry Deluxe Fryer | $400 | $297 |
| Philips Viva Collection Airfryer XXL | $429 | $329 |
| Breville Smart Oven Air Fryer | $549 | $426 |
Prices taken from respective retailers and current as of June 2021.
Sunbeam Multi-Function Oven Plus Air Fryer ─ $157 (save $92)
This Sunbeam oven air fryer (BT7200) offers the functionality of an oven and air fryer combined in a compact benchtop appliance. It has a 22L capacity, which can accommodate a 12-inch pizza or a 2.8kg chicken, perfect for family dinners. It also features several cooking modes including Pizza, Bake, Grill, Convection Bake and Air Fry which can cook crispy fries and potato gems with a single tablespoon of oil, according to the brand. The unit's Turbo Heat Fan technology uses fan force within the oven chamber to circulate hot air around your food for even cooking.
Westinghouse 7.2L Opti-Fry Air Oven ─ $189 (save $60)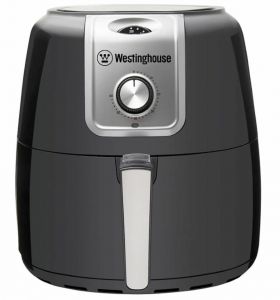 This sleek Westinghouse air fryer (WHOF04B) offers a healthier way of cooking food to crispy, crunchy perfection, using up to 70% less oil than deep frying. Instead, it uses circulating hot air to fry, roast, bake, toast, and grill all types of foods, including meats, veggies, and even desserts like baked cheesecake. This unit also has a spacious 7.2L capacity and comes with a cool-touch exterior and non-stick coating for easy cleaning, plus a convenient drip tray.
Tefal 1.2kg Ultimate Fry Deluxe Fryer ─ $297 (save $103)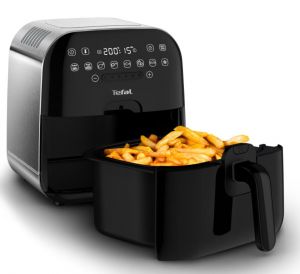 This Tefal air fryer (FX202D) is ideal for busy households and uses Air Boost technology for consistent frying and rapid cooking, which means your fries get cooked in a jiffy and still come out crispy as can be. This model comes with eight pre-set programs to cook various foods like chicken, vegetables, and frozen food. This air fryer comes with a 2-in-1 bowl to offer more cooking capacity, allowing you to cook up to six portions or 1.2kg of food in one go.
Philips Viva Collection Airfryer XXL ─ $329 (save $100)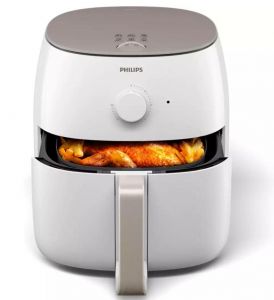 This air fryer from the Philips Viva Collection (HD9630-21) features a white finish, perfect for light and Scandinavian-inspired kitchens. It uses Twin TurboStar technology that uses a heater and motor combined to circulate hot air inside the chamber and cook foods more efficiently while extracting more fat. This generous family-sized unit can accommodate a whole chicken or 1.4kg of fries and comes with simple cooking programs like Grill, Bake, and Roast. All removable parts are dishwasher-safe to make your post-dinner clean-ups a breeze.
Breville Smart Oven Air Fryer ─ $426 (save $123)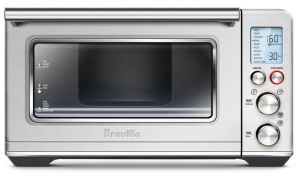 This nifty Breville air fryer (BOV860BSS) is boasted for its smart functionality. Its features an Element iQ system with a smart algorithm that directs heat to where it's needed inside the chamber on any cooking function, to eliminate cold spots. The built-in dual-speed convection function that pushes hotter air to the top of the cavity can also help reduce your cooking time by up to 30%. The transparent front panel also allows you to keep an eye on your food with the interior light.
What is an air fryer and how does it work?
An air fryer is a countertop cooking appliance that circulates hot air to fry foods that would normally require oil, such as fries, dumplings, hash browns and even roast meats. It does this using a combination of heating elements and a fan to blow hot air around a cooking chamber or pot, to cook ingredients evenly without oil or grease.
Do I need to use oil with an air fryer?
The premise of air fryers and the reason they're so popular (besides their convenience) is that they don't require any oil for cooking, making it a much healthier alternative to deep fryers. However, some recipes may require you to add a drop of oil depending on the desired result.
How much does an air fryer typically cost?
Air fryers range in price, typically starting from $40 and reaching upwards of $400 for top-of-the-range models. Our latest survey found that Aussies typically spend on average $156 on an air fryer, so use this figure as a ballpark when shopping around. Aside from the price, you'll also want to consider capacity, features and functions, design and of course cooking performance. Find out more in our air fryers guide below.
Picture credits: Leungchopan, Shutterstock.com.