The beloved clothes dryer may just be the unsung hero of your household when you need your washing dried and it's not ideal weather outside. It's particularly prominent during those winter months when the school uniforms and work shirts are in demand and natural drying simply takes too long, but even during the rainy summer months your clothes dryer will come to the rescue– think big nights out and favourite outfits still damp. If you're won over by the thought of a clothes dryer, or just need a new one, the end of financial year sales could provide the ideal opportunity to bag a bargain, with retailers usually cutting their price tags. Read on for Canstar Blue's guide to EOFY clothes dryer sales.
Clothes dryer EOFY sales
Australian households spend an average of about $615 on their new clothes dryers, our research shows. For that price, you'll typically find standard 5kg-6kg capacity dryers, which should be big enough for most families. The downside is that cheap clothes dryers often mean low energy-efficiency ratings, which will result in higher running costs over time. Nevertheless, they should get their basic job done – drying your clothes. Some of the brands featured in our annual customer ratings for clothes dryers include Simpson, Bosch, LG, Electrolux and Fisher & Paykel, so let's see what they have to offer this EOFY sales time.
| | | |
| --- | --- | --- |
| Model | RRP | Sale Price |
| Simpson 6.5kg Vented Dryer | $699 | $569 |
| Electrolux 8kg Ultimate Care Condenser Dryer | $1,199 | $779 |
| Fisher & Paykel 7kg Vented Dryer | $829 | $669 |
| Bosch Serie 4 8kg Heat Pump Dryer | $1,599 | $1,349 |
| LG 8kg Heat Pump Dryer | $2,039 | $1,554 |
Prices taken from respective retailers and current as of June 2021.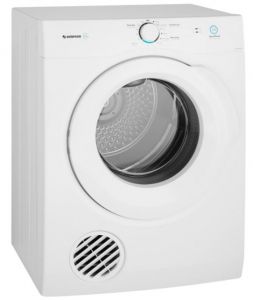 Simpson 6.5kg Vented Dryer – $569 (save $130)
Simpson is one of the cheapest brands around when it comes to clothes dryers, but it's also deemed good value for money. This Simpson 6.5kg vented dryer (SDV656HQWA) has a recommended retail price of $699, so it's $130 cheaper than usual, but that's still a great deal considering it has everything you need. It does offer a straightforward design without any nonsense including, a stainless steel drum, a child safety lock door and a simple rotary dial control that allows you to select the drying time and start the cycle. It's boasted for its reverse tumbling action– where the drum alternates between spinning clockwise, and anti-clockwise, to reduce the chances of clothes tangling. It features a delicates cycle with a lower temperature setting, which is claimed to ensure that delicates are dried gently and effectively. The 'Auto Cool Down' setting is part of the final drying cycle and is stated to help reduce creasing.
The downside however, is that it has a low energy-efficiency rating (just two stars), which according to the Standard Test, should add around $60 to your annual electricity bill (based on 0.29c/kWh). It's a suitable size for a household of two to three people and if you're tight on space, it's also wall-mountable.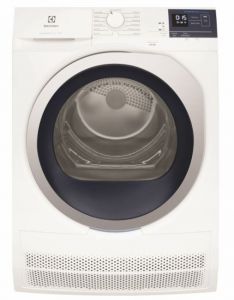 Electrolux 8kg Ultimate Care Condenser Dryer – $779 (save $420)
For something a little bigger, you might like to consider this 8kg condenser dryer (EDC804BEWA) from Electrolux ($1,199 RRP). Its low cost also means a low two-star energy efficiency rating, likely to add around $85 to your electricity bill each year. Nevertheless, it features all the important functions to get the job done.
This model is equipped with a delay start function as well as several drying programs including a delicate, anti-crease and quick dry cycle. It's also boasted for the 'Sensor Dry' program to gently and precisely dry your clothes then stop the drying cycle once the contents are dry. Being the parent company of Simpson, Electrolux clothes dryers feature the same reverse tumbling system to prevent clothes from tangling. For safety, it has a child lock.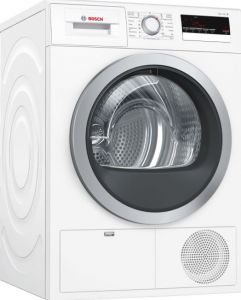 Bosch Serie 4 8kg Heat Pump Dryer – $1,349 (save $250)
Bosch has a wide range of clothes dryers that typically sit in the premium price category. However, you can find this 8kg pump dryer (WTH85200AU) for $250 cheaper this EOFY sales time ($1,599 RRP). This model offers both outstanding energy-saving features and convenience. It has a seven-star energy rating to keep your running costs down, approximately $43 per year, according to the Standard Test (based on 29c/kWh), and reduce your impact on the environment. Its 8kg capacity is suitable for small to medium-sized homes.
One of its flashy features is the ActiveAir Technology which reuses hot air throughout the cycle, the AutoDry system, which automatically stops the drying cycle once your clothes are dry and the SuperQuick 40 function which can dry a small load in under 40 minutes. It also has an extra-gentle drum structure to help keep your clothes from being damaged during the cycle.
There are 15 dry program to choose from, including one for cottons, delicates, sportswear and towels. It also allows you to set your own timed program with options of warm drying or cool airing. The 24-hour delay start time might also come in handy if you want to make use of the off-peak energy times.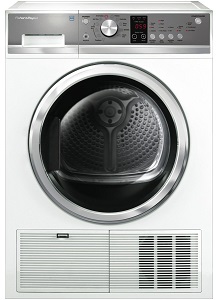 Fisher & Paykel 7kg Vented Dryer – $669 (save $160)
Fisher & Paykel has one of the largest ranges of dryers, with prices to suit most budgets. You can pick up this 7kg Fisher & Paykel vented dryer (DE7060G2) for nearly $200 cheaper this EOFY sales time ($829 RRP). Similarly to the other brands above, it has a low energy-efficiency rating of two stars, which in turn should add around $100 to your annual energy costs. Nevertheless, it's a large capacity unit, suitable for a household of four or more people.
This Fisher & Paykel model features six drying programs, with a delay start system that allows you to set a start time most convenient for you. It's also boasted for automatic moisture sensors inside the drum that shut off the cycle to prevent any over-drying of your clothes. Additionally, you'll find an automatic cooldown function as part of the cycle for extra safety. It also comes with a drying rack for any items you don't want to tumble around, such as your shoes or backpacks.

LG 8kg Heat Pump Dryer – $1,554 (save $485)
A bit higher on the pricing spectrum, this LG 8kg heat pump dryer (DVH5-08W) is typically priced at $1,949, but can be found for 20% off this sales period. Heat pump dryers are known for long-term energy savings because of their high star ratings. This model boasts NINE stars, meaning it should add less than $35 to your annual power bill. So, if you're in the market for a high end clothes dryer, you might like to consider this LG 8kg dryer. The 8kg capacity would be suitable for large households of four or more people.
For the additional price you can expect 14 washing programs including Air Dry and Delicate. It's designed with a stainless steel drum and an LED light inside, if you want to keep an eye on your clothes while they're tumbling around. It might entertain the kids for a bit. It also has in-built moisture sensors to monitor the heat exchange, and control the drying time, as well as the temperature. It also comes with a drying rack for any items you don't want to tumble. What's more, you can even connect the dryer to LG's Smart ThinQ app and remotely monitor your drying and troubleshoot any errors from your smartphone.

Should you buy a clothes dryer this EOFY sales time?
If you're in the market for a new clothes dryer, then the EOFY sales time might prove to be a good time to score yourself a nice bargain. This large household appliance is typically a long-term investment, so it would be wise to look around and save a few dollars if you can. When deciding on which clothes dryer to go with, you might like to consider the capacity, features and the energy-efficiency rating, along with the actual purchase price. Keep your households needs in mind and try to find the best dryer to match them at the right price. To see which brands received the highest ratings in our latest consumer review, follow the link below.
Picture credits: Serghei Starus, Shutterstock.com.