A clothes dryer can be one of the most important appliances in your home, especially during the winter months when trying to dry your clothes on a line is a real challenge! If you're in the market for a new dryer, you might want to consider buying a heat pump model. Read on to find out more about heat pump dryers in this Canstar Blue guide. 
What is a heat pump dryer?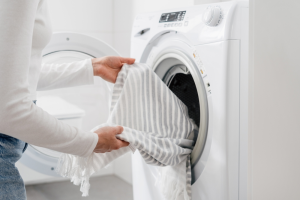 Heat pump dryers are a type of clothes dryer that uses a fully integrated system to dry the clothes. Generally considered an older form of drying, heat pump dryers are also considered to be more energy efficient than other clothes dryer types. 
How does a heat pump dryer work?
The heat pump system used in dryers is the inverse to that used in refrigerators and air conditioners. Some refrigerant fluid (or air) absorbs heat in an evaporator and is then compressed to a high temperature. It then travels to the condenser and releases its heat, before being expanded and returning back to the original evaporator to absorb more energy. 
Are heat pump dryers energy efficient?
Heat pump dryers are generally considered to be a more energy efficient choice as far as dryers go, as  they capture and reuse their heat energy. However, how efficient a dryer is will depend on a variety of factors, such as the brand, model, size and how often you're using it, so be sure to look at the energy star rating on the product.  
---
How much electricity does a dryer use? 
---
How much do heat pump dryers cost?
Heat pump dryers are a more expensive dryer to purchase upfront, costing anywhere from $1,500 and $5,000, while most other clothes dryers can be picked up for under $2,000. You can find cheaper models with the basic settings and smaller sizes at entry level prices, while others will sit mid to top of the price range for added features and larger models.  
Who sells heat pump dryers?
There are a number of brands that sell heat pump dryers including Bosch, LG, Samsung and Electrolux. Each of these brands offer a number of models at different price points and with their own features.
Bosch Heat Pump Dryers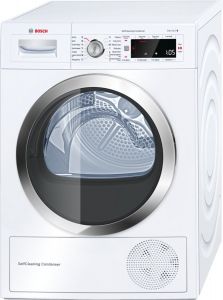 There are multiple heat pump dryers available under Bosch's name, all with eight to 10-star energy ratings, retailing from $1,000 to $2,500. These dryers have 8kg to 9kg load capacities, all likely to suit a larger household. Some models features a  faster dryer technology – up to eight minutes per kilogram faster – so for those with busy lifestyles, this might be one to consider. Other features may include a self-cleaning condenser, sensor drying and ActiveAir technology for maximised efficiency, allowing you to keep your household clean and fresh without blowing out the energy bill.   
LG Heat Pump Dryers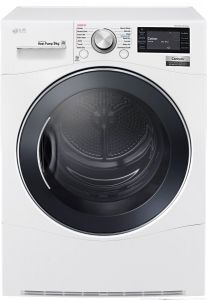 LG offer a short and sweet range of dryers, retailing from $1,500 to $2,500. You can expect features such as the LG 'TrueSteam' cycle to freshen clothes that have been hanging in the wardrobe too long, and the LG Smart THINQ system that can download additional drying cycles as well as troubleshoot any problems via the LG app. You'll also find three sensors that are stated to monitor when your clothes are dry, switching off the unit early and preventing your clothes from over-drying. 
Samsung Heat Pump Dryers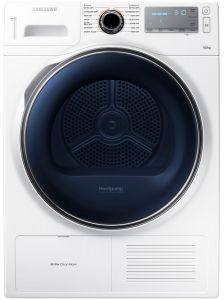 Samsung has multiple heat pump dryers available in its range, all retailing from $1,500 to $2,000. In some models you can expect Samsung's 'Smart Check' error-monitoring system that helps detect and diagnose any problems and provides troubleshooting via the Samsung app. Some models are also equipped with 14 cycles, including 35-minute Quick Dry, Wool, Towels and Bedding. foremost models also feature the Samsung 'Optimal Dry System' that continuously adjusts the drying time for optimum results, as well as help prevent your clothes from over-drying.
Electrolux Heat Pump Dryers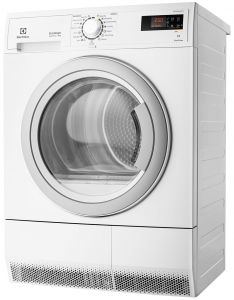 Electrolux's range of heat pump dryers retail between $800 to $2,500, giving shoppers plenty of choice from a price point of view. Some models feature the Woolmark Certified Woolens and Silks programs as well as the rapid 38 minutes Quick cycle for small loads. It has a delay start option and auto sensing to help reduce over drying. Similarly, to other brands, it's equipped with an interior drum light and has a special refresh program to help reduce odours and smooth out the wrinkles in your clothes.
Factors to consider when shopping for a heat pump dryer
When you're shopping around for a new dryer, there are a number of features to keep in mind to help with the decision making process. Some of them may include:
Size and capacity:

if you've  got a larger household, then a dryer with a greater capacity could be a great choice, whereas for smaller homes they may be a little too large. 

Price:

this will always come into the decision-making process as a primary factor, but given heat pump dryers are slightly more expensive it's best to see if there's a dryer that suits your budget.

Noise dampening

: more expensive models come with a noise dampening feature, which silences that annoying racket that dryers can make. If you're a light sleeper, or live in a smaller space, this could be a game-changer. 

Auto-sensing:

automatically stops the drying cycle when it senses that your clothes are dry, which prevents over-drying and saves electricity.
Should I buy a heat pump dryer?
So, you now know what heat pump dryers are capable of. They're just as capable, if not more so, than conventional electric dryers, and can potentially provide better drying results in less time, depending on the specific model. One major drawback is how expensive they are, so you'll have to decide if you're willing to take the plunge in the hope of energy savings over time. If you're still not certain about the type of dryer you want, then compare dryers at the link below.
Original Author: Veronika Hleborodova