Miele is well known for its quality appliances, and after the success of the Triflex HX1 cordless vacuum, they've launched the second model – the Triflex HX2. With a few added features and functionality, it's designed for versatility so you can vacuum wherever you need to. Here's our review of the new HX2 cordless vacuum.  
Miele Triflex HX2 design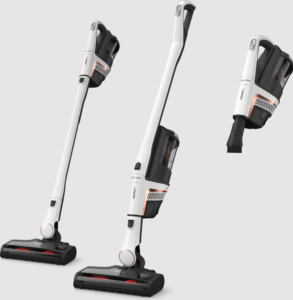 Similarly to its older sibling  the HX1, the HX2 still features the same 3-in-1 design that offers flexibility and ease of cleaning around the home. It also still features the same three standard modes – comfort, reach and compact mode – so you can adjust your cleaning for tight squeezes  or those hard to reach spaces. The convenience of an adjustable design makes it simple for people to use without having to risk injury from climbing down on the floor or up on a chair to reach corners.    
Miele Triflex HX2 prices
The Triflex HX2 range all comes in under $1,200 making it a somewhat cheaper stick vacuum compared to other brands.  
The entire Miele Triflex HX2 range includes: 
Triflex HX2 Cordless Stick Vacuum – $799 RRP*

Triflex HX2 Cat & Dog Cordless Vacuum – $899 RRP*

Triflex HX2 Performance Cordless Vacuum – $1,049 RRP*

Triflex HX2 Cat & Dog Plus Cordless Vacuum – $1,099 RRP*

Triflex HX2 Racer Cordless Vacuum – $1,149 RRP*

Triflex HX2 Pro Cordless Vacuum – $1,199 RRP*
Miele Triflex HX2 features & functions
The HX2 shares many similar features and functions with the original HX1 model, however it does feature some additional functions that make it more exciting. These additional features include: 
Digital Efficiency Motor
The new HX2 model has a 60% increase in performance compared to the previous model thanks to a more powerful motor. The new motor coupled with vortex technology makes the HX2 the most powerful vacuum from Miele. 
Lifetime HEPA filter
HEPA filter vacuums are an ideal investment for those with allergies to dust and other allergens and the HX2 has a high performing HEPA filter. The lifetime, maintenance-free HEPA filter is said to capture 99.999% of all microscopic particles and allergens helping to keep your home dust free. 
Extra large Floorhead
An extra large design for the floor head means a wider range of cleaning, potentially shortening your cleaning time. With automatic adaptation to any floor type you won't have to worry about switching any brushes or heads midway through the cleaning process. 
Twist2open dust container
Exclusive to Miele, the Twist2open design of the dust container makes for simple and mess free emptying. Simply hold the dust container over the bin, twist and empty without having to get your hands dirty. 
Miele Vacuum Attachments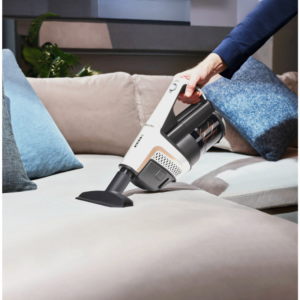 The HX2 comes with the basic necessities for a good clean but it also comes with a number of attachments to cater your cleaning to suit you. The attachments included are:
Crevice nozzle

Dusting brush with synthetic bristles

Electric brush Multi Floor XXL SEB 430

Wall mount

Power supply unit

Carpet care tool
You can also purchase additional attachments from Miele such as an upholstery nozzle, compact handheld brush, mattress nozzle, radiator brush and much more.   
Purchasing a Miele HX2 Vacuum Cleaner
If you're in the market for an upgrade in vacuum or looking to switch from a barrel model to a more convenient stick vacuum, the Miele HX2 is an ideal model. Designed for convenience and versatility it's a lightweight vacuum with powerful suction and a generous run time. Not only are its features ideal, but the price itself is generous, offering a number of different HX2 models at different price points you can select the attachments and features that suit your needs.