While rice is one of the most commonly used types of food around the world, it isn't surprising to find people who struggle to cook it. Look away from the pot for too long and it's boiling over or burning and sticking to the bottom. One of the easiest ways to overcome the struggles of cooking rice on the stove is a rice cooker. 
First developed in Japan, electric rice cookers have taken the guesswork out of cooking rice and you can have it ready at the touch of a button. But, how do you know this isn't just another appliance taking up shelf space? We've put together a comprehensive guide to help answer that very question. 
What is a rice cooker?
Rice cookers are a small electrical kitchen appliance designed to boil or steam rice. It is made up of a heating mechanism, removable cooking bowl and thermostat. The thermostat helps control the temperature around the cooking bowl to create fluffy rice every time. 
How does a rice cooker work?
Rice cookers work using what's known as the absorption method. You simply have to measure out water and rice into the bowl, but read the instructions on the rice packet and cooker first. Once you have selected your cook settings, press start and the rest is done by the machine. It usually takes between 30 minutes and an hour to cook.
The cooking bowl's contents are heated to boiling point. The temperature cannot rise above 100°C because all energy is being used to vaporise the water. Once there is no more water left, after most has been absorbed by the rice and some steamed off, the temperature can then rise above 100°C. This is detected by the thermostat, which then will either switch off the rice cooker entirely or switch it to a lower-power warming mode to keep your rice warm until you're ready to serve it.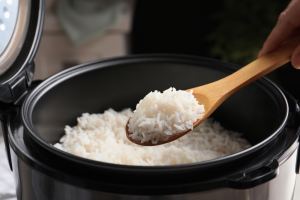 How to use a rice cooker
Cooking rice in a rice cooker is easy and only takes a few minutes to prepare. We've rounded up all the steps below:
Step 1:

Measure how much rice you need and place it in a bowl.

Step 2:

Rinse your rice until the water runs clear.

Step 3:

Transfer your rice into the inner bowl of your rice cooker.

Step 4:

Add the correct amount of water directly into the inner bowl. You can also cook rice in bone broth and stock. Adding condiments like salt, butter, olive oil and spices also helps give your rice some extra flavour. You can also add cut-up onions and garlic!

Step 5:

Place your cooking bowl inside the rice cooker and close the lid.

Step 6:

Plug in your rice cooker and turn it on. Look for the display light that indicates the unit is on and press the switch/button to cook. Don't uncover or stir the rice during cooking.

Step 7:

Wait for your rice to cook. When it's finished, the cooker will automatically switch to a warm setting and flip the switch up or make a 'ping' sound.

Step 8:

Use your rice paddle to gently fluff the rice and serve.
How much water do I need to cook rice?
The amount of water you need will depend on the quantity and type of rice you're cooking. Here's a simple guide to add the proper water to rice ratio for different rice types:
Long grain rice:

One cup of rice = 1 ¾ cups of water

Basmati or Jasmine rice:

One cup of rice = 1 ½ cups of water

Medium grain rice:

One cup of rice = 1 ½ cups of water

Short grain rice:

One cup of rice = 1 ½ cups of water

Parboiled rice:

One cup of rice = 2 cups of water

Brown rice: One cup of rice = 2 cups of water
What can you cook in a rice cooker?
Although the name may suggest it, rice cookers can be used for more than just rice. Some rice cookers are multi-cookers and have the ability to make dishes like congee (a rice pudding), risotto, cakes and breads all using a rice cooker. They're a great choice for students who may not have access to an oven and want easy meals on the go.
How much do rice cookers cost?
The price of rice cookers ranges from as cheap as $15 to $300 for more premium models. You can buy rice cookers at most department stores, appliance retailers, other stores that stock kitchen hardware as well as online.   
Brands of rice cooker
There are a number of brands offering appliances at different price points meaning you won't be short of choice. 
Kmart Rice Cooker
Kmart is known for their budget appliances and their rice cookers are no different. Ranging between $15 and $40 you can find a number of entry level Kmart rice cookers to kit out your kitchen. One of their models has a generous 13 cup capacity to keep a crowd fed, along with basic functions like cooking and keep warm. 
Breville Rice Cookers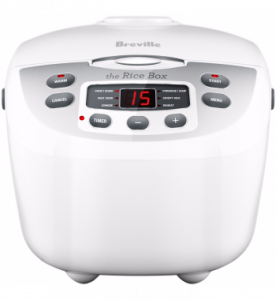 Breville is a well-known appliance brand Australia wide, and their rice cooker is a welcomed addition to any kitchen. With rice cookers ranging from $40 to $140 you have plenty of choice to suit any budget. Many of their rice cookers offer a generous size and include features like separate settings for rice dishes, a heating element in the lid to reduce condensation and reheat pre-sets if you're on the go.  
Tefal Rice Cookers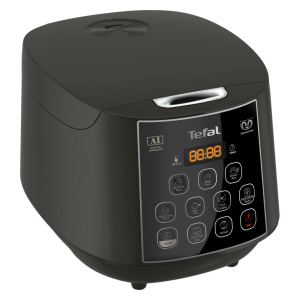 Tefal comes in as a premium product with their rice cookers sitting between $130 and $200. Some of the Tefal models come with more advanced presets and offer the ability to cook yoghurt, risotto and crust frying. They also offer combination cooking with slow cooking and steaming settings with the ability to run the keep warm setting for up to 24 hours. 
Panasonic rice cooker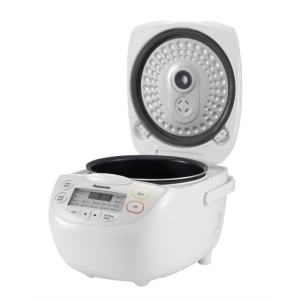 Panasonic rice cookers sit between $150 to $400. Ranging from five cup capacity all the way up to 10, you can select a rice cooker that is as basic or advanced as you like. With many models offering a multi-cooker function you can prepare more than just rice, including porridge, cakes and rice varieties. Panasonic models offer non-stick removable inner pans, auto menu modes and precise temperature control. 
Rice cooker features to consider
Given rice cookers sit within a wide price range, budget isn't the only factor that plays a major role in decision making, with other factors to consider including: 
Capacity:

Answering questions about how many people you need to regularly feed will help guide your decision. Many models come in five cup and 10 cup sizes so you'll be making a decent amount of rice each time you use it.

Settings:

Do you only want to cook rice? Are you wanting a multi-function appliance? If you want versatility then choosing a slightly more expensive model may be the route to take. However, if you're just looking to cook rice and don't care for added settings then an entry level model is best. 

Storage:

Do you have a smaller kitchen with limited space? If the answer is yes, then a rice cooker may add to the clutter and take up valuable room. Whereas if you have a larger kitchen with more storage space, adding it to your appliance collection may only benefit you.  
Should I buy a rice cooker?
Now you should be equipped with everything you need to decide whether a rice cooker is the best investment for your kitchen. With such a wide range of prices and features available on the market, you're spoiled for choice. Whether you're looking to cook rice easily or want to get more bang for your buck with added features, you'll be sure to find the right model for you. 
Original Author: April Broadbent