It's a food staple all around the world, but rice can be a bit of a pain to cook – at least, if you want to get it right! Take your eyes off the pot for just a moment and suddenly it's boiling over, or if you fail to st ir it for a while the rice will get stuck to the bottom of the pot and burn. Creating perfectly fluffy rice can be extremely tough. For a simple food, rice is hard work.
That's where electric rice cookers come in. First developed in Japan, electric rice cookers take care of the rice for you with just the press of a button. But are they a great addition to the kitchen or just another appliance to clutter your cupboards? Read on to find out how rice cookers work and how they can do far more than you might think.
What is a rice cooker?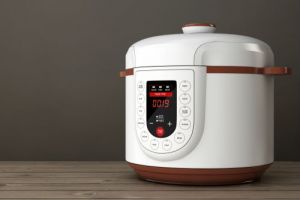 Rice cookers are small electric kitchen appliances designed primarily to automatically cook rice. The main components are a heating mechanism, removable cooking bowl and thermostat. The thermostat measures the temperature and controls the heat of the cooking bowl. They are fairly simple appliances, and while they're not much to look at, they make cooking rice easy and convenient. If you've ever been put off making rice because of the mess, effort, or disappointing, soggy results, rice cookers are a great option.

How do rice cookers work?
Rice cookers work using what's known as the absorption method. You simply have to measure out water and rice into the bowl, but the correct proportions vary depending on the type of rice and the cooker, so read the instructions that came with it first. Once you have selected your cook settings, press start and the rest is done by the machine. It usually takes between 30 minutes and an hour to cook.
The cooking bowl's contents are heated to boiling point. The temperature cannot rise above 100°C because all energy is being used to vaporise the water. Once there is no more water left, after most has been absorbed by the rice and some steamed off, the temperature can then rise above 100°C. This is detected by the thermostat, which then will either switch off the rice cooker entirely or switch it to a lower-power warming mode to keep your rice warm until you're ready to serve it. This is why adding the right amount of water is important. Adding too much will make your rice overcook. While this process might sound complicated, it's very effective at cooking rice to the perfect texture.
What kinds of rice cookers are there?
Rice cookers can be very simple appliances with just a switch to choose from 'cook' or 'warm' modes. More complicated models can have digital displays with a variety of settings for different types of rice and even cooking things other than rice. Then you get multi-cookers, which are rice cookers, slow cookers and pressure cookers all in one!
What can I make with a rice cooker?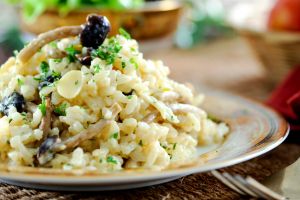 While the name may suggest otherwise, rice cookers aren't just useful for cooking rice. Some models are designed purely for this purpose, but some are multi-cookers that can perform several other cooking functions.
Most rice cookers work essentially the same way, but more advanced models will be better adjustable for variable cooking outcomes. For example, brown rice cooks differently to white rice, requiring a longer cooking time. Some rice cookers have unique settings for cooking brown rice, congee (a type of rice porridge), sticky rice, risotto, and even non-rice foods. Rice cookers can usually be used as steamers and to cook other types of grain. Some can even bake bread and cakes.
If you don't have an oven, a rice cooker can be a cheap and easy alternative. You may be surprised by how easy it is to bake a cake using a rice cooker. In places like Japan, many rice cookers come with a cake setting as standard, as many homes don't have ovens.
There's a reason why rice cookers are often popular appliances for students or other people who may not have easy access to an oven – you can do a lot with just a rice cooker!
How much do rice cookers cost?
You can buy rice cookers at most department stores, appliance retailers and other stores that stock kitchen hardware. Below are some indicative price ranges of electronic rice cookers available from some of the major appliance brands:
| Brand | Cheap end | High end |
| --- | --- | --- |
| Kmart | $14 | $39 |
| Breville | $39 | $139 |
| Kambrook | $25 | $40 |
| Sunbeam | $60 | $189 |
| Panasonic | $109 | $299 |
| Philips | – | $159 |
| Tefal | $129 | $199 |
Prices from Appliances Online and brand websites as at October 2018. 
Rice cooker features to consider
Given the wide price range in rice cookers, you should consider how often you would use the rice cooker and what features you would want to use before investing in the best, fanciest appliance. Here are a few key features to consider.
Timing: Very basic rice cookers only have controls to start cooking and manually switch to warm mode. The biggest upgrade feature is a digital timer. This counts down the time until your rice is ready. You can set what time you'd like your rice to be ready, so the cooker will delay its start time. You can also manually control the cooking time, which is particularly useful for cooking something you don't have a pre-set button for.
Capacity: Do you usually cook small amounts of rice, say for one person or a couple? Or have you got a big, hungry family to feed? The two most common sizes are '5 cup' and '10 cup'. Bear in mind that these measurements are in rice cups, which are approximately 160ml, not 250ml metric cups. One rice cup is generally considered enough for one person for one meal.
Settings: What do you want to cook? Are you likely to just stick with white rice, or will you also want to be able to cook brown rice and other grains, and steam food? Check what models have settings and features suitable for meeting your cooking needs. If you don't need anything fancy, there's no point paying extra to have buttons you'll never use.
Now we know what sort of features to look for, let's compare some of the best rice cookers around:
Kmart Rice Cookers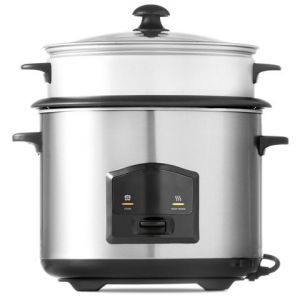 Kmart's line of budget appliances is making it more affordable than ever to kit out your kitchen without breaking the bank. Their budget rice cookers are pretty basic, but get the job done for a great price. These can be a good choice for those who don't eat rice very often, or want to start out with something entry-level before investing in something more high-quality.
Kmart 13 Cup Rice Cooker (RRP $25)
Despite the small price tag, this rice cooker has a big 13 cup capacity to keep the entire family well fed. The stainless steel housing and removable non-stick bowl are easy to clean. Along with the 'cook' and 'keep warm functions', this rice cooker comes with a steaming tray, measuring cup and scoop. Watch your rice become soft and fluffy through the glass lid with cool-touch handle.

Breville Rice Cookers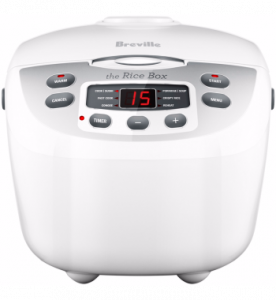 This Australian appliance company became a household name after creating the first sandwich toaster in the 70s. Breville's product development division is one of the largest design centres in the global small electrical appliance sector, with over 100 active patents and more than 40 international design awards.
Breville BRC460 Rice Box (RRP $99.95)
The 10-cup Rice Box keeps the environment tightly controlled for optimal rice performance. An embedded heating element in the lid reduces condensation, to get that moist, fluffy texture just right. It has a number of extra settings for different rice dishes, but doesn't overdo it with frills that you may not need. Congee, porridge/soup, crispy rice and re-heat pre-sets make it easier to do more, while the fast cook option is handy for when you're in a hurry. It also automatically turns itself off after 24 hours, so if you forget you have nothing to worry about.

Kambrook Rice Cookers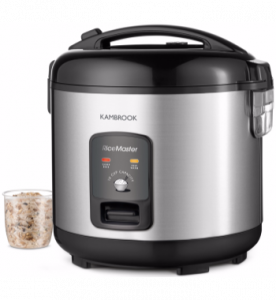 A subsidiary of Breville Group, Kambrook focuses on the budget end of the small appliances market. However, they're highly committed to product testing. They build to tough durability standards – they've even sent their home heaters to Antarctica for testing in the very harshest conditions.
Kambrook KRC410BSS Rice Master (RRP $49.95)
This is a solid basic rice cooker, with a simple switch between 'cook' and 'keep warm' settings. The jar-style lid seal keeps the steam locked inside for fluffier rice and prevents it from drying out. With a 10 cup capacity non-stick removable cooking bowl with water level markings, the Kambrook Rice Master is ready for some heavy-duty rice cooking.

Sunbeam Rice Cookers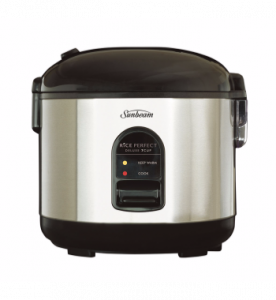 This home appliance brand's products are almost all Aussie designed. Sunbeam makes a wide range of products to suit every budget, from affordable to high end, so that it's easier to get your household needs met without spending a fortune just to get something reliable.
Sunbeam RC5600 Rice Perfect Deluxe 7 (RRP $59.95)
Another jar-style rice cooker, the Rice Perfect is a straightforward device with a single switch to flip from 'cook' to 'keep warm' mode. The handy condensation collector drains excess steam droplets into a jug, minimising leaking onto your desk. It can cook up to 7 cups dry (14 cups cooked) rice, and also includes a removable steaming tray and spoon holder. As far as affordable rice cookers go, the Rice Perfect covers all bases.

Panasonic Rice Cookers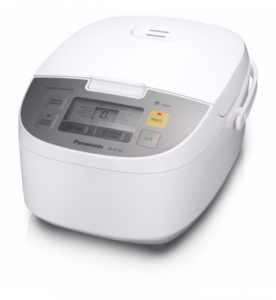 One of Japan's biggest electronics corporations, Panasonic was founded nearly a century ago and produces high end goods across the consumer electronics and appliance market. If you're looking for a high-quality appliance that will stay reliable in the long term, a Panasonic may be a good investment.
Panasonic SR-ZE105WSTM (RRP $159)
While all Panasonic rice cookers are of a greater than average quality, this particular model is among the best that Panasonic has to offer. You'll notice design features that you're unlikely to find in lower-cost rice cookers, such as a dimpled cooking bowl bottom for even heat conduction, and a diamond coating for more efficient and tasty cooking.  A microcomputer applies 'fuzzy logic' technology, which fine-tunes its heat regulation to optimise results rather than just sticking to the same precise process every time. While this sounds a bit daunting, it's pretty easy to use with a large LCD screen, carry handle, rice scoop, porridge scoop, measuring cup and steaming basket.

Philips Rice Cookers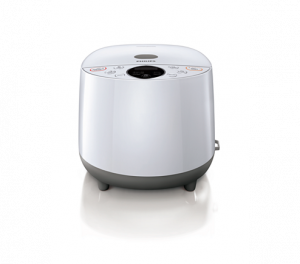 The Dutch health technology company makes an astonishing array of products in nearly every imaginable market, from hospital medical imaging technology to home care products like hair dryers and headphones. Their dedicated rice cooker is a relatively new product, so this may be a brand to watch for further product development into the future.
Philips Grain Master Rice Cooker (RRP $159)
With fuzzy logic technology, a 24-hour pre-set timer, and eight multifunction programs, the Grain Master can be a great choice for those who cook a lot of grains. The pre-sets include special functions to cook brown rice, multi-grain, lentils, quinoa, and porridge, plus options to re-heat or quick cook. The 4L capacity cooking bowl has a non-stick and anti-scratch coating that makes sure it lasts heavy use. It's also easy to clean, especially as the inner lid is fully detachable. Once cooking is complete, the Grain Master will automatically switch to 'keep warm' mode for 12 hours.

Tefal Rice Cookers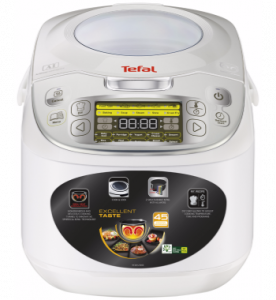 Tefal is a French cookware and small appliances manufacturer, specialising in non-stick cookware. They produce rice cookers in the mid to higher end range and cut no corners. Even their most basic model, the RK202, comes with a slow cooking function and a steam basket.
Tefal RK812 45-in-1 Rice and Multi Cooker (RRP $199)
The most advanced of Tefal's rice cookers comes with pre-sets and options for an incredible range of cooking needs, from yoghurt to risotto to crust frying. With a clear viewing window in the lid, you can keep an eye on your cooking adventure as you steam, slow cook, brown, bake, and more. Slow cooking can be set for up to 9 hours, with a 24 hour pre-set timer. You can set the keep-warm function to run for up to 24 hours. With the cooking time and temperature fully controllable even while cooking, you can do almost anything with just this one compact 5 litre appliance.

Should I buy a rice cooker?
Normally cooking rice requires constant attention to make sure it cooks properly. There's nothing worse than taking a mouth full of rice and finding out it's not cooked how you would like it. If you eat rice regularly, it can definitely be a worthwhile investment to get a rice cooker, even just a basic one.
Having a rice cooker gives you one less thing to think about while cooking, plus frees up stovetop space for preparing the rest of the meal. If you choose a model with a timer function, you can plan your cooking much easier. This is really useful if you've got a busy life with lots to do and think about.
Rice cookers are a great addition to your kitchen. Once you use one, you'll never want to cook rice any other way.