Fact Checked
Philips cooks up 1st win in multi-cooker ratings
Stewing over what to make for dinner? The multi-cooker might be the most helpful sous-chef to have in your kitchen, armed with all the tools of a slow cooker, pressure cooker, air fryer, electric frying pan, steamer, and more. But what's the best brand to buy and which should you put a lid on?
To find out, we asked almost 300 Australian consumers for their feedback on the multi-cooker(s) they've recently purchased and used. Brands were rated on cooking performance, functions and features, ease of use, ease of cleaning, design, value for money, and overall satisfaction. Manufacturers that received at least 30 responses are rated and compared in the grid above.
Philips came up as the top pick for Aussies, with the brand scoring full marks in the majority of research categories – including overall satisfaction!
Best Multi-Cookers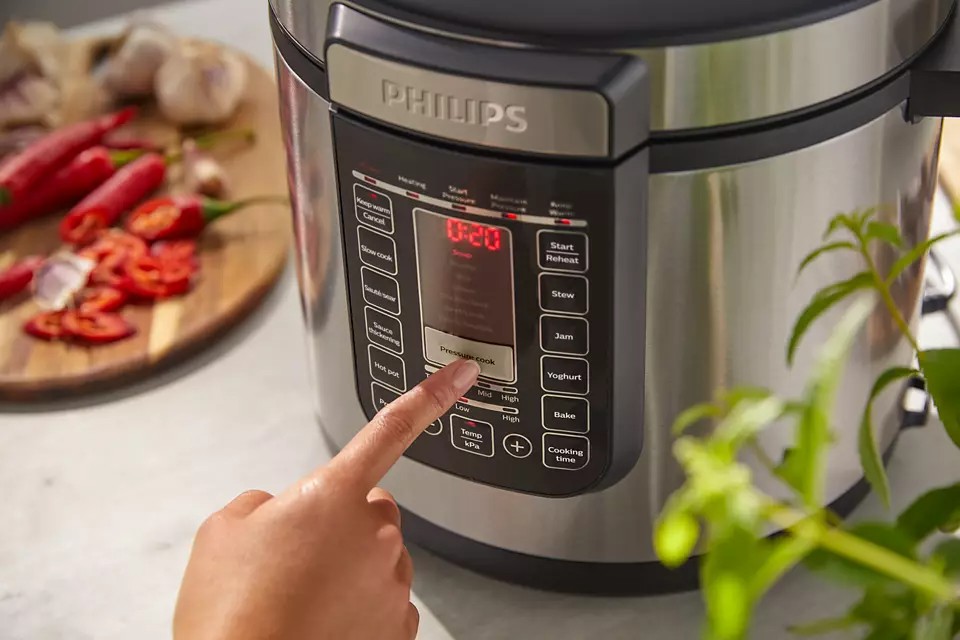 Here are the best brands of multi-cookers in Australia, as rated by consumers in Canstar Blue's inaugural review:
Philips
Breville
ALDI Ambiano
Philips whipped up five-star reviews for overall satisfaction and in most other categories, such as functions and features, cooking performance, design, ease of use and value for money. Runner-up Breville also managed to plate up some five-star reviews, namely for cooking performance, ease of use and cleaning and design.
Top Multi-Cooker Brands
Philips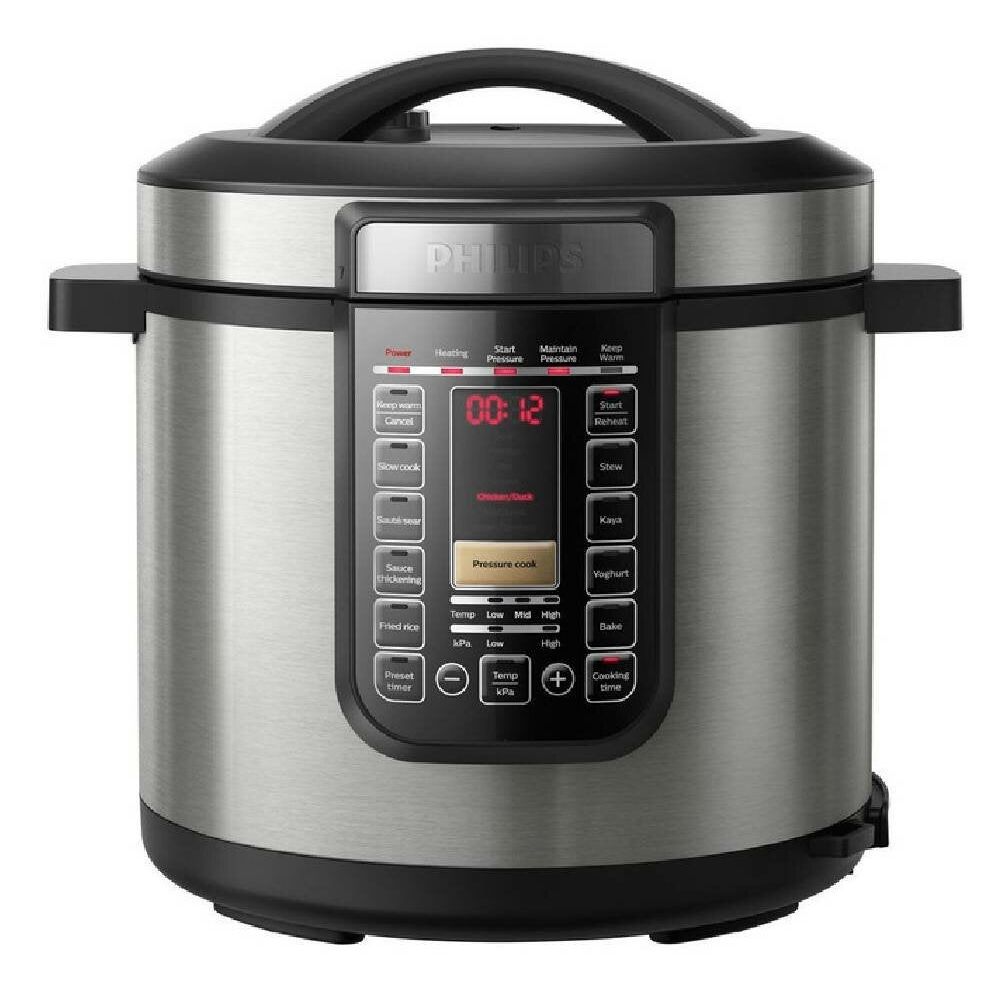 The Philips multi-cooker range is simple and straight to the point, much like the features it offers across the line-up. There are currently just two models available (at the time of writing) – the Philips All-In-One Cooker and Philips Viva Collection All-In-One Multi-Cooker. Here are the prices below:
Philips Viva Collection All-In-One Multi-Cooker (HD2237/72): $239 RRP*
Philips All-In-One Cooker (HD2238/72): $349 RRP*
The XXL All-In-One Cooker is the larger and more powerful of the two, offering an 8L capacity, 1500W worth of power, and 20 pre-set cooking programs. It boasts similar functions to the 6L Viva Collection multi-cooker, such as a keep-warm function for up to 12 hours, in addition to its slightly smaller 1300W output. The Viva multi-cooker also features seven pressure cooking modes, various protection systems, and a ProCeramic+ coating that's five times more durable than a conventional non-stick coating, according to Philips.
Philips received five-star reviews for cooking performance, functions and features, ease of use, design, value for money, and overall satisfaction. It got four stars for ease of cleaning.
Breville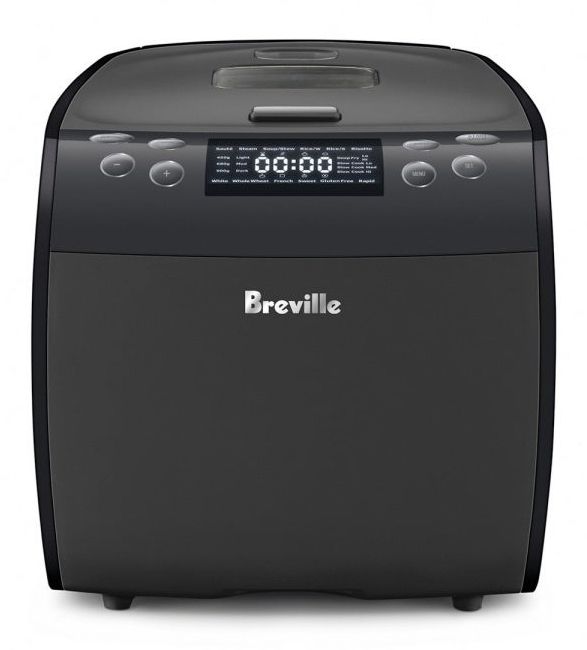 Breville serves up several versatile electric cookers, with its slow cookers, rice cookers and steamers providing multiple pre-set programs in addition to the brand's multi-cookers. Some of the products available include:
Breville The Multi Chef (BRC600BSS): $179.95 RRP*
Breville The Multi-Cooker 9-in-1 (LMC600GRY2JAN1): $389 RRP*
Breville The Fast Slow Pro (BPR700BSS): $449 RRP*
The Breville Multi Chef multi-cooker is among the brand's most budget-friendly options, and includes pre-sets for creating risotto, sautéing, cooking rice, slow cooking and more. It has a 3.7L capacity and fits up to 10 cups of rice, plus contains a non-stick cooking bowl that can double as a serving bowl.
For more flexibility, Breville's The Multi-Cooker 9-in-1 features 12 automatic programs, 11 cooking pre-sets, and in-built sensors to monitor and automatically control temperature. This comes with a 5L capacity and a similar 10-cup rice capacity.
Breville earned five-star reviews for cooking performance, design, ease of use, and ease of cleaning. It got four stars for functions and features, value for money, and overall satisfaction.
ALDI Ambiano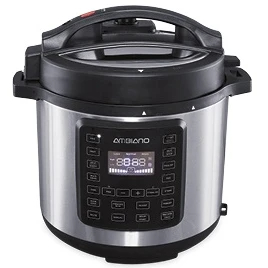 If you're hoping to snag an affordable multi-cooker from ALDI, you better keep an eye on its Special Buys. Its models are available for a limited time − often sold under the brand name Ambiano, with a thermo cooker also occasionally on sale. These generally cost around $70.
One of the multi-cookers previously included in ALDI's Special Buys is the 6L Ambiano Multi-Functional Pressure Cooker, which featured 15 pre-sets such as meat, stew, rice, yoghurt, and slow cooking. It also came with a 1000W power output and LCD display.
ALDI Ambiano achieved four stars for cooking performance, ease of use, and design, plus three stars for features, ease of cleaning, value for money, and overall satisfaction.
Other multi-cooker brands
The brands included in this year's multi-cooker ratings aren't the only manufacturers worth eating up. Here are a few more popular names to check out.
Sunbeam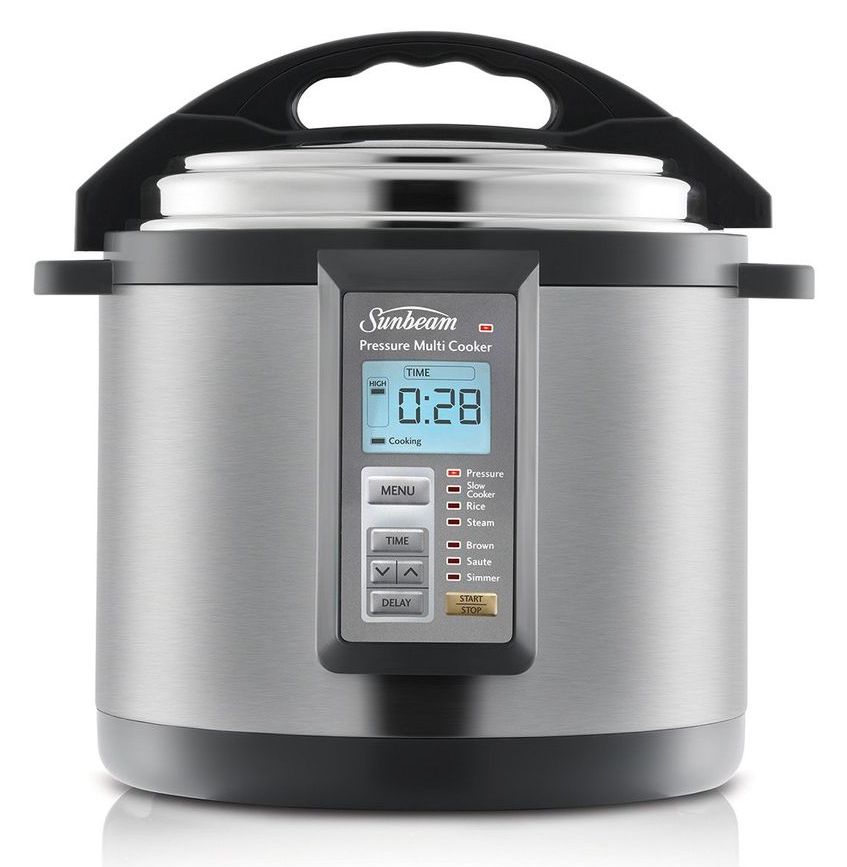 Sunbeam currently has just one multi-cooker on its menu – the Avia 6L Multi-Cooker (PE6100). It retails for $219 and offers several pre-set modes including pressure cooker, slow cooker, rice cooker, steamer, brown, sauté, and simmer. Other features include:
12-cup rice cooker capacity
Non-stick pan
Accessories include a rice measuring cup, rice spoon, serving spoon and steam rack.
Russell Hobbs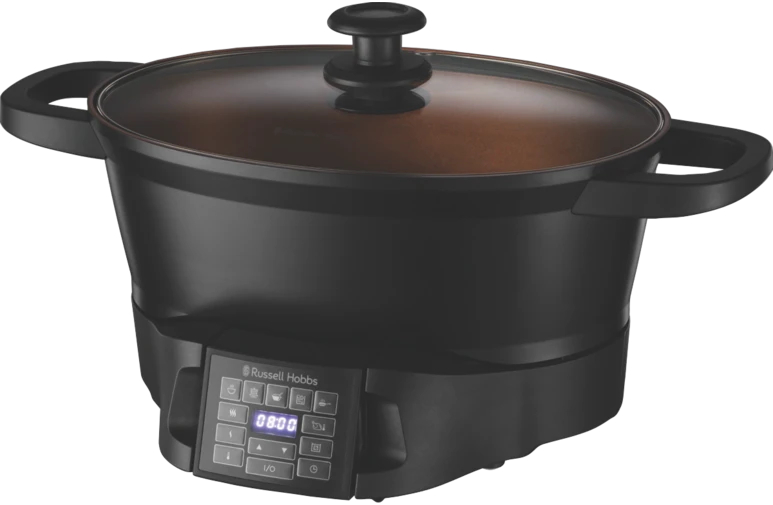 Russell Hobbs has a few budget-friendly multi-cookers up its sleeve, generally priced between $130 and $170. Common features include a dishwasher-safe non-stick bowl, delay-start, multiple settings for pressure cooking, and 10 or 11 pre-set recipes and modes such as slow cook, curry, risotto, brown rice, cook, pudding and soup.
Some Russell Hobbs multi-cookers currently available include:
Russell Hobbs 11-in-1 Digital Multi-Cooker (RHPC3000): $149.95 RRP*
Russell Hobbs Express Chef Digital Multi-Cooker (RHPC1000): $149.95 RRP*
Russell Hobbs Good To Go Digital Multi-Cooker (RHMC30): $169.95 RRP*
Morphy Richards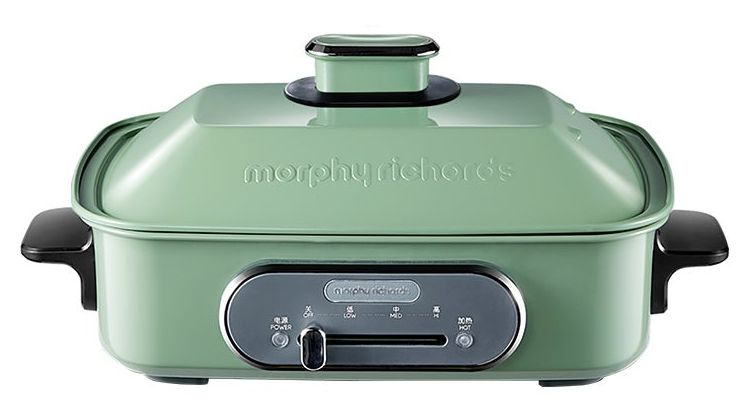 Morphy Richards has a few multi-cookers to make mealtime low maintenance, and offers most models in several styles. These usually retail for around $229. Standard functions across the range include grill, slow cook, braise, steam and fry. The Morphy Richards Cooking Pot With Hot Pot additionally has a dual hot pot accessory, so you can cook two meals at the same time.
Different multi-cookers available from Morphy Richards include:
Morphy Richards Round Multi-Function Pot (MRMP18W): $229 RRP*
Morphy Richards Mult-Function Cooking Pot (562010): $229 RRP*
Morphy Richards Multi-Function Cooking Pot With Hot Pot (MRNP25WT): $249.95 RRP*
Kogan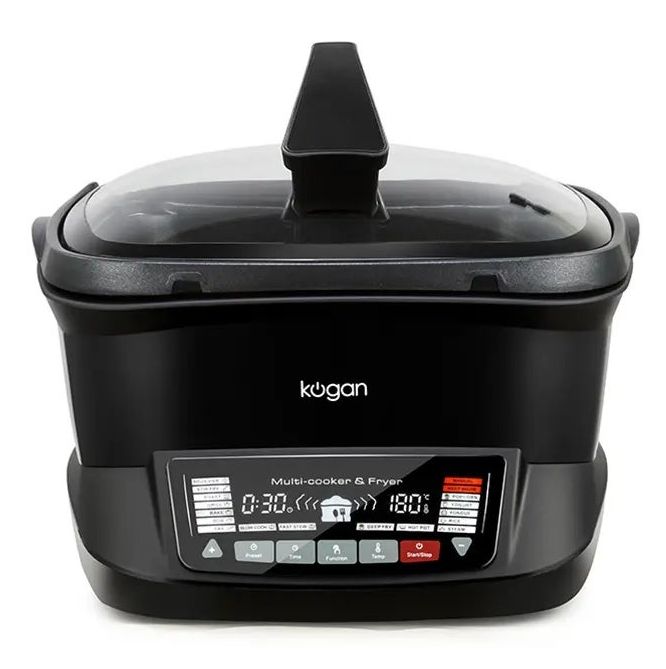 Online marketplace Kogan has multi-cookers from several popular brands, including Russell Hobbs, Sunbeam, Miracle Chef, Ninja as well as its own line. Prices start from just $199 and go up to $279, although most of these are often discounted to around the $100 mark. Some pre-set programs available across the range include air fryer, broil, fries, roast, dehydrator, yoghurt, congee, and bake.
Multi-cookers to expect from Kogan include:
Kogan 5L 12-in-1 Rice Cooker & Multi-Cooker: $199.99 RRP*
Kogan 8L 18-in-1 Rice Cooker & Multi-Cooker Pro: $229 RRP*
Kogan 6L 14-in-1 Air Fryer & Multi-Cooker: $279 RRP*
Ninja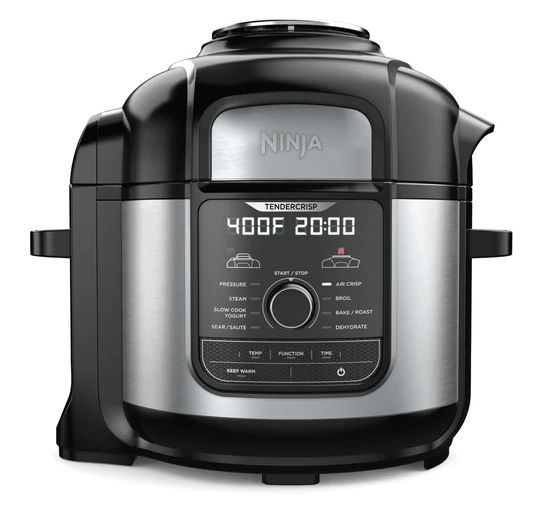 Ninja offers a few one-pot solutions between $450 and $550, most of which come with a 6L capacity. You can make meals, sides, desserts and snacks with Auto-iQ programs like pressure cook, air fry, steam, bake/roast, sear/sauté, grill, yoghurt and dehydrate.
Ninja multi-cookers include:
Ninja Foodi 8-in-1 6L Multi-Cooker (OP300): $449.99 RRP*
Ninja Foodi 11-in-1 6L Multi-Cooker (OP350): $499.99 RRP*
Ninja Foodi Max 10-in-1 7.5L Multi-Cooker (OP500): $549 RRP*
What is a multi-cooker?
A multi-cooker is an all-in-one cooking appliance that comes with a variety of pre-set cooking modes such as sauté, sear, grill, slow cook, pressure cook, air fry, steam and bake. Some models can also create yoghurt, jam and porridge. Multi-cookers are also designed to cook food faster compared to other appliances, although cooking times will vary between modes and models.
Our survey revealed one in three consumers (36%) bought a multi-cooker to replace several other appliances, including electric frying pans, rice cookers and steamers.
How to choose the best multi-cooker for your kitchen
Multi-cookers come in all shapes and sizes, but often contain many of the same functions such as bake/roast, sear, steam, slow cook and pressure cook. Here are five factors to consider when picking the best model for your home:
Capacity: Most multi-cookers offer between six and eight litres of capacity, which is usually fine for two to four people. Although you may need to size up if you're planning to regularly use it for pressure cooking or cooking an entire roast.
Pre-set modes: Common programs include slow cook, fry, steam, sear/sauté, grill and bake/roast. Pressure cook is another standard function, which can sometimes be adjusted to various settings (low, medium and high). Many models also include sous-vide and air fry.
Pre-programmed cooking times: Multi-cookers contain timers that may vary between appliances (especially if you're air frying or baking), so you might spend your first couple of times experimenting with the settings.
Easy to clean: Many multi-cookers come with non-stick bowls and dishwasher-safe parts that are usually easy to clean. But cleaning can require a little more elbow grease than you may think, especially if you've used the pressure cooker mode (which involves wiping valves and seals). It can also involve taking apart multiple parts.
Safety features: Opt for a multi-cooker with multiple locking mechanisms to secure the locking lid, especially if you want to pressure cook. Certain models from Bellini and ALDI have previously been recalled after having a defective lid lock or exploding and causing burns.
Our survey found consumers spend an average of $168 on a new multi-cooker, proving you can still buy a fairly budget-friendly model and have your cooking needs satisfied.
Is a multi-cooker the same as a pressure cooker?
A multi-cooker is different from a pressure cooker because it's designed to function as several types of benchtop kitchen appliances, such as a slow cooker, oven, steamer and air fryer. Meanwhile, pressure cookers are generally intended to be used one way – that is, as a sealed pot that builds steam pressure in order to cook food quickly.
Pressure cooking is a common pre-set in many multi-cookers. An additional lid is sometimes included with your multi-cooker, which features a steam release valve to let steam escape.
Is a multi-cooker worth it?
A multi-cooker is certainly worth purchasing, especially if you like to use different cooking methods and want to maximize storage space in your kitchen by having just one cooking appliance that does it all, instead of having to contend with multiple. What's more, two out of five people we surveyed (41%) said their multi-cooker made cooking easier and more convenient.
One in three consumers (31%) also admitted they have cooked more since making the purchase, with 41% believing the appliance has helped them achieve a deeper flavour compared to other cooking methods. Only 16% of survey respondents said they didn't end up using their multi-cooker as much as they thought they would, while 10% wished they bought a different size.
Overall, multi-cookers can be a great addition to the kitchen and we hope our ratings can help you find the right one to satisfy your tummy (and wallet!).
About the author of this page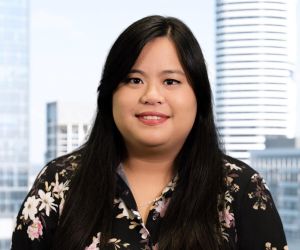 This report was written by Canstar Blue's home & lifestyle journalist, Tahnee-Jae Lopez-Vito. She's an expert on household appliances, grooming products and all things grocery and shopping. In addition to translating our expert research into consumer-friendly ratings reports, Tahnee spends her time helping consumers make better-informed purchase decisions on all manner of consumer goods and services, while highlighting the best deals and anything you need to be aware of.
*Prices are taken from respective retailers and Appliances Online, correct as of April 2022.