Fact Checked
We all know fridges are among the most expensive appliances found in the average home, but they're not often thought of as 'extravagant' or luxurious goods are they? Well, they certainly can be. We've found a handful of refrigerators that play around with this perception of the humble fridge, with some costing tens of thousands of dollars. Read on to find out more about some of the most expensive fridges in this Canstar Blue guide. 
Expensive fridge features
Many expensive fridges will offer a number of added features or design elements that standard fridges don't – hence the hiked up price tag. 
Integration:

Many models of expensive, high-end fridges will be integrated to seamlessly blend with the existing features of your kitchen. Although it's a handy feature it can cost a lot more for installation. 

Larger capacity:

Expensive fridges will generally start at around 300 L capacity and reach up to nearly 1,000 L which brings the price up but you'll generally be getting your money's worth.

High-grade materials: Fridges with higher price tags will be made from better quality materials like stainless steel both internally and externally. This means they will generally last much longer and will be easier to clean and maintain.
Who sells expensive fridges?
There are plenty of brands that sell kitchen appliances including fridges, but three of the most expensive brands available are Sub-Zero, Liebherr and Gaggenau. You can buy directly from the brand or from retailers like Appliances Online and The Good Guys. 
Sub-Zero Fridges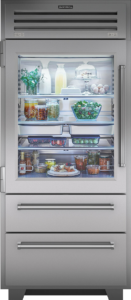 Sub-Zero is possibly one of the most expensive fridge brands out there, with the bottom of the price range starting around the $1,500 mark, and its most expensive model reaching a whopping $58,000. This top-of-the-line model has  no visible hinges or grilles, making it possible for this fridge to become indistinguishable from other cabinets and drawers around it, according to Sub-Zero. This unit, similar to other integrated models mentioned above, can be customised to fit seamlessly into any kitchen design.
It's possibly the nicest looking conventional fridge on this list, but don't assume that looks are the only thing it has going for it. It also offers dual refrigeration with separate processors for both fridge and freezer, a microprocessor and many other handy features. Fridge capacity ranges from around 400L up to 900L which is plenty of space for food and drinks. 
Liebherr Fridges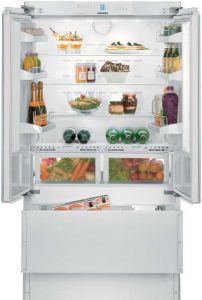 Liebherr's most expensive fridge models reach $20,000 for a fully integrated model, with  other models – such as pigeon pairs – you can expect to spend around $15,000. An integrated model is an option for homeowners who want to add a high-performance fridge to their modern kitchens without having a large ice box sticking out, however you will have to pay more for that luxury. 
Liebherr's fridges come with a number of handy features including an ice maker, LED lighting, frost free operation and Liebherr's 'softSystem' mechanism stated to ensure doors are shut softly and tightly. The only notable drawback to this fridge is its two and a half star rating for energy efficiency which could set you back quite a bit as far as your energy bill goes.
Gaggenau Fridges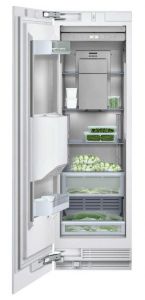 Gaggenau's most expensive model of fridge retail for around $23,000, with most other models retailing from $7,000 to $19,000. The handle-less option allows you to push the enormous door and open to what is stated to be professional-grade stainless steel interior with anthracite anodised aluminium elements and housing clear glass shelves. The minimalist internal look is then illuminated by warm white, glare-free LED lights.
Its two and a half star rating for energy efficiency seems to be the norm for expensive fridges where aesthetics are considered over electricity savings. Nevertheless, it operates at a low 38 decibels and is praised for dynamic cold air distribution and modern electronic controls with a digital display.


Buying an expensive fridge
When purchasing an expensive fridge there's plenty to choose from, and with price not being a huge issue, focusing on the added features may be the way to go. Whether you're after larger capacity or smart features, you're sure to find something. If you're looking for a different kind of fridge possibly at a lower price point, compare brands below. 
Original Author: Veronika Hleborodova