We all know fridges are among the most expensive appliances found in the average home, but they're not often thought of as 'extravagant' or luxurious goods are they? Well, they certainly can be. We've found a handful of refrigerators that play around with this perception of the humble fridge, with some costing tens of thousands of dollars.
Here's our list of the most expensive refrigerators you can buy, complete with rough price tags. Something interesting to note is that they all seem to be in the French door/armoire style. Presumably no one wants to spend big bucks on a regular single-door fridge?
Asko 445L Pro Series Integrated Fridge RF2826S – $13,999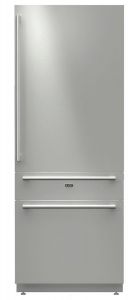 Kicking-off our list is this Swedish 445L integrated fridge from Asko featuring an electronic ice maker and convertible drawer. At 2003mm in height, expect 293L of usable capacity for the fridge compartment and 79L for the freezer. It comes equipped with a dual fridge system, flexible loading racks and a convertible cooling drawer. It's also boasted to operate at 45 decibels – barely louder than a whisper.
Despite the price, it doesn't have the highest energy efficiency rating, in fact, it has just three stars, using 432 kWh of energy per year. In turn, this could cost you around $130 per year for this fridge. However, if functionality is what you're after then you might like to keep this fridge in mind. It comes with two colour variants – stainless steel and white – both providing a sleek and minimalist appearance to better suit the aesthetic of your kitchen.


Miele 642L Integrated Bottom Mount Fridge KF1911VI – $14,599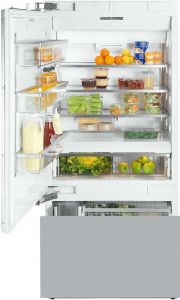 This luxury German fridge is notable for being the largest fridge on the list by quite a margin – it packs just over 640L of storage, whereas the second-largest fridge on this list has 585L of storage. It's also a pretty stylish model, having its cavity space "artfully" designed and illuminated by halogen emitters. It also features stainless steel, toughened plastic, height-adjustable glass shelves and commercial grade hinges.
The fridge comes equipped with Miele's MasterCool humidity-controlled drawers stated to provide the ideal environment for your fruit and veggies, while its door compartments are height adjustable and can be easily locked into place. Meanwhile, Miele's DynaCool system – which is its integrated fan – is stated to uniformly circulate the air and in turn, optimally distribute the temperature and air humidity. However, expect another three stars for energy efficiency, adding around $160 per year to your electricity bill.

Liebherr ECBN6256 585L Integrated French Door Fridge – $15,228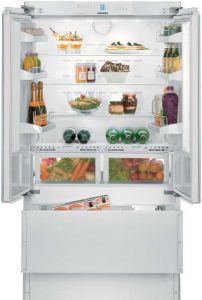 This sleek-looking Swiss model which comes with a whopping 585L capacity is another fully integrated fridge, meaning custom doors are needed. It's an option for homeowners who want to add a high-performance fridge to their modern kitchens without having a large ice box sticking out like a sore thumb.
This fridge comes with a number of handy features including an ice maker, LED lighting, frost free operation and Liebherr's 'softSystem' mechanism stated to ensure doors are shut softly and tightly. The only notable drawback to this fridge is its two and a half star rating for energy efficiency, costing around $146 per year, which isn't great. But to be honest, if you've got the kind of money to buy this fridge in the first place, you can probably afford to pay slightly higher energy bills.

Gaggenau 299L 400 Series Vario Integrated Fridge RF463-301AU – $15,499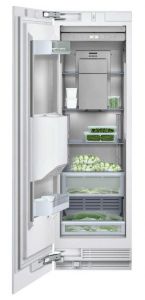 Another German manufacturer of high-end home appliances Gaggenau boasts this fully integrated fridge, standing at 2125mm in height. The handle-less option allows you to push the enormous door and open to what is stated to be professional-grade stainless steel interior with anthracite anodised aluminium elements and housing clear glass shelves. The minimalist internal look is then illuminated by warm white, glare-free LED lights.
Its two and a half star rating for energy efficiency, seems to be the norm for expensive fridges where aesthetics are considered over electricity savings. Nevertheless, it operates at a low of 38 decibels and is boasted for dynamic cold air distribution and modern electronic controls with a digital display.



Sub-Zero 433L Integrated Fridge ICB700TCILH – $19,995

Last fridge on our list comes close to the $20k mark and is possibly the winner of the 'coolest name' award. It's boasted for no visible hinges or grilles, making it possible for this fridge to become indistinguishable from other cabinets and drawers around it, according to Sub-Zero. This unit, similar to other integrated models mentioned above, can be customised to fit seamlessly into any kitchen design.
It's possibly the nicest looking conventional fridge on this list, but don't assume that looks are the only thing it has going for it. This fridge is impressive in terms of performance as well as looks, offering dual refrigeration with separate processors for both fridge and freezer, a microprocessor and many other handy features. It also has 433L of capacity. As listed above, this unit will hit your pockets to the tune of $19,995, plus more if maxed out with a few extras – because who wants save for a car these days?


The bottom line on expensive fridges
While these glorified ice boxes may be well beyond budget for most of us, it's certainly interesting to explore just how far luxury goes – it's clearly not all just jewellery and fur rugs! If you have the budget for one of these and don't mind the low energy efficiency ratings, then you might like to keep these in mind but for the rest of us perhaps something a little bit more simply might suffice.