Fact Checked
If you're wanting to add a touch of style to your kitchen without breaking the bank, having a matching toaster and kettle combo is a great start. While this won't instantly make your kitchen the toast of the town, it will go a long way to spruce up and bring some coordination to your benchtop. Read on to find out more about some kettle and toaster sets available in this Canstar Blue guide. 
Benefits of buying a kettle and toaster set
Buying appliances in a bundled set can make life much simpler. Whether you're updating your appliances or looking to buy your first matching set, bundling items can sometimes cost less, as well as bringing some uniformed style to your kitchen. Some brands bundle items together and sell them as a pack at a lower price as opposed to other brands that have individual models sold as is. Buying a two pack of appliances can also save you time searching for different appliances in different stores.
How much do kettle and toaster sets cost?
Kettle and toaster sets and individual appliances retail from around $80 to upwards of $250. The price will change depending on whether brands bundle appliances at a lower cost, or you may have to buy the matching appliances individually. 
Who sells kettle and toaster sets?
A number of brands sell kettles and toasters either in sets or individually with matching colours and finishes. You can buy from brands including Kmart's brand Anko, DeLonghi, Breville, Smeg and Russell Hobbs. You can buy directly from the brand or from retailers such as The Good Guys and Appliances online.
Kmart Kettle and Toaster Set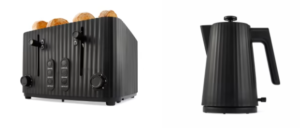 Although Kmart doesn't explicitly sell kettle and toaster combos together, they do have models of both appliances that match. You can find a number of different colour combinations including green, white and grey, and  can expect to pay from $25 to $50 for a toaster and around $25 to $45 for a kettle. Toasters come in two and four slice models, giving you the gift of choice and some models of kettle offer a cordless scandi style design to suit a more modern decor.   
DeLonghi Kettle and Toaster Set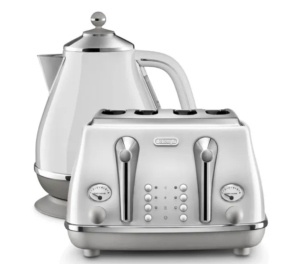 Much like Kmart, DeLonghi doesn't advertise its kettles and toasters in packs, however they do share the same colours to match one another if you buy them together. The kettles range in price from $160 to $200 and the toasters from $210 to $230, with all models featuring a four slice design. You can choose from colours such as mint, rose, silver, titanium and lemon.  
Breville Kettle and Toaster Set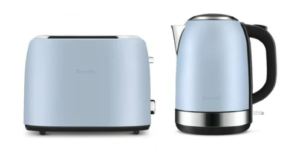 Breville offers a couple of kettle and toaster set options ranging in price from $140 to $230. You can select from different colours including green, cream, silver, black and mauve with different finishing accents. With stainless steel finishes for both appliances, a two-slice design for the toaster and a generous 1.7L sized kettle, it's an ideal combination for any kitchen.   
Smeg Kettle and Toaster Set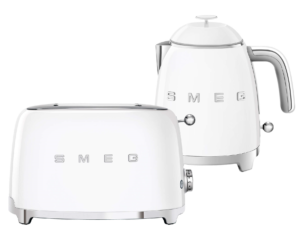 Smeg's colourful range of toasters and kettles retails from $170 to $300 offering two and four-slice toasters and mini and standard size kettles. You can find colours including red, pink, pastel blue, pastel green, black and white for both appliances. Some Smeg kettles have a variable heat setting meaning you can heat water to temperatures under 100 degrees to suit your cooking or beverage needs and its toasters feature multiple cooking and defrost settings. 
Russell Hobbs Kettle and Toaster Set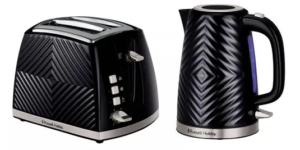 Ruseel Hobbs offers numerous kettles and toasters in matching colours such as pink, black, blue and red. Retailing from $80 to $120 you can find an ideally sized kettle and a two or four-slice toaster for your kitchen. You can expect features for the kettle including a stainless steel finish and detachable hot plate for easy dispensing and for the toasters you can expect multiple cooking settings, defrost settings and reheat function. 
Buying a kettle and toaster set
Now that you've got a selection of brands to choose from, finding a kettle and toaster set should ideally be simple. With a number of different price points available on the market, cost shouldn't be a huge deal breaker when choosing. Style plays a big part in choosing a set of appliances, and luckily most brands have a variety of colours and designs to suit any kitchen's decor. If you're still tossing up kettle models, get started by comparing toaster brands.