The Aussie heat tends to get us hot under the collar and because of that we've come to have somewhat of a love affair with 'AC'. And when winter rolls around, we bust out the electric blankets and brace for the worst. But, what if we told you there's a way to turn up the heat at home without getting bill shock? How? By using your air conditioner for heating!
How to use your air conditioner for heating
These days, most air conditioners feature reverse cycle technology, offering you the convenience of heating and cooling from a single appliance. Most AC units come with hot and cold control modes. So, if you're feeling a little chilly at home, you can simply switch on the heat mode (usually the sun symbol button) on the remote controller of your air conditioner, set the thermostat to your ideal temperature and sit back as your indoor unit heats the room. Reverse cycle air conditioning is easier, cheaper and safer to use than portable heaters which can overload electric circuits.

What is reverse cycle air conditioning?
Reverse cycle air conditioning is a system that uses reverse cycle technology to both heat and cool your home. It's essentially two systems in one. A reverse cycle air conditioner basically allows you to reverse the refrigeration cycle of your AC unit (hence the name 'reverse cycle') to produce heat instead of cooling. When the reverse cycle unit is on cooling mode, it works like a normal air conditioner.
But how does reverse cycle air conditioning work?
Instead of using energy to create heat, reverse cycle air conditioners (also commonly known as heat pumps) simply pump heat from outside air and bring it inside. Reverse cycle units produce heat using a refrigerant and external coil to absorb heat from outside which is then pumped through a compressor and into the condenser of your inside unit to warm your house. An added bonus of reverse cycle air conditioners is that they can also filter and dehumidify the air in your home.

5 tips to use your air conditioner for heating
Now that we've covered the basics, here are some tips to use your air conditioner for heating your home.
Clean your AC: First, give your AC unit a good clean. Filters inside air conditioners tend to collect dust and other nasty particles which can cause mould and be a fire hazard when heat is thrown into the mix. Check the owner's manual for cleaning instructions.
Choose the right temperature: Program your AC to keep the temperature inside your home between 18 and 20 degrees. Every degree above that can increase your energy usage by up to 10%.
Switch to auto mode: Don't set the heat mode and forget. Switch on the auto mode as well. This function allows the AC unit to maintain your desired temperature. This keeps the fan running for the least amount of time at the slowest speed to save on energy.
Redirect the louvers downward: This will ensure optimum air circulation in your home in winter because hot air rises. Don't forget to move them back up in summer.
Get your AC serviced: Some manufacturers recommend getting your AC serviced once a year to keep it running smoothly and as energy efficient as possible. This is to avoid costlier repairs down the track.
How much does it cost to run a reverse cycle air conditioner?
Let's talk money. For heating purposes, the average reverse cycle air conditioner costs around $0.13- $0.36 per hour to run. In comparison, a gas heater costs more, at $0.43- $0.51 per hour to run, while electric heaters can set you back $0.50- $0.60 per hour.
The beauty of a reverse cycle unit, is that it restores more heat than the energy it consumes. For example, 1kW of electricity consumed will generate 3-4kW of heating or cooling. And believe it or not, a reverse cycle air conditioner is even cheaper to run per hour than a microwave ($0.28 – $0.53 per hour).
Compare electricity plans
Are all air conditioners reverse cycle?
These days, most new air conditioners are reverse cycle models, although there are still a few cheaper and older models that will operate with a cooling system unit only. Here are the main types of reverse cycle air conditioners:
Split system: A split system is an air conditioner that splits into two units – one that's inside mounted on a wall and one that's outside. This is easier to install (no duct work) and best for heating only a few rooms at a time.
Cassette unit: A cassette unit is also a split system, but with the indoor unit mounted onto the roof. This is sturdier than a wall mounted unit and generally used for commercial and industrial purposes.
Multi-head split system: This is another split system air conditioner which can have several (up to seven) indoor units attached to a single outdoor unit. This allows better climate control for individual rooms in the house.
Wall or window system: This is a single air conditioning unit with all parts in one box which can be mounted to a wall or window still. These can only cool or heat a single room. This is usually the most affordable option.
Ducted system: A ducted air conditioner works via a central indoor unit in the ceiling which is then connected to different ducts in each room. This option is best to cool or heat an entire home. It also has an outdoor unit.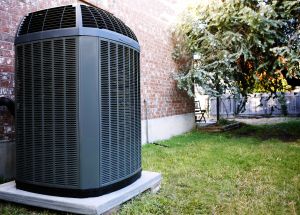 Pros and cons of reverse cycle air conditioning
| | |
| --- | --- |
| Pros | Cons |
| Cheaper to run and more energy efficient than portable electric heaters | More expensive upfront and to install than portable heaters |
| Save money and space with a two-in-one system instead of installing and running separate units for heating and cooling | Higher running costs than evaporative systems |
| Produces only a third of the greenhouse gas emissions of electric heaters | Heating capacity may decrease when outdoor temperatures are extremely low |
| Has no exposed elements or flames and remains cool to touch | Doors and windows need to be kept closed for maximum efficiency |
| Can last up to 20 years | Outdoor units can be noisy |
Reverse cycle air conditioning vs gas heating
A gas heater creates heat energy, while a reverse cycle air conditioner pumps heat from the air, which is much more energy efficient and therefore cheaper in the long run. Let's take a look.
Gas heating: 1kW of gas burnt, generates about 1kW of heat.
Reverse cycle system: 1kW of electricity consumed, generates 3-4 kW of heating.
Overall gas heating can cost $0.20 to $0.30 more per hour to run. But if you live in a particularly cold area, then gas heating should be more energy efficient as it operates independently of outdoor conditions. Gas systems are also able to heat a room more quickly than reverse cycle systems. In any case, either type is still cheaper than electric heating.
Reverse cycle air conditioning vs electric heating
A reverse cycle air conditioner is at least three times more energy efficient than an electric heater. That's because an electric heater has a one to one power to heat output. Check it out below.
Electric heating: 1kW of electricity consumed, produces 1kW of heating.
Reverse cycle system: 1kW of electricity consumed, creates 3-4kW of heating.
With that said, electric heaters can be effective for heating small rooms and don't cost much upfront or to be installed as opposed to reserve cycle systems.

How much does it cost to install a reverse cycle system?
The initial outlay of installing an air conditioner will depend on several factors including but not limited to the type, brand and size of the unit, how many windows and walls need to be fitted, how much piping and interconnecting cable is required and so on. However, here are some installation costs you could be looking at for different types of air conditioners.
| | |
| --- | --- |
| Air conditioner type | Estimated installation cost* |
| Portable | $300- $1,000 |
| Window unit | $400- $1,100 |
| Split system/ multi-split | $400- $3,000 |
| Ducted system | $6,000- $12,000 |
*Estimated costs only, prices will vary.
Is a reverse cycle air conditioner worth it?
Reverse cycle systems are more energy efficient than most other heating systems and much more environmentally friendly, too. They're also easy to use and can heat large rooms and your home relatively easily. The only downside is that they can cost more to install and repair, but this will be offset by cheaper running costs. Plus, this type of system can last you up to 20 years, so it's an investment worth making if want to keep your home warm in winter and your wallet full.
Picture credits: Butsaya, Shutterstock.com/ Andrey Popov, Shutterstock.com/ GSPhotography, Shutterstock.com/Kishivan, Shutterstock.com.