For a healthy way to start your day, homemade yoghurt is a way to go. Yoghurt can be a great snack option and can also be used in a variety of recipes and sauces. A yoghurt maker allows you to control the flavours as well as the ingredients that go in. There are a number of products around for those wanting to give yoghurt making a go, which we review below.
What are yoghurt makers?
Yoghurt makers provide a simple process to making your very own yoghurt. Making yoghurt is fairly simple with most yoghurt maker instructions requiring just two ingredients – a yoghurt starter and milk. The yogurt starter can be bought in powder sachets or it can also be just a small amount of plain store bought yoghurt, which contains the probiotics required to make yoghurt. Some yoghurt makers suggest heating the milk first to a high temperature and then adding in the yoghurt starter, while others simply suggest mixing the starter straight into cold milk, so it's important you follow the instructions of your machine.
Yoghurt Makers vs Greek Yoghurt Makers
To make Greek Yoghurt, it requires an additional strainer to remove some of the whey, which specific Greek Yoghurt Makers are already equipped with. Some yoghurt makers do provide a strainer but it will require a manual process to strain your finished yoghurt into Greek yoghurt. If you continue to strain, you can also end up with yogurt cheese, spreadable like cream cheese.
Why get a yoghurt maker?
A yoghurt maker can be a great alternative for any dietary requirements or preferences as specialty yoghurts can get expensive. It allows you to choose exactly what goes into the yoghurt, whether you prefer to make yoghurt on full cream milk or another type such as soy or goats milk. You also have the choice to make low sugar and low fat versions.
From an environmental perspective, you are also reducing on waste by not constantly purchasing plastic yoghurt containers, which can add up over time.
Yoghurt Maker Brand Reviews
Dash Go Bulk Yogurt Maker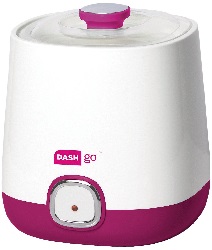 Starting at the bottom of the price range, Dash Go Bulk Yogurt Maker includes one container, proving just less than 1L capacity of yoghurt. The cycle time requires approximately 12 hours. It's equipped with a timer, removable lid for storage and automatic shutoff, which is a handy feature to simply set it and forget about it. As the Dash yoghurt maker is in the low price category, it does use plastic material for its construction but it is claimed to be BPA free. On the plus side, the yoghurt maker parts are dishwasher safe, making it an easy to clean machine. It has a one year warranty and can be found in a blue or pink colour. This brand of yoghurt makers is available in Target.
EasiYo Yoghurt Maker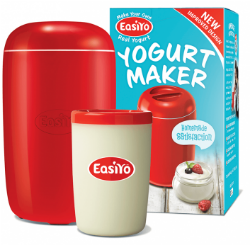 EasiYo claims to have made a number of technical, ergonomic and thermal improvements to its yoghurt maker over the 20 years that the brand has been around. It comes in a vibrant red colour and a compact size, allowing you to take the yoghurt maker anywhere with you. The EasiYo Yoghurt Maker includes one FDA approved polypropylene grade jar, which provides 1kg of yoghurt. The brand also produces a Mini Yogurt Maker in what is said to be a "cute" shape. It comes in an apple green colour and makes 500g of yoghurt, giving you the extra convenience to make smaller batches. All parts are claimed to be free from polucarbonate, BPA and any form of anti-environmental hormones. The EasiYo yoghurt maker can be found in BIG W.
Dash 7 Jar Yogurt Maker
The Dash 7 Jar Yogurt Maker features seven glass jars as the name itself implies. The jars are dishwasher-safe and have approximately 200g of yoghurt capacity. It also has a stainless steel design with a timer, allowing you to make homemade yogurt in 8 – 12 hours. If you are after a Greek yogurt taste, Dash also produces its Dash Greek Yogurt Maker. You can find this brand of yoghurt makers in Target.
RRP: $29.99 (7 Jar Yogurt maker) & $39.99 (Greek yoghurt maker)
Euro Cuisine Automatic Yogurt Maker YM100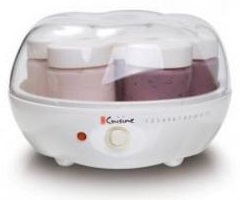 A similar design to the Dash 7 Jar model, the Euro Cuisine Automatic Yogurt Maker includes seven 170g glass jars. You may find this a convenient feature if you want to make a number of different flavours at a time. With this model, it is said to take 6 – 10 hours for fermentation time, depending on the thickness you require and can go up to 15 hours if you desire. Each jar is said to be dishwasher safe and has its own screw-top lid, giving you easy storage. It is BPA free and is said to be suitable for all milk types. Although it does not include an automatic shut-off functionality, it does features a timer and an indicator light. It sits in the mid-price range and is available in Target with a one year warranty.
You may also be interested in:
Kmart Ice Cream & Yogurt Maker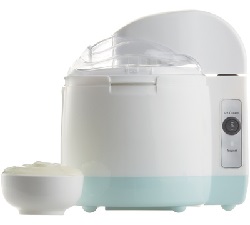 The Kmart yoghurt maker is equipped with dual functionality, giving you the ability to make both ice cream and yoghurt. If you fancy an extra sweet ice cream treat in between your healthy yoghurt making, this could be the best appliance for you. It is equipped with a 1.5L ice cream container and 1.2L yogurt container. The overall size of the machine is 24.4cm x 19.8cm x 25.6cm. There isn't much with additional functionalities but it does come with a mint coloured base to add a touch of colour to your kitchen. It has a one year warranty.
Green Living Australia Electric Yogurt Maker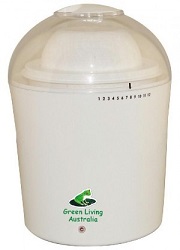 The Green Living Australia yoghurt machine makes 1 to 2 litres of yoghurt. On average it requires 8 – 12 hours for fermentation time. It claims to maintain the right temperature over extensive fermentation times of 24 hours or more and is suited for cows, goat, soy milk as well as coconut cream. Its size is 26.5cm x 19cm (HxD) and it includes a BPA free food grade 2L fermentation pot. It is a fairly basic yoghurt maker without any high tech features. It has a one year warranty.
EasyCook Easy Yogurt Maker
EasyCook is an Australian brand, established in 1982. It produces a number of small appliances including its original Health Oven. The EasyCook Easy Yogurt Maker includes one inner port with a lid container. It is suited for cows, goats and soy milk. It doesn't feature a cooling function so you will need to set the yoghurt by putting it in the fridge for an additional 1-2 hours. It comes with a 1 year warranty.
Cuisinart Yogurt Maker CYM-100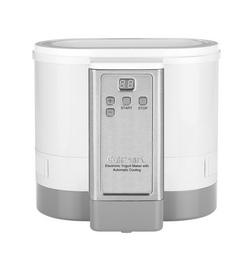 Cuisinart Yogurt Maker is in the top of the price range. It has a high-tech look but with a simple operation. After the processing time, it automatically switches to a cooling mode, allowing you to set and forget about the yoghurt maker. Its size is fairly standard – 24.7cm x 17.4cm x 25.5mm (LxWxH). It allows you to ferment for up to 24 hours and makes 1.5L batches. For the price it provides a stainless steel design with a digital time display. In terms of durability a stainless steel machine may help resist wear and tear over time, compared to plastic. Cuisinart also produces a number of Frozen Yogurt makers that you may also like to consider. It is BPA free and has a 3 year warranty. You can find this brand in Target.
Should I buy a yoghurt maker?
Making yoghurt is not a quick process but if you set it for overnight, you won't even notice. A yoghurt maker may add benefit to a healthy lifestyle, giving you the option of making low-sugar and low-fat versions of yoghurt. With very little ingredients, you may even save money on your grocery bills while also creating a healthy snack for the kids. If you are also a gadget lover and have some space for this small appliance in your kitchen, it may be an investment for you.
When deciding, which yoghurt maker to buy, it's important to consider its size and how often you intend to use it. For convenient ready-to-eat servings you may opt for one of the models that feature 7 jars. You may also like to think about additional features the models provide. If you prefer something simple to start off with you may like to consider the EasiYo, which is a compact, easy to use design. If you prefer something a little fancy, the Cuisinart is equipped with a number of additional features like the digital timer and automatic cooling. Whichever yoghurt maker will help satisfy your cravings, there is plenty of choice in the market.