For a healthy way to start your day, homemade yoghurt is a great food to get you going. Yoghurt can be a great snack option and can also be used in a variety of recipes and sauces, so why not use an appliance that guarantees you won't run out of it any time soon? For all you need to know about yoghurt makers, keep reading to find out more.
What is a yoghurt maker?
Yoghurt makers are devices that provide a simple process for making yoghurt at home. Most yoghurt makers will come with simple instructions to make the yoghurt from scratch or have a pre-mixed packet to make the process even simpler. Yoghurt makers are ideal for those who struggle to digest dairy and want to use alternative milk or ingredients to suit their diet. 
How does a yoghurt maker work?
To make yoghurt, a bacterial culture starter that contains Lactobacillus bulgaricus and Streptococcus thermophilus – which can be found in a store-bought plain yoghurt – are mixed into your milk of choice. This is then added to the yoghurt maker, which holds the mixture at the correct temperature range for eight to 12 hours to ferment. Yoghurt makers facilitate this process by creating a temperature-controlled vessel to perfectly ferment the yoghurt. 
How much do yoghurt makers cost?
Yoghurt makers can cost from as little as $25 up to $150. Depending on whether you choose an electric yoghurt maker, like Davis & Waddell or Luvele, or a manual one like Easiyo, the price will change dependent on the features that accompany the appliance. 
EasiYo Yoghurt Maker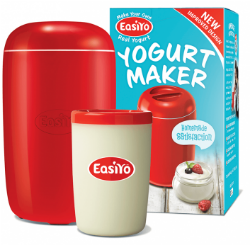 Easiyo is a better-known yoghurt maker brand having been around for over 20 years. Its simple design doesn't require any electrical components, making it a cheap and cheerful option at just under $25 for the kit. Outside of the actual kit itself, you will need to buy the yoghurt sachets used to make the different types of yoghurt. There are a number of flavours you can choose from including Greek or plain, vanilla, strawberry and more. You can find Easiyo yoghurt maker kits and sachets on Woolworths shelves.
Luvele Yoghurt Maker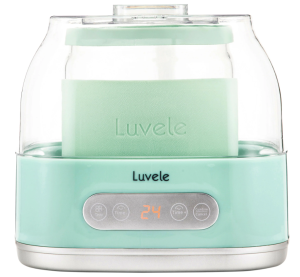 Luvele has two models of electric yoghurt makers to create probiotic-packed yoghurts at home. Retailing from $100 to $150 you can choose a singular 2L tub or multiple 1.5L tubs to make different flavours for yourself and your family. The Luvele yoghurt makers feature a 36-hour digital timer, three temperature settings and an automatic switch-off once your yoghurt has finished fermenting.
Davis & Waddell Yoghurt Maker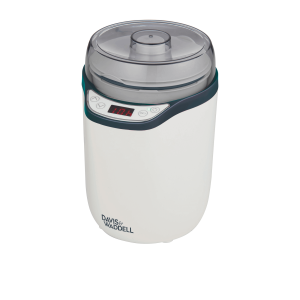 Davis & Waddell's yoghurt maker/ fermenter retails for $90 and comes in two different tub sizes at 1.6L and 1.8L. Equipped with an easy-to-use digital timer and control panel, it can make fresh yoghurt in just 10 hours. With preset functions, it's an easy appliance to use and ideal for not only making fresh yoghurt but cheese and pickled and fermented vegetables too. 
Is a yoghurt maker worth it?
If you have a family with young kids who love eating yoghurt with lunch or as a snack, a yoghurt maker could be an ideal appliance for you. Or for those who have specific dietary requirements and struggle to find the right products in supermarkets, a yoghurt maker gives you the option to choose how you want to eat your favourite dairy snack. 
Original Author: Veronika Hleborodova