Gippsland Dairy double dips in yoghurt ratings
Yoghurt is often the jack-of-all-trades when it comes to food – a breakfast go-to, a mid-afternoon snack, a cooking substitute, and of course, a dessert, making it a handy addition to your fridge. Add in plenty of good bacteria and calcium, with low fat and sugar contents, and you've got yourself a guilt-free treat.
As the supermarket fridges are packed full of seemingly delicious yoghurts, Canstar Blue's aim is to help make your decision-making process of which to buy a little easier. We do this by surveying thousands of consumers who have recently bought and eaten one of the 17 yoghurts in this year's review, to get their expert feedback in regards to taste, texture/consistency, variety, packaging, value for money and overall customer satisfaction. Sure, you could buy and try every single brand around, but why not save yourself some time and money – and your stomach the hard work – by finding out which Australia rates best.
In 2018, we've chewed through the feedback of more than 2,000 adults to form our ratings. This is what we found:
Gippsland Dairy has taken out the top spot, rating five stars across multiple categories, including taste, variety and overall satisfaction

ALDI Lyttos, Jalna, Tamar Valley, Dairy Farmers, Farmers Union, Danone, Ski, Vaalia, Yoplait and ALDI Dairy Dream all scored four stars for overall satisfaction

ALDI Just Organic, ALDI Brooklea, Chobani, Activia, Woolworths and Coles round out the results for this year, each scoring three stars for overall satisfaction
As you can see, top marks were few and far between. Besides Gippsland, the only five-star reviews came from ALDI Lyttos on value for money and Jalna for texture/consistency.
It is the second year in a row that Gippsland Diary has been rated the highest overall. And this is only the second year we've produced these ratings for yoghurt! So, Aussie yoghurt-lovers clearly have a favourite brand. It should be noted, however, that as an expert in sweet flavours, many Gippsland yoghurts are on the sugary-side. So maybe best as a dessert or occasional treat!
Read on for a guide to what the 17 brands in this year's ratings have going on in the yoghurt department, and here are some of the standout results from our survey, as well as the skinny on yoghurt itself:
The fresh scoop on yoghurt
With yoghurt a popular option for many households, Canstar Blue wanted to find out a little more about our collective eating habits. We found that just over half of consumers (52%) always stick with the same brand, for the following reasons:
Taste: 54%

Price: 17%

Nutritional value: 16%

Texture: 7%
Survey respondents were also asked when they usually eat yoghurt:
As a snack: 39%

At breakfast: 33%

After dinner/as a dessert: 20%

A dairy substitute in recipes: 3%
Favourite yoghurt flavours
With taste obviously one of the biggest factors in the minds of consumers buying yoghurt, we also asked respondents to our survey about their favourite flavours. This is what we found:
Vanilla: 19%

Natural: 19%

Strawberry: 14%

Mango: 12%

Mixed berry: 10%

Passionfruit: 8%

Blueberry: 7%

Raspberry: 3%
The rest cited other fruits or something else as their favourite.
In addition to picking their favourite flavours, the survey found that many consumers keep one eye on the government's health star ratings to help them make an informed decision about which to buy. More than half of respondents (52%) stated that the health star ratings are an important factor in which yoghurt they purchase, indicating that many Australians are becoming more health conscious when loading up on their grocery shop.
Fresh Yoghurts Compared
Gippsland Dairy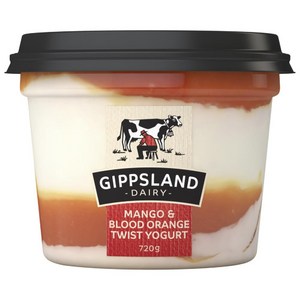 Offering traditional flavours such as blueberry and passionfruit, Gippsland Dairy offers additional flavours such as mango & blood orange, watermelon & strawberry, toffee & honeycomb and lemon & raspberry to give households plenty of options when it comes to creating breakfast or desserts. All Gippsland Dairy yoghurts are gluten, gelatin and artificial additive free, with ingredients and nutritional information on the company's website. Available for purchase in 160g and 720g tubs, Gippsland Dairy yoghurts are sold at all major supermarkets and local grocers.
In this year's results, Gippsland Dairy was rated five stars for taste, texture, packaging design, variety and overall satisfaction, with a three-star rating on value for money.
ALDI Lyttos
One of four ALDI brands in this year's report, Lyttos scored the highest out of the German supermarket's yoghurts, with a four-star rating for overall satisfaction and the only five-star review on value for money. Other results included four stars for taste, packaging and texture, with a three-star rating for variety.
Potentially ideal for people looking for large quantities of Greek-style natural yoghurt, ALDI Lyttos comes in 1kg and 2kg tubs, both coming with an easy-carry handle.
Jalna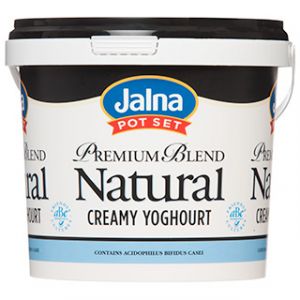 Said to be made by the McLaren family in Victoria for more than 35 years, Jalna is a pot set yoghurt brand covering a wide range of types. Pure yoghurt and fruit tubs (200g) come in coconut, blueberries, raspberry and passionfruit varieties, while 'Jalna Premium' comes in café latte, vanilla, and natural flavours, in sizes from 200g up to 2kg. Greek style yoghurts are available in sweet & creamy, natural, and natural low fat varieties. There's fat free natural yoghurt, biodynamic organic yoghurt, and A2 protein wholemilk yoghurt also available. Nutritional information and recipe ideas are available on the Jalna website, helping narrow down the options if you're after something particular, or looking for cooking inspiration.
Jalna received four stars for overall satisfaction and across most categories, while also scoring a five-star rating for texture/consistency and three stars for value for money.
Tamar Valley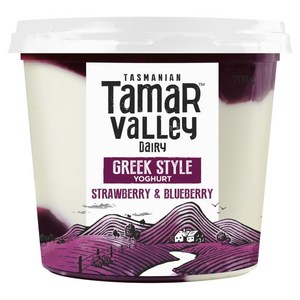 Producing both natural and Greek style yoghurts, Tamar Valley covers natural, no fat, light, and no added sugar varieties in plain, flavoured, and fruit mixes. Available in 170g and 700g tubs, Tamar Valley is also available in 125g packs in select flavours, with nutritional information and recipes available on the brand's website. Additionally, Tamar Valley provides all natural Greek yoghurt pouches for kids, available in 110g, making them a handy option for lunchboxes.
Scoring four stars for overall satisfaction, Tamar Valley also rated four stars in the majority of categories, with a three-star rating for value for money.
Dairy Farmers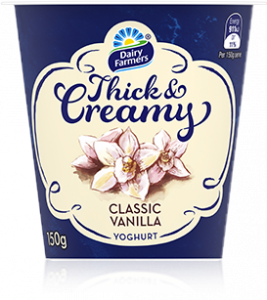 Australian-grown milk brand Dairy Farmers produces three lines of yoghurt products. Its traditional Thick & Creamy range comes in 150g single-serve or 600g tubs in eight different fruit and dessert flavours, with its newer Cheeky Cow range coming in three varieties of layered fruit and yoghurt, in 500g tubs. There's also a Greek style yoghurt available, coming in 1kg tubs.
Dairy Farmers achieved a four-star rating for overall satisfaction, as well as four stars for most categories, with a three-star rating for value for money.
Farmers Union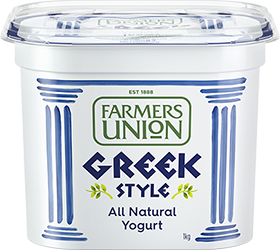 A regular within the dairy industry, the Farmers Union Greek style yoghurt brand covers both natural and flavoured ranges. Natural varieties (regular, light, and pot set) come in sizes ranging across 1kg, 500g, and 200g tubs, plus packets of four 160g pots, with a 500g low fat option also available. Two large containers of flavoured yoghurt (honey and vanilla bean) are available, as well as four fruity flavours in single-serve 140g pots. If you're after something a bit different, Farmers Union also offers the Crunch & Pouch ranges, perfect for snacks and those on the go.
Farmers Union earned four stars for overall satisfaction and for most categories, but three stars on variety and packaging appeal.
Danone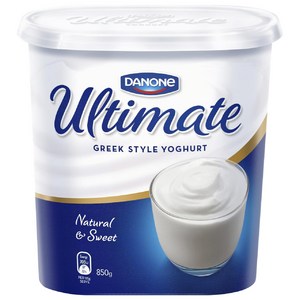 Danone has a number of subsidiary brands, but the two most prominent are Danone Ultimate and Danone YoPRO. Danone Ultimate is a Greek style yoghurt sold in single serve tubs, four packs, and large 850g tubs, in a range of fruit and dessert flavours. YoPRO are high-protein yoghurts, with 15g protein per serve, with no added sugar. These come in plain, vanilla, and four different fruity flavours, available to buy at all major supermarkets and grocers.
Danone achieved a four-star rating for the majority of categories, including taste and overall satisfaction, with a three-star rating for value for money.
Ski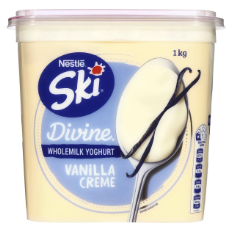 Covering a range of fruity flavours as well as sweet honey and vanilla varieties, Ski yoghurt comes mostly in single-serve pots sold in multipacks from twin packs up to 12-packs, plus 1kg tubs and squeeze pouches. Available in the Smooth, Divine and D'lite ranges, shoppers have plenty of options to choose from.
Ski got three stars for value for money, with four stars across the rest of the ratings categories, including overall satisfaction.
Vaalia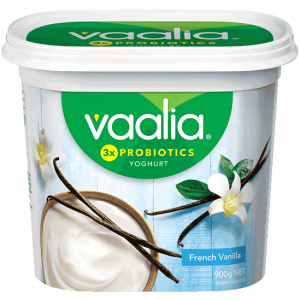 Heavily focussed on probiotics, Vaalia has a wide range of products for shoppers to choose from, including breakfast yoghurts, lactose-free yoghurts and low-fat yoghurts, all available in either 160g individual tubs or larger 900g tubs. Yoghurts for children and babies are also available, with the range also consisting of pouches for lunchboxes. Flavours include classic vanilla and passionfruit, with berries, apricot and mango, as well as lemon, also available.
Vaalia received four stars overall and for most categories, but scored three stars on value for money.
Yoplait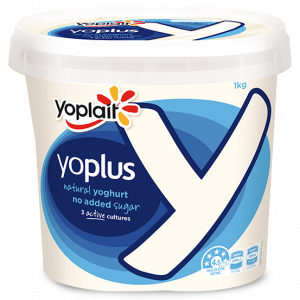 Available in a host of varieties and flavours, the Yoplait yoghurt range includes traditional flavours such as vanilla, mango, and strawberry, in 100g, 175g and 1kg tubs, with additional products including sugar-free Yoplait Zero, Fruche European-style fromage frais (type of cheese containing live cultures) and Petit Miam kids' yoghurts. Yoplait provides nutritional information and ingredients on its website, meaning you could suss out what to buy before you head to the store, with the brand available at all major supermarkets.
Yoplait earned four stars for overall satisfaction and the majority of other categories, with three stars for value for money.
ALDI Dairy Dream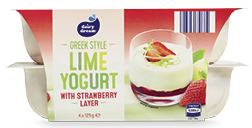 ALDI Dairy Dream covers Greek style yoghurts in three flavours – two flavours (blueberry & peach, mango & passionfruit) in 720g tubs, and the third (lime yoghurt with strawberry layer) in a pack of four 125g pots.
ALDI Dairy Dream rated four stars for overall satisfaction, in addition to value for money and variety, while also scoring three stars for packaging appeal, taste and texture.
ALDI Just Organic
The latest edition to ALDI's yoghurt line-up, the 'Just Organic' range focuses heavily on probiotics, with no added sugar, artificial colours, flavours or preservatives claimed to be used. Additionally, the organic range is suitable for vegetarians, making snack time that much easier. Available in natural, vanilla and strawberry flavours, ALDI offers its Just Organic range in a 1kg bucket.
Rated three stars for overall satisfaction, taste, texture, packaging design and variety, ALDI Just Organic was also rated four stars for value for money.
ALDI Brooklea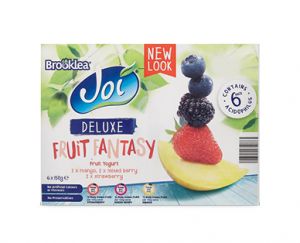 ALDI's brand of 'regular' yoghurts, Brooklea, comprises a natural 'lite' low fat yoghurt in 1kg tubs, as well as the Brooklea 'Joi' range of flavoured tubs, in a choice of vanilla, or peach & mango.
ALDI Brooklea scored three stars for overall satisfaction, taste and variety, with a four-star rating for value for money, texture and packaging design.
Chobani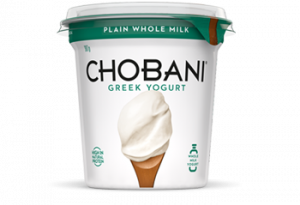 Offering a wide variety of flavours, Chobani is available in a variety of styles, including tubs, pouches and flip containers, which contain a crunchy aspect for yoghurt with a difference. Chobani offers plain and low fat Greek-style yoghurt in addition to traditional mango, strawberry and coconut yoghurts, with additional flavours such as banana chia and black cherry for households to try. Available at major supermarkets and local grocers, Chobani lists all its ingredients and nutritional information online.
Chobani was rated three stars for overall satisfaction and most other research categories, with a four-star rating for variety and texture.
Activia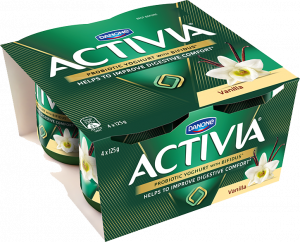 Operating under the Danone parent brand, Activia's yoghurt is said to be free of gelatine, artificial colours, sweeteners and preservatives, while also including billions of probiotics. Available in berry, mango, vanilla and seeds & grains, each Activia flavour is sold in four-packs of 125g tubs, potentially making them ideal for light snacks or the kid's lunchboxes.
Rated three stars across most categories, including overall satisfaction, Activia scored a four-star rating in texture.
Woolworths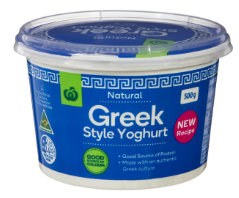 There are four tiers of private label yoghurts at Woolworths. The standard line covers pot-set Greek style yoghurts (natural or 99% fat free, in 500g and 1kg tubs) and 98% fat free vanilla yoghurts (1kg tubs). Next up in the more 'premium' range is Woolworths' Thick & Creamy with dessert-like flavour combinations in 700g tubs. Woolworths Macro includes certified organic yoghurt, in a choice of natural or vanilla bean, in 1kg tubs. Kids aren't left out either, with 70g pouches also available, coming in flavours such as vanilla and strawberry.
Woolworths was rated three stars consistently across all categories, including value for money, taste and overall satisfaction.
Coles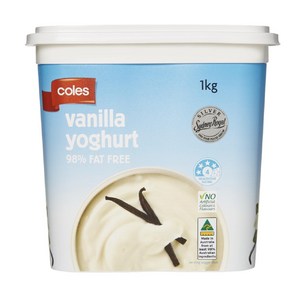 Similar to its supermarket competitor Woolworths, Coles offers a number of yoghurt styles and varieties, including Greek-style yoghurts, flavoured tubs, and kids' pouches. The Greek-style yoghurts are available in 1kg tubs, with the flavoured varieties available in both 1kg and 150g tubs. Pouches come in 70g packets, with flavours including banana, vanilla, strawberry and tropical, with a 12pack also available for purchase.
Coles was rated three stars across every category, including taste, texture and overall satisfaction.