ALDI Lyttos gets a spoonful of wins in yoghurt ratings
Yoghurt is the jack-of-all-trades when it comes to food – a breakfast go-to, a mid-afternoon snack, a cooking substitute, and of course, a tasty dessert, making it a handy addition to your fridge. Add in plenty of good bacteria and calcium, with low fat and sugar contents, and you've got yourself a guilt-free treat.
To help you sink your teeth into the best yoghurt, we asked more than 2,000 Aussies for their feedback on the fresh yoghurt they have bought and eaten in the last three months. Brands were rated on taste, texture and consistency, range variety, packaging design, value for money and overall satisfaction. Those which received the minimum sample of 30 responses are featured in our report.
ALDI Lyttos scooped up the number one spot in this year's yoghurt review, after being rated best for value for money, packaging design and overall satisfaction. It achieved four stars for taste and texture & consistency, and three stars for range variety.
Best Fresh Yoghurt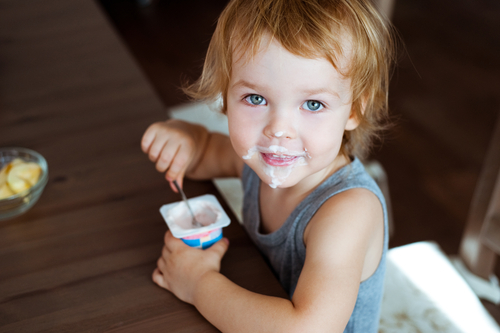 Here are the best yoghurt brands in Australia, as rated by consumers in Canstar Blue's 2020 review:
ALDI Lyttos
Gippsland
Danone (including YoPRO)
Farmers Union
Jalna
Tamar Valley
Dairy Farmers
Woolworths
Yoplait
ALD Brooklea
Vaalia
Chobani
Activia
Coles
After rating best in the three previous years we've conducted our yoghurt review, Gippsland has moo-ved to second place and made room for a new champion ─ ALDI Lyttos. The supermarket private label received a spoonful of five-star reviews for value for money, packaging design and overall satisfaction.
Most of the remaining brands landed on four stars overall. The only exceptions were Vaalia, Chobani, Activia and Coles, which ended on three stars.
It's worth noting that despite not taking the top spot, Gippsland still continues to rate best for taste and texture & consistency. It also scored another set of full marks for range variety, alongside Danone.
Fresh Yoghurts Compared
ALDI Lyttos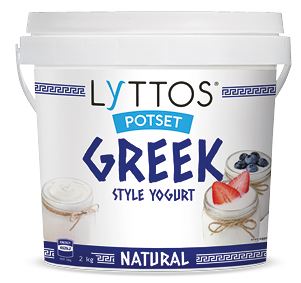 ALDI Lyttos is one of the German supermarket's affordable yoghurt labels. The private label is especially targeted to those craving Greek-style natural yoghurt, with 1kg and 2kg tubs available. These are claimed to be free from preservatives.
ALDI Lyttos earned five-star reviews for value for money, packaging design and overall satisfaction.
Gippsland Dairy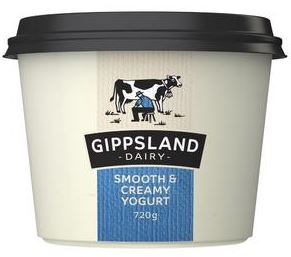 Offering traditional flavours such as blueberry and passionfruit, Gippsland Dairy also dips into more creative flavours like mango & blood orange, watermelon & strawberry, toffee & honeycomb and more. Plus, there's apple & rhubarb to give households plenty of options when it comes to creating breakfast or desserts. All Gippsland Dairy yoghurts are claimed to be gluten, gelatin and artificial additive free.
The ingredients and nutritional information are listed on the company's website. Available for purchase in 160g and 720g tubs, Gippsland Dairy yoghurts are sold at all major supermarkets and local grocers.
Gippsland Dairy achieved five-star reviews for taste, texture & consistency and range variety. It ended on a respectable four stars for overall satisfaction and packaging design, and got three stars for value for money.
Danone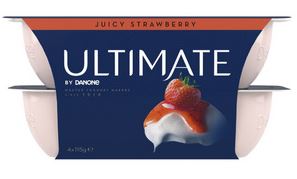 Danone has a number of yoghurt products, including Danone YoPRO. This line features high-protein yoghurts, with 15g worth of protein in each serve. The range is also said to not contain any added sugar and artificial sweeteners. Some of the flavours you can expect include coconut, mango, passionfruit, blueberry and banana. Danone YoPRO also offers a dairy-free selection, which comes in a slightly smaller 150g tub. A few flavour options include banana & cinnamon, vanilla chai, salted caramel and mango coconut. These are available at all major supermarkets and grocers.
Danone YoPRO received a five-star rating for range variety and four stars everywhere else, including overall satisfaction.
Farmers Union
A regular within the dairy industry, the Farmers Union Greek-style yoghurt brand covers both natural and flavoured ranges. Natural varieties (regular, 'light', and pot sets) come in sizes ranging across 1kg, 500g, and 200g tubs, plus packets of four 160g pots, with a 500g low-fat option also available. Two large containers of flavoured yoghurt (honey and vanilla bean) are available, as well as four fruity flavours in single-serve 140g pots. If you're after something a bit different, Farmers Union has created The + Crunch range and The Pouch ranges for anyone looking for snacks on the go.
Farmers Union scored a solid four-star rating across the board.
Jalna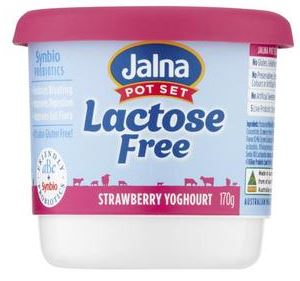 Jalna is an Australian-made and owned brand which offers a wide selection of yoghurts to suit different tastes and dietary needs. One of these includes its Farm To Pot range, which includes several tubs of organic yoghurt made from certified Aussie dairy farms. This line offers classic flavours such as honey, natural, vanilla and Greek yoghurt. But if you're looking for a bit more variety when choosing a Greek yoghurt, the brand also offers a special line containing vanilla, blueberry, raspberry, passionfruit or natural Greek yoghurt.
Jalna maintained a consistent four-star rating in all areas compared, such as value for money and overall satisfaction.
Tamar Valley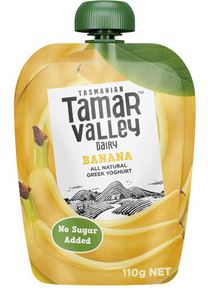 Producing both natural and Greek-style yoghurts, Tamar Valley covers natural, fat-free, 'light', and no added sugar varieties in plain, flavoured, and fruit mixes. Tamar Valley is sold in sizes from 170g up to 1kg tubs, with 125g packs also available in select flavours. Additionally, Tamar Valley provides kids' Greek-style yoghurt in sizes ranging between 170g and 1kg tubs, making them a handy option for lunchboxes. You can find nutritional information and recipes for these products on the brand's website.
Tamar Valley achieved four stars in all categories, including taste and overall satisfaction.
Dairy Farmers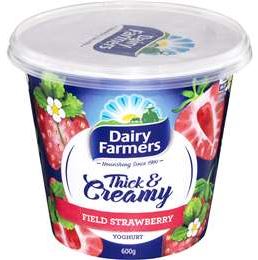 One of the leading companies within the dairy market, Australian-grown milk brand Dairy Farmers produces three lines of yoghurt products. Its traditional Thick & Creamy range comes in 150g single-serves or 600g tubs in eight different fruit and dessert flavours, with its newer Cheeky Cow range coming in three varieties of layered fruit and yoghurt, in 500g tubs. There's also a Greek-style yoghurt available, coming in 1kg tubs.
Dairy Farmers received a solid four-star review across the board.
Woolworths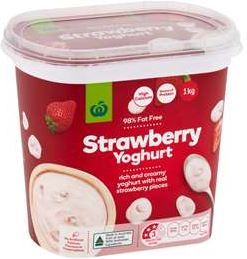 Woolworths offers several affordable yoghurt ranges to choose from. The supermarket branded range covers pot-set Greek-style yoghurts (natural or 99% fat-free) in 500g and 1kg tubs and 99% fat-free vanilla yoghurts (1kg tubs). Kids aren't left out either, with 70g pouches also available, coming in flavours such as vanilla, banana and strawberry.
Woolworths earned a respectable four-star rating in most categories, including taste, value for money and overall satisfaction. The only exceptions were variety and packaging design, where it got three stars.
Yoplait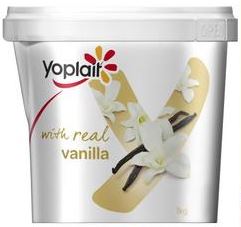 Available in a host of varieties and flavours, the Yoplait yoghurt range includes traditional flavours such as vanilla, mango, and strawberry, in 100g, 175g and 1kg tubs, with additional products including sugar-free Yoplait Zero, Fruche European-style fromage frais (type of cheese containing live cultures) and Petit Miam kids' yoghurts. Yoplait also provides nutritional information and ingredients on its website. The brand is available at all major supermarkets.
Yoplait achieved a four-star sweep across the board.
ALDI Brooklea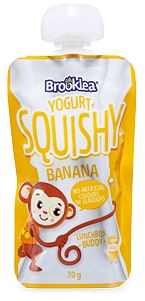 ALDI's brand of 'regular' yoghurts, Brooklea, comprises a natural 'lite' low-fat yoghurt which comes in a 1kg tub, as well as the Brooklea 'Squishies' for kids, which come in  70g pouches, in classic fruity flavours such as banana, blueberry and strawberry.
ALDI Brooklea rated four stars for overall satisfaction and value for money. It got three stars everywhere else.
Vaalia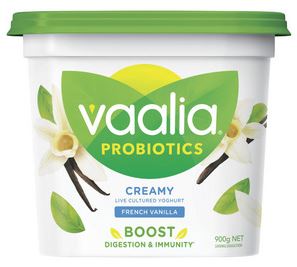 Heavily focussed on probiotics, Vaalia has a wide range of products for shoppers to choose from, including breakfast yoghurts, lactose-free yoghurts and low-fat yoghurts. Yoghurts for children and babies are also available, with the range also consisting of pouches for lunchboxes. Flavours include classic vanilla, tropical, banana, strawberry, vanilla & strawberry, and lactose-free vanilla.
Vaalia scored four-star reviews for taste and texture & consistency. It got three stars in the remaining categories, including overall satisfaction.
Chobani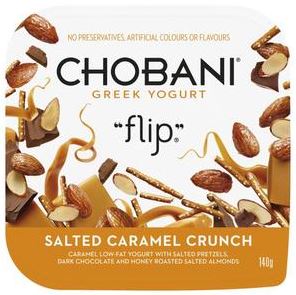 Chobani is available in a variety of styles, including tubs, pouches and flip containers. The brand also provides individual protein Flip packets with mix-ins, making perfect lunchbox options. Chobani additionally offers 'fruit on the bottom' Greek yoghurt in flavours such as apricot, blueberry, peach, mixed berry, black cherry and strawberry banana. These come in individual tubs or packs of four. Other products include blended yoghurts, creamy yoghurt and nut butter yoghurt.
Chobani is available at major supermarkets and local grocers. You can check out all the ingredients and nutritional information on their website.
Chobani earned four-star reviews in most ares, such as taste. The two exceptions were value for money and overall satisfaction, where it got three stars.
Activia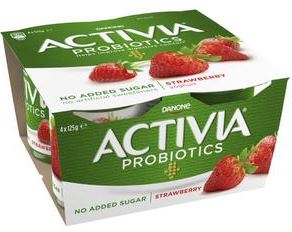 Operating under the Danone parent brand, Activia produces a selection of yoghurts which are claimed to contain billions of probiotics. The range is also said to be free of gelatine, artificial colours, sweeteners and preservatives. Flavours include berry, mango, vanilla, strawberry, berries and seeds & grains. Each Activia flavour is sold in four packs of 125g tubs, potentially making them ideal for light snacks or the kids' lunchboxes.
Activia was rated four stars in majority of the categories, such as taste. But it ultimately ended on three stars for value for money and overall satisfaction.
Coles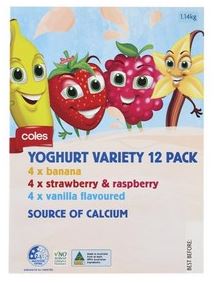 Similar to its supermarket competitor Woolworths, Coles offers a number of yoghurt styles and varieties, including Greek-style yoghurts, flavoured tubs, and kids' pouches. The Greek-style yoghurts are available in 1kg tubs, while the flavoured varieties come in both 1kg and 150g tubs. There's also a variety of 70g pouches and 12-packs to choose from. Flavours include banana, vanilla, strawberry and tropical.
Coles rounded up the scores with a respectable four-star rating for value for money. It ended on three stars everywhere else, including overall satisfaction.
Other yoghurt brands
The 14 brands featured in this year's ratings aren't the only ones worth checking. Here are a few other options you might want to get your hands on.
ALDI Just Organic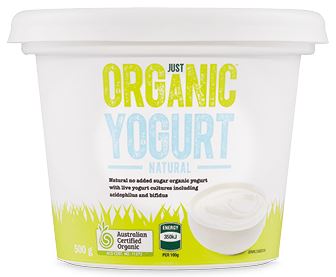 The latest edition to ALDI's yoghurt line-up, the 'Just Organic' range focuses heavily on probiotics, with no added sugar, artificial colours, flavours or preservatives claimed to be used. Additionally, the organic range is suitable for vegetarians, making snack time that much easier. Available in natural, vanilla and strawberry flavours, ALDI offers its Just Organic range in a 1kg bucket.
Five:AM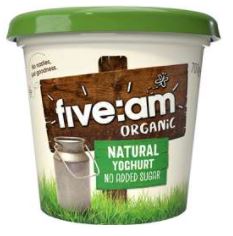 Bringing 'farmers market' style yoghurt to Australian supermarkets, Five:AM claims to pride itself on using organic milk from The Organic Dairy Farmer's Cooperative, which aims to maintain what is supposedly the 'highest standards of sustainable and organic farming'.
Five:AM provides two lines two choose from, the 'Organic' range and the 'Simply' range. Yoghurts from the Organic range are available in 700g big tubs, and include flavours such as 'blueberry burst', honey & cinnamon, natural and vanilla bean. The Simply range comes in 550g big tubs, and are available in mango, passionfruit and strawberry. Five:AM also sells 'squeezies' in four flavours, including 'cacao squeezie', 'simply mango squeezie', 'simply strawberry squeezie' and 'vanilla bean squeezie'. These come in 120g packets, making it perfect for lunchboxes and a convenient snack for those on the go.
ALDI Dairy Dream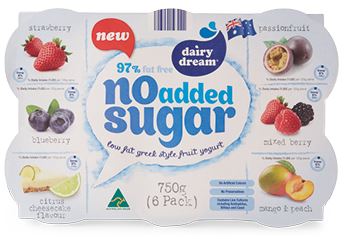 ALDI Dairy Dream covers Greek-style yoghurts in three varieties – two flavours (blueberry & peach, mango & passionfruit) in 720g tubs, and the third (lime yoghurt with strawberry layer) in a pack of four 125g pots.
Ski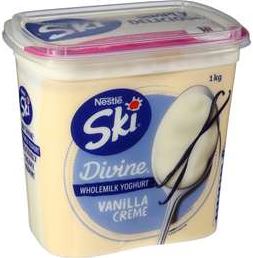 Covering a range of fruity flavours as well as sweet honey and vanilla varieties, Ski yoghurt comes mostly in single-serve pots sold in multipacks from twin packs up to 12-packs, plus 1kg tubs and squeeze pouches. Available in the Divine and D'lite ranges, shoppers have plenty of options to choose from.
The fresh scoop on yoghurt
What's making Aussie tastebuds tingle? Our survey shows that nearly half (48%) of respondents stick to the same brand of yoghurt, mainly due to taste (59%). Nutritional value (15%) was the second most common reason customers kept coming back, followed by price (14%) and texture (7%).
When it comes to keeping our tummies happy, added nutrition (38%) was seen as the number one 'extra' perk for majority of respondents. Added taste (33%), the ability to fill up their stomachs (16%) and added texture (7%) came next in line. Plus, around a third said they prefer to enjoy yoghurt as a snack (35%) or for breakfast (32%). Others tend to eat it up after dinner, either as a dessert (17%) or a probiotic (8%). Some even use yoghurt as a substitute for other dairy ingredients (4%).
About the author of this page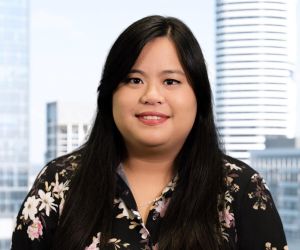 This report was written by Canstar Blue's home & lifestyle journalist, Tahnee-Jae Lopez-Vito. She's an expert on household appliances, grooming products and all things grocery and shopping. In addition to translating our expert research into consumer-friendly ratings reports, Tahnee spends her time helping consumers make better-informed purchase decisions on all manner of consumer goods and services, while highlighting the best deals and anything you need to be aware of.
Online Grocery Shopping Reviews
Picture credits: mamaza/shutterstock.com