Is yoghurt healthy?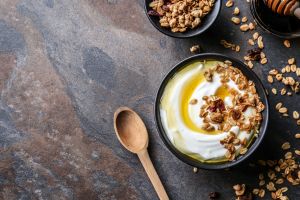 Yoghurt is part of one of the five essential food groups ─ dairy ─ with milk, cheese (and dairy-free alternatives such as fortified soy and rice milk) also included in this category. Dairy can be a great source of nutrients, including calcium, protein, vitamin A, vitamin D, vitamin B12, iodine, and zinc, for healthy teeth, bones and muscles, according to health authorities. Australians are recommended to have at least two to three servings of dairy, but this depends on age and other factors.
Choosing reduced-fat versions of these may also be useful for weight loss since these still provide the same health benefits but contain fewer kilojoules. Of course, you will need to watch out for products that are high in calories, fats and added sugars. It's also always a good idea to check the health star ratings on certain yoghurts.
Does yoghurt help with gut health?
Yoghurt is just one type of food that contributes towards a healthy gut, as it naturally contains probiotics, which are live microorganisms that work similarly to good bacteria found in the gut. According to some experts, this encourages good digestive health and helps reduce bad bacteria build-up in the gut.
Can you freeze yoghurt?
You can technically freeze yoghurt, but you might change the taste and consistency of the yoghurt as you defrost or reheat it, meaning it may not be the exact same as before you put in the freezer.
Online Grocery Shopping Reviews
Picture credits: Aquarius Studio/shutterstock.com